Sep
21

Contest

Comments Off

on Contest: Second Annual International Furoshiki Design Contest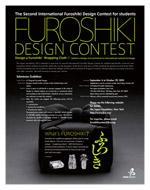 Budding designers are invited to submit designs to the second annual International Furoshiki Design Contest. Furoshiki are traditional Japanese cloths used to wrap small objects.
Design Theme: Designs should evoke a fusion of the United States and Japan
Eligibility: Entry is open to individuals or groups engaged in the study of design or related subjects at a university of vocational school, and reside in the United States (Student of any nationality are welcome to enter the contest).
Deadline: Applications must be received no later than Fridday, October 29
For more information, visit The Japan Foundation, New York's website at http://www.jfny.org/
Flyer: http://www.dc.jetalumni.org/wp-content/uploads/2010/09/flyer3.pdf
Guidelines: http://www.jfny.org/userfiles/file/English%20guidelines.pdf
Entry Sheet: http://www.jfny.org/userfiles/file/furoshiki%20English%20Entry%20sheet%20form.pdf