*********
JET Return on Investment (ROI) is a category on JetWit intended to highlight the various economic, diplomatic and other benefits to Japan resulting from its investment in the JET Program.  Why is this important right now?  Because the JET Program and JET Alumni Association may be cut by the Japanese government, as explained in this post by Jim Gannon (Ehime-ken, 1992-94) titled "JET Program on the Chopping Block."
"Does Japan Still Need 23-year old Exchange Program?"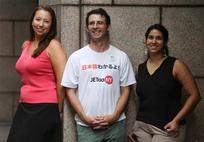 This is the title of a recent article by AP reporter Tomoko Hosaka, which has been picked up by:
The article includes quotes from Jim Gannon (Ehime-ken, 1992-94) and Anthony Bianchi (Aichi-ken, 1987-89) as well as a reference to JetWit's role and a few photos of me (in my JETAA NY "Nihongo wakaru yo!" t-shirt) along with JETAA NY Vice-President Monica Yuki and JETAA USA Country Representative Shree Kurlekar (one of three US Country Reps).
While the article, I think, does more harm than good for JET and JETAA, I believe there are many points and examples not included in the article that could easily counter the non-specific criticisms also cited in the article.  In other words, the case for how JET and JETAA have (and continue to) provide a very significant return on investment (ROI) to Japan is not difficult to make.  It's just a matter of gathering the examples and making everyone aware of them.
Below are just a few examples based on my own experience, research and conversations.  Please feel free to post additional examples in the comments section:
1.  A significant number of JET alums are now firmly ensconced in political, policy, business, academic, media and other positions in governments, think tanks, universities, Japan-America societies, Japanese companies, etc.  This population is only growing larger, more influential and, as a result, more valuable to Japan.  To cut this off at the roots in order to save a few yen would not make good policy or business sense.
Three JET alums have run for Congress this year:
Anthony Bianchi is has been serving for several years as a city councilman in Inuyama-shi, Aichi-ken.
Professor Michael Auslin is the Asia expert at the American Enterprise Institute in D.C.
Roland Kelts wrote Japanamerica, which has contributed to the manga boom in the U.S., and is a professor at Tokyo University and a columnist for The Daily Yomiuri.
Aaron Woolfolk wrote, directed and produced the film The Harimaya Bridge, which features Danny Glover, was produced in Shikoku and is based in part on Aaron's JET experience.
George Rose was the interpreter for Hideki Matsui when the New York Yankees won the World Series (the only JET alum with a World Series Ring!)  George is now a consultant serving as the Pacific Rim Advisor to the Yankees as well as Staff Advisor to the Yomiuri Giants and the Yomiuri Shimbun.  He was also one of the first JETAA NY Presidents.
Countless JET alums are working for Japanese companies supporting their ability to do business with the rest of the world.  Legions of JETs have become translators and interpreters further facilitating Japan's ability to communicate with the rest of the world.
And I'm just scratching the surface of examples.  Additionally, it's worth being aware of the many more accomplishments to come from JETs in the next generation.  The JET Programme essentially takes many of the best and brightest minds from the U.S. and other countries and gets them thinking about, working for and feeling connected to Japan.
2.  Numerous Japanese students have gone on to international studies and other accomplishments as a result of their interaction with JETs.  These former students may likely comprise the next generation of English speakers in Japan.  This is something not measured in test scores.
3.  JET Alumni chapters may be the most cost effective public relations arm Japan hope to have.  A review of JETAA Chapter Beat posts on JetWit gives a quick sense of just some of the grassroots cultural outreach that JET alumni do on behalf of Japan.  And they do it because they care about Japan and appreciate their JET experience.  There's no amount you could pay to a PR firm to generate this kind of positive, sustained visibility and outreach.  In fact, JET alums devote thousands of volunteer hours (often at the expense of their "real" jobs) to supporting JETAA activities.  Not just the administration and organization of chapter activities, but volunteering in various ways such as for New York de Volunteer, for the Japanese Restaurant Association Japanese Food Festival in Los Angeles and for numerous "Japan Days" and festivals in cities and towns throughout the U.S. and other countries.
4.  With over 52,000 JET alums in the world (and more every year), JET alumni serve as a sort of substitute ex-pat population for Japan.  Something Japan lacks in comparison to other countries.  Case in point:  After 9/11 when U.S. visa restrictions grew stricter, Japanese staffing companies found it harder to find eligible Japanese people to fill positions in the U.S. offices of Japanese companies.  As a result, they sought JET alums, who generally speak at least some Japanese if they're not fluent, and are much more familiar with Japanese culture and workplaces.
For more examples of JETs and JET alums providing a Return on Investment to Japan, have a look at the JET ROI category on this site.
Have your own example to share?  Please post in the comments section below or email to jetwit@jetwit.com.