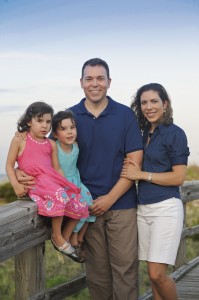 By Justin Tedaldi, Editor (Kobe-shi CIR, 2001-02) for JQ Magazine. Portions of this interview were originally published on Examiner.com.
Award-winning bestselling author, journalist, and—in his own words—"professional traveler" Bruce Feiler (Tochigi-ken, 1987-88) has been a writing books for nearly 20 years, the most recent of which focused on social issues and religion. Bruce's new book, The Council of Dads: My Daughters, My Illness, and the Men Who Could Be Me, was inspired by his diagnosis with cancer two years ago. Faced with an uncertain future and concerned about his family, he asked six of his peers to form a "Council of Dads" to help guide his young daughters through their lives. JQ spoke with Feiler about the start of his writing career, which began with 1991's Learning to Bow, an account of his time living in Japan as an English teacher on the inaugural year of the JET Program, as well as his thoughts about the program today.
You're now cancer-free. When did you receive this prognosis, and what was your treatment like?
I was first diagnosed in July 2008, and I had osteosarcoma, which is so rare that only one hundred adults a year get it. Twenty years ago they would have cut off my leg and hoped, since there was a fifteen percent survival rate. They determined that one cocktail of chemo could be effective, and I had that. I basically had four months of chemo, a 15-hour surgery to rebuild my leg, and then four more months of chemo. So, I've technically been cancer-free since my surgery when they cut the tumor out of my femur. I've been cancer-free now for about 15 months. I'm full of hope walking forward.
Congratulations on your recovery. What was the most important things that you and your family learned by forming the Council of Dads?
I think that, first, there's great power with sitting down with your closest friends and telling them what they mean to you. So I feel like what we did with the Council of Dads was kind of build a bridge between our family and our friends, and figure out a way to get our friends intimately involved in our children's lives. When I asked each dad what's the one piece of advice that you would give to our girls, I felt like we ended up with this sort of guidebook of wisdom that is not only valuable for our children, but really valuable for us and guides how we've been in our lives. So I feel like the life lessons we've learned has really been the biggest gift.
What made you want to write Learning to Bow?
It kind of grew out of a series of letters I wrote home, of the "you're not gonna believe what happened to me" variety. And when I went back to Savannah six months later, everywhere I went, people said, "I just loved your letters," and I said, "Have we met?" It turned out that my grandmother had copied them, and they got passed from person to person—they went viral in the 1980s , if that's the word—and I thought, wow, if that's interesting to me and to these other people, I should write a book about it. It really was the sense that this story from this point of view wasn't being told. In the 1980s, you couldn't pick up a newspaper without reading an article about Japan or education, and the fact that here was a book that combined both, but had some sense of humor, I just think it was the right book at the right time, and I'm amazed and touched that, so many years later, for a lot of people, it's the first book they read when they go to Japan…This was before the Internet, before e-mail, before blogs…the world seemed much bigger than it is today.
What was it like finding a publisher?
I ended up with the name of an agent who was kind of a friend of a friend, and I sent my stuff to her….I wrote a proposal, and I sold it about a month later. I mean, it doesn't happen that way, but it happened to me. I was 24 years old. And even more amazing, here I am—21 years later—essential the only thing I've ever done is write books.
Have you returned to Japan since your time there as a teacher?
That's a really good question, and the answer is no. I've kind of been to every place around it, but I've never been back to Japan. I keep looking for the right assignment, because I really want to go back and kind of write something, but I haven't been back.
One of your more recent books, Walking the Bible, was also translated into Japanese. Has Japan been receptive to your other works?
Korea and China have been a really good market for me. I'm not convinced that Japan has been a big market for me.
What kind of outlook did you take back home with you from your time in Japan? 
People go to Japan today and they call me up, which still happens from time to time. I say the same thing that I've said for decades now, which is: don't go over to Japan trying to change it, thinking that you know better. Go there trying to understand…I think that that essential way of experiencing another culture—not going in as a sort of a haughty Westerner, looking down on it—but actually jumping into the deep end, completely immersed in yourself, befriending the people, and opening yourself up to the culture. That way of living is the thing that I would take from my experience, and pass on to my daughters today.
Since coming back, what developments in Japan with JET or just the society itself have you continued to follow?
I think that if you look back to the origins of the JET Program, it grew out of a philosophy: We need to educate and open Japan up to the West. Prime Minister Nakasone had an original idea of putting foreigners into the culture. That was something that was very awkward at the time, and many of the Japanese people that I knew who had spent time abroad and come back home were misfits at home, I would say. And I think that Japan is much humbler now than it was in the 1980s. I think that the world is much smaller than it was…with the Internet and technology and business, everybody's more integrated. So I think that Japan still lags behind, but compared to where we were in the 1980s, that Japanese people are much defter at integrating with the West than they were then. So in that regard, I think the JET Program, with all of its false start problems that it's had over the years, has actually helped play a role there.
What advice would you give to this year's new JET recruits?
Don't get caught up in the Westerner ghetto. Plunge yourself as deep into Japanese culture as you can, learn as much as you can, and then come back and share your experiences with those who haven't been, who aren't able to do that. You are pioneers, but you will be most effective if you really step out of your comfort zone, really go deep, then be sure to come back and tell us what you've seen.
Have you ever referred someone to the program?
No, I don't tend to hear…I know a lot of people have read Learning to Bow in colleges, so I know that it has inspired [people], and every now and then I'll see something on the Internet or a blog on somebody who has been inspired to do the JET Program because of Learning to Bow, but I don't get sought out by a lot of people.
Does the Japanese government ever ask you for advice or to speak about it?
That's a good question, and the answer is no. Right when I was first published, the Japanese government was particularly interested and kind of summoned me to the embassy, but I don't do that much talking about Japan…I'm not really a professional Japan person. I'm a professional traveler and Japan's a big part of my life, but I don't really excel as a kind of expert on Japanese culture, which I'm really not.
How does it feel to be known as the most notable or accomplished alumnus to come out of JET?
I think that it's an incredible honor, and I like what it communicates to the JET community, which is that you can go from your experience as a JET into whatever you want to do. If you want to go into Japanese business, if you want to go into education, if you want to go into media, if you want to go into anything, this is a stepping stone to making whatever dream you have come true, so I think that's the message…I've written nine books, I've had four near-types of sellers, and I have this stature, but I didn't have it then; I was just a guy writing letters home, and I just had this dream. So I think it's a way to communicate to young people who are confident and bold enough to go off deep into another culture early in their lives—it is a great message to them that you can go from there to whatever platform you want.
Have you thought about writing another book about Japan?
Sure, I would like in my life to go back and revisit that. I mean, we're coming up on twenty-five years since I was living and working in Tochigi-ken, and I would love the opportunity to go back, walk those streets, seek out friends, maybe some of those students, and use that as a prism to talk about how Japan has changed in the last quarter century. I think that would be a great privilege, and if anybody reading this wants to send me on assignment, I'm ready to accept.
When JET has its 25th anniversary, they'll probably be looking for keynote speakers…
Oh, I'd love to do that, that would be a great thrill…I have to say, I was [recently] on the cover of a big magazine here, USA Weekend, and one of the first people to write me was someone I knew in Tochigi-ken in 1987.
Looking back on Learning to Bow, is there anything you'd like to change or add to the book?
[Laughs] Yeah…I've written eight books since then, so I hope that I've learned a few tricks of the trade since then. But you know what? [quotes the book's opening line] "I dropped my pants and felt a rush of cool wind against my legs"…when I wrote that, I really kind of felt like, wow, this is a really natural thing, I like writing stories like this…I'm sure the overwriting and the bad ideas and the sloppy sentences and some of the awkwardness is there. I don't think I would change anything in the book off the top of my head. I think what I would change is, I didn't go to Japan attempting to write a book, so I have lived my life slightly differently having written that book. I found out I was very good at describing scenes and places that I was at, even if it had been a while. I was less good in dialogue and in conversation, so I think in subsequent experiences in my life, I've written down snippets of conversation so you kind of capture people's real voices. That's the one thing that I would have done differently, but that was before the book.
It's great that you were able to get a sense of your skills through your experiences there. What was your best and worst memory of Japan?
I'll say my best memory was climbing Mt. Fuji, and the worst memory was…trying to fit my feet into the free giveaway slippers at Japanese schools.
Yeah, those are tough.
[Laughs] I haven't thought about that in a long time.
What's next for Bruce Feiler?
I don't know…I'm actually sitting here at what looks like a Hollywood auction shaping up for The Council of Dads, and I guess my first priority is to keep myself healthy and be around for my girls, and to keep finding ways to travel and to tell stories.
Visit Bruce's homepage at http://brucefeiler.com.
Watch an interview with Bruce and his wife Linda from the Today show at http://today.msnbc.msn.com/id/26184891/vp/36823506#36823506.