Apr
16

Advertising, Advice, Anecdote Article, Article/Journalism, Blogs, Career, Writers

Comments Off

on Another Side of Travel
*************
Laura is a current JET who writes fantasy and science fiction for children and young adults, and is an occasional playwright/film maker.
Namaskaram! Greetings from India! Ever consider volunteering abroad? With all our JET paid vacation time, there`s lots of opportunities. It looks great on your resume, and it's a sure way to give you inspiration for your writing! Why stick to the touristy spots you can read about? You can get a feel for "the real thing" by helping out in the rural villages and slums, and see a part of the world you might never see otherwise.
I definitely just got a feel for the "real India" after spending ten days in Andhra Pradesh building houses and teaching the children of Dalits (untouchables) with five other English teachers through Longitude International. What an amazing experience! The moment we entered Chuvuru village we were greeted by drums and dancing. The people welcomed us into their homes and there seemed no end to the smiles, laughter, and chai tea! 
We spent our mornings helping build new cement houses that would stand the tempest of the fall monsoons, and our evenings teaching and playing with the children. In the beginning they were shy and called me "madam," but within a few hours they completely opened up and called me "sister." "Sister, one more song, one more photo, one more dance!" Boy, did they love to dance! We taught them the hokey pokey, the Macarena, head-shoulders-knees-and-toes, everything we could think of, and in return they showed us their "Bollywood moves." They also loved my fife and recorder. Whenever I brought them out, they instantly began shouting requests.
During a game of "let`s travel," one of the kids asked me, "Your village?" I didn`t know how to respond. Temple, Texas, where I was born? Owasso or Tulsa Oklahoma where I was raised and went to school? Nabari, Japan, where I live now? Malawi, Africa, where I left a huge part of my heart with the AIDS orphans? Or right there in Chuvuru where I felt so at home? 
It was a bit of an identity crisis. I asked myself if I really "belong" anywhere. For weeks I`ve been nervous about my upcoming visit back to the States and wondering if it has "changed," or more importantly, if I`ve changed. Will I feel "at home" in the place my friends and family consider to be my "home?" 
After puzzling over it I came to a rather relieving, though somewhat clichéd conclusion. The world is my village. Perhaps that sounds cheesy, but I really think so. Not that I would be welcome let alone feel comfortable anywhere in the world, but I think wherever I do go where there are welcoming hearts and warm smiles, that place will be my home, my village for as long as I am there. And the villagers of India really are so welcoming, so loving that you feel like one of them from the very beginning. There is no insider/outsider. Only friend and family.
Of course, the trip wasn`t all fuzzy feelings. It was very difficult to see how some of the people suffered. Thirty years ago in a nearby village, the government gave the Dalits land to farm, but are now taking it back. This forces the villagers to migrate long distances through dangerous roads or hire themselves out as domestic servants where they are physically and sexually abused. Disease is still a major problem, claiming many lives.   
So a lot of people have asked me, why did you bother going to India? There`s not much you can do to help anyway; why not just send money? Sending money is great, but if I`m traveling anyway, I might as well make a difference as I do and experience the "real world." I can already tell you, those kids and that place are already showing up in my fiction!   
We were the first volunteer group to visit Chuvuru, but this is only the beginning of their brighter future. Hopefully many more teams will come to help build and teach, continuing the cause of awareness, human rights, and global friendship. Who knows, maybe you`re next? If you`re interested in learning more about longitude and their work, you can visit their website at http://www.golongitude.org/.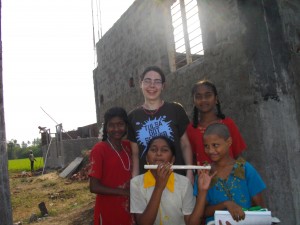 For more details, pictures, and videos about Laura`s adventures in Asia, visit her weekly blog at laurajanepopp.blogspot.com.