WITLife is a periodic series written by professional Translator/Interpreter/Writer Stacy Smith (Kumamoto-ken, 2000-03).  Recently she's been watching Fujisankei's newscast in Japanese and sharing some of the interesting tidbits and trends together with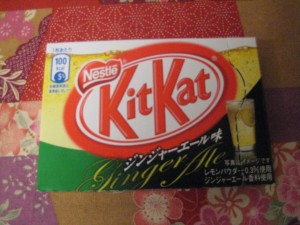 her own observations.
One of my favorite things about Japan is the constant changing of flavors, often in accordance with the seasons.  I love just wandering through conbini to see what new tastes have popped up for my favorite snacks/drinks.  One product over there I follow religiously is Kit Kats, as you can often get flavors that are not available here in the States.  This is why I was thrilled to receive an omiyage of ginger ale Kit Kats from a friend who had recently traveled to Japan.
Next to the customary phrase, "Have a break, have a Kit Kat" was a glass of ginger ale with lemon in it.  With use of .3% lemon powder and ginger ale flavor, it promised to be something new.  The aroma was definitely more lemony than ginger aley, and the taste was zesty as well.  I would have to describe it as much more citrusy than ginger ale, but it was relatively refreshing.
However, I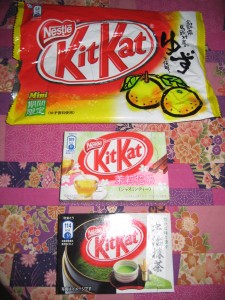 don't think it would make the top of my Kit Kat flavor list, which currently is headed by azuki or red bean Kit Kats.  They are not shown in the picture on the left but had a deliciously creamy taste which were like heaven for an anko addict such as myself.  Second on the list would be the Uji Maccha flavor (the bottom of the three), perhaps because they remind me of whisking maccha while living in Japan for the first time in Uji, Kyoto as an exchange student.  They are rich but not too much so, perfect for an afternoon snack.  The middle jasmine flavor was a bit cloying, and the citrusy taste of the yuzu Kit Kats on top was preferable to the ginger ale ones.  I'm looking forward to trying some new flavors next year!
—————————————————————————————————–
In other Japanese trend news, Meiji Yasuda Life Insurance announced this year's most popular boy/girl names.  For boys it was 翔太 (can be read as Hiroto, Yamato or Haruto) and for girls for the second year in a row it was 陽菜 (Hina or Haruna).  Runners up were 翔 (Sho or Kakeru), 瑛太 (Eita) and 大和 (Yamato) for boys, and 美羽 (Mitsu or Mihane) and 美咲 (Misaki) for girls.  The reasoning behind these names was that with 翔 which refers to flight, parents are expressing their hope that their sons soar into the new era.  Incidentally the second character 羽 in Mitsu/Mihane means feather and the name literally translates as "beautiful feather," calling into mind more flight imagery.
The top names from 1979 were 大輔 (Daisuke) for boys and 智子 (Tomoko) for girls.  This year the former was #60 and the latter didn't even make into the top 100 names.