****************
Chin Music Press, the Seattle-based publisher owned and run by Bruce Rutledge (MEF Program Chiba-ken, 1985-87) is excited to host several reading events this upcoming week in New York and Philadelphia for their newest release, Big in Japan: A Ghost Story. The tour continues this January to Seattle and Vancouver.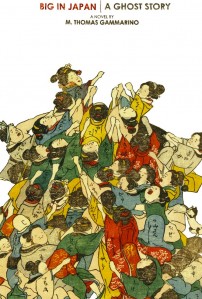 The debut novel from Hawaii-based author M. Thomas Gammarino is a deadly funny story of haunted progressive rock composer Brain Tedesco. The book has already received rave reviews; PF Kluge says it's "seductive and devastating" and Ron Currie Jr. calls Brain "the perfect hero for the Age of Anxiety."
******************

Catch Tom at one of these events:
East Coast:
12/16 "I Had It Bad" Reading Series. Happy Ending Lounge, 302 Broome Street, New York, NY, 8pm
12/17 St. Joseph's University, 5600 City Avenue, Philadelphia, PA, 3pm
12/21 "Asia In The Age of Anxiety" with Xiaoda Xiao. KGB Lit Bar, 85 East Fourth Street, New York, NY, 7pm
12/23 Rocky Sullivan's, 34 Van Dyke Street, Brooklyn, NY, 7pm
1/2 Chester County Book and Music Co., 975 Paoli Pike, West Chester, PA, 7pm
West Coast:
1/6 Third Place Books Ravenna, 6504 20th Ave NE, Seattle, WA, 7pm
1/7 Sophia Books, 450 West Hastings Street, Vancouver, BC, 6:30pm
1/8 Big in Japan: A Celebration with Pilot Books. Little Red Bistro, 400 Dexter Ave. N, Seattle, WA, 6pm
Big in Japan is designed by JET alum Joshua Powell (Saitama-ken 2005-07). The book is available through the Chin Music Press website with promotional free shipping to the U.S. and Canada or at major booksellers.
For book reviews and more information, visit Big in Japan's website. Check out previous JetWit posts about Bruce Rutledge and Chin Music Press here.