Oct
1

Article/Journalism, JETAA Chapters, Writers

Comments Off

on JETAA Northern California Newsletter: Summer 2009 Pacific Bridges now online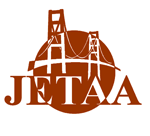 Via Mark Frey (Kumamoto-ken, 2002-06), Editor of Pacific Bridges, the JETAA Northern California quarterly newsletter.
The 2009 Summer Issue of the official JETAA NC newsletter, Pacific Bridge, is now available here!  Get caught up on all of your local alumni happenings! Read it online here: http://www.jetaanc.org/newsletter.html or in the "Files" area of our Yahoo Group at http://groups.yahoo.com/group/jetaanc/files/
This issue's theme is "Tradition."  Read about how alumni like you are keeping up various traditions near you, as well as other goings-on in the JET alumni world, including:
– Upcoming events like the Shobu Cup Dodgeball Match!
– Stories about local super-star alumni
– Taboos broached in SF Japanese discussion group
– New website for JET writers, interpreters, translators and job-seekers: JetWit.com
– JETAANC Scholarship Winner, Lukas Bonick, Three Years Later
– Natsu Matsuri Picnic Report
– JETAA National Conference report
– Oyaji's advice column
– Top 10 List
– …and much more!
Please send any comments to [newsletter(at)jetaanc(dot) org]. Share your talents and build your portfolio by volunteering for the next issue (we seriously need more help)! Thanks to everyone who helped to produce yet another great issue.
Mark Frey (Kumamoto-ken, 2002-06)
Editor, Pacific Bridge