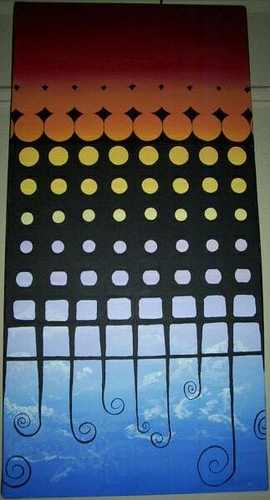 JetWit has become increasingly aware of JET alum artists doing interesting work and making names for themselves in the art world.  Below is a little background on a few of them (though there are many more out there).  Click here for more JetWit posts on art and JET alumni.  You can also see a more complete list of JET alums in the art world in the Art section of the Library.

Zandra Ellis (Nagasaki-ken, 2005-09) – Bronx, NY
Born in the Bronx to Jamaican immigrants, Zandra Ellis cut her milkteeth on Marley, manga and museums; 17 years later, she emerged blinking in the sunlight, from LaGuardia High School with a diploma stamped "Art."  Somehow she ended up studying English Literature in college. Nagasaki Prefecture's Emukae Town (pop. 6,700,) warmly embraced Zandra as an ALT who loved drawing on the board and attending the local pottery class ('05-'09).  Currently working on: freelance gigs/portraits for hire.
Manya Tessler (Wakayama-ken, 1998-2000) – Brooklyn, NY
Manya's children's book "Yuki's Ride Home" was published by Bloomsbury in 2008. (Read more)  She received an Honorable mention in Category 1 of the Women's Jewelry Association 2009 DIVA Design Competition. (Read more) She and her husband, Rouman, received the Mort Abelson New Designer of the Year Award at the JA NY Summer Show. (Read more)  And the independent film "Adam" being shown at the 2009 Sundance Festival features several of Manya's illustrations. (Read more)
Lee-Sean Huang (Oita-ken, 2003-06) – New York, NY
Lee-Sean Huang is New York-base multimedia artist who explores the creative and social possibilities found in the junction of technology, design and art.  Recent works include:
A computer-generated

portrait of Mao

constructed from the text of the

Little Red Book

An

interactive music installation

consisting of

headphones

that create a unique listening experience based on the wearer's movements
And a Japan-inspired

animation and performance piece

based on a poem by Catullus
Lee-Sean is a co-founder of Hepnova Multimedia, an interdisciplinary design collective and genre-defying band, and is currently a masters student at ITP, the Interactive Telecommunications Program at NYU Tisch School of the Arts.  Catch up with Lee-Sean at leesean.net.  (JetWit Editor's Note: Lee-Sean is also the JETAA NY webmaster, helped me get the JetWit site set up and is the one I call whenever there's a "JetWit emergency.")