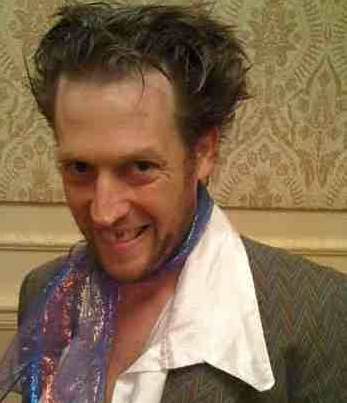 James Kennedy (Nara-ken, 2004-06), author of The Order of Odd-Fish continues to redefine the standard job description for "author."  In his latest adventure, he gave a speech at the American Librarians Association where he forcibly took the Newbery Award from "Neil Gaiman."  And that's not even the most shocking part.
After watching the video clips below, you may find yourself contemplating the young Japanese students James once taught.  What has become of them and how have their lives been affected, or perhaps more appropriately, distorted?  Perhaps a film-making member of the JET alum community could set out to produce a documentary on the subject.
Until then, watch and enjoy below.  Or watch and read the post on James' site:  "I Win the Newberry"
Video 1: James announces his intention to strip Gaiman of his Newbery.
Video 2: Freya and Erin act out a scene from his novel The Order of Odd-Fish.
Video 3: Neil Gaiman and James fight for the Newbery.
Need a little more James Kennedy?  Click here to see video of him reading at the JET Alumni Author Showcase.