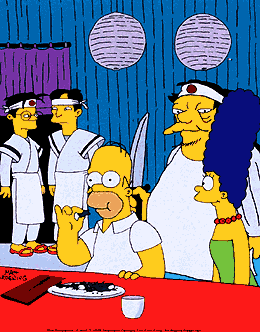 Geneva Marie (Niigata-ken, 2008-09) grew up all over the U.S. but if asked will tell you she's from Minneapolis, MN .  JET Lag will recount Geneva's experiences and thoughts as she prepares to leave the comfortable womb of her JET life and figure out her next move.
So you're going to die.
I mean, HOME…So you're going home!
I decided. I did it. I made that final, definitive decision to resign from the JET program as of this coming July. Yikes!
After a winter of deliberating whether or not another year in my isolated country town would be a good move for me, I chose carefully between a sure and steady means of employment with little hassle as far as re-contracting goes and the "mystery box" of future uncertainty: returning to the shaky job market in the US.
I can't help but wish that after I had signed my final re-contracting papers with a "nay" back in February that I would have been given a pamphlet that said "So you're going home…" -something like that scene in The Simpsons episode, One Fish, Two Fish, Blowfish, Blue Fish, in which Homer is handed a pamphlet stating "So you're going to to die…"after eating some poisonous fugu. I mean, at least he had some instructions…
(What the heck am I going to do NOW?)
It's May and I find myself in a curious predicament: I'm a first-year JET who hasn't been able to exactly gel with her given placement. For me, this was an opportunity to try out teaching and maybe get better at Japanese, since I had studied it in college. I, however, am not the typical first year JET: fresh faced and eager to explore the world. I'm in my late twenties, edging closer to the big 30 everyday. I finished college a bit later than my peers after a couple of false starts and stops. I have more than ten years of varied business experience from typing and filing away in the administration field to working for a small independent publisher and even worked as a (gasp!) bill collector right out of high school. Soon, I'll be an alumni of the JET program. So what is it exactly that I'm qualified to do? I guess you can say I haven't exactly found my niche…yet.
Graduating with a degree in Japanese studies more often than not sets you up for a job directly with JET. But what do you do when you've graduated with said degree and thought that "Hmm…maybe Japan/Japanese/teaching English isn't exactly for me after all…?" You can change your mind…right? In the years after college and before JET, I spent quite a bit of time wondering if I should continue studying Japanese. During my study abroad in Tokyo, I was certain Japan was for me and I wanted to come back. However, I left college pretty much burnt out on my language studies had hit that famous "plateau" all of my instructors had warned about from time to time. I spent the next two years applying to Eikawa and ALT programs all the while NOT studying and making my living as the American version of an O.L. (オーエル) or "Office Lady".
I applied for JET in the fall of 2006 and to my surprise was not accepted. It was a big blow to my career goals and really made me re-think my position in life. I wondered if maybe it was sign that I wasn't meant to go back to Japan. Fed up with my O.L. job and itching to do something different, I applied with less enthusiasm in Fall of 2007 mostly just to apply… for applying's sake, I guess. Why not give it a shot? I was thoroughly expecting a big ol' rejection notice yet again, but to my surprise I got an interview and the rest is history.
Fast forward to May of 2008: NIIIIIIGATAA??? WHERE?!
Obviously, there must be a mistake, JET guy! I asked for Chiba! At this point in the application process it was apparent I had some serious deliberating to do . Ok, so I didn't get my chosen placement. I currently have a boyfriend, great friends, and I'm a volunteer in the arts and music community. My interest in Japan has been waning for some time, but I still like Japan. JET's good money, benefits and a very reputable company and what's more–it's not filing, answering the phone, or threatening people to pay their bills–it's teaching! Do I take the job or not?
Fast forward (again) to May of 2009: Niigata, eh?
I sit in my comfy floor chair alternating between kotatsu heater (minus blanket) and fan, due to the often extreme weather changes my town experiences in a day. There are stacks of elementary school games and activities to be sorted on the table, and a skype message from my boyfriend (yes, we're still together!) wishing me "good luck" with today's classes.
I can't help but wonder "what's next?" Do I: a) go with my comfort zone-the familiar desk job, something that I maybe, possibly might have the slimmest chance of snagging in this economic crisis or b) do I take the knowledge I've gained, the "international know how" from JET and spend the next few months trying to branch out into the uncharted territory of a new career field? Who knows if I'm really qualified do that at this point?
In the words of my favorite Simpsons' monkey: PRAY FOR MOJO. (me!)