May
7

Events, Music, Uncategorized

Comments Off

on Music: Hanami Taiko tonight at Drom (NYC)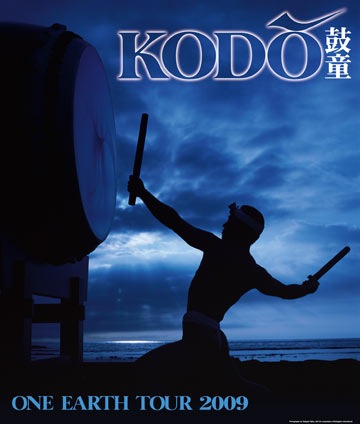 JET alum Ariel Shearman (a member of the the Soh Daiko taiko group) shared the following (FYI, Ariel studies under Kaoru Watanabe, a longtime member of KODO, based in Brooklyn, and Kaoru is in the group performing tonight):
http://dromnyc.com/home/index.php?option=com_gigcal&task=details&gigcal_gigs_id=736
Thursday May 7th 2009 (TONIGHT)
Naka Naka Series presents:
HANAMI DAIKO!
Yoshikazu and Yoko Fujimoto
(founding members of KODO)
and Special Guests
7:30pm
$15 Advanced Tickets, $20 at the Door
KASA and DROM are proud to present the legendary O-daiko drummer YOSHIKAZU FUJIMOTO and the singer YOKO FUJIMOTO, founding members of the internationally renowned taiko drumming group KODO from Sado island in Japan.
HANAMI DAIKO, in celebration of the Cherry Blossoming season, will be a program of Japanese Taiko, Song and Dance with Yoshikazu and Yoko Fujimoto with special guests Eri Yamamoto (Piano) and Kaoru Watanabe (Japanese flute and taiko).
Yoshikazu Fujimoto joined "Sado no Kuni Ondeko-za" in 1972. In 1981 he was one of the founding members of Kodo, and has been the group's featured O-daiko player and center-man for the "Yatai-bayashi" climax ever since. Yoshikazu is presently Kodo's most senior performing member. In recent years he has played a large role in educating the Kodo apprentices, and is conducting more and more workshops for the general public. No one in Kodo lives up to the name "Children of the Drum" like Yoshikazu; he simply loves the taiko.
Yoko Fujimoto joined Ondekoza (later Kodo) in 1976. After three years appearing as a Koto player, singer and dancer, she stepped down from the stage to edit the monthly Japanese language newsletter 'Kodo' for the next 13 years. In 1989 she began to sing again and has been Kodo's principal vocalist ever since. Apart from Kodo Concerts, she performs in the song and dance group 'Hanayui' with Chieko Kojima and Mitsue Kinjo (Okinawan Dance), and holds concerts and drum-and-song workshops with her husband Yoshikazu Fujimoto, Kodo's principal O-daiko player. In activities abroad, Yoko is a member of the 'Triangle Project' with Japanese-American musicians PJ Hirabayashi and Nobuko Miyamoto. She also conducts 'Voice Circle' and 'Voice-Body-Soul' workshops which help participants rediscover song and the power of their own voices. (This endeavour is one of Yoko's self-claimed 'life works'.) In 2008, her first solo album 'Morisa Komorisa' was released
KODO. Exploring the limitless possibilities of the traditional Japanese drum, the taiko, Kodo are forging new directions for a vibrant living art-form. In Japanese the word "Kodo" conveys two meanings: Firstly, "heartbeat" the primal source of all rhythm. The sound of the great taiko is said to resemble a mother's heartbeat as felt in the womb, and it is no myth that babies are often lulled asleep by its thunderous vibrations. Secondly, read in a different way, the word can mean "children of the drum," a reflection of Kodo's desire to play their drums simply, with the heart of a child. Since their debut at the Berlin Festival in 1981, Kodo have given over 3100 performances on all five continents, spending about a third of the year overseas, a third touring in Japan and a third resting and preparing new material on Sado Island.
Kodo strives to both preserve and re-interpret traditional Japanese performing arts. Beyond this, members on tours and research trips all over the globe have brought back to Sado a kaleidoscope of world music and experiences which now exerts a strong influence on the group's performances and compositions. Collaborations with other artists and composers extend right across the musical spectrum and Kodo's lack of preconceptions about its music continues to produce startling new fusion and forms.
http://www.kodo.or.jp/news/index_en.html
Eri Yamamoto
Since moving to the United States in 1995, Eri Yamamoto has established herself as one of jazz's most original and compelling pianists and composers. Jazz legend Herbie Hancock has said, "My hat's off to her… already she's found her own voice."
Eri was born in Osaka, Japan, and began playing classical piano at age three. She started composing when only eight years old, and studied voice, viola, and composition through her high school and college years. Since 2000, Eri's trio has been appearing regularly at Arthur's Tavern, a historic jazz club in New York's Greenwich Village. Eri has recently appeared on two William Parker recordings and has worked with such musical luminaries as Ron McClure, Andy McKee, Lewis Barns, Rob Brown, Leena Conquest, Butch Morris, Arthur Kell, Kevin Tkacs, Whit Dicky, Christopher Dean Sullivan and Michael T. A. Thompson.
http://www.eriyamamoto.com
Kaoru Watanabe (Japanese and Western flutes and taiko drum)
Although Kaoru Watanabe is a conservatory trained classical and jazz flute player (Mahattan School of Music BA '98) who has worked with such musicians as Jason Moran and Stefon Harris, his approach to music underwent fundamental change while living in Japan, studying and performing with the acclaimed taiko ensemble Kodo and with various master practitioners of traditional and modern Japanese arts including the great Kabuki actor Tamasaburo, calligrapher Koji Kakinuma and koto player Yagi Michiyo.  Kaoru has also acted as artistic director of Kodo's World music festival, Earth Celebration, working with such luminaries as Zakir Hussain, Giovanni Hildago and Carlos Nunez.  Kaoru left Kodo in 2006 and currently resides in NY where he established the Kaoru Watanabe Taiko Center.
http://www.watanabekaoru.com
www.youtube.com/watch?v=jPdOmY1BjAU
www.youtube.com/watch?v=sSi7PyJMj3A
www.kodo.or.jp/news/20081210bravia_en.html