Mar
12

Article/Journalism, Blogs, Career, Cartoon/Illustration, Reviews, Uncategorized, Writers

Comments Off

on Tokyo As Seen Through the Eyes of Foreigners (film review)
********************************************************************************************************************************
By Rick Ambrosio (Ibaraki-ken, 2006-08) and Stacy Smith (Kumamoto-ken, 2000-03)

Sunshine Cinema is now showing the movie Tokyo!, a compilation of three short films from the French directors Michel Gondry (Eternal Sunshine of the Spotless Mind) and Leos Carax (Lovers on the Bridge) and the Korean director Bong Joon-Ho (The Host). Gondry himself made an appearance at two showings of the film when it debuted last weekend, for a Q&A session after the 7:30 show and introducing the movie at the 10:30 show. He spoke in his typically quirky way about his time shooting in Tokyo, and how things like the spaces between buildings and how Japanese people falling asleep on each other on the train fascinated him. Before starting the show, he expressed relief that his Japanese producers weren't there so he wouldn't feel bad about forgetting to thank them.
Tokyo! kicks off with his contribution of "Interior Design," a Kafkaesque story about trying to find your place in the world. The story revolves around a young couple that comes to live in Tokyo together and stays with a friend from back home until they can get on their feet (A bonus feature of the movie is the brief appearance of current Japanese "It" boy Satoshi Tsumabuki, star of the 2009 NHK Taiga drama Tenchijin, as the friend's visiting boyfriend). The guy (Ryo Kase of Sore de mo Boku wa Yatte Nai fame) is an aspiring young filmmaker looking for his big break. His girlfriend (Ayako Fujitani) is portrayed as less ambitious, failing even to make the cut for a gift-wrapping part time job which her boyfriend ends up getting. Over time the big city takes its toll on her and she undergoes a literal transformation, causing the film to look at identity and purpose from an interesting perspective.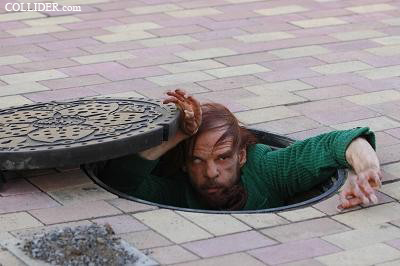 The second feature "Merde" from Leos Carax is clearly the most bizarre and dense of the three, an onion whose layers takes some time to peel away. It is heavy-handed on the symbolism, with a Godzilla-like monster played by Denis Lavant rising from the sewers to terrorize Tokyoites. He only eats a certain species of chrysanthemum, and during his reign of horror the story explores themes ranging from the Rape of Nanking to the death penalty. The addition of an invented language that is interpreted via another foreigner, Maître Voland, adds but another layer to a complex piece. At one point, Merde speaks in his odd dialect, which is then put into French by his interpreter, which is then interpreted into Japanese by another female interpreter for the court audience while it is subtitled in English for the "real" audience to read. Get all that? Neither did we. Along with the issue of sensationalism of foreigners in Japan that is also dealt with, this part of the film likely requires another viewing to tease more out of it.
The closing entry of this trio is Bong Joon-Ho's "Shaking Tokyo" that narrows in on the issue of hikikomori, or shut-ins, that live in Japan. We are introduced to actor Teruyuki Kagawa's nameless character as he painstakingly but humorously acts as our guide through what his life has been like living alone in his house for a decade. With his only contact with the outside world reduced to taking food from delivery people, we slowly begin to realize a lot has changed since our new favorite hikikomori shut out society. It is during one of these "interactions" that the best scene plays out: the awakening of the delivery girl after an earthquake. It is a great combination of concept, acting, editing and sound that really pulls you closer to the characters. What comes next is both surprising and touching as Joon-Ho shows us how a man overcome by society takes himself to task to help another human being. Or not a human being? You'll just have to see for yourself.
————————————————————————————————————————-
Kagawa can also be seen in another film about Tokyo opening this Friday at Lincoln Plaza Cinema and the IFC Center. It is called Tokyo Sonata, and was also screened at the Ziegfeld Theatre last October as part of the 46th New York Film Festival. Directed by Kiyoshi Kurosawa (no relation to Akira), this film tells the story of a family coming apart at the seams. Kagawa plays the father who gets downsized but is unable to tell his family, so he spends his days receiving handouts with another unemployed friend. He and his stay-at-home wife (Kyoko Koizumi) have two sons, the older of whom declares his desire to join the U.S. Army. The younger son wants to take piano lessons but is refused by his father, so he goes to class on his own. All of these secrets come to a head at the end of the movie, and the meaning of family is rediscovered. The movie is worth seeing just for the hilarious turn Kurosawa perennial Koji Yakusho (Shall We Dance) takes in an uncharacteristic role.