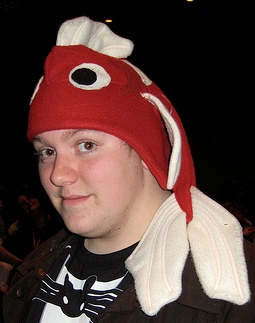 **********************
James Kennedy (Nara-ken, 2004-06), author of The Order of Odd-Fish, has a new blog post in which he "attacks" the American Library Association in a uniquely entertaining way.  Below is an intro which doesn't even begin to do justice to the full post.

In January the American Library Association held its Midwinter Meeting in Denver. Teenagers were invited to talk about their favorite books that were nominated for YALSA's "Best Books for Young Adults" list.

It was reported that one fan of The Order of Odd-Fish wore a three-foot-long red-and-white fish hat in its honor, declaring that the book was "incredibly, ridiculously funny. You just don't see books like this very often."

I was able to track down a photo of the gentleman. His name: Kevin Buckelew. I have written a factual account the incident below.
You can meet James on March 22 at the JET Alumni Author Showcase in New York, along with Roland Kelts (Osaka-shi, 1998-99), author of Japanamerica, and Robert Weston (Nara-ken, 2002-04), author of Zorgamazoo.   Space is limited to RSVP to reserve your spot.  Details at http://jetaany.org/authors.