Feb
25

Article/Journalism, Interview/Profile, JQ Magazine

Comments Off

on JQ Magazine: Winter 2009 "New Issue" of JETAA NY Quarterly Magazine Now Online!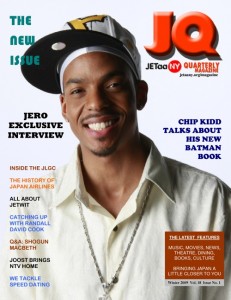 ***********
Otsukare sama deshita to Justin Tedaldi (CIR Kobe-shi, 2001-02), the new editor of JQ, JETAA NY's Quarterly Magazine, for putting out the first issue of the Magazine.  And what an amazing issue it is.
Go to http://jetaany.org/magazine to see the issue online.
Here's the table of contents:
WINTER 2009 TABLE OF CONTENTS
Page 3…..Letter From the Editor

Page 4…..Nippon News Blotter

Page 5…..JETAAnnouncements

Page 6…..East Meets West

Page 7…..Nihonjin in New York Featuring the JLGC by Junko Ishikawa

Page 8…..JETlog by Sean Sakamoto

Page 9…..JetWit.com Q&A with Steven Horowitz
Page 9…..Catching Up with Randall David Cook by Lyle Sylvander
Page 10…Youth for Understanding by Sylvia Pertzborn

Page 11…Theatre Review: Shogun Macbeth / John Briggs Q&A by Olivia Nilsson and Adren Hart
Page 12…Speakit LLC: Kevin Kajitani Interview by Junko Ishikawa

Page 13…Jero: The JQ Interview by Justin Tedaldi

Page 14…Joost!: Japanese TV on Your PC by Rick Ambrosio

Page 15…Film Review: Sukiyaki Western Django by Elizabeth Wanic

Page 16…An Inside Look at Japan Airlines by Kelly Nixon

Page 17…Japan Society's Best of Tora-san Series by Matt Matysik

Page 18…Chip Kidd Talks Bat-Manga! by Justin Tedaldi

Page 19…Book Corner: Natsuo Kirino's Real World by David Kowalsky

Page 19…Restaurant Spotlight: Wajima by Allen Wan

Page 20…Adventures in SwirlySwirlDates by Rick Ambrosio and Nicole Bongiorno

Page 21…Yosakoi Dance Project by Kirsten Phillips

Page 22…The Tale of Eric and Ozawa by Rick Ambrosio

Page 23…Top 14 List / Next Issue / Sponsors Index