Posted by Eden Law (Fukushima-ken, 2010-2011), JETAA NSW committee member and a JENESYSTS, apparently. He even has the certificate to prove it! This piece went out in the Sydney Japanese Consulate newsletter in August. If you are considering volunteering for the JENESYS programme and would like more information on what it's like, he's happy to have a chat.
This year I was fortunate enough to be selected as a supervisor of the Australian contingent for the JENESYS programme, a youth exchange programme administered by JICE (Japan International Cooperation Center). Made up of 19 participants (or Jenesysts, as the JICE director dubbed us at the end of our tour) between the ages of 18 to 24, and hailing from Queensland, New South Wales, Victoria and Western Australia, our packed, 9-day schedule (June 23rd – July 1st) covered Tokyo and various places in Hokkaido. Accompanying us were the smaller New Zealand group, and also our guides from JICE. As JENESYS 2.0 covers different themes for each group, the theme for ours was Mass Media (General – Journalism, Multimedia, bloggers).
Our programme schedule was quite eclectic and packed, travelling extensively on buses from one location to the next, which required an early morning start (sometimes at 5am) in order to get through it all. In Tokyo we got behind the scenes at NHK Studio's English language department newsroom, as well as the more publicly accessible NHK Studio Park News, where visitors can observe how various television programs are produced. We also visited Edo Tokyo Museum, with its wonderfully elaborate scale models, and Senso-ji in Asakusa on the second last day of the programme. Hokkaido's programme was focused more on technology, with a tour of Bibai city's "snow technology" facilities (a scientific and rather detailed description of the principles is available here) and a visit to the Hokkaido Institute of Technology, with a stop for lunch at Arte Piazza Bibai, a peaceful sculpture park containing artworks by Kan Yasuda. But the definite highlight for everyone was the homestay with local Sapporo families, where many participants enthused about their individual experiences that included food, culture and traditions – or "authentic Japan". Lastly, participants were then asked to formulate and present a plan on how they would use their experiences on the programme to promote Japan, and to contribute generally to a deeper interest in the country at a local level.
Travelling with a young and especially energetic group of youths and young adults certainly made for a lively (and busy) trip. As the majority had never been to Japan before (and some had left Australia for the first time), it was very interesting and enjoyable to see Japan through their eyes and perspective, and re-discover what had sparked my own love for Japan, and to share my own thoughts as well. And I was quite impressed with the overall quality of the participants who were chosen: quite a few spoke a second, even third language, and there were writers, musicians and artists. Of course, they were rambunctious as can be expected (the phrase, herding cats comes to mind), but they displayed a high sense of curiosity and adventure about their environment. As the Australian group were university students who were involved in arts, communications and online media disciplines, it would have been a great opportunity to have included in a "Mass Media"-themed programme, greater exposure to things that were related to their background. For example, introducing them to journalists, artists or students studying the same disciplines, and who utilise the online social media environment to communicate and facilitate cultural ideas and modern Japanese culture. As young adults, our participants used their free time to not just shop and have fun, but to experience Japan and its culture through all their senses, which they will report and disseminate back home to their friends and family. Every aspect of Japanese life is interesting – from the smallest details of crossing the street, to wearing a yukata for the first time. The best publicity is to allow them to have fun and communicate that enjoyment and fun to the world. More people will then be attracted to Japan, and will come to experience this for themselves.
As for my duties as a supervisor, much wasn't known beforehand, as information was scant (on all aspects – a detailed schedule was not available until the start of the trip), but I was certainly kept busy with performing numerous tasks during the day, which would include daily temperature checks of participants (to catch impending illness), marshalling the group (or locating stragglers distracted by the Japanese retail wonderland), and helping our JICE guides, who had more responsibilities and worked far harder than us supervisors. It would have been desirable to have some information upfront, such as crucial details like the gift exchange ceremonies, which caught us shorthanded as this was only revealed to us the day before the event – luckily our Tokyo hotel was next to a supermarket that sold Australian wines. Adaptability and resilience are definitely required of a supervisor, as there can be changes and last minute information that one has to respond to quickly. Both myself and my NZ counterpart certainly came to appreciate Japan's very reasonably priced alcohol after hours!
All in all, it was quite a packed and enjoyable trip, especially the aspects where the participants were able to enjoy interacting with local people: from chatting to a group of elementary students on excursion at the Edo Museum, and being part of the lives of families during home stays. Japan's most easily recognisable asset, its culture and traditions, were also highly popular, and the all-too-brief introductions left us wanting more. Acknowledgement must be made of our JICE guides who work tirelessly and were endlessly helpful and generous with their knowledge and time, and who ensured we got to our next appointments, and whose patience we must have tested time and time again. Of course our host families and all the friends we made on the trip, who truly made Japan come alive beyond what we see and read, are remembered with warm regard. And finally, many thanks and appreciation goes to the Japanese government for creating this incredible opportunity for others to come and experience their country. The potential of the JENESYS programme is great, as it focuses on building a relationship with youth of Asia Pacific, and as JENESYS 2.0 continues to improve and develop, positive things lie ahead in the future.
By Rafael Villadiego (Nagasaki-ken, 2010-13) for JQ magazine. A member of JETAA New South Wales, Rafael is a collector of words on a journey still searching for a destination, who has a tendency to forget, we are all sometimes like the rain…
"If you attach a reason to an adventure, it ceases to be one." –Uemura Naomi, noted Japanese mountain climber and adventurer.
「冒険に理由をつけると、冒険でなくなってしまう。」植村直己
There is something timeless and romantic about the idea of the wandering artist. Drifting aimlessly down untrodden roads and stumbling across hidden paths. Going wherever the wind might take them and all the while sketching random scenes from daily life, in all its raw and unfettered glory.
Japan 365: A Drawing-A-Day Project by current Melbourne resident J Muzacz (Kyoto-fu, 2010-12) is a drawing-a-day project that sets out to capture this sense of artistic wonder, in a fitting meditation on contemporary Japan. A black-and-white reproduction of sketches produced with nothing more than a simple ballpoint pen and notebook, the project sets aside all pretension and gaudy artifice and pares everything down to its barest essentials and fundamental simplicity. It is especially gratifying to see some pieces scribbled on the back of old pieces of paper or second-hand timetables. Using nothing more than the simplest tools at hand to capture the moment, the artist establishes a tangible reality that lends an urgency and authenticity to the work that would not be possible in a more polished and composed form.
While by no means an artist myself, there is something to be said about living the dream: An errant dreamer recording the world as they see it unfold. However, such whimsical fancy fails to fully appreciate the hard work and dedication inherent to such an undertaking. Consciously choosing to actively produce a completed work of art, every single day, for a solid year, is no mean feat. Having it ultimately culminate into such a hefty tome worthy of sitting comfortably on any coffee table or bookshelf, and feeling the solid weight of it all in your hands, is nothing short of remarkable. Artist/writer Muzacz and his supporters must be heartily commended for seeing it to fruition.
Michelle Lynn Dinh (Shimane-ken, Chibu-mura, 2010–13) is an editor and writer for RocketNews24, a Japan-based site dedicated to bringing fun and quirky news from Asia to English speaking audiences.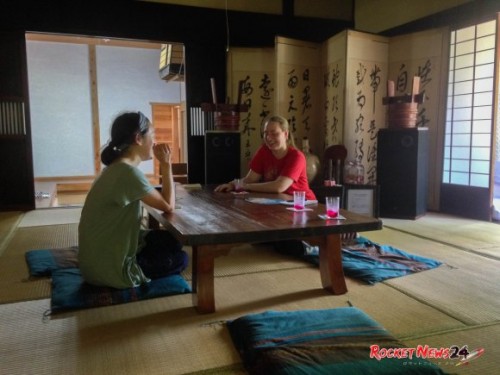 When European writer, Lafcadio Hearn, wrote about Shimane prefecture in 1894, he described a land steeped in tradition and nature. Since then, all of Japan seems to have ignored this sleepy area of the Chugoku region whose most recent claim to fame is having the country's largest population of the elderly. But if Shimane prefecture is stuck in the olden days, the Oki Islands are lost in time. Lazily floating out at sea in what is technically Shimane, but is actually an entire world of its own, Oki is a forgotten gem tucked in a dusty corner of Japan. Rambling down the overgrown back roads, you're sure to come across a wrinkled face and a hearty "konnichiwa," a small experience that seems to have become a rarity in the always busy metropolises of this country.
It is in this uncommon place that we had the privilege of staying in a home that has stood for over a century. Join us as we share our experience staying at the Japanese guesthouse called Tsukudaya.
Join us on our island adventure here.
Mar
22

Article/Journalism, Books, JQ Magazine, Reviews, Travel/Tourism

Comments Off

on JQ Magazine: Book Review – 'Cool Japan: A Guide to Tokyo, Kyoto, Tohoku and Japanese Culture Past and Present'
By Julio Perez Jr. (Kyoto-shi, 2011-13) for JQ magazine. A bibliophile, writer, translator, and graduate from Columbia University, Julio is currently working at Ishikawa Prefecture's New York office while seeking opportunities with publications in New York. Follow his enthusiasm for Japan, literature, and board gaming on his blog http://brittlejules.wordpress.com and Twitter @brittlejules.
When was the last time you picked up a non-fiction book and felt like you were escaping to a faraway land? Cool Japan (Museyon Guides) is the special kind of guidebook that does just that.
The author, Sumiko Kajiyama, is a journalist and scriptwriter residing in Japan. Her other books include Ghibli Magic, The Man who Changed Animation Business, The Way of Work by Top Producers, and Important Things to Enjoy Your Work and Life.
In any bookstore you will find Frommer's, Lonely Planet, and Fodor's travel guidebooks. You may own a few already from trips you have taken in the past. While these guides are meticulously researched and written to suit a traveler's needs, there is an inherent problem that they all have in common: over a relatively short amount of time, prices for services or goods can change, hostels can move or go out of business, and new ones can pop up in yet undiscovered places. For these reasons, and many that need not be mentioned, the Internet has become an invaluable tool for anyone planning a trip. Many digital communities of travelers have evolved for the exchange of current information. Furthermore, smartphones allow today's travelers to access all of this information on the go.
So you may be wondering, why buy a guidebook at all? There are many reasons to buy the ones listed above, despite the weakness of having an ever-decaying reliability of information. Cool Japan is a special because it does not squander space listing information that may no longer be relevant by the time it gets into your hands, but instead Cool Japan focuses on giving an inside look into the enduring and captivating qualities of Japan's culture and history and how it can be discovered by visiting Kyoto, Tokyo, and the Tohoku region.
Posted by Benjamin Martin, a JET from 2008-2013 in Okinawa, publisher of the blog MoreThingsJapanese.com and author of Revenge of the Akuma Clan

(Tuttle).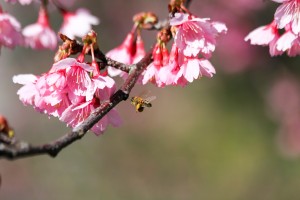 Down in Okinawa the weather has been rather warm this year. This means that along the way we've had some great opportunities to view this year's cherry blossoms as they begin to bloom from southern Okinawa and work their way north. On Kume Island, there are two great spots to see sakura throughout January. During the season's peak we get lots of bees and mejiro coming to visit the sakura, not to mention tourists.
One of the biggest events surrounding the sakura  is the Sakura Festival. Though there are many throughout Japan, Kumejima's is one of the first in Japan. Visit morethingsjapanese.com for more pictures from the Sakura Festival and for more cherry blossoms!
WIT Life is a periodic series written by professional Writer/Interpreter/Translator Stacy Smith (Kumamoto-ken CIR, 2000-03).  She starts her day by watching Fujisankei's newscast in Japanese, and here she shares some of the interesting tidbits and trends along with her own observations.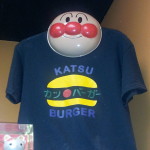 I spent the weekend here in Seattle for the purpose of running the local marathon, which I successfully completed this afternoon!  Due to Seattle's large Japanese-American population and their great influence, on previous visits I have taken advantage of cultural offerings such as the Uwajimaya shopping center (similar to our Mitsuwa), but I was excited to discover a new Japan-related restaurant this time around.  I was pretty ravenous after running and craving something substantial, so on the way to the airport I found myself at Katsu Burger.  It is in an area surrounded by several fast-food teriyaki joints, but not much else.  However, once stepping into the shop you are greeted by a wide variety of Japanese memorabilia, as well as a map adorned with push pins indicating where customers have visited from.  As you would expect of Chikyu no Arukikata bearing Japanese tourists, Japan was full from Hokkaido to Okinawa!
Katsu Burger bills itself as serving "Japanese-style burgers and beyond," and all items Read More
Posted by Benjamin Martin, a JET from 2008-2013 in Okinawa, publisher of the blog MoreThingsJapanese.com and author of Revenge of the Akuma Clan

(Tuttle).
After visiting Tokyo Skytree during my two-day trip to Tokyo I worked my way down to the new train station to work my way back into town. Many people had suggested the Asakusa area so I got off at the Asakusa station, just a few stops from the tower. I didn't have any specific plans or maps but I quickly found my way to a highly populated area before the Senso Temple grounds.
Between the Kaminari (lightning) Gate and the Hozo Gate is a long street sided by stalls of small shops offering a wide variety of gifts and souvenirs. From the small train station I arrived at I ended up in the middle of the street. Despite the lack of special events there were tons of tourists and other visitors packing the small way. The reason for this oldest temple in Tokyo's popularity was clear when the Hozo Gate and the main hall came into view just beyond.
The temple's grounds are large and expansive, offering the traditional views most Buddhist temples offer, but with a variety of interesting things that make a visit there unique. Unfortunately, while I was visiting the skies were overcast, but I managed to snap a few photos while wandering the grounds. Before going I did no research or planning which made the exploration a bit more fun, even though I was quite tired after an entire day walking Tokyo.
One of the most interesting views was from just beyond Hozo Gate.  There, you can glimpse Tokyo Skytree paired with the giant fiber sandals attached to the back of the gate. I found it an interesting mix of new and old. I definitely think a trip to Senso-ji is worth the time if you're visiting Tokyo.
For more pictures from the trip visit MoreThingsJapanese.com
Updated with media coverage of the visit.
Boston and New York had the honor of hosting Kumamon's North American debut last week! Who is Kumamon you may ask? The rosy-cheeked, sack-shaped bear is the official mascot of Kumamoto Prefecture in Kyushu. Voted the top "Yuru-kyara" (cuddly mascot character) in Japan, he has taken Japan by storm and sold more than $300 million worth of merchandise in 2012 alone.
Kumamon's remarkable success in promoting his rural prefecture across Japan–there is even an exclusive "Kumamon Goods" store in Tokyo's upscale Ginza neighborhood–is being studied in government offices and marketing departments across Japan. In fact, no less than the Wall Street Journal has published no fewer than three articles about the phenomenon.
If you'd like to learn more about Kumamon, including what he does every day, I recommend checking him out online:
Facebook page: https://www.facebook.com/kumamotodiary.en
Home page: http://kumamon-official.jp/
Governor Kabashima is an interesting person. He was an "at-risk" student who grew up poor in Kumamoto. Against all odds, through hard work and dedication he ended up earning a PhD from Harvard and becoming a political science professor at University of Tokyo. His launch of the Kumamon public relations campaign is one of the great local promotion success stories of recent times.
Kabashima has also gotten a lot done in Kumamoto, including making some real headway in repairing Kumamoto's troubled finances (he started by cutting his own salary), trying to resolve remaining issues related to Minamata disease, and blocking Tokyo's plans to build a huge dam in the prefecture. A very good article about his life can be found here in the Asahi newspaper. The governor introduces himself and his views in two videos, here and here.
From the start, Kumamoto Prefecture and local communities have been dedicated supporters of the JET Program. Year after year, the prefecture has been near the top of the list in hosting the most JETs, hosting around 100 this year. I myself was a Kumamoto JET. I grew to love the prefecture while I lived there, and now consider it to be my "second home."
I encourage everyone to take some time to visit Kumamoto while traveling in Japan. The prefecture boasts some of the best onsen hot springs in the country. Aso-Kuju National Park is one of the natural wonders of the world, with its giant ancient crater that is so large that an entire volcano and six towns exist inside of it (I lived in one of them!). Kumamoto Castle is one of the three finest castles in Japan. Beautiful parks and gardens, beaches and mountains, history and culture, Kumamoto has it all!
If you are a JET alum from Kumamoto, I encourage you to join the LinkedIn Group for Kumamoto JET alumni here. In fact, I encourage all alumni to join their prefecture's LinkedIn Group. You can find yours here. It's a great way to stay connected with other alumni from your prefecture.
I'm glad JET alumni had a chance to welcome Governor Kabashima and Kumamon to the U.S. Congratulations on the great success of their first U.S. tour together!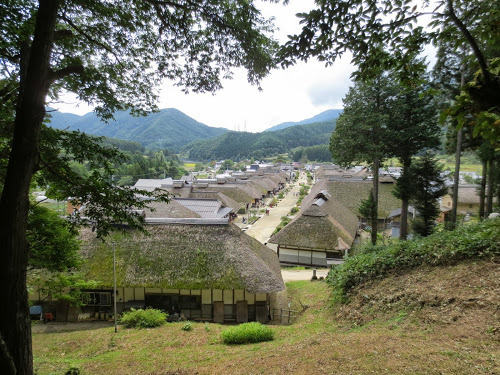 Saw the link for this posted by Eden Law to the JETAA Oceania Facebook group.  Here's a sample post:
http://fukushimalive.blogspot.jp
"This blog Fukushima Live collects stories from people living in Fukushima Prefecture"
Recently I had the opportunity to travel around the Aizu Region here in Fukushima Prefecture. Aizu, the westernmost region of the three regions in Fukushima, is known for its rich history and sake-brewing industry.
Posted by Benjamin Martin, a JET from 2008-2013 in Okinawa, publisher of the blog MoreThingsJapanese.com and author of the award-winning YA fantasy series Samurai Awakening (Tuttle).
Yes. This past week on Kume Island, children were sent screaming as a single wild lion went rampaging through a peaceful neighborhood. Well, it was mostly peaceful. Since it was the full moon and August 15th of the Kyureki calendar, there were also a bunch of people around banging gongs and playing music. There were also some creepy Hacaburo running around egging the lion on. Warned in advance that something might be going on, I showed up with some local friends just after sunset with my camera ready. What I saw shocked me, and soon my former students were running for cover… behind me.
By the end of the night no less than 5 children had been bitten. When asked, parents responded that they were overjoyed. One parent, while holding a screaming infant, smiled widely and talked about how smart he would be while neglecting to stop the lion from continuing its rampage.
For more on this story, visit MoreThingsJapanese.com for pictures and video.
Posted by Benjamin Martin, a JET from 2008-2013 in Okinawa, publisher of the blog MoreThingsJapanese.com and author of the award-winning YA fantasy series Samurai Awakening (Tuttle).
The Ha-ri- races are a yearly event on Kume Island. This year they took place on June 12 at three locations around the island.  This year I stuck to the Maja area where locals and students gathered together for a day of races and fun in the water.
While the races are the primary attraction, there is also generally a ball-toss game for the nursery school children and a tug-of-war.  There are numerous races from both locals and school participants.  At the Maja area, students from the local Nakazato Junior High, Misaki and Nakazato elementary schools, and students from Kumeshima High School all joined together in mixed and separate races.
This year I broke out my gopro to give you a closer look at participating in the Ha-ri- races.  Thanks to a few friends and students who wore the camera along the way.  Of course with plenty of water a few bucket wars broke out among the high school students, and not all of the boats made it back without a little extra water.  Check out the video and pictures below, then come join us next year for this great event.
For more photos and video from this special event visit MoreThingsJapanese.com
Let's Talk Japan is a monthly, interview format podcast covering a wide range of Japan-related topics.  Host Nick Harling (Mie-ken, 2001-03) lived in Japan from 2001 until 2005, including two great years as a JET Program participant in Mie-Ken.  He practices law in Washington, D.C., and lives with his wife who patiently listens to him talk about Japan . . . a lot.

In this episode, Nick speaks with JET Program alumni Chelsea Reidy and Elayna Snyder about their upcoming 900-mile bicycle tour of Shikoku's famous 88 temple pilgrimage.  
Listen to hear them describe their creative "Temple by Temple Project," which they are funding through Kickstarter, and how they plan to share their adventure with others.

To learn more, check out their website, www.bigricefield.com, and the Temple by Temple Project on Kickstarter. 
Enjoy!
Nick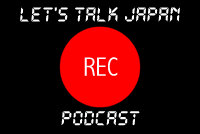 Maryland-based Ehime-ken JET alums Elayna Snider and Chelsea Reidy have put together an illustrated book of their "88 temple pilgrimage" by bicycle in Shikoku.  They now have a Kickstarter page to help them raise funds to publish it and a wonderful video that explains what this is all about.  Definitely worth a look.  It's hard to do justice in my own words, so click the link and watch and read for yourself:
http://www.kickstarter.com/projects/1042996508/temple-by-temple  
Excerpts from the Kickstarter site:
There are 88 temples on Japan's 88 temple pilgrimage. With two bicycles, a tent, notebooks and pens, plus a Rolleiflex, we will go to all of them. While we travel the 900-mile route, we'll be collecting the materials needed to make 88 hand-bound versions of our illustrated book, Temple by Temple.

Elayna does the art, Chelsea does the words. A children's book? It can be. A coffee table book? Sure. A book you have around and pick up from time to time? Yes! The idea and project did not come from any prescribed place of "Let's make a kids book." We are two people with varying ideas and skills and we combined them to make a book that describes the route, the temples, and this 1,200 year old pilgrimage which draws people of all different faiths and from all over the world.
Posted by Benjamin Martin, a JET from 2008-2013 in Okinawa, publisher of the blog MoreThingsJapanese.com and author of the award-winning YA fantasy series Samurai Awakening (Tuttle).
Since the end of the rainy season early this year, the weather on Kume Island has been full of clear sunny days.  While it makes for great sight-seeing and beach-going, it has been a hard year for farmers, with little or no rain to sustain critical crops.  For the first time in 15 years, the island locals returned to their roots, asking for the help of the Chinbei, the name of the high priestess from the old Ryukyu Kingdom to come and pray for rain.
This rare ceremony began early on August 11th.  The Chinbei and other priestesses (noro) met at Chinbei Dunchi on Kume Island.  There, a sacred rock was encircled by rope to signify the presence of a kami.  After offerings of rice, fruit, and sake, the noro poured water onto the rock while the Chinbei and other local representatives prayed.  The Chinbei poured sake from a small cup, repeating the process until she felt the kami was satisfied.
Afterward, all the attendees were asked to participate in a tug-o-war competition outside the grounds.  In addition to the physical offerings of sake, rice, and fruit, the offering of effort and strength signified by the competition was in offering to local kami. While competing, locals were sprayed and doused with water, and afterward danced in the simulated rain.
From Chinbei Dunchi, the priestesses and local leaders made offerings at two other shrines in the area.  These shrines date back hundreds of years.  One was a natural rock formation where a kami is thought to reside.  The other was hidden away near the airport grounds where a concrete structure enclosed the sacred home of another kami.  At both sites, offerings of rice, sake, fruit and prayers were put forth.
Immediately after the prayers ended, it began to rain.  A tornado was even spotted, though it did not touch down.  The farmers and local representatives happily returned to Chinebei-dun, the parched ground sated with the first short downpour in a very long time.
For more photos from this special event visit MoreThingsJapanese.com
Thanks to JET alum and JTC Denver Branch Manager Matthew Eccles for sharing this posting.  Posted by Kim 'Kay'  Monroe (Miyazaki-shi, 1995 -97). Click here to join the JETwit Jobs Google Group and receive job listings even sooner by email.
————————————————————————————————————
Position: Japan travel consultants
Posted by: InsideJapan Tours
Type: Full-time
Location: Boulder, CO
Salary: N/A
Start Date: N/A
Overview:
InsideJapan Tours is a dynamic travel company. Formed in the UK, we also have an office in Japan and in 2010 opened our first US Branch in Boulder, Colorado. We now have a team of four, and are looking for a new travel consultant to help us grow onward and upward.
This position presents the perfect opportunity for a former JET to begin a career in the travel industry and use their knowledge and love of Japan. Boulder and the surrounding area is a fantastic place in which to live and work, and the Pearl Street location couldn't be better!
For more information about the company, role, great benefits and to apply, please see our website:
http://insidejapantours.org/Jobs/TCJob_details.html