May
24

Article/Journalism, Events, Justin's Japan, Music

Comments Off

on Justin's Japan: The World Belongs to Hatsune Miku
By JQ magazine editor Justin Tedaldi (CIR Kobe-shi, 2001-02) for Shukan NY Seikatsu. Justin has written about Japanese arts and entertainment for JETAA since 2005. For more of his articles, click here.
Pop idols are everywhere in Japan, but most of them remain there. One particular idol breaks that tradition, with a notable exception: she's not human.
Hatsune Miku, whose name means "first sound of the future," is a Vocaloid (machine-made vocals) digital female avatar and creation of Crypton Future Media who currently has over 100,000 unique songs in her voice, which are synthesized tracks reminiscent of Auto-Tune. In Japan, Miku is massively popular and has appeared in numerous hit video games, music videos and ad campaigns, and her appearances with major artists like Lady Gaga and Pharrell Williams has boosted her international appeal.
Miku returns to the U.S. this summer for Miku Expo 2018, her third American tour. Miku Expo consists of live concerts that feature a range of hits from across her career as well as utilizing the latest holographic projection and voice synthesizing technology to create the ultimate Hatsune Miku experience—green onion-colored glowsticks included. For this year's edition, fans were invited to sample a 39-day trial version of Hatsune Miku V4X software in English to create a new song, with the winning entry to be performed at every show on the North American tour.
True to its name, Miku Expo also presents an exhibition of Miku fan art by artists from Japan and local areas plus workshops and other events held to complement the concert.
The six-date U.S. tour wraps at New York's legendary Hammerstein Ballroom on July 14th. After that comes Miku's second appearance in Mexico City, then it's off to Europe in December for Miku's first-ever live concerts in Paris, Cologne, and London. The Paris date is set to coincide with the wider "Japonismes 2018" project celebrating Japanese and French relations throughout the year.
For more info and tickets, visit www.mikuexpo.com.
By JQ magazine editor Justin Tedaldi (CIR Kobe–shi, 2001-02). Justin has written about Japanese arts and entertainment for JETAA since 2005. For more of his articles, click here.
As spring continues and the weather continues to warm, New Yorkers can enjoy activities all over the city both indoors and out.
This month's highlights include:
Sunday, May 6, 11:00 a.m.
Children's Day Festival: Kodomo no Hi
Japan Society, 333 East 47th Street
$18, $10 Japan Society members, children ages 2 and under free
Hang the koinobori (carp streamers) and don your kabuto (samurai helmet): Children's Day is on its way! Come join us for Japan's national holiday where all children are stars and their happiness is celebrated. Enjoy a performance of Peach Boy (Momotaro) featuring storytelling, music, dance, taiko drumming and lots of audience participation. Continue the adventure with other authentic Kodomo no Hi activities!
Sunday, May 6, 8:00 p.m.
Sony Hall, 235 West 46th Street
$34.50, $74.50 VIP
Keiko Matsui's music speaks to the hearts and souls of fans around the world, transcending borders and building bridges among people who share a common appreciation of honest artistry and cultural exchange. Journey to the Heart, her 27th recording as a leader, marks the 30th anniversary since her recording debut and is her boldest statement yet. On Journey to the Heart, Matsui more than delivers what she has come to be loved for breathtakingly beautiful transcendent melodies that transport the listener. A master storyteller, she crafts passionate and emotive songs with lush harmonies and global rhythms to create timeless musical anthems.
Tuesday, May 8, 6:30 p.m.
Cool Tokyo: Harajuku, Akihabara and Beyond
Japan Society, 333 East 47th Street
$14, $11 Japan Society members, seniors and students
From street fashion to street food, kawaii to cosplay, Tokyo is the epicenter of Japan's latest trends. With so much to explore in this vibrant, fast-paced city, it can be hard to know where to start. At this talk, Sebastian Masuda, visual artist and founder of Harajuku shop 6%DokiDoki, and Abby Denson, comic book artist and author of Cool Tokyo Guide: Adventures in the City of Kawaii Fashion, Train Sushi and Godzilla, help to navigate Tokyo's vending machines, subway etiquette, hidden treasures, and much more. Followed by a book signing reception.
By Allen Wan (Ishikawa-ken, 1990-92) for JQ magazine. Allen works as a foreign correspondent in Shanghai. He is also a lecturer in the executive MBA program at Jiao Tong University and currently serves as president of the Shanghai Foreign Correspondents Club. Allen would like to get in touch with other JET alumni in Shanghai who are interested in setting up a JETAA chapter.
Tokyo native Meg Okura defies convention. While forging a prolific career in music since graduating from Juilliard in the '90s (working with the likes of Diana Krall and David Bowie to name a few), this Grammy-nominated jazz violinist continues reaching out to new audiences through her "world chamber jazz" that could mean anything from performing the erhu with her Pan Asian Chamber Jazz Ensemble or big band music from Japanese and Jewish composers.
As part of the NPO Trio, Okura recently released Live at the Stone, a collaboration with husband Sam Newsome (soprano saxophone) and Jean-Michel Pilc (piano) that creates a unique sound with hints of familiar melodies including well-known Yiddish songs and even excerpts of John Coltrane. Arriving May 13 is IMA IMA, Okura's latest studio effort. A reflection on motherhood featuring the Pan Asian Chamber Jazz Ensemble and trumpeter Tom Harrell, this new material will be showcased in an intimate live performance at Dizzy's Club Coca-Cola in New York on Aug. 20.
In this exclusive interview, Okura discusses her inspirations and also tackles taboo topics like whether the music industry needs its own #MeToo movement and the difficulty of making a living as a musical artist in the age of the internet.
You are known for your eclectic music, getting inspiration from jazz, pop, and all the way to 19th century Yiddish music. Is that a concerted effort to avoid being typecast in any particular genre?
I create music that is true to myself. Different types of music reveal themselves to me whether it sounds like Ose Shalom, J.S. Bach, Piazzolla, Coltrane or even YMO. I just welcome what comes to me. But don't get me wrong, I am a firm proponent of straight-ahead jazz. I am a jazz musician first and foremost, but I also used to perform Brahms and Ravel, and have toured with Michael Brecker as well as many Jewish bands. So I just stay true to myself and try to accept my whole history and different life experiences.
Has being born and raised in Japan influenced your musical style? Why learn the erhu and not the shamisen, for instance?
Japanese people are open and unafraid of owning music from other cultures. For example, I am very unapologetic about learning the erhu, jazz, and Judaism—things that obviously belong to races, cultures, and traditions different from my own. It's a uniquely Japanese thing to embrace arts from other cultures and perform them at a high level.
What got you hooked on Yiddish music, and did your husband have any influence on that?
Do you know that I have a big band called J-Orchestra? We play music by Jewish and Japanese composers including works by yours truly, who is both Jewish and Japanese. Not only am I a Jew but I have also studied German and Hebrew, so I always felt connected to the Yiddish melodies—minor melodies with major chords. I always cry every time I play "Oyfn Pripetchik." My husband, Sam Newsome, on the other hand, is not Jewish. So he is not familiar with these melodies at all, and it works out beautifully keeping our music making fresh and unique.
By JQ magazine editor Justin Tedaldi (CIR Kobe–shi, 2001-02). Justin has written about Japanese arts and entertainment for JETAA since 2005. For more of his articles, click here.
Spring has sprung in the Big Apple, and that means one thing: a new season of sounds, colors, and spectacular performing arts to match the blossoming sakura trees throughout the city.
This month's highlights include:
Thursday, April 5, 6:30 p.m. and 8:00 p.m.
Rakugo Event: Tozaburo Yanagiya III
Brooklyn Kura, 68 34th Street (Industry City)
Free
This special set of performances is held at the first Japanese sake brewery in New York State. Born in Tokyo, Yanagiya Tozaburo became a disciple of master Rakugo performer Yanagiya Gontaro III in 1999. He was promoted to the master Shin'uchi rank, in which he himself is certified to train disciples, in 2014. Ever since, he has performed all over Japan and appeared in the ShotenRakugo show and other television programs. During his first visit to North America this spring, he has performed at the University of Toronto, LaGuardia Community College, Hunter College, New York University, and Brooklyn Kitchen. Tozaburo was awarded the Agency for Cultural Affairs' Arts Festival Newcomer Award in 2016. Tozaburo will share sake-inspired stories (while patrons can enjoy the real thing on the premises) along with a traditional story, "The Zoo."
Tozaburo is also appearing at J-COLLABO's Spring Festival in Park Slope on Saturday, April 7, at 3:00 p.m. For more information, click here.
April 12-28
Kazuo Miyagawa: Japan's Greatest Cinematographer
The Museum of Modern Art, (April 12-29)
Japan Society, (April 13-28)
$13/$10 seniors and students, $9 Japan Society members
In celebration of the 110th anniversary of his birth, Japan Society presents an 11-film retrospective surveying the work of Kazuo Miyagawa (1908-1999), the most influential cinematographer of postwar Japanese cinema. Working intimately with directors like Yasujiro Ozu, Akira Kurosawa, Kenji Mizoguchi and Kon Ichikawa on some of their most important films, Miyagawa pushed Japanese cinema to its highest artistic peaks through his lyrical, innovative and technically flawless camerawork. This career-spanning selection displays his great versatility, including major masterpieces and rarely shown titles, screening in 35mm and new digital restorations. Co-organizer The Museum of Modern Art will host repeat screenings and additional Miyagawa retrospective titles from April 12-29. Preceding the retrospective, new 4K restorations of Mizoguchi's A Story From Chikamatsu and Sansho the Bailiff, both shot by Miyagawa, will run at Film Forum from April 6-12.
April 22-23, 25
E-Walk 42nd Street 13, 247 West 42nd Street / Empire 25, 234 West 42nd Street
$12.50 all ages
Part of Studio Ghibli Fest 2018! From the legendary Studio Ghibli, creators of My Neighbor Totoro and the Academy Award-winning Spirited Away, comes a charming and magical adventure that will delight the entire family. Haru is walking home after a dreary day of school when she spies a cat with a small gift box in its mouth crossing a busy street, and she jumps in front of traffic to save the cat from an oncoming truck. To her amazement, the cat gets up on its hind legs, brushes itself off, and thanks her very politely. But things take an even stranger turn when later than night, the King of Cats shows up at her doorstep in a feline motorcade. He showers Haru with gifts, and decrees that she shall marry the Prince and come live in the Kingdom of Cats!
April 25-27
Cinépolis Chelsea (4/25-26), 260 West 23rd Street
Regal Cinemas Battery Park Stadium (4/27), 102 North End Avenue
$23
From his start pioneering synth pop music with Yellow Magic Orchestra, in the late '70s to winning an Oscar for his score for The Last Emperor in 1988, Ryuichi Sakamoto quickly established himself as one of the most original and intuitive composers of his generation. But, never content to rest on his laurels, Sakamoto's life journey eventually led him to find musical inspiration in the unlikeliest of places: the Fukushima nuclear disaster and a personal battle with cancer, both of which gave way to a late-life shift in his artistic process. With Coda, director Stephen Nomura Schible (a co-producer on Lost in Translation) crafts a portrait of the artist as an ageless man, one who can turn the worst news into the most refined and purposeful moment of productivity in an already storied career. Shot over five years, this graceful music documentary is an elegantly observed examination of the creative process, following as Sakamoto builds from nothing the album he must assume will be his swan song. Premiere Screening features a Q&A with subject Sakamoto and Nomura Schible.
April 28-29, 10:00 a.m.-6:00 p.m.
Brooklyn Botanic Garden, 990 Washington Avenue
$30 adults, $25 senior and students, free for BBG members and children under 12
Billed as a dynamic two days of traditional and contemporary Japanese culture inspired by BBG's famous collection of flowering cherry trees, organizers will once again welcome tens of thousands of visitors to its massive 52 acres, home to over 12,000 kinds of plants (and, for that weekend, nearly as many cosplayers). Enjoy food and drink, events and activities for all ages while taking in live performances from New York troupe Dancejapan with Sachiyo Ito, the BBG Parasol Society Fashion Show, NYC's own J-pop meets jazz favorite J-MUSIC Ensemble, and the Matsuri live debuts of DJ Sashimi and Tokyo-based rock duo Bo-Peep.
Want to stay in the loop on future events? Follow Justin on Facebook and Twitter.
By JQ magazine editor Justin Tedaldi (CIR Kobe–shi, 2001-02). Justin has written about Japanese arts and entertainment for JETAA since 2005. For more of his articles, click here.
Stay warm this winter with some hot local events, from live showcases that will transport you to another time and place, some new anime screenings, and a sake extravaganza you won't want to miss.
Now through May 6
Children's Museum of Manhattan, 212 West 83rd Street
$14 children/adults, $11 seniors
Experience Tokyo's vibrant culture in a new interactive exhibit! Children will have fun learning about life in present day Japan in this playful, highly immersive environment that transports families to two distinct areas of Tokyo that exist side by side: one serene and exquisite, the other, too cute for words. Kawaii Central is a streetscape inspired by Tokyo's bustling Harajuku district, bursting with color, trendy shops and cuter than cute styles. Kids sing karaoke, smile for the photo booth camera, serve up a seasonal Japanese meal, and design adorable mascots for their families. Plus, learn more about contemporary Japan through special programs for the public, free with admission.
Saturday, Feb. 3, 3:30 p.m.
Private Japanese Tea Ceremony Demonstration @ The Secret Kyoto Garden 
Urasenke Chanoyu Center of New York, 153 East 69th Street
$35 advance, $39 day of event
Experience one of Japan's oldest traditional tea ceremonies in a secret indoor Japanese garden hidden in the Upper East Side—led by a Tea Master of Urasenke! Join New York Adventure Club for a traditional Japanese tea ceremony demonstration in the style of Urasenke, one of the main schools of Japanese tea ceremony. Established in 1967 to promote the rich cultural tea tradition of Urasenke in New York City, the UCC is a private organization that teaches its members how to master this ancient tradition over the course of 10-15 years. This event also offers an opportunity to consume the best quality sweets and matcha green tea from Kyoto, the birthplace of Urasenke.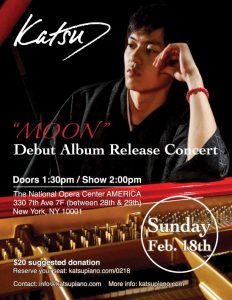 Sunday, Feb. 18, 2:00 p.m.
Katsu: Debut Album Release Concert
National Opera Center – OPERA America, 330 Seventh Avenue
$20 suggested donation
Katsu started to perform in public about a month after he started playing the piano when he was the age of 19 by self-learning. He also started composing originals soon after the beginning of the public performances. After performing several times in Japan, He moved to New York. Then in December 2016, he debuted as a composer and a pianist at the Steinway Hall. Now, he has been performing his original tunes as a solo pianist at multiple venues. His music is described as New Age music, classical, Jazz, romantic piano, and more. This intimate performance will feature selections from his recently released debut album, Moon.
March 25-26, 28
E-Walk 42nd Street 13, 247 West 42nd Street / Empire 25, 234 West 42nd Street
$12.50 all ages
For the kickoff of Studio Ghibli Fest 2018,  From the legendary Studio Ghibli, creators of Spirited Away and My Neighbor Totoro, and Academy Award-winning director Hayao Miyazaki, comes a heartwarming family adventure. When Sosuke, a young boy who lives on a clifftop overlooking the sea, rescues a stranded goldfish named Ponyo, he discovers more than he bargained for. Ponyo is a curious, energetic young creature who yearns to be human, but even as she causes chaos around the house, her father, a powerful sorcerer, schemes to return Ponyo to the sea. Miyazaki's breathtaking, imaginative world is brought to life with an all-star cast, featuring (on the March 25 and March 28 English-language screenings) the voices of Cate Blanchett, Matt Damon, Lily Tomlin, Liam Neeson, and more.
Monday, March 26, 7:30 p.m.
Japan Society, 333 East 47th Street
$15, $10 Japan Society members, seniors and students
This program is the 13th installment of Japan Society's annual Play Reading Series, which introduces topical plays from up-and-coming playwrights in Japan to artists and audiences in the U.S. Written by Hideto Iwai, the winner of the prestigious Kishida Kunio Award for Drama, Manhood follows the twisted turns in the lives of four men as their boyish posse faces the harsh realities of adulthood and old age. Sarah Hughes, a New York local and emerging theater director, leads her gender swapped cast in this off-kilter depiction of Japanese "bro culture." Playwright Iwai joins in a post-performance Q&A with the audience and director.
Friday, March 30, 6:30 p.m.
The Nippon Club, 145 West 57th Street
$10 (materials included), RSVP at jpcourse@jfny.org
Are you planning a trip to Japan in the near future? If so, this workshop is for you! Please join us for our Travel Japanese workshop and learn Japanese vocabulary and basic expressions essential for travel in Japan! Japanese customs and useful travel information will also be introduced. In this workshop, you will be able to order food at a restaurant using simple terms, communicate with a store attendant while doing shopping, tell your destination to a taxi driver or station agent and ask for information, and more!
Want to stay in the loop on future events? Follow Justin on Facebook and Twitter.
By JQ magazine editor Justin Tedaldi (CIR Kobe–shi, 2001-02). Justin has written about Japanese arts and entertainment for JETAA since 2005. For more of his articles, click here.
Start 2018 off right by heading down to your local concert hall, cinema, or arts center for some fantastic new year's fare. Whether you enjoy movies, travel, or orchestral performances classic video games, treat yourself and catch a break from the cold.
This month's highlights include:
Jan. 1-11
IFC Center, 323 Sixth Avenue
$15 adults, $11 children
In collaboration with GKIDS, IFC Center is pleased to present the return of this smash-hit retrospective of Japan's famed Studio Ghibli animation house. Don't miss your chance to see some of the greatest films of all time on the big screen! Titles include the favorites Spirited Away, Nausicaä and My Neighbor Totoro—with select screenings on 35mm prints! All films shown prior to 6 p.m. will be screened in the English-language version; evening shows will be subtitled in English. For a list of all films and dates, click here.
Jan. 11-14
Japan Society, 333 East 47th Street
$35, $30 Japan Society members
Following a sold-out run of Medea in 2011, Satoshi Miyagi and his company SPAC return to New York with another literary masterpiece, Othello. Miyagi re-tells Shakespeare's famed tragedy through noh theater's most distinct storytelling structure, mugen noh, or a play that features a spirit. Told from the perspective of Othello's wife Desdemona, who returns as a ghost after her death, Miyagi's production is replete with stunning masks and costumes as well as powerful live music and chanting. Performed in Japanese with English titles. The Friday, Jan. 12 performance is followed by an artist Q&A.
Saturday, Jan. 13, 2:00 p.m. and 8:00 p.m.
Distant Worlds: Music from Final Fantasy
Carnegie Hall (Stern Auditorium/Perelman Stage), 881 Seventh Avenue
$28-$120
Distant Worlds brings its concert production to one of the world's most famous orchestral venues. With composer Nobuo Uematsu in attendance, the Distant Worlds Philharmonic Orchestra and the Dessoff Choirs under the direction of Grammy Award-winner Arnie Roth celebrate the 30th anniversary of Final Fantasy. These special performances feature exclusive HD video presentations from Square Enix alongside classic scores and new premieres.
By Greg Beck (Hiroshima–ken, 2006-11) for JQ magazine. Greg is a writer, producer, home brewer, and Social Coordinator for JETAA Southern California and Arizona. A former news producer for Tokyo Broadcasting System in New York, he currently works freelance in Los Angeles. For more cinema reviews, follow him on Twitter at @CIRBECK #MovieReview.
Regardless of your placement on JET, music is a constant part of the experience. Whether it is karaoke parties with friends, music festivals like Fuji Rock, "live house" local performances, or simply singing Beatles and Carpenters with your students (over and over), all of us take something musical with us from our time on JET. But what about musicians who join JET? JQ reached out to two alumni from small islands off the coast of Kyushu, who have gone on to release their own albums, and hear from them how these unique records reflect that experience.
Eli Cohen (Kagoshima-ken, 2009-2010) runs the International Admissions department at one of the City University of New York's institutions. He is also a DJ who started a record label, Alliance Upholstery. His new album, Tokyo Nights: Female J-Pop Boogie Funk —1981 to 1988, is a collection of music that fits into this genre.
If that sounds obscure, we thought so, too. Cohen explains: "In high school I was really into Japanese punk (Teengenerate, Guitar Wolf). This is where my interest in Japan started. As I grew older, I became very interested in Japanese music from the '80s, as well as fashion and art from the era. Japanese people refer to this style as 'City Pop.' Outside of Japan, the term is a little vague and people often call this Japanese Boogie. The sound reflects the attitude and excitement of the bubble, bright and full of optimism," adding that his favorite artist is Toshiki Kadomatsu.
Many JETs can probably relate to Cohen's experience as a JET placed on a rural, island, both in the difficulties adjusting, and the unexpected opportunities. Having spent several years before JET living in Osaka and Tokyo, Cohen was placed in Minamitane, below the southernmost tip of Kyushu, which he describes as "a tiny town of about 8,000 people on the island of Tanegashima." Before that, he says, "I had felt very little culture shock when I first moved to Japan as I had only lived in major cities. Tanegashima was my first taste of inaka life and a very unique and challenging experience." While he admits, "The students were great but I prefer city life and was eager to return to Tokyo," he also shared the following: "JAXA, the Japanese space program, is based in Minamitane. There was a bar in town appropriately titled Moon Bar. I would DJ there on occasion and tried to incorporate space themes into the sets."
By JQ magazine editor Justin Tedaldi (CIR Kobe-shi, 2001-02). Justin has written about Japanese arts and entertainment for JETAA since 2005. For more of his articles, click here.
From the silver screen to the stage to J-pop, November is just as colorful as the autumn leaves drifting through the air. Add these live events to the mix and you've got an irresistibly epic rundown.
This month's highlights include:
Now through Dec. 16
Yayoi Kusama: Festival of Life and Infinity Nets
David Zwirner Galleries, 525 and 533 West 19th Street and 34 East 69th Street
Free
Yayoi Kusama's work has transcended some of the most important art movements of the second half of the twentieth century, including Pop Art and Minimalism. The exhibitions will feature sixty-six paintings from her iconic My Eternal Soul series, new large-scale flower sculptures, a polka-dotted environment, and two Infinity Mirror Rooms in the Chelsea locations, and a selection of new Infinity Nets paintings uptown. The celebrated Infinity Mirror Rooms invite the viewer to experience a sense of infinity through the play of reflections between the circular shapes of light and the surrounding mirrors. The Infinity Net paintings on view at the gallery's uptown location are the latest works in a series begun in New York in the 1950s, when Abstract Expressionism was still the dominant style. These canvases embodied a radical departure, featuring minutely painted nets across monochrome backgrounds.
Nov. 3-5
Japan Society, 333 East 47th Street
$95, $75 Japan Society members, seniors and students (Nov. 4-5 only)
Part of Japan Society's NOH-NOW series, celebrating its 110th anniversary! Hiroshi Sugimoto, acclaimed visual artist and traditional Japanese arts connoisseur, offers his most recent noh piece. In this new play, the ghost of revered 16th century tea master Sen-no-Rikyu appears to tell the story of his tragic death by forced suicide. Opening a door onto medieval Japan, the program begins with a tea ceremony by Sen So'oku, direct descendent of Sen-no-Rikyu, and features Japan's top noh actors and musicians. Performed in Japanese with English titles.
Nov. 16-Dec. 3
SoHo Playhouse, 15 Vandam Street
$30
Universally funny and yet so very Japanese. Katsura Sunshine makes his highly-anticipated off-Broadway debut! As the world's first bilingual rakugo-ka (a traditional Japanese comic storyteller), he is an international ambassador of this 400-year tradition. Fresh off 10 smash-hit performances in London's West End, he will have a series of performances bringing his unique yet authentic rakugo to Off Broadway—in Japanese and English!
Nov. 17-19
Jacob K. Javits Convention Center, 655 West 34th Street
$35-$60; VIP passes also available
"Anime and manga have taken the world by storm. While New York City is the largest city in America, no focused event championing Japanese pop culture calls it home and with a population of eight million there's a massive demand here," says Peter Tatara, LeftField Media's vice president of anime events. "Anime NYC will be a celebration of this community of fans and a platform for publishers and studios from both sides of the Pacific to be in front of the eyes of attendees, trendsetters, and people who aren't yet familiar with the worlds of anime and manga. We're looking forward to a vibrant, dedicated celebration of everything in Japan that's nerdy and cool, in the media capital of the world!"
In this inaugural three-day celebration of Japanese animation powered by Crunchyroll, attendees will be able to view exclusive anime screenings and meet major guests courtesy of international animation and manga publishers; play the latest in Japanese gaming technology; chow down on Japanese delicacies and fusion cuisine; rock out to musical guests direct from Tokyo; and more! An estimated 20,000 fans are expected to attend, with special guests featuring the English-language cast of Sailor Moon Crystal for a panel screening; the U.S. premieres of the films Gundam Thunderbolt: Bandit Flower and Fullmetal Alchemist, and the NY Ramen Summit, featuring a discussion between famed ramen chefs from around the city.
By JQ magazine editor Justin Tedaldi (CIR Kobe–shi, 2001-02). Justin has written about Japanese arts and entertainment for JETAA since 2005. For more of his articles, click here.
The Japan-centric events of the month ahead promise to be as rich and full as autumn itself—brisk and colorful, with a dash of unpredictability.
This month's highlights include:
Thursday, Oct. 5, 6:30 p.m.
Hiro Mashima: The Magical World of Fairy Tail
Japan Society, 333 East 47th Street
$30, $25 Japan Society members, seniors and students
Award-winning manga artist Hiro Mashima, known for his bestselling series Fairy Tail, comes to Japan Society for a special talk in conjunction with New York Comic Con. The epic fantasy series, which has sold over 60 million copies worldwide, follows the rambunctious wizard's guild Fairy Tail through adventures in a stunning variety of settings, with a mind-boggling array of colorful characters. Mashima, also renowned for his long-running series Rave Master, joins us to discuss the works that have captured the imaginations of fans around the world. Moderated by Ben Applegate, director of the Kodansha Comics publishing team at Penguin Random House, and interpreted by Misaki Kido, marketing director at Kodansha Advanced Media. One lucky guest will win a surprise gift from Mashima-sensei at the event! Followed by a reception.
Oct. 5-8
Jacob K. Javits Convention Center, 655 West 34th Street
Limited tickets available
With a record attendance of more than 170,000 visitors last year, the East Coast's biggest gathering for fans of comics, film, anime and manga, New York Comic Con returns with its biggest roster of Hollywood talent to date, and features exclusive screenings, gaming, cosplay photo ops, interactive booths by manga publishers including Vertical Comics and Kodansha Comics , and special guest appearances by manga artists Hiro Mashima (Fairy Tail) and Akira Himekawa (The Legend of Zelda)!
Friday, Oct. 6, 7:00 p.m.
Japan Society, 333 East 47th Street
$13, $10 seniors and students, $5 Japan Society members
Screening in 35mm! An ace fighter pilot and ex-member of the Italian Air Force during WWI is mysteriously cursed with a pig's face. Disillusioned with humanity, he adopts the name Porco Rosso ("Crimson Pig") and spends his time near the Adriatic Sea, drinking at a local bar and fighting off air pirates for cash. Famous for his unsurpassable flying skills, Porco draws the envy and antagonism of an American pilot who plots to take him down with the help of the fascist Italian police. This sixth film by Hayao Miyazaki is among the master animator's most personal and underrated, highlighting his deep love for aviation and pacifist worldview within an action-adventure story perfect for adults and children alike.
Premieres Friday, Oct. 13
Metrograph, 7 Ludlow Street
$15
In her new documentary, Lana Wilson (After Tiller) takes us deep inside the life of another extreme altruist, Ittetsu Nemoto, a punk-rocker-turned-Buddhist priest who has worked small miracles in suicide prevention in his native Japan. Now facing the new challenge of fatherhood, as well as rapidly escalating health problems of his own, Nemoto must answer a crucial question—can he justify risking his own life to help others carry on with theirs? With astonishing access and artistry, The Departure captures one man's wrenching decision between self-preservation and selflessness. Select screenings on Oct. 13 and 14 feature a special Q&A with the director.
Oct. 13-14, 7:30 p.m.
Japan Society, 333 East 47th Street
$35, $30 Japan Society members
Aesthetics of the past, present, East and West meld together in Italian director/choreographer Luca Veggetti's Left–Right–Left, which explores the point of intersection between Japan's 14th-century noh tradition and today's efforts in dance. With leading Japanese butoh and contemporary dancers, esteemed noh musicians and a child noh actor reciting text from noh plays Okina and Hagoromo, this production offers a lens into the microcosm of humanity. Performed in English. The Oct. 13 performance is followed by a MetLife Meet–the–Artists Reception. The Oct. 14 performance is followed by an artist Q&A.
Oct. 13-14, 8:00 p.m.
92nd Street Y (Buttenwieser Hall), 1395 Lexington Avenue
$15-$29
Tap dancer Kazu Kumagai, known for his "powerful athletic technique combined with a riveting clarity" (2016 Bessie Outstanding Performer Award) channels his exceptional rhythmic artistry into the intensity of HEAR/HERE. The program includes a live jazz quartet and guest tappers, including legends Ted Louis Levy and Brenda Bufalino (2016 Bessie Award for Lifetime Achievement). This Dig Dance show is Kazu's return to 92Y after a sell-out performance last season.
Wednesday, Oct. 18, 7:00 p.m.
The Nippon Club, 145 West 57th Street
$250, $200 members
A one-of-a-kind cultural experience! See Japanese Ozashiki culture in person with Geisha (Geiko and Maiko) from Nara, Japan. They will entertain visitors with their arts such as music, dance, conversations and traditional games while you enjoy Japanese food and sake. For RSVP and more info, call (212) 581-2223, or email info@nipponclub.org, attn: Mita, Uchikawa.
Friday, Oct. 20, 8:00 p.m.
The Legend of Zelda: Symphony of the Goddesses
United Palace Theater, 4140 Broadway  
$28.13-$120
Back by popular demand and presented by Jason Michael Paul Productions, The Legend of Zelda: Symphony of the Goddesses returns to New York with breathtakingly new visuals and music exploring additional chapters from the Zelda franchise as well as the beautifully orchestrated two-act symphony recounting the classic storylines from some of the most popular video games in history. Take up your wooden sword and shield as a live orchestra and the Montclair State University Vocal Accord brings to life the masterpieces of legendary Nintendo composer and sound director Koji Kondo.
Oct. 20-Nov. 17 (first rotation); Nov. 21-Jan. 7 (second rotation)
Hiroshi Sugimoto: Gates of Paradise
Japan Society, 333 East 47th Street
Single visit: $12/$10 students and seniors; both rotations: $20/$16 students and seniors;
free for Japan Society members; free admission on Fridays from 6:00 p.m.-9:00 p.m. 
This fall, explore one of the earliest, and largely unknown, encounters between Japan and the West in the 16th century, as seen through the eyes of artist Hiroshi Sugimoto. In celebration of Japan Society's 110th anniversary, Hiroshi Sugimoto: Gates of Paradise charts the story of four Japanese boys, who were swept up in the tide of religion, commerce and politics during the first Global Age and sent to the princely and papal courts of Europe. Journey in their footsteps through Sugimoto's new monumental photographs of the sites they visited, and navigate the germination of cultural exchange between East and West with classical masterpieces of visually hybrid (nanban) art from Japanese and American collections. Join guests for the Escape East @333 happy hours on Oct. 20 and Nov. 10 at 6:00 p.m.
Saturday, Oct. 21, 2:00 p.m.
Tatsuya Miyanishi: Tyrannosaurus series
1073 Sixth Avenue
Acclaimed Japanese children's author and illustrator Tatsuya Miyanishi will visit the U.S. for the first time this month! His Tyrannosaurus series consists of 12 titles and has sold more than 3 million copies in Japan, China, Korea, Taiwan, and France. There are four titles available in English so far from Museyon. Bring your kids to a nearby Kinokuniya Book Store (other cities including Edgewater, NJ are listed in the photo here) between October 21st and 29th for a presentation and book signing! Miyanishi is an entertaining presenter who will draw, read from his books, and discuss his work. A book signing will follow each presentation.
Saturday, Oct. 21, 7:00 p.m.
The Food Porn Party featuring Tampopo
AMC Empire 25, 234 West 42nd Street
$95, $125 VIP (use code "RESOBOX" for 10% off tickets)
Taste what you see on the screen! The Food Film Festival specializes in creating multisensory food and film experiences. At their events, guests watch films about food and simultaneously taste the exact dishes they see on the screen…right in their seats! Hosting their "Food Porn" Party featuring the cult classic film, Tampopo. Following the film, they are inviting everyone to join their Japanese Noodle Fest! Directed by Jûzô Itami, the tale of an enigmatic band of ramen ronin who guide the widow of a noodle shop owner on her quest for the perfect recipe, Tampopo serves up a savory broth of culinary adventure seasoned with offbeat comedy sketches and the erotic exploits of a gastronome gangster. Sweet, sexy, surreal, and mouthwatering, Tampopo remains one of the most delectable examples of food on film. Following the movie, there will be a Japanese noodle feast featuring ramen and more ramen, decadent dishes, cocktails, craft beer and more! Additional Food Film Festival events include James Beard: America's First Foodie (Oct. 19), Hometown Heros: The Legend of the Chopped Cheese (Oct. 20), and For the Love of Brunch (Oct. 22). For a complete listing, click here.
Friday, Oct. 27, 11:30 a.m.-9:30 p.m.
NYC Event Spaces, 4 West 43rd Street
$35-$75
Chopsticks NY magazine presents its very first Sake and Food event, "Eat Up! Drink Up! Japan" on Oct. 27. During the event, we will divide Japan into six regional blocks and offer craft sake from each block and matching food made with the regional delicacies. Participants can appreciate sake from nationwide Japan and feel the sense of "terroir" in Japan. 18 dishes from nationwide, 3 from each block, will be served during the event. Every dish is crafted to be paired with regional sake. There will be at least one vegetarian dish in each block. Over 30 brands of sake, at least five brands for each region, will be served along with the dishes above. This event is 21 and over.
Saturday, Oct. 28, 6:30 p.m.
Ages of Enchantment: JPA Cultural Repertoires 2017
Symphony Space (Peter Jay Sharp Theater), 2537 Broadway
$30; $25 members; $18 seniors, students and children; $40 day of show
JPA returns for its first show in two years! This year's performance consists of three categories: 1) Kimono show, 2) traditional Japanese dances, and 3) Japanese folk performing arts (from three regions). During the kimono show, five major kimono types will be shown with different craftsmanship with live models. The details of handcrafted fabric weaving, coloring, and decorating techniques will be explained, so when the audiences actually see the real kimono display, it can promote better learning experiences. After the kimono show, five pieces of traditional Japanese dance will be shown as the second section. The first piece is titled as the "Duet," which is a rare parallel performance of Japanese traditional dance and Western ballet. The piece will display the differences between the two dance movements and the body uses by the dancers, so the audiences will be able to see the unique characteristics of Japanese dance much easier. The body use will be explained in the context of the cultural characteristics as well.
Oct. 29-Nov. 1
Various locations
$12.50-$13.50
Hayao Miyazaki's Academy Award-winning masterpiece Spirited Away was the biggest box office hit of all time in Japan and helped redefine the possibilities of animation for American audiences and a generation of new filmmakers. Chihiro thinks she is on another boring trip with her parents. But when they stop at a village that is not all that it seems, her parents undergo a mysterious transformation, and Chihiro is whisked into a world of fantastic spirits, shape-shifting dragons and a witch who never wants to see her leave. She must call on the courage she never knew she had to free herself and return her family to the outside world.
Combining Japanese mythology with Alice in Wonderland-type whimsy, Spirited Away cemented Miyazaki's reputation as an icon of animation and storytelling. The English-dubbed cast includes the vocal talents of Daveigh Chase, Jason Marsden, Suzanne Pleshette, David Ogden Stiers, Susan Egan, Tara Strong and more! Dubbed in English on Oct. 29 and November 1 and subtitled on Oct. 30, this special three–day event will also feature GKIDS Mini–Fest, an ongoing festival of the best animated shorts from around the world.
Want to stay in the loop on future events? Follow Justin on Facebook and Twitter.
By JQ magazine editor Justin Tedaldi (CIR Kobe–shi, 2001-02). Justin has written about Japanese arts and entertainment for JETAA since 2005. For more of his articles, click here.
As the summer winds fade into fall colors, the weeks ahead are shaping up with these exciting events, ready to be enjoyed after Labor Day.
This month's highlights include:
Friday, Sept. 8, 6:45 p.m.
The Nippon Club, 145 West 57th Street
$70, $60 members
The Nippon Club will present "Sake Social 2017″, featuring a sake tasting with 14 different "Kuramoto" (sake brewers) from Japan, on 9/8 (Fri). From Fukui to Yamaguchi, each Kuramoto will bring 2 types of Sake to the event, so you can enjoy 28 types of Sake and Chef Yasuoka's tasty appetizers. For RSVP and more info, call Mita-san at (212) 581-2223 or email info@nipponclub.org.
Friday, Sept. 8, 8:00 p.m.
Lot 45, 411 Troutman Street (Brooklyn)
$20 advance, $30 at the door
Collision is a cross-cultural event that aims to expose Japan's underground music and culture to cities across the globe by curating lineups of Japanese and local artists (seven acts in all). With the 2020 Tokyo Summer Olympics on the horizon, organizers hope to introduce Japan's unique subcultures to the millennials of the U.S. and contribute to the attraction and brand of the country, while supporting local creatives and businesses.
Sept. 13, 15-16, 7:30 p.m.
Japan Society, 333 East 47th Street
$55, $45 Japan Society members
A frustrated samurai. An unwieldy herd of pigs. A mysterious murder. A woman's dying wish. Four surreal stories from Japanese author Natsume Soseki's (1867-1916) Ten Nights of Dream come to life in Four Nights of Dream (2008), a contemporary chamber opera that traverses the subconscious through colorful melodies and piercing emotions. For this new production, New York vocalists and Tokyo instrumentalists come together to perform within a spellbinding and ever-morphing set. Performed in English.
By JQ magazine editor Justin Tedaldi (CIR Kobe-shi, 2001-02) for Shukan NY Seikatsu. Justin has written about Japanese arts and entertainment for JETAA since 2005. For more of his articles, click here.
This month, "Chicago," the longest-running American Broadway musical in history, features Japanese superstar actress Ryoko Yonekura in the role of Roxie Hart for 11 performances from July 3-13 at the Ambassador Theatre.
Yonekura originated the role of Hart in the Japanese-language production of "Chicago" in 2008 and played it again in 2010. She then learned the role in English and made her Broadway debut in 2012. Following her return to Broadway this year, Yonekura will join the "Chicago" U.S. national touring company in Tokyo August 2-13 at the Tokyu Theater Orb.
An actress who has enjoyed a steady career in film and television in Japan since the year 2000, Yonekura is best known from the TV Asahi series "Doctor X." Recently, she appeared for an intimate discussion and meet and greet at Asia Society on June 27.
"Ryoko Yonekura is an amazing bridge builder between the U.S. and Japan. In 2012, she became the first Japanese person in the history of Broadway to play a major character as an American. We are really excited to have Ryoko back in New York," said Josette Sheeran, president and CEO of Asia Society.
Featuring classic tunes by John Kander and Fred Ebb, "Chicago" tells the story of Roxie Hart, a Jazz age nightclub dancer who murders her lover after an argument, and the media sensationalism that follows. Originally produced for Broadway in 1975 and revived in 1996, the show won six Tony Awards the following year, and the 2002 film adaptation starring Reneè Zellweger, Catherine Zeta-Jones and Richard Gere won Best Picture at the Academy Awards. For tickets, visit www.chicagothemusical.com.
By JQ magazine editor Justin Tedaldi (CIR Kobe–shi, 2001-02). Justin has written about Japanese arts and entertainment for JETAA since 2005. For more of his articles, click here.
Before and after the outdoor fireworks, enjoy some summer events in the cool indoors, whether it's catching one of the dozens of films premiering at Japan Society's annual festival, or enjoying anything from interpretative theater to the latest rock sensation.
This month's highlights include:
June 30-July 2
The Club (La MaMa), 74A East 4th Street
$20-$100
Celebrated for her captivating work with the Martha Graham Dance Company, dancer/choreographer Miki Orihara premieres the second incarnation of her multi-media work, In the Box (ITB). Directed by theatrical visual-effects specialist Hiroyuki Nishiyama, this new experimental dance-theater piece features performances by Bessie Award winner Orihara with original music by best-selling Sony Music artist Senri Oe.
Following the 2015 Using cutting edge animations and projections from Japan, In the Box 2 (ITB2) juxtaposes three-dimensional sounds and images with the flesh and bones of a dancer and her moving shadow. ITB2 follows the 2015 premiere of ITB which explored the paradox of "Where Technology Meets the Body" inspired by Schrödinger's cat (quantum mechanics). ITB 2 picks up where its predecessor left off and opens the book of our lives in a paradoxical nature. "ITB2 explores human nature by mixing the human body with technology," explains Orihara. "Audiences will experience entirely new sensations!" Using a streamlined technology of sensor system and infrared camera, audiences can enjoy the dancer's motions and visual expressions through streamlined technology including CG, infrared cameras, and three-dimensional audio.
Wednesday, July 4-5
Village East Cinema, 189 Second Avenue
$15
Part of this year's Studio Ghibli Fest! Perfect for audiences of all ages, PONYO centers on the friendship between five-year-old Sosuke and a magical goldfish name Ponyo, the young daughter of a sorcerer father and a sea-goddess mother. After a chance encounter, Ponyo yearns to become a human so she can be with Sosuke. Hayao Miyazaki's tale is a beautiful combination of unbridled imagination, visual wonder and tender love, humor, and devotion from the emotional heart of the film. The July 4 screening will be presented in Japanese with English subtitles.
July 13-23
Japan Society, 333 East 47th Street
Most films $14/$11 seniors and students, $10 members
Now in its 11th year, North America's largest festival of new Japanese cinema returns to serve up a slice of the best and boldest titles from Japan never before seen in NYC with special guest filmmakers and stars, post-screening Q&As, parties and much more. Boasting a thrilling slate of epic blockbusters, shoestring independents, radical documentaries, mind-bending avant-garde, newly-restored classics, and breathtaking animation, JAPAN CUTS 2017 promises a bounty of cinematic discoveries for film fans and pop culture enthusiasts alike. For a list of this year's special guests, click here.
By JQ magazine editor Justin Tedaldi (CIR Kobe-shi, 2001-02) for Shukan NY Seikatsu. Justin has written about Japanese arts and entertainment for JETAA since 2005. For more of his articles, click here.
Sometimes a band has something special that makes it transcend its own culture, creating a whole new tradition in a completely different place.
Since 1989, this has been the case with Mr. Big, the American hard rock quartet that mixes metallic virtuosity with melodic appeal. Best known for their international smash ballad "To Be with You" (a number one pop U.S. hit in 1992), the band has continued to enjoy massive success in Japan, having played over 100 large-scale concerts there to date and continuing to serve as an influence on Japan's own music scene and its top artists.
Mr. Big's drummer Pat Torpey and bassist Billy Sheehan have previously performed with Japan's all-time most successful rock group B'z (with the latter even joining them on tour); lead singer Eric Martin has recorded a successful string of "Mr. Vocalist" albums consisting of songs originally made famous by female Japanese singers; and guitarist Paul Gilbert has appeared on Japanese talk shows displaying both his tremendous guitar chops and dedicated study of the language.
In a new tradition, the U.S. will get the first taste of all-new Mr. Big material as the group launches a 13-date national tour beginning May 31, with a New York stop at B.B. King Blues Club & Grill on June 10. The tour precedes the release of the group's ninth studio album, "Defying Gravity," available July 7 on Frontiers Records. The new songs will presumably make their live debut at these special American gigs.
For tickets to the show and more information, visit www.bbkingblues.com and www.mrbigsite.com.
Also on June 10 at 12:00 p.m., An Intimate Afternoon of Conversation and Music with Mr. Big will take place at The Cutting Room (44 East 32nd Street), featuring a long–form interview with author and journalist Brad Tolinsk. This special event includes an opportunity for audience questions, a short acoustic performance, and a meet and greet. Tickets are $25; for more information, click here.
Justin has written about Japanese arts and entertainment since 2005. For more of his stories, visit http://jetaany.org/magazine.
By JQ magazine editor Justin Tedaldi (CIR Kobe–shi, 2001-02). Justin has written about Japanese arts and entertainment for JETAA since 2005. For more of his articles, click here.
After an unusually chilly spring, it's finally starting to feel like summer. Enjoy some seasonal events this month that celebrate the best of both fine art and pop art.
This month's highlights include:
June 1-2, 6:30 p.m.
Asia Society, 725 Park Avenue
$12, $10 students/seniors, $8 members
Highlighting some of the most exciting new voices in cinema, New York Japan CineFest presents two nights of short films by emerging Japanese and Japanese American filmmakers. Featuring 15 short films spanning drama, sci-fi, documentary and anime, the first night's program is followed by a reception. Click here to check out Program 2 on Friday, June 2, 2017.
June 6-11
Blue Note Jazz Club, 131 West 3rd Street
$30-$45
Japan has produced an impressive assemblage of jazz pianists; from Toshiko Akiyoshi and Makoto Ozone to Junko Onishi. And now, well into the change of the 21st century, the pianist/composer Hiromi Uehara is the latest in that line of amazing musicians. Ever since the 2003 release of her debut album Another Mind, Hiromi has electrified audiences and critics east and west, with a creative energy that encompasses and eclipses the boundaries of jazz, classical and pop parameters; taking improvisation and composition to new heights of complexity and sophistication. These special duet performances with Colombian harpist Edmar Castañeda are sure to inject a Latin flavor to the mix.
June 9-11
Atlantic City Convention Center, 1 Convention Boulevard
$50-$60
The largest independently organized anime convention in the New York/New Jersey metropolitan area. AnimeNEXT features Japanese creators of anime and manga, voice actors, musical acts, artists, vendors and exhibits, events, panels, workshops, gaming, and cosplay. This year's special guest is Oblivion Dust, a major label Japanese rock act, which reunited in 2007 following a six-year hiatus. Although they were originally largely influenced by early '90s American grunge bands, since reuniting their music has become straight alternative rock. They stand out in the Japanese scene as most of their songs are written and sung in fluent English.
By Lyle Sylvander (Yokohama–shi, 2001-02) for JQ magazine. Lyle has completed a master's program at the School of International and Public Affairs at Columbia University and has been writing for the JET Alumni Association of New York since 2004. He is also the goalkeeper for FC Japan, a New York City–based soccer team.
On April 28, the Japan Society of New York hosted a delightfully unusual concert of Godzilla music. Yes, you read that correctly. The Japanese pop techno band Hikashu took the stage in a 90-minute intermission-less night of monster music from such iconic classics of the Godzilla canon as Gojira (a.k.a. Godzilla, King of the Monsters!) (1954), Rodan (1956), Mothra (1961), King Kong vs. Godzilla (1962), Ghidora, the Three–Headed Monster (1964), Godzilla vs. Mechagodzilla II (1993) and Godzilla vs. Destoroyah (1995). While the colossal black-green (his color fluctuates from movie to movie) lizard never made an onstage appearance, he made his presence aurally known through Hikashu's superb performances, with narration by founding member Makoto Inoue (who also played keyboards) and special appearances by the female pop duo Charan-Po-Rantan. Adding to the fun were aural appearances by the Big G's nemeses, Rodan, King Ghidora, King Kong and Mothra, a gigantic butterfly-like insect who was the only monster to ultimately defeat Godzilla in battle.
Inoue's narration did more than entertain; it also provided informative commentary on the evolution of the films. As Inoue explained, Godzilla was born out of the collective Japanese fear of both large natural disasters (earthquakes, typhoons and tsunamis) and of the atomic bomb. Produced just nine years after the bombings of Hiroshima and Nagasaki and one year after the U.S. testing of a hydrogen bomb contaminated a Japanese fishing vessel, the original Japanese film is a dark and somber affair. For years, the only available version in North America was a re-edited film that mixed a new English-language narrative with the Japanese monster footage—that film starred Raymond Burr and downplayed the ominous sadness.