Jul
19

Article/Journalism, Books, JQ Magazine, Reviews

Comments Off

on JQ Magazine: Book Review — 'My Year of Dirt and Water'
By Rashaad Jorden (Yamagata-ken, 2008-10) for JQ magazine. A former head of the JETAA Philadelphia Sub–Chapter, Rashaad is a graduate of Leeds Beckett University with a master's degree in responsible tourism management. For more on his life abroad and enthusiasm for taiko drumming, visit his blog at www.gettingpounded.wordpress.com.
If you wrote about your year (or more) in Japan, what would you say? What stories would you tell?
Welcome to the world of Tracy Franz. An English teacher at a university in Kumamoto, she welcomes readers to her "year of dirt and water."
My Year of Dirt and Water (the books takes its title from a line when Tracy asks herself what she hopes to accomplish while trying to recycle those two objects) is a journal-like journey of Tracy's world. Her JET alumnus husband Koun Garrett Franz (Kumamoto-ken, 1999-01) is spending a year training as a monk in a Buddhist monastery, so Tracy must navigate the complexities of Japanese life feeling like an outsider (she mentions at one point she always feels a distance that prevents her from feeling at ease in the country).
As the book is a diary containing an entry for each day, the content runs the gamut from the mundane to the only-in-Japan moments (such as Tracy's pottery teacher incredulously responding to the author's being unaware of her husband's blood type) to her observations of life in the country (Tracy concludes, to the surprise of no one, that Kyoto is a bit crowded during Golden Week and possibly not the most comfortable destination for those accustomed to the Alaskan countryside) to the creepy (like an eerie night at an onsen with a university colleague).
Of course, a journal may not be an enthralling read for some (My Year of Dirt and Water is divided into four sections each named after a season of the year while the book's chapters each bear the name of a specific month). Remarkably, a decent portion of the book takes place in the United States, where Tracy spends much of the summer visiting her husband's family, which has a mother-in-law battling illness.
By Katharine Olla for JQ magazine. A Friend of JET, Katharine taught as an ALT in a public elementary school in Gunma Prefecture from 2015-16. She currently works at Japan Society in New York.
It's summer in the city, and that means another year of JAPAN CUTS, North America's largest festival of contemporary Japanese cinema. From July 19-29, Japan Society will screen 30 films ranging from dramas and comedies to documentaries, anime, and experimental works. The festival will also feature special guest appearances by directors, documentary filmmakers, and actors, including the legendary actress Kirin Kiki, who will receive the CUT ABOVE Award for Outstanding Performance in Film.
It was difficult to choose just three to review, so I decided to watch films with strong female leads (because that's one of the categories that Netflix tells me I like).
What if I just ran away and lived in the woods? is a question some of us ask after a morning commute on New York public transit. Get your fix by immersing yourself in the surreal, visually-striking world of Kushina, What Will You Be.
Anthropologist Soko (Yayoi Inamoto) and her assistant Keita (Suguru Onuma) trek through the forest to locate and study an elusive group said to be in the mountains. What they find is a women-only colony led by matriarch Onikuma (Miyuki Ono). Onikuma's family consists of her daughter Kagu (Tomona Hirota) and granddaughter Kushina (Ikumi Satake), whose secret pastime is listening to her cassette player. After the outside world intrudes, how will this closed community react? And what is Kushina listening to on her Walkman?
This is Moët Hayami's debut feature film, and it's a labor of love: as its writer, director, art director, costume designer, and editor, with this level of care she's managed to curate every detail of this film to create a truly singular world within a world. It's hard to shake off after the credits roll.
Featuring an intro and Q&A with writer/director Moët Hayami and actress Tomona Hirota, Kushina, What Will You Be screens Wednesday, July 25 at 6:30 p.m. (international premiere).
By JQ magazine editor Justin Tedaldi (CIR Kobe-shi, 2001-02). Justin has written about Japanese arts and entertainment for JETAA since 2005. For more of his articles, click here.
Before and after the outdoor fireworks, enjoy some summer events in the cool indoors, whether it's catching one of the dozens of films premiering at Japan Society's annual festival, or enjoying anything from interpretative theater to the latest pop sensation.
This month's highlights include:
Now through July 15
New York Asian Film Festival 2018
SVA Theatre, 333 West 23rd Street
Walter Reade Theater, 165 West 65th Street
$15, $12 seniors and students, $10 Subway Cinema members
From vicious, life-destroying phone scams to balletic battles between equally corrupt cops and yakuza, NYAFF offers films that reflect on contemporary society while offering extreme genre pleasures. There are self-referential takes on cinematic zombies, existential date nights, and teens finding their own corners of the world despite familial and societal expectations. showcasing the most exciting comedies, dramas, thrillers, romances, horrors and arthouse films from East Asia. Features the North American premieres of Japanese films Blood of Wolves (July 2), River's Edge (July 3), Liverleaf (July 8), Midnight Bus (July 11), One Cut of the Dead (July 13), and Inuyashiki (July 15).
July 3, 5, 7
E-Walk 42nd Street 13, 247 West 42nd Street
Empire 25, 234 West 42nd Street
$12.50
Producer Genki Kawamura follows up his mega-hit Your Name with another anime tale of star-crossed teenage lovers with a sci-fi fantasy twist. Shy Norimichi and fast-talking Yusuke are goo-goo-eyed over the same elusive classmate, Nazuna. But Nazuna, unhappy over her mother's decision to remarry and leave their countryside town, plans to run away and has secretly chosen Norimichi to accompany her. When things don't go as planned, Norimichi discovers that a glowing multi-color ball found in the sea has the power to reset the clock and give them a second chance to be together. But each reset adds new complications and takes them farther and farther away from the real world—until they risk losing sight of reality altogether.
Premieres Friday, July 6
Francesca Beale Theater, 144 West 65th Street
$15, $12 seniors and students
From his start pioneering synth pop music with Yellow Magic Orchestra, in the late '70s to winning an Oscar for his score for The Last Emperor in 1988, Ryuichi Sakamoto quickly established himself as one of the most original and intuitive composers of his generation. But, never content to rest on his laurels, Sakamoto's life journey eventually led him to find musical inspiration in the unlikeliest of places: the Fukushima nuclear disaster and a personal battle with cancer, both of which gave way to a late-life shift in his artistic process. With Coda, director Stephen Nomura Schible (a co-producer on Lost in Translation) crafts a portrait of the artist as an ageless man, one who can turn the worst news into the most refined and purposeful moment of productivity in an already storied career. Shot over five years, this graceful music documentary is an elegantly observed examination of the creative process, following as Sakamoto builds from nothing the album he must assume will be his swan song. Sakamoto and Schible will appear in person for the 7:00 p.m. (Q&A) and 9:30 p.m. (intro) screenings on July 6 and the 4:45 p.m. (Q&A) and 7:30 p.m. (intro) screenings on July 7. Q&As moderated by Sasha Frere-Jones.
By JQ magazine editor Justin Tedaldi (CIR Kobe-shi, 2001-02). Justin has written about Japanese arts and entertainment for JETAA since 2005. For more of his articles, click here.
After an unusually chilly spring, it's finally starting to feel like summer. Enjoy some seasonal events this month that celebrate the best of both fine art and pop art.
This month's highlights include:
June 6-7, 6:30 p.m.
Asia Society, 725 Park Avenue
$12, $10 seniors/students, $8 members
Highlighting some of the most exciting new voices in cinema, New York Japan CineFest is an annual event that features works by emerging Japanese and Japanese American filmmakers. This two-day program of short films includes Sugihara Survivors, a short documentary film about Chiune Sugihara (considered Japan's Oskar Schindler); Hatis Noit, a glimpse into the music of the titular musician whose experimental vocals recollect memories of snowy Hokkaido; and Dolphin Dreams, a groundbreaking experimental documentary that builds on the communicative power of dance to give audiences an unprecedented visceral experience. The first night's program is followed by a reception.
Thursday, June 7, 7:30 p.m.
Japan Society, 333 East 47th Street
$38, $30 Japan Society members
Celebrated jazz pianist Makoto Ozone, hailed by the New York Times as "thrilling, virtuosic and unabashedly personal," performs selections from his wide-ranging repertoire, from Gershwin and Bernstein to Piazzolla and Ravel. Known for his large concert hall performances with prestigious philharmonic orchestras and jazz legends such as Gary Burton and Chick Corea, Ozone offers an upbeat, freewheeling and fearless solo in our auditorium.
Friday, June 8, 7:30 p.m.
Super Chon Bros Tour 2 (featuring Tricot)
PlayStation Theater, 1515 Broadway
$20
Prog rockers Chon and Polyphia have announced a second installment of their Super Chon Bros tour, set to take off this spring with help from TTNG and Kyoto-based Tricot. Rolling Stone calls the latter quartet "adrenalized math rock sped up and given pop's candy coating." Their meticulously painted set—complete with shadows and amps brushed into the background—picks up on the Kyoto band's brilliantly colored math-rock, its hooks popping into view like neon splashes against a canvas.
By JQ magazine editor Justin Tedaldi (CIR Kobe-shi, 2001-02) for Shukan NY Seikatsu. Justin has written about Japanese arts and entertainment for JETAA since 2005. For more of his articles, click here.
Pop idols are everywhere in Japan, but most of them remain there. One particular idol breaks that tradition, with a notable exception: she's not human.
Hatsune Miku, whose name means "first sound of the future," is a Vocaloid (machine-made vocals) digital female avatar and creation of Crypton Future Media who currently has over 100,000 unique songs in her voice, which are synthesized tracks reminiscent of Auto-Tune. In Japan, Miku is massively popular and has appeared in numerous hit video games, music videos and ad campaigns, and her appearances with major artists like Lady Gaga and Pharrell Williams has boosted her international appeal.
Miku returns to the U.S. this summer for Miku Expo 2018, her third American tour. Miku Expo consists of live concerts that feature a range of hits from across her career as well as utilizing the latest holographic projection and voice synthesizing technology to create the ultimate Hatsune Miku experience—green onion-colored glowsticks included. For this year's edition, fans were invited to sample a 39-day trial version of Hatsune Miku V4X software in English to create a new song, with the winning entry to be performed at every show on the North American tour.
True to its name, Miku Expo also presents an exhibition of Miku fan art by artists from Japan and local areas plus workshops and other events held to complement the concert.
The six-date U.S. tour wraps at New York's legendary Hammerstein Ballroom on July 14th. After that comes Miku's second appearance in Mexico City, then it's off to Europe in December for Miku's first-ever live concerts in Paris, Cologne, and London. The Paris date is set to coincide with the wider "Japonismes 2018" project celebrating Japanese and French relations throughout the year.
For more info and tickets, visit www.mikuexpo.com.
By Andy Shartzer (Shizuoka-ken, 2014-16) for JQ magazine. Andy graduated from the University of Virginia with a degree in chemical engineering, and currently works for JETRO New York. He is also the Community Development Chair for JETAA New York.
Isle of Dogs is director Wes Anderson's first animated film since 2009's Fantastic Mr. Fox. While it has received mostly positive reviews (with some reservations), it's still interesting to see Anderson hone his storytelling skills using a colorful and vibrant world created with stop motion animation. The story opens with a prologue titled "Before the Age of Obedience" that supposedly explains how cats became more prominent in Japan. Fast forwarding to "Japan 20 Years in the Future," the movie cuts to fictional Megasaki City, its residents, and Mayor Kobayashi (Kunichi Nomura), an authoritarian who declares that all dogs must be banished to nearby Trash Island because of the outbreak of dog flu and snout fever. The first dog that arrives on Trash Island is Spots (Liev Schreiber), the personal guard dog of Atari Kobayashi (Koyu Rankin), the ward and orphaned nephew of the mayor.
Atari soon takes matters into his own hands and flies a propeller plane to Trash Island to find Spots. He unfortunately crash lands on the island (in the meantime getting a piece of the plane stuck in his head, ouch) but is rescued by a pack of five dogs: Chief (Bryan Cranston), Boss (Bill Murray), Rex (Edward Norton), Duke (Jeff Goldblum), and King (Bob Balaban). The dogs—except for Chief, who was a former stray—agree to help Atari find Spots and accompany him on his journey to another part of Trash Island.
Though reluctant at first, Chief decides to join Atari and the other dogs after getting some extra persuasion from Nutmeg (Scarlett Johansson), a female purebred dog. Back in Megasaki City, Mayor Kobayashi orders the extermination of all dogs on Trash Island. Tracy Walker (Greta Gerwig), an American exchange student, gets involved and investigates further.
A couple fun Easter eggs in the film include: Ken Watanabe (The Last Samurai, Inception) as a head surgeon, Yojiro Noda (lead singer of RADWIMPS) as a news anchor, and Yoko Ono (artist, singer, peace activist) as a medical assistant named…Yoko Ono.
By Rashaad Jorden (Yamagata–ken, 2008-10) for JQ magazine. A former head of the JETAA Philadelphia Sub–Chapter, Rashaad is a graduate of Leeds Beckett University with a master's degree in responsible tourism management. For more on his life abroad and enthusiasm for taiko drumming, visit his blog at www.gettingpounded.wordpress.com.
Exploring local wonders with loved ones can conjure up magical memories—and an enormous sense of satisfaction upon overcoming numerous obstacles.
JET alumna Suzanne Kamata (Tokushima-ken, 1988-90) lived through such experiences, which are recounted in her nonfiction debut, A Girls' Guide to the Islands. Such a title would indicate a guidebook for female travelers. But a scan of its second paragraph reveals the book is a first person travelogue of the author and her daughter Lilia's exploration of their corner of Japan. Despite spending most of her life in the countryside, Kamata (author of Gadget Girl and The Beautiful One Has Come) has not just visited some nearby landmarks; she figures playing tourist in several locations would serve as good mother-daughter bonding experiences.
This treats the reader to a journey of art exploration. Lilia loves art and she wants to make a career out of it. Kamata also shares an affinity for art, which makes them perfect travel partners. A Girls' Guide to the Islands is enhanced by the author's illumination of the art she sees—such as Yayoi Kusama's My Eternal Soul, which is painted in vivid colors that are considered unsettling in Japan (the artist's iconic pumpkin sculpture in the island town of Naoshima also graces the book's cover)—as well as the works that enthrall her daughter. Fortunately for them (and possibly surprising to some), foreign art from renowned artists was easy to locate in the rural museums they visited. Kamata and Lilia find one of Monet's most famous paintings and Andy Warhol's Flowers in Naoshima, as well as other works from other non-Japanese artists.
By JQ magazine editor Justin Tedaldi (CIR Kobe–shi, 2001-02). Justin has written about Japanese arts and entertainment for JETAA since 2005. For more of his articles, click here.
As spring continues and the weather continues to warm, New Yorkers can enjoy activities all over the city both indoors and out.
This month's highlights include:
Sunday, May 6, 11:00 a.m.
Children's Day Festival: Kodomo no Hi
Japan Society, 333 East 47th Street
$18, $10 Japan Society members, children ages 2 and under free
Hang the koinobori (carp streamers) and don your kabuto (samurai helmet): Children's Day is on its way! Come join us for Japan's national holiday where all children are stars and their happiness is celebrated. Enjoy a performance of Peach Boy (Momotaro) featuring storytelling, music, dance, taiko drumming and lots of audience participation. Continue the adventure with other authentic Kodomo no Hi activities!
Sunday, May 6, 8:00 p.m.
Sony Hall, 235 West 46th Street
$34.50, $74.50 VIP
Keiko Matsui's music speaks to the hearts and souls of fans around the world, transcending borders and building bridges among people who share a common appreciation of honest artistry and cultural exchange. Journey to the Heart, her 27th recording as a leader, marks the 30th anniversary since her recording debut and is her boldest statement yet. On Journey to the Heart, Matsui more than delivers what she has come to be loved for breathtakingly beautiful transcendent melodies that transport the listener. A master storyteller, she crafts passionate and emotive songs with lush harmonies and global rhythms to create timeless musical anthems.
Tuesday, May 8, 6:30 p.m.
Cool Tokyo: Harajuku, Akihabara and Beyond
Japan Society, 333 East 47th Street
$14, $11 Japan Society members, seniors and students
From street fashion to street food, kawaii to cosplay, Tokyo is the epicenter of Japan's latest trends. With so much to explore in this vibrant, fast-paced city, it can be hard to know where to start. At this talk, Sebastian Masuda, visual artist and founder of Harajuku shop 6%DokiDoki, and Abby Denson, comic book artist and author of Cool Tokyo Guide: Adventures in the City of Kawaii Fashion, Train Sushi and Godzilla, help to navigate Tokyo's vending machines, subway etiquette, hidden treasures, and much more. Followed by a book signing reception.
By Lyle Sylvander (Yokohama–shi, 2001-02) for JQ magazine. Lyle has completed a master's program at the School of International and Public Affairs at Columbia University and has been writing for the JET Alumni Association of New York since 2004. He is also the goalkeeper for FC Japan, a New York City–based soccer team.
Mary and the Witch's Flower, the debut feature film from Studio Ponoc, an anime outfit founded by Studio Ghibli veterans Hiromasa Yonebayashi and Yoshiaki Nishimura after Ghibli closed its doors in 2015, starts in medias res, with a violent firestorm engulfing the screen. A small girl with bright red hair escapes the maelstrom by flying away on a broomstick, pursued by dolphin-squid-fighter-jet hybrids. She plunges down through the clouds and crashes into a field, where her stolen cargo of glowing blue flowers scatters, instantly transforming the landscape as trees burst out of the earth to towering heights in the blink of an eye. Who she is, where she is, and why she needs to escape isn't revealed until the final act.
Director Yonebayashi delivers a film packed with many of the attributes that characterizes Studio Ghibli at its best. In this story (based on The Little Broomstick, a 1971 children's novel by popular British author Mary Stewart, a young female protagonist journeys through a fantastical world, battling witches on a magical quest. As in the best films of Hayao Miyazaki, the hand-drawn animation (a novelty in the CGI-dominated marketplace) depicts a European fairy tale setting while retaining a unique Japanese otherworldliness. This family-friendly film recalls such Miyazaki masterworks as Howl's Moving Castle, Spirited Away and Kiki's Delivery Service. Unlike those films, however, Mary and the Witch's Flower falls short of being a masterpiece.
The animators invoke worlds upon worlds here: the green woods and mist-filled forests of England rendered in swooning evocative watercolors, and the show-stopping Endor, a psychedelic space from out of a dream or drug trip, packed with strange objects, unexplainable phenomena, students floating by in soap bubbles, fountains morphing into human form, grotesque creatures loping out of the shrubbery, only to disappear just as quickly. Endor is dazzling in an off-putting way (similar to some of the "worlds" presented in Ari Folman's The Congress, where animated avatars engulf their originals). The action sequences are intricate and thrilling.
By Allen Wan (Ishikawa-ken, 1990-92) for JQ magazine. Allen works as a foreign correspondent in Shanghai. He is also a lecturer in the executive MBA program at Jiao Tong University and currently serves as president of the Shanghai Foreign Correspondents Club. Allen would like to get in touch with other JET alumni in Shanghai who are interested in setting up a JETAA chapter.
Tokyo native Meg Okura defies convention. While forging a prolific career in music since graduating from Juilliard in the '90s (working with the likes of Diana Krall and David Bowie to name a few), this Grammy-nominated jazz violinist continues reaching out to new audiences through her "world chamber jazz" that could mean anything from performing the erhu with her Pan Asian Chamber Jazz Ensemble or big band music from Japanese and Jewish composers.
As part of the NPO Trio, Okura recently released Live at the Stone, a collaboration with husband Sam Newsome (soprano saxophone) and Jean-Michel Pilc (piano) that creates a unique sound with hints of familiar melodies including well-known Yiddish songs and even excerpts of John Coltrane. Arriving May 13 is IMA IMA, Okura's latest studio effort. A reflection on motherhood featuring the Pan Asian Chamber Jazz Ensemble and trumpeter Tom Harrell, this new material will be showcased in an intimate live performance at Dizzy's Club Coca-Cola in New York on Aug. 20.
In this exclusive interview, Okura discusses her inspirations and also tackles taboo topics like whether the music industry needs its own #MeToo movement and the difficulty of making a living as a musical artist in the age of the internet.
You are known for your eclectic music, getting inspiration from jazz, pop, and all the way to 19th century Yiddish music. Is that a concerted effort to avoid being typecast in any particular genre?
I create music that is true to myself. Different types of music reveal themselves to me whether it sounds like Ose Shalom, J.S. Bach, Piazzolla, Coltrane or even YMO. I just welcome what comes to me. But don't get me wrong, I am a firm proponent of straight-ahead jazz. I am a jazz musician first and foremost, but I also used to perform Brahms and Ravel, and have toured with Michael Brecker as well as many Jewish bands. So I just stay true to myself and try to accept my whole history and different life experiences.
Has being born and raised in Japan influenced your musical style? Why learn the erhu and not the shamisen, for instance?
Japanese people are open and unafraid of owning music from other cultures. For example, I am very unapologetic about learning the erhu, jazz, and Judaism—things that obviously belong to races, cultures, and traditions different from my own. It's a uniquely Japanese thing to embrace arts from other cultures and perform them at a high level.
What got you hooked on Yiddish music, and did your husband have any influence on that?
Do you know that I have a big band called J-Orchestra? We play music by Jewish and Japanese composers including works by yours truly, who is both Jewish and Japanese. Not only am I a Jew but I have also studied German and Hebrew, so I always felt connected to the Yiddish melodies—minor melodies with major chords. I always cry every time I play "Oyfn Pripetchik." My husband, Sam Newsome, on the other hand, is not Jewish. So he is not familiar with these melodies at all, and it works out beautifully keeping our music making fresh and unique.
By Rashaad Jorden (Yamagata–ken, 2008-10) for JQ magazine. A former head of the JETAA Philadelphia Sub–Chapter, Rashaad is a graduate of Leeds Beckett University with a master's degree in responsible tourism management. For more on his life abroad and enthusiasm for taiko drumming, visit his blog at www.gettingpounded.wordpress.com.
Tuttle Publishing has released another selection of Japan-related books, and the following quartet includes works that touch on Japanese etiquette, language study, Okinawan history, and picturesque Kyoto.
Japan: A Guide to Traditions, Customs and Etiquette
While studying Japanese, I learned the term shikata, which is translated as the "way of doing things." However, as the late lecturer and writer Boyé Lafayette de Mente thoroughly documents, kata represents a lot more than a translation of "form": It is a concept present in just about every aspect of Japanese society, whether it be the business world, poetry, or sumo. In essence, kata guides the country's etiquette.
In Japan, the process of accomplishing a goal is just as significant, if not more significant, than the actual result—a notable contrast to the West. De Mente defines kata as the "way things are supposed to be done," and he educates readers on how the concept has shaped Japan throughout its history and the present.
The author also touches on other cultural differences between Westerners and Japanese (such as communication styles) and people reading the book will probably nod their heads in agreement as they read certain passages, such as "Foreigners can live a lifetime in Japan and not fully understand how the Japanese system works the way it does" and why Japanese often express amazement at foreigners who can utter the simplest Japanese phrase. Japan: A Guide to Traditions, Customs and Etiquette is really an exploration of the Japanese psyche.
If nothing else, you'll be amazing at how different Japan seems from the West.
Beginning Japanese Kanji: Language Practice Pad
Those seeking an introduction to kanji, or just a way to brush up on them, should turn to William Matsuzaki's work. The pad is an excellent tool for busy people: The 334 kanji it presents lends itself to a simple, one kanji-a-day memorization for those aiming to study at a relaxed pace. Furthermore, each page contains terms utilizing the featured kanji and tips on how to write its strokes.
The kanji appearing in the pad is really nothing out of the ordinary, as you'll see them in many (if not most) materials geared toward relatively novice Japanese learners. Adding to the book's appeal, the inclusion of spaces to write the kanji (as well as sample sentences featuring the characters) is most useful for those looking to bolster their knowledge of the language.
By Rashaad Jorden (Yamagata–ken, 2008-10) for JQ magazine. A former head of the JETAA Philadelphia Sub–Chapter, Rashaad is a graduate of Leeds Beckett University with a master's degree in responsible tourism management. For more on his life abroad and enthusiasm for taiko drumming, visit his blog at www.gettingpounded.wordpress.com.
Work often gets in the way of fun times. But if you incorporate some creativity into your life, that doesn't have to be the case.
Enter the world of Midori Nagumo, the protagonist of the comedy manga CITY. In this first volume (which began serialization in Japan in September 2016) from creator Keiichi Arawi (Nichijou), Nagumo is a very broke college student whose landlady is constantly hounding her for money. Her roommate Niikura refuses to lend her money when she realizes what Nagumo's true intention is.
Nagumo has to resort to other avenues to raise money, such as stealing a clay figure with the aim of selling it. But she clumsily drops the object, rendering it shattered. Crazily enough, immediately afterwards she's offered a job at a restaurant (where the incident happens).
Our protagonist accepts the job but still has issues. It doesn't help that her landlady has a police officer help "move" (or steal) all of her stuff so she wouldn't escape (as the stolen items are actually collateral). In the middle of the volume, Nagumo reflects on her life, telling herself that if she could continue to have lots of happy moments, she'd be unbelievably thrilled with her life.
By Aubrey Keene (Hokkaido, 2004-06) for JQ magazine. Aubrey moved to New Jersey from Kentucky to complete a master's degree in Asian studies from Seton Hall University. This is her first article for JQ.
On Saturday, February 3, the New York Adventure Club offered participants a private tea ceremony demonstration at the Urasenke Chanoyu Center of New York (UCC) in Manhattan. Nearly two dozen participants from the area attended to have their first experience with this iconic Japanese cultural tradition.
Experiences like this are not unique for members of the New York Adventure Club. The group, formed in 2013 by CEO and founder Corey William Schneider, was an effort, he explains, "to get my friends to join me on my random weekend adventures around the city." For more than a year and a half prior, Schneider had been exploring the city on his own as part of what he calls a "mini-early life crisis" that triggered a desire to do more fulfilling activities in his free time. By founding the group on Facebook, Schneider hoped he could get others to join him: he quickly discovered his idea was a hit when over 100 people showed up for the first event. The group now boasts more than 9,000 members, with activities ranging from trapeze classes to tours of Grant's Tomb to tea tastings happening almost every day of the week.
On a chilly Upper East Side afternoon, participants gathered in the lobby of the UCC for an introduction by their chado, or way of tea, master Yoshihiro Terazono, who gave an overview of the 140-year old building. Originally a horse carriage house later refitted as an art studio for Mark Rothko, the UCC purchased the building in 1980 and spent two years transforming the space into a tea ceremony center. It now houses three tatami mat rooms of various sizes where students come and practice throughout the week. Each room opens to an outdoor space of a garden area with a view of the windows three stories above. The aesthetics successfully evoked the image of a tea house in Kyoto, the birthplace of Urasenke.
By JQ magazine editor Justin Tedaldi (CIR Kobe–shi, 2001-02). Justin has written about Japanese arts and entertainment for JETAA since 2005. For more of his articles, click here.
Stay warm this winter with some hot local events, from live showcases that will transport you to another time and place, some new anime screenings, and a sake extravaganza you won't want to miss.
Now through May 6
Children's Museum of Manhattan, 212 West 83rd Street
$14 children/adults, $11 seniors
Experience Tokyo's vibrant culture in a new interactive exhibit! Children will have fun learning about life in present day Japan in this playful, highly immersive environment that transports families to two distinct areas of Tokyo that exist side by side: one serene and exquisite, the other, too cute for words. Kawaii Central is a streetscape inspired by Tokyo's bustling Harajuku district, bursting with color, trendy shops and cuter than cute styles. Kids sing karaoke, smile for the photo booth camera, serve up a seasonal Japanese meal, and design adorable mascots for their families. Plus, learn more about contemporary Japan through special programs for the public, free with admission.
Saturday, Feb. 3, 3:30 p.m.
Private Japanese Tea Ceremony Demonstration @ The Secret Kyoto Garden 
Urasenke Chanoyu Center of New York, 153 East 69th Street
$35 advance, $39 day of event
Experience one of Japan's oldest traditional tea ceremonies in a secret indoor Japanese garden hidden in the Upper East Side—led by a Tea Master of Urasenke! Join New York Adventure Club for a traditional Japanese tea ceremony demonstration in the style of Urasenke, one of the main schools of Japanese tea ceremony. Established in 1967 to promote the rich cultural tea tradition of Urasenke in New York City, the UCC is a private organization that teaches its members how to master this ancient tradition over the course of 10-15 years. This event also offers an opportunity to consume the best quality sweets and matcha green tea from Kyoto, the birthplace of Urasenke.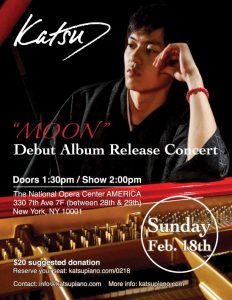 Sunday, Feb. 18, 2:00 p.m.
Katsu: Debut Album Release Concert
National Opera Center – OPERA America, 330 Seventh Avenue
$20 suggested donation
Katsu started to perform in public about a month after he started playing the piano when he was the age of 19 by self-learning. He also started composing originals soon after the beginning of the public performances. After performing several times in Japan, He moved to New York. Then in December 2016, he debuted as a composer and a pianist at the Steinway Hall. Now, he has been performing his original tunes as a solo pianist at multiple venues. His music is described as New Age music, classical, Jazz, romantic piano, and more. This intimate performance will feature selections from his recently released debut album, Moon.
March 25-26, 28
E-Walk 42nd Street 13, 247 West 42nd Street / Empire 25, 234 West 42nd Street
$12.50 all ages
For the kickoff of Studio Ghibli Fest 2018,  From the legendary Studio Ghibli, creators of Spirited Away and My Neighbor Totoro, and Academy Award-winning director Hayao Miyazaki, comes a heartwarming family adventure. When Sosuke, a young boy who lives on a clifftop overlooking the sea, rescues a stranded goldfish named Ponyo, he discovers more than he bargained for. Ponyo is a curious, energetic young creature who yearns to be human, but even as she causes chaos around the house, her father, a powerful sorcerer, schemes to return Ponyo to the sea. Miyazaki's breathtaking, imaginative world is brought to life with an all-star cast, featuring (on the March 25 and March 28 English-language screenings) the voices of Cate Blanchett, Matt Damon, Lily Tomlin, Liam Neeson, and more.
Monday, March 26, 7:30 p.m.
Japan Society, 333 East 47th Street
$15, $10 Japan Society members, seniors and students
This program is the 13th installment of Japan Society's annual Play Reading Series, which introduces topical plays from up-and-coming playwrights in Japan to artists and audiences in the U.S. Written by Hideto Iwai, the winner of the prestigious Kishida Kunio Award for Drama, Manhood follows the twisted turns in the lives of four men as their boyish posse faces the harsh realities of adulthood and old age. Sarah Hughes, a New York local and emerging theater director, leads her gender swapped cast in this off-kilter depiction of Japanese "bro culture." Playwright Iwai joins in a post-performance Q&A with the audience and director.
Friday, March 30, 6:30 p.m.
The Nippon Club, 145 West 57th Street
$10 (materials included), RSVP at jpcourse@jfny.org
Are you planning a trip to Japan in the near future? If so, this workshop is for you! Please join us for our Travel Japanese workshop and learn Japanese vocabulary and basic expressions essential for travel in Japan! Japanese customs and useful travel information will also be introduced. In this workshop, you will be able to order food at a restaurant using simple terms, communicate with a store attendant while doing shopping, tell your destination to a taxi driver or station agent and ask for information, and more!
Want to stay in the loop on future events? Follow Justin on Facebook and Twitter.
By JQ magazine editor Justin Tedaldi (CIR Kobe-shi, 2001-02) for Shukan NY Seikatsu. Justin has written about Japanese arts and entertainment for JETAA since 2005. For more of his articles, click here.
Since forming in 1987, the Japan Exchange and Teaching Programme (JET) has become one of the world's largest international exchange programs, with nearly 65,000 people from 65 countries selected to promote English language learning and teaching in Japan. To commemorate its first three decades, the JET Alumni Association of New York (JETAANY) is hosting an equally ambitious event.
"The main purpose of the JETAANY Gala is to celebrate 30 years of the JET Programme and all we hope it will become," said JETAANY events chair Andy Shartzer. "JET has helped the grassroots community abroad, and our alumni chapters explore how we can continue its message. Our goal is also to establish JETAANY as a greater presence in the U.S.-Japan community."
The sold-out gala, which will be held at Brooklyn's Dumbo Loft on February 3rd, will feature multiple generations of JET participants and community members with ties to Japan, along with a taiko performance, an awards ceremony, and a prize drawing. Donations are from local companies and organizations including publisher Vertical, Inc., Kaoru Watanabe Taiko Center, and the venerable Japan Society of New York.
"Since its inception 30 years ago, the JET Programme has been a unique and outstanding facilitator of grassroots exchange between the U.S. and Japan," said JETAANY president Wendy Ikemoto. "As one of the largest and most active alumni chapters in the U.S., we're honored by the overwhelming response received."
According to Shartzer, JETAANY plans to host similar events in the future, and is delighted to form new partnerships. For sponsorship and donation proposals, email Wendy at president@jetaany.org. For more information on JETAANY, visit http://jetaany.org.