Dec
1

Uncategorized

Comments Off

on JETAA Chapter Beat for December 2016
Ryan Hata (Tottori-ken, 2014-Present) AJET National Council Director of Alumni Relations: Ryan is in his second year on the AJET National Council and first as the Director of Alumni Relations. He works alongside Rachel Brisson (AJET National Council Director of Alumni Resources ) and members of JETAA International (JETAA-I) to strengthen the relationship between former JETs, current JETs, and Japan. Ryan helps to keep you up to date with JETAA events around the world. If you have a specific event that you would like promote, please do not hesitate to contact him by email at ryan.hata@ajet.net or his Linkedin profile. 
Can you believe it's already December? With it being the end of the year, many JETAA chapters are hosting Bōnenkai's or some similar end of the year gathering. December's chapter beat will focus on these end of the year events. Check out if there's an event at your local JETAA chapter.
When: December 2nd, 7 pm-11 pm SCT
Where: Koyama 20 Forrest Rd, Edinburgh, EH1 2QN Edinburgh, United Kingdom
The JET AA Scotland & North East Bounenkai will be taking place next Friday. This event is open to all!
The meal will be held at Koyama Restaurant, Forrest Road, Edinburgh and is a set menu of three courses followed by optional karaoke. (Drinks not included).
Meal @£15 for JETAA members (plus optional £5 for karaoke)
Meal @£20 for for non-JETs (plus optional £5 for karaoke)
Meal @£5 for children under 12
(karaoke not available for guests under 18 years)
If you would like to come please fill in the form below with your menu choices.
https://goo.gl/forms/F8A7sO1MvhDQXfpZ2
Also, please let us know if you would like a vegetarian meal or have any dietary requirements.
We look forward to seeing you then!
Kind regards
JET AA Scotland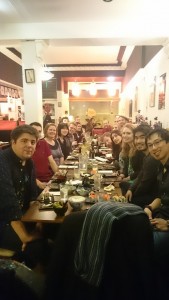 Photo from JETAA Scotland's Facebook event
When: December 3rd, 6 pm-8 pm AEDT
Where: 400 Gradi (Melbourne, Australia) 99 Lygon Street, Melbourne, Australia 3057
It's that time of the year again when we all gather and celebrate a wonderful and prosperous 2016 over great food and even greater chats!
Bōnenkai (忘年会), or "forget the year party", is a chance for us to end the year right, and what better way to do so than with a massive, wonderful Italian feast and then karaoke nijikai?
Join us as we eat and drink the night away and bring good luck for the new year to come!
WHEN: Saturday, December 3rd from 6-8pm
WHERE: 400 Gradi Brunswick, 99 Lygon St., East Brunswick, 3057
COST: $35 and includes an Italian sit down shared banquet (including salumi plates, antipasti, pasta, risotto, and pizzas) and delicious desserts (think Nutella crepes, tortino al cioccolato, and tiramisu!). Please let us know of any allergies or dietary requirements.
RSVP: Email rsvp@victassa.jetaa.org.au on December 1 by noon at the latest.
SPECIAL NOTE: We will also be gauging interest in a nijikai karaoke session for post-dinner fun. Please include with your RSVP whether you would be interested in attending so that we can make a group booking! よろしくおねがいします!
– From your friends on the JETAA Vic/Tas/SA committee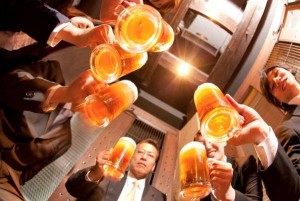 Photo from JETAA Vic/Tas/SA's Facebook event
When: December 3rd, 9 am-12 pm EST
Where: Schlouppe Bistrot NAKAMICHI, 2159 Rue Mackay, Montréal, QC H3G 2J2, Canada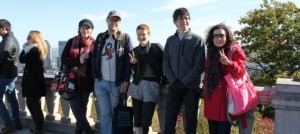 Photo from JETAA Quebec/Atlantic's website
When: December 4th, 1 pm-3 pm SGT
Where: Aljunied Community Center (110 Hougang Ave 1, HDB Hougang, 530110)
JETAA Sg Taiko Team will be putting up a performance during the SJ50 Matsuri! Though we are still amateurs, we have greatly enjoyed this traditional art and would like to share the joy with everyone!
We are having a crash course workshop for everyone interested! No experience needed, only curiosity and interest! Kids are welcomed too!
Date: 4 Dec, Sun
Time: 1pm – 3pm
Venue: Aljunied Community Center (110 Hougang Ave 1, HDB Hougang, 530110)
Course Fees: $12 for JETAA members, $25 for non-members
What you need to bring:
Please come in comfortable clothes and shoes, and also bring along a pair of ear plugs. (You can also use earphones as replacement.)
Training provider: School of Daiko (http://www.mangrovelearning.com/)
If this tickles your fancy, fill in the form below to join us for some drumming!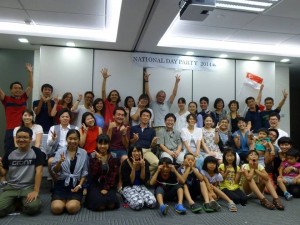 Photo from JETAA Singapore's Facebook Page
Bowlnenkai + December Monthly Member Meeting
When: December 5th, 6:30 pm-7:30 pm CST
Where: Kemper Building 1 E Wacker Dr Ste 1000, Chicago, Illinois 60601
On Monday, December 5th, JETAA Chicago will have its monthly member meeting. This is also our bowlnenkai, in which we will go bowling after the meeting!
** Location**
Kemper Building
1 East Wacker Drive (corner of State and Wacker)
Suite 3350
Please R.S.V.P no later than 4:30 PM on Monday to make sure your name is on the security list.
We will also be discussing our upcoming Shinnenkai (January 21st, 2017).
We gladly welcome returnees and alumni alike.

We will be eating and drinking at the bowlnenkai at the bowling alley.
Email info@jetaachicago.com with any questions or any items you would like to add to the agenda. We are looking forward to seeing you!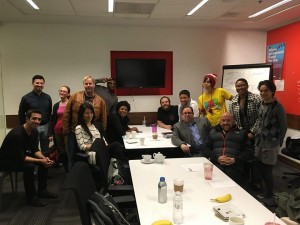 Photo from JETAA Chicago's Facebook Event
6. JETAA NSW
JETAA NSW End of Year Networking and Cultural Event
When: December 9th, 6:30-9 pm AEDT
Where: AB Hotel 225 Glebe Point Road Glebe, NSW 2037 Australia
JET Alumi! Friends of JETAA NSW! It's finally here….the annual End of Year Networking and Cultural Event! Just rolls of the tongue, doesn't it?!?
We'll arrange tasty finger food and you can purchase your drinks from the awesome fish tank bar (yes, the bar is an 11m long fish tank!).
Don't know anyone? No worries, come anyway! There'll be a super fun and not-at-all-lame icebreaker challenge so you're guaranteed to meet loads of people.

Logo via JETAANSW's website
When: December 9th, 7 pm ACDT
Where: Matsuri Japanese Restaurant L1/167 Gouger St, Adelaide, South Australia 5000
Food, Friends and Fun!
To celebrate the JET Program's 30th year, we've organised a special end of year dinner for our SA Alumni!
Relive the flavours and memories of life on JET by joining us for a banquet meal at Matsuri Restaurant. Not only will there be dessert, but we're also planning to have a few fun activities between courses.
Finally, for those of you missing the tradition of the 二次会 (nijikai), there will be optional karaoke taking place afterwards!
Prices are still being finalised, but most of the costs will be covered by JETAA!
If you could please indicate if you are interested in attending the dinner or karaoke or both at this stage, that would be amazingly helpful for finalising preparations.
I hope to see you all there!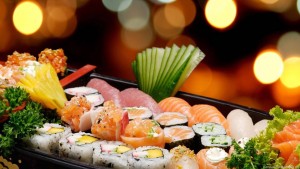 Photo from JETAA South Australia's Facebook Event Page
JETAA South Island End of Year Party
When: December 9th, 6:30 pm NZST
Where: Cookai Restaurant, 6 Nelson Street, Christchurch
Join us to celebrate 2016, and to celebrate the 30th Anniversary of the JET Programme.
Friday 9th December, 2016 from 6.30pm
Cookai Restaurant, 6 Nelson Street, Christchurch
Japanese set menu and wine provided. Other drinks available for purchase.
Please note numbers are limited so please RSVP to secure your spot!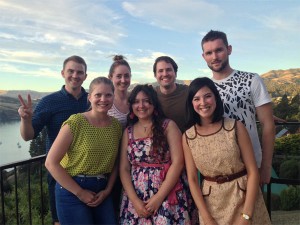 Photo from JETAA South Island's Website
When: December 9th, 6:00-8:00 pm MST
Where: Calgary Japanese Community Association 2236-29 Street SW, Calgary, Alberta, Calgary, Alberta T3E 2K2
Join us for a very merry Japanese Chirstmas party. We will be serving a Classic Japanese Christmas meal – KFC chicken with salad, mikan, soft drinks and for dessert – strawberry short cake. This is a family friendly event, so bring your kids along. See you all there!
RSVP Deadline: December 5th, 2016 (on Facebook / by email)
Cost: Adults & Young Adults (13+): $10 / person
Children (under 12): $3 / person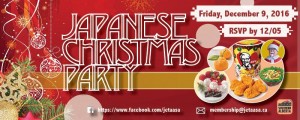 Photo from JETAA Southern Alberta's Facebook Event Page
10. JETAA Hawaii
When: December 9th, 7 pm HST
Where: Gazen Izakaya 2840 Kapiolani Blvd, Honolulu, Hawaii 96826
The JETAA Hawaii board would like to announce its 2016 Bonenkai, which will double as a welcome party for returning JETs. There will be nabe, games, and prizes. A ticket includes dinner, and alcoholic drinks can be purchased separately. For those who can't make it to dinner, join us for our karaoke nijikai. We will be singing to celebrate (forget) a great 2016!
Tickets: http://bpt.me/2714339

Photo from JETAA Hawaii's Facebook Event Page
11. Florida JETAA
When: December 10th, 6 pm EST
Where: Koume Japanese Restaurant 11905 W Sunrise Blvd, Plantation, Florida 33323
Dear JETAA members,
It's that time of the year for our annual JETAA Bonenkai!
This year's JETAA Bonenkai will be once again held at Sekita-san's restaurant, Koume in Plantation (just outside of Miami).
The agenda is to network and meet new and old JET alumni and build a stronger JETAA community in Florida to foster cultural exchange with the US and Japan.
This will be a pre-set meal of $20 per person (plus service fee of $0.99 per ticket + 3.5% of ticket price for a total of $21.69). The meal includes several courses: soup, salad, appetizers, sushi, other dishes and desert. That is a lot of food for that amount of money especially since Japanese food is so expensive. Each year, he surprises us with a unique menu.
The cost of drinks and tip are NOT included into the deal, so that would be paid separately by you.
Location: Koume Japanese Restaurant
11905 W. Sunrise Blvd.
Plantation, FL. 33323
Tel: 954-577-9277
(located in the Petsmart Plaza)
Date: Saturday, December 10, 2016
Time: 6:15pm
Purchase your ticket: http://www.brownpapertickets.com/event/2721582

JETAA BONENKAI
Celebrating the end of the year with JETAA-FL members
Please also RSVP to Wendy by email at wlo01@hotmail.com. The deadline to RSVP is Dec. 8th. Purchasing a ticket secures a spot for the event. If you have dietary restrictions or allergies you must inform us by Dec 8th or else the restaurant will not be able to accommodate you.
You must pay in advance and you cannot bring a surprise guest the day of the event. Please let us know ahead of time if you are bringing a guest and pay in advance for them as well.
We are selling tickets to the event this year to avoid issues of people not coming at the last minute. In those cases, JETAA must pay for the meal. Therefore there are unfortunately no refunds for tickets purchased. However, you can sell your ticket to someone else via brownpapertickets.com if you can't make it. Any funds not used will be considered as a donation to FL-JETAA and will be used for future events and activities.
Sekita-san's restaurant is small, so space is limited. He also asks that you arrive on time, because food will be served promptly as scheduled. Think of this as Japan, be on time! J
Hope to see you there!
Wendy Lo
FL-JETAA, S. Florida Regional Rep.
(Toyama, ALT 2002-2005)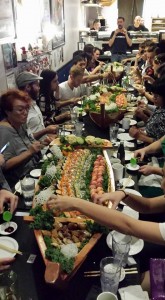 Photo from Florida JETAA's Facebook Event
2016 JETAA Bonenkai- Ohio Region
When: December 10th, 7:30 pm EST
Where: Akai Hana 1173 Kenny Centre Mall, Columbus, Ohio 43220
Please come out and enjoy some delicious Japanese food and catching up with fellow JETs for this Year-end party. This event is exclusively for JETs and we kindly ask that you indicate attending only if you absolutely can make it. Space at the Akai Hana is limited and we hope to see you there. Thank you!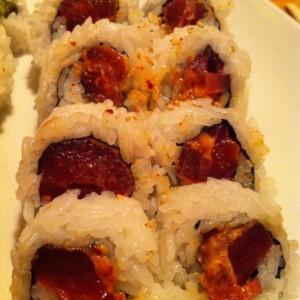 Photo from Great Lakes JETAA Facebook Event
13. JETAA Portland
When: December 10th, 6-10 pm PST
Where: Izakaya Kichinto (102 NE Russel St.)
Celebrate the end of the year with JETAA Portland!
Join us for food, drinks, raffle prizes, and a white elephant gift exchange as we say sayonara to 2016. This year we'll be celebrating at Izakaya Kichinto – we hope to see you there!
A buffet featuring Japanese-style goodies and two drink tickets are included with admission. Also, don't forget to bring an unwanted Japanese omiyage or a small gift (around $5) if you wish to participate in our white elephant gift exchange!
When: Saturday, December 10th, 6:00-10pm
Where: Izakaya Kichinto (102 NE Russel St.)
Cost: $20 for JET alumni, $25 for friends of JETAA
RSVP: Get your tickets via Paypal today. RSVP deadline is Thursday, Dec. 8th! For questions please contact Matt.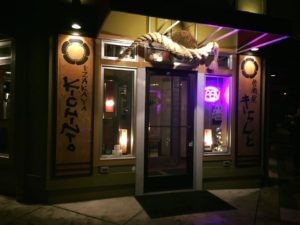 Photo from JETAA Portland's Website
14. JETAASC
2016 JETAASC End-of-Year Gathering
When: December 10th, 12:30-2:30 PST
Where: Fritto Misto 316 Pier Ave, Hermosa Beach, California 90254
Join us for the JET Alumni Association of Southern California's 2016 End-of-Year Gathering! Come celebrate and reflect on the events of 2016 with a luncheon at Fritto Misto in historic Hermosa Beach. Enjoy the warmth and comfort of a family-style meal featuring traditional Italian cuisine. Vegetarian options will be available!
We will also be holding a "White Elephant" gift exchange, so if you'd like to participate please bring a new or gently used wrapped gift ($10-$15 value) to exchange!
Who: JETAASC and You
What: End-of-Year Gathering 2016
Where: Fritto Misto (316 Pier Avenue, Hermosa Beach, CA 90254)
When: Saturday, December 10th from 12:30 PM – 2:30 PM

Why: To send the year off in true JET community style, with great food, great people, and a great time!
How: http://jetaascendofyear2016.brownpapertickets.com/
Parking:
There is metered parking nearby, and the restaurant also suggested the public parking around the nearby City Hall (between Bard Street and Valley Drive, two short blocks away).
Please RSVP by Wednesday, December 7th.
Tickets will be $20… but the first 20 JET alumni to purchase their ticket through Brown Paper Tickets will get a special discounted rate of $20 to enjoy Italian sausage and roasted pepper rigatoni, Mediterranean fusilli, and other tasty dishes.
We look forward to seeing everyone there, to thanking the outgoing officers and coordinators, and to welcoming the new officers and coordinators for 2017!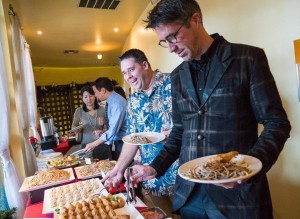 Photo from JETAASC's Facebook Event
15. JETAADC
When: December 11th, 5-8:30 PM EST
Where: Tono Sushi 2605 Connecticut Ave NW, Washington, District of Columbia 20008
Hello everyone,
It's time once again for the greatest party of the year: the JETAADC Bounenkai! For those of you unfamiliar with this annual tradition, it is our biggest social event of the year in which we eat, drink, socialize, play games (there will be prizes), reminisce about the good things of the past year, and forget all the bad ones. So purchase your tickets below and join us for a party you won't want to miss!
We will also be collecting canned food to donate to the Capital Area Food Bank during the event. You can drop your canned good off at the registration table. Note: If you forget to bring cans, you can stop by the CVS around the corner from Tono Sushi and buy a few!
Here are the details for the event:
Date: Sunday, December 11th
Time: Cocktail hour from 5:00pm followed by dinner and games from 6:00-8:30pm
Venue: Tono Sushi
Address: 2605 Connecticut Ave NW, Washington, DC 20008
Access: Woodley Park Metro and street/garage parking available nearby
Tickets: $25 in advance, $30 at the door
Website: http://jetaadc.org/1211-jetaadc-bonenkai/
Registration:
Please click on this link to purchase your $25 tickets in advance through PayPal:
https://www.paypal.com/cgi-bin/webscr?cmd=_s-xclick&hosted_button_id=A5QVUAUXRZ9CS
At the Door Registration ($30 per ticket): Please let us know to expect you by completing this Google form. Note that we can only accept cash at the door.
https://goo.gl/forms/hkTX7DKQNEsVenof1
Included in the registration price:
– one drink (small beer, house sake, or house wine) – you will receive your drink ticket at the door.
– buffet (sushi, shumai, grilled fish, seaweed salad, pad thai and more!!)
– nostalgic JET inspired fun and games!
Registration will close on Friday, December 9th at 5:00pm.
We can't wait to see you there!
If you have any questions, feel free to contact social@jetaadc.org.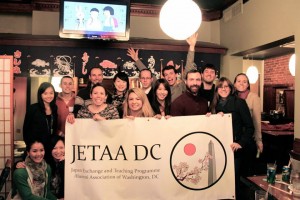 Photo via JETAADC's Facebook Event
16. JETAANC
JETAANC Bounenkai Party – 8th Annual!
When: December 15th, 7:45-10 PM PST
Where: Rikyu Japanese Restaurant 5335 College Ave, Oakland, California 94618
*** NOTE YOU MUST REGISTER ON EVENTBRITE: https://jetaancbounenkai2016.eventbrite.com/ ***
Join alumni and friends for our 8th Annual Bounenkai End-of-the-Year Party! This year we're also excited to kick off a celebration of the 30th Anniversary of the JET Program. For those of you who have attended in years past, you know the fantastic "omaskase" meal that Rikyu's legendary chef, Tatsuya Koyake, prepares just for us. You will also receive a complimentary free drink as part of your ticket price.
It's a time for us to come together, share good food and conversation, and celebrate the end of another great year!
We SELL OUT every year, so DON'T WAIT to reserve your seat! Ticket sales end on December 8.
Pre-Party Info:
Come early and join the pre-party at the Barrel Room across the street (5330 College Avenue, Oakland): http://www.barrelroomsf.com/ **Please drink responsibly.**
Restaurant & Parking Info:
Located just a short walk from Rockridge BART and easily accessible by car, Rikyu is one of the best Japanese restaurants in the Bay Area. Chef Tatsuya Koyake worked at the famous Kirala before opening his own place in Oakland's upscale Rockridge neighborhood. Koyake-san is creating a special "omakase" meal just for us. Vegetarian meals are also available. Rikyu website: http://www.rikyusushi.com/
Parking available onsite, ask restaurant staff to open the gate next to entrance. Street parking also available.
(Please note that there will not be an East Bay Networking Nomikai in December.)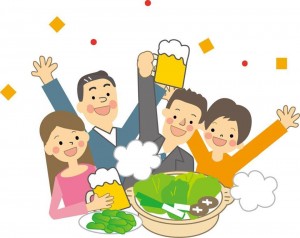 Photo from JETAANC's Facebook Event
17. JETAANY
JETAANY Bonenkai
When: Friday December 16th, SAVE THE DATE
Where: TBD
RSVP/Cost: TBD
18. JETAA Auckland
When: December 16th, 6:30-11:59 PM NZDT
Where: Genta Entertaining Japanese Dining 8 commerce st Auckland Central, Auckland, New Zealand 1010
It's that time of year again – party time!! Come join us for a meal to celebrate the close of another year.
What: Bounenkai followed by Karaoke
Who: JETAA member and a plus one
When: Saturday 17 December 2016
Where: Genta Japanese Restaurant
Price: $25 for a shared meal (this is the subsidised price). Drinks, dessert and karaoke at own expense.

RSVP: amelia.sirimanne@gmail.com or 027 209 1981 or message me on FB – by 10 December 2016. Also if you have any questions.
Don't forget we will be playing Stealing Santa so just bring a small $5-$10 (may be a re-gift) wrapped present :)
(Sample menu)
Edamame
Spinach salad
Fresh Spring roll
Seaweed Tofu Salad
Beef Tataki
Sashimi
Teriyaki Chicken roll
Vegetable tempura
Yakisoba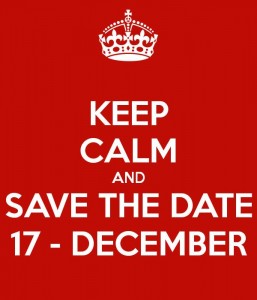 Photo via JETAA Auckland's Facebook Event
19. Northeast JETAA hosted by the New England JETAA 
Northeast JETAA 30th Anniversary Ski Trip
When: January 27-29, 2017
Where: Killington Mountain, Vermont Killington, VT
Sign up today for NEJETAA's JET 30th anniversary ski trip! The deadline is Monday, December 19th. Spots are limited to 30 people, so sign up now to reserve your spot! JETs, Friends of JET, and those considering JET are welcome!
https://goo.gl/forms/dvd6vSdXOiX48fwT2
This year the New England JET Alumni Association will host the 4th Annual Northeast Region Ski Trip from January 27th – 29th at Killington Ski Resort, the largest ski area in the eastern United States.
This event also kicks off NEJETAA's celebration of the JET Program's 30th Anniversary!
Not interested in skiing? The Killington area offers much to do. There are options for individuals to do cross-country skiing, snowshoeing, and other winter activities. Killington Resort is only 35 minutes from the lovely town of Woodstock, VT with many options for eating and shopping; and 20 minutes from the Long Trail Brewery.
http://www.killington.com/site/index.html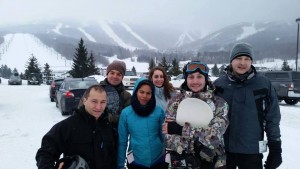 Photo from NEJETAA's Facebook Event