Mar
14

Events, Film, Translating/Interpreting, Uncategorized, WIT Life, Writers

Comments Off

on WIT Life #297: 人魚に会える日 (Girl of the Sea)
WIT Life is a periodic series written by professional Writer/Interpreter/Translator Stacy Smith (Kumamoto-ken CIR, 2000-03). She starts her day by watching Fujisankei's newscast in Japanese, and here she shares some of the interesting tidbits and trends along with her own observations.
Last week I returned from a short business trip in Japan when Tokyo was enjoying unseasonably warm weather.  People were in t-shirts over the weekend, and with 梅 (ume, or plum blossoms) already in bloom an early 桜 (sakura, or cherry blossom) season is predicted for this year (if only I could have stuck around for a few more weeks…).  However, this morning's Japan news reported the weather dipping back down to chillier temps, so who knows when actual blooming will take place.  Stay tuned to the 桜前線 (sakura zenzen, or cherry blossom front)!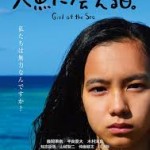 While in Tokyo I had the chance to check out the film 人魚に会える日 (Ningyo ni aeru hi or Girl of the Sea),  made by 20-year old Okinawan director and Keio University student Ryugo Nakamura.  He made his debut at age 13 with the film やぎの冒険 (Yagi no bouken or The Catcher on the Shore), and has produced over 30 movies, amazingly prolific for his young age!  After debuting in Okinawa, Girl of the Sea had a limited four-day run at the cool venue Eurolive in Shibuya (which also houses the Tokyo Film Academy).  Nakamura created the film in collaboration with his classmates over two weeks of their summer vacation.
In the Q&A after the movie he detailed how in addition to the efforts of these classmate volunteers, the actors were kind enough to drive themselves from Naha (Okinawa's capital city) to the northern city of Nago when they realized how limited the film's resources were.  I was particularly starstruck by the participation of one of my favorite Japanese singers/songwriters, the Okinawan artist Cocco.  Nakamura recounted how during an intense scene Cocco has with two high schoolers who were overwhelmed to be acting with her, she put them right at ease.
Girl of the Sea deals with the theme of the proposed Futenma Marine Corps Base relocation and how the base issue affects Okinawans, especially young people.  This topic is of extreme interest to me since I  recently spent three weeks interpreting for a State Department delegation of Okinawans studying U.S. base land redevelopment (with one being from Ginowan, which hosts Futenma and where many of the movie's scenes take place).  The film approaches this massive topic from several different perspectives, including that of a 引きこもり (hikikomori or shut-in) high school student who plasters his room with various slogans such as "Save our environment" and "No more bases!"  The plot develops when he goes missing and two of his friends encounter unexpected elements, such as human sacrifice, while in pursuit of him.  Girl of the Sea incorporates horror and fantastical aspects, but also has a significant dose of humor (thanks to idiosyncratic characters like the high school teachers).
Ultimately, the film goes on to serve as a powerful and poignant allegory for how the presence of bases affects Okinawans and the island's nature.  No matter where you stand on the base issue, Girl of the Sea provides food for thought for both sides.  For this reason, I hope this conversation-starting film will have the opportunity to be screened here in NY sometime in the near future.