WITLife is a periodic series written by professional Writer/Interpreter/Translator Stacy Smith (Kumamoto-ken CIR, 2000-03). She starts her day by watching Fujisankei's newscast in Japanese, and here she shares some of the interesting tidbits and trends together with her own observations.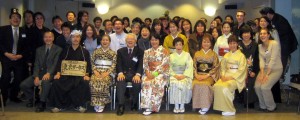 Last night I attended the shinnenkai for New York's very own Battenkai, or group for Kyushu people (Batten comes from Kyushu-ben and means but, and kai means gathering).  There are several kenjinkai or prefectural groups here in the city, but Kyushu has this joint group instead of individual ones for each prefecture.  I have been attending their events since two summers ago, and it is always a diverse mix of people.  You can find accountants, jazz singers, lawyers, graphic designers and karate instructors, all of whom have interesting stories to share.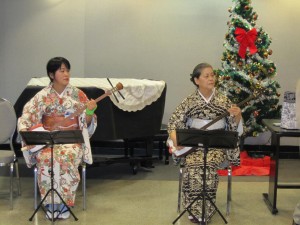 Battenkai gatherings always include some form of entertainment, and last night's was no exception.   It featured several different acts to welcome the new year.  First we were regaled by a beautiful shamisen performance by two lovely ladies in kimonos, and then certified laughter yoga instructor Yoshiko Yamamoto introduced us to this activity.  The exercises she had us do were terrific ice breakers, and soon the room was filled with belly laughs.  After a buffet style light meal and plenty of Kirin beer due to a donation from one of the attendees, we enjoyed the antics of Tokyo Circus, a unique performer.  People enjoyed eating and drinking until they kicked us out, and several people made their way to a nijikai.
The Battenkai is looking to internationalize, so if you or anyone you know has an affiliation with Kyushu or just wants to periodically get together with a fun group from Japan's southernmost island, definitely check out the next event.  There are plans for ohanami in the spring and a jazz concert in the summer, so hope to see you all there!