Sep
9

Article/Journalism, Interview/Profile, JQ Magazine

Comments Off

on JQ Magazine's September/October "Sayonara Print Issue" Out Now!‏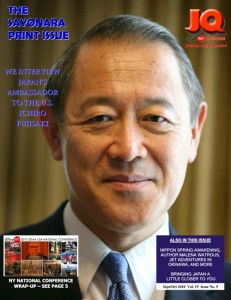 JQ magazine returns with another fall classic! Features include the JETAA USA National Conference wrap-up, a review of JET alum author Malena Watrous' new book If You Follow Me, and an exclusive interview with Japan's Ambassador to the United States Ichiro Fujisaki. Click here to view.
BIG NEWS! This is also JQ's final issue in traditional print form. It will return after a brief hiatus as an all-online publication. With no space limitations or monthly deadlines, JET readers from all chapters are encouraged to submit stories, announcements, updates and commentary to help make us a stronger and more unified "national international" publication.
Additional contents below. Thanks to JQ Editor Justin Tedaldi (Kobe-shi CIR, 2001-02) for another sugoi issue. Contact Justin if you'd like to pitch or write a story for future editions.
        CONTENTS
Page 3……..From the Editor, Ambassador of Japan to the United States
Page 4……..Nippon News Blotter / JETAANY's Secretary Ties the Knot
Page 5……..JETAANY Society Page – National Conference Wrap-up by Goshippu Garu
Page 7……..Ambassador Ichiro Fujisaki: The JQ Interview by Justin Tedaldi
Page 8……..JoAnn M. Hunter Goes from Broadway to Tokyo by Lyle Sylvander
Page 9……..Through the Eastern Looking-Glass with Malena Watrous by Sharona Moskowitz
Page 10……JETlog featuring Stuart Wallace
Page 11…….Book Corner: Just Enough by David Kowalsky
Page 11…….Life After the B.O.E. by David Namisato