Aug
28

Anecdote Article, Translating/Interpreting, WIT Life

Comments Off

on WIT LIfe #119: 小東京
WITLife is a periodic series written by professional Writer/Interpreter/Translator Stacy Smith (Kumamoto-ken CIR, 2000-03). She starts her day by watching Fujisankei's newscast in Japanese, and here she shares some of the interesting tidbits and trends together with her own observations.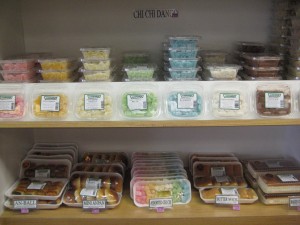 My current travels bring me to Los Angeles, so a trip to Little Tokyo (aka 小東京 or sho Tokyo) was in order.  My first stop was Mikawaya, a (cash-only) sweets shop located in the Japanese village.  As you can see in the picture on the right, they have a colorful selection of mochi.  The top row features fruity and exotic flavors ranging from strawberry, orange, pineapple, melon and blueberry to coconut and chocolate.  They offer bite-sized samples (and let you try as many as you want!), and I enjoyed the coconut and the strawberry.
However,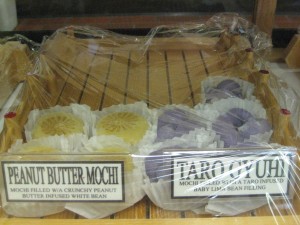 when it came to buying some mochi to take home I decided to stick to familiar favorites.  I opted to go for one each of the peanut butter and taro ($1.15 each), pictured on the left.   The peanut butter on the inside of the former is fairly granular, and its thick mochi outside makes for a substantial snack.  The taro mochi was of the perfect sweetness, and it made me miss the various forms in which you can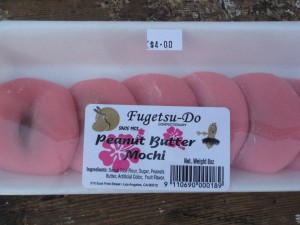 find this taste in Hawaii.
Always one to comparison shop, I next made my way to (cash-only) Fugetsu-do which is found on little Tokyo's main street (not far from my favorite restaurant in the area, Daikokuya (I went there for lunch with my current Japanese client, and she said that their hiyashi chuuka was better than any she's had in Japan!).  I remembered that they had their own version of peanut butter mochi, which comes pre-packaged with six smaller sized mochi ($4).
They are flatter (due to less peanut butter inside) than the ones at Mikawaya, and more uniform in size.  Mikawaya's are individually wrapped so they have more of a handmade feel than Fugetsu-do's, which seem more processed.  We head to Santa Fe tomorrow so will taste test Fugetsu-do's offerings on the plane on the way over!