Aug
11

Article/Journalism

Comments Off

on JET Alum Randall David Cook's 'Sake with the Haiku Geisha' Returns to NYC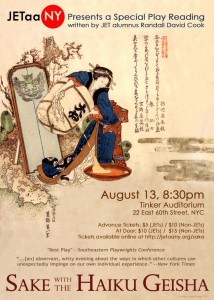 By JQ Magazine's Justin Tedaldi (CIR Kobe-shi, 2001-02) for Examiner.com. Visit his NY Japanese Culture page here to subscribe for free alerts on newly published stories.
Those who missed the original Off Broadway run of the critically acclaimed play Sake with the Haiku Geisha are in for a treat. As part of its annual national conference, the JET Alumni Association's New York chapter, with support from the Consulate-General of Japan in New York, will revive the play for a one night only performance on Friday, Aug. 13 at Manhattan's Tinker Auditorium.
Penned by playwright Randall David Cook and featuring a cast that includes Jun Kim of Kurotama Kikaku Company, the work was debuted by the Gotham Stage Company in 2006 as an outgrowth of Sushi and Scones, an earlier one-act play written by Cook for the UK's Dawlish Arts Festival and later produced by BBC Radio.
"Ninety percent of the play is based on true stories, and many of the lines were taken verbatim from their subjects," explained Cook. "The most outrageous things I dared not dream up; they happened."
Read the full story here.