Dec
17

Article/Journalism, Books, Writers

Comments Off

on JET Alum Liz Sheffield interviews "Love In Translation" author Wendy Nelson Tokunaga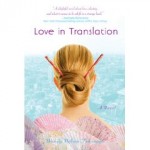 Author, manuscript consultant and blogger Liz Sheffield (Hokkaio-ken, Sapporo-shi, 1993-95) has a great post on her blog Motherlogue about a new book out titled Midori by Moonlight by Wendy Nelson Tokunaga.  Here's Liz's explanation of the background:
About a year ago I read Wendy Nelson Tokunaga's debut novel, Midori by Moonlight. I was thrilled to see that she had a new release out in November — Love In Translation. Both of her books cover topics near and dear to my heart: Japanese culture, the expatriate experience and cross-cultural romance.
Love In Translation intrigued me because the story is told from the perspective of a foreign woman living in Japan, something with which I have personal experience! As I read the book, I had a wonderful sense of being reconnected to my own experiences in Japan — from the visits to a ryokan (Japanese hotel) to eating delicious shu-cream to blunders in communication through a foreign language. I was also reminded of what I learned about myself thanks to the joy and hardship of navigating a culture so different from my own.
In my interview with her at Motherlogue, Wendy offers insight about her experiences in Japan, about publishing two novels and combining her vocal talents with her husband's musical talents to create an enka song ("Nozomi No Hoshi") as the soundtrack for Love In Translation. Details about how to request a copy of "Nozomi No Hoshi" on CD, are included in the interview.