By Justin Tedaldi (CIR Kobe-shi, 2001-02)
If you've ever watched TV in Japan on New Year's Eve, chances are you've seen Akiko Wada. One of Japan's most celebrated stars, the singer and entertainment personality has made over 20 appearances on the annual Kohaku Uta Gassen (Red-White Song Contest). To celebrate her 40th year in show business, the "Female Emperor" performed a landmark one-night-only concert, Power & Soul, at Harlem's renowned Apollo Theater on September 29.
Born in Osaka, the headstrong Wada made her recording debut in 1968, shortly after dropping out of high school at age 17. The following year, she broke big with "Doushaburi no Ame no Naka de" (In the Pouring Rain), with pop stardom and numerous variety show hosting gigs to follow. With her tall, stocky build and direct nature, Wada is something of an anomaly in the Japanese entertainment world, where women are less encouraged to speak their mind or even think about criticizing their peers.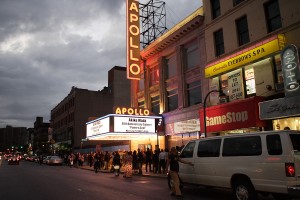 Three days before the Apollo date, Wada held court at a press event in Midtown's Kinokuniya Books. Hosted by store manager John Fuller, the conference (conducted entirely in Japanese) kicked off with an a cappella performance of "Amazing Grace" from American vocal trio The Wild Women, who also opened Wada's concert.
The superstar then emerged from the back to thunderous applause, fielding questions from Fuller and the Japanese media. She gushed about New York, which she's visited eight times, and explained that she hand-picked the Apollo over venues like Carnegie Hall because of the "sacred place"'s ties to the R&B acts that inspired her growing up.
Other questions focused on her rehearsal of English-language songs ("the pronunciation is the hardest part"), who catches her ear these days (Beyoncé, Jennifer Hudson), and her thoughts regarding Japan recently naming its third prime minister in two years ("taihen"). She wrapped things up by giving copies of her latest book Otona no Shikari Kata (How to Firmly Guide the Younger Generation) to fans, then posed for some photos, laughing about how different the whole process was compared to back home. After that, it was off to a talk event at the Nippon Club's Rose Room, presented by the Business Women's Committee of the Japanese American Association.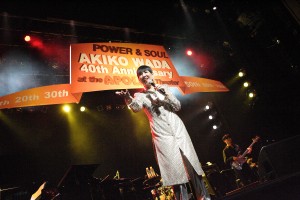 The concert itself was a highly polished affair . Backed by an all-Japanese 12-piece band and clad in a sparkling silver gown, Wada encouraged the crowd to stand, sing and dance from the word go. Though the songs from her repertoire were more pop than R&B, the flavor was just right. The bilingual show program helpfully provided English translations of Wada's introductions to several of the songs, as virtually all her stage raps were in Japanese for Japanese, which must have been a first for the Harlem venue with a history stretching back to the early 20th century.
Halfway through the show, Wada prepped the crowd for a very special guest: Sam Moore of trailblazing soul duo Sam & Dave. His appearance was more than window dressing, as a giant screen slid down to run a loop of the guys performing their debut hit "Hold On, I'm Comin'" on Japanese TV in 1970 with a then-22-year-old Wada singing backup. Returning to the present, Moore appeared dazed by it all, and his conversation with Wada through an interpreter seemed unrehearsed, making for a Lost in Translation moment. Nevertheless, the two teamed up for a mighty performance of an American classic: "Soul Man."
After Moore's exit, Wada slowed things down to talk about another legend she knew personally: Ray Charles. Ever since hearing "I Can't Stop Loving You" as a junior high school student, Wada said that if not for the song, "I would not be who I am today." Treating the audience to a video of "Ray-chan" performing at her 30th anniversary concert, Wada regretted that Charles couldn't return for her 40th, but in his honor took the opportunity to perform "Georgia on My Mind" while the screen flashed a montage of a cheery (were there any photos of him that weren't?) Charles. While her reading of lines like "sweet and clear as moonlight through the pines" had a high mortality rate channeled through that thick Japanese accent, Wada ultimately sold the song on the passionate memories of her youth.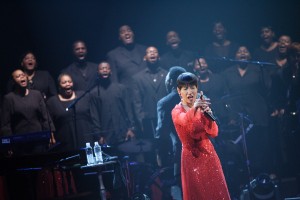 She was also having a ball. Marveling at all the young faces in the crowd, she asked the theater's youngest patrons to identify themselves. When a 14-year-old chirped up, Wada was astonished. Discovering that she was born in New York, the temptation to ask if her English was pera-pera was too great for the singer to resist.
Later returning in an elegant red dress, Wada paid her respects to another departed maestro: "Respected senior and grand master" Hibari Misora, one of Japan's most revered entertainers. The Bronx Mass Choir then gathered behind her, singing "Ai-San-San" in a glowing tribute.
The encores saw a surprise guest, as 77-year-old American-born All Japan Pro Wrestling champ Dick "The Destroyer" Beyer (who wore his trademark mask throughout the entire show) tottered up to the front row, presenting Wada with a long-stemmed rose. The two had appeared on television programs together in the past, and Wada was touched by his unscripted gesture.
Prefacing the final song "Yume" (Dream) with tears of joy streaming down her face, Wada said, "I am grateful to be on the stage of the Apollo Theater, the place of my dreams…now I would like to sing this song for you, my wonderful audience in New York."
For many in attendance that night, it was also a dream come true.
Special thanks to Gorgeous Entertainment for assistance and photographs. For more on the show, visit www.akikowadany.com.