Michelle Lynn Dinh (Shimane-ken, Chibu-mura, 2010–13) is an editor and writer for RocketNews24, a Japan-based site dedicated to bringing fun and quirky news from Asia to English speaking audiences.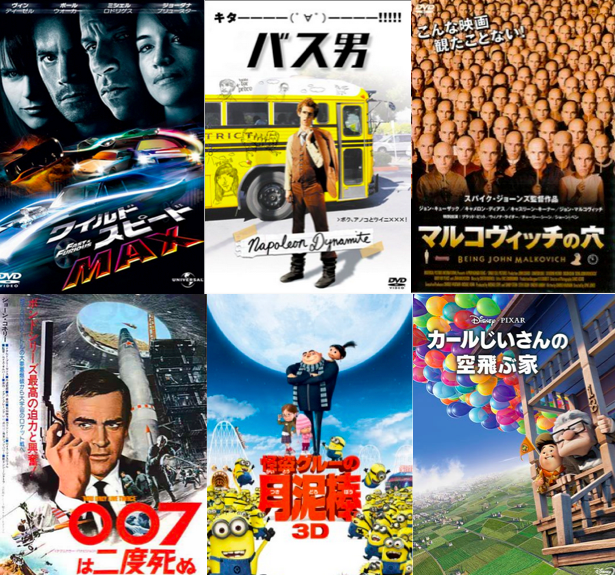 Hollywood films are popular around the world and Japan gets its fair share of dubbed and subtitled blockbusters. But sometimes things get a little mixed up when changing words from English to Japanese. This gives rise to translated titles that come in a wide range of strange from unintended sexual innuendos to spoilertastic summaries.
Let's take a look at 13 weird Japanese movie titles that make you wonder what the translators were thinking.
Via JETAA DC. Posted by Kay Monroe (Miyazaki-shi, 1995 -97).
————————————————————————————————————
Position: Paid Translation Opportunity with Japanese Professor
Posted by: Professor Yasuaki Onuma of Meiji University
 
Overview:
Professor Yasuaki Onuma of Meiji University (he retired to there after 35+ years at Todai) is working on translating into English for publication a short primer on international law he wrote, and he is looking for individuals fluent in Japanese to help him with one or more chapters. Chapter topics include territory, nationality and citizenship, global environment, and dispute settlement. Chapters are 35-55 small-sized pages in Japanese (the book is much smaller than 8 1/2 x 11 size).
If you or someone you know would be interested, please contact Professor Onuma at onuma@j.u-tokyo. ac.jp. He will be in the DC area until the end of the month, and is of course happy to work long-distance once he is back in Japan. I've gotten to know Professor Onuma as a visiting scholar at my school, he's a wonderful guy, and he would greatly appreciate any help he can get. (Doug MacLean, 2002-04 ALT, Akita-Ken)
(posted by Suzanne Kamata, Tokushima '88-'90)
Saturday, June 16, 2012
SCBWI Tokyo Translation Day 2012:
Bringing Japanese Teen Literature to the World
A day of presentations, critiques, and conversation for published and pre-published translators of Japanese children's literature into English, with a focus on young adult (YA) literature.
This event is made possible by Yokohama International School and a Regional Grant from SCBWI.
Time: Saturday, June 16, 2012
Registration 8:30 a.m. | Sessions 9:00 a.m. – 5:00 p.m.
Place: Yokohama International School, Yokohama
Sessions to be held in the Loft, 2F Pauli Building.
Access information and maps
Fee: Advance registration
3,000 yen for SCBWI and SWET members
4,000 yen for nonmembers
At the door
4,000 yen for SCBWI and SWET members
5,000 yen for nonmembers.
Advance registrations and translations of workshop texts
(see below) due by Saturday, May 19, 2012.
Speakers will include translators Juliet Winters Carpenter, Deborah Iwabuchi, Holly Thompson, Hart Larrabee, Sako Ikegami, Lynne E. Riggs, Alexander O. Smith, and Avery Fischer Udagawa. This event will be in English.
For more information, speaker bios, and to register, go to http://www.scbwi.jp
Thanks to JET Alum Justin Moy for passing on this interesting opportunity about a unique book project. Posted by Kay Monroe (Miyazaki-shi, 1995 -97).
————————————————————————————————————
Position: Japanese Collaborator for ESL Book
Posted by: Daniel Gauss
Type: Full-time
Location: N/A
Salary:  Deferred pay
Start Date: N/A
Author of an ESL book to be published in the Spanish-speaking world is seeking a Japanese collaborator to tailor the book for Japanese English-learners. The purpose of the book is for learners to acquire English idioms and vocabulary through reading English instead of relying heavily on line translations. For more information about the book on Amazon, click on the following link:
http://www.amazon.com/Sucks-Youll-Wanna-Anyway-ebook/dp/B004TSPAQS/ref=sr_1_1?ie=UTF8&qid=1301236827&sr=8-1
Job Responsibilities:
– Write chapter introductions in Japanese
– Add introductions in Japanese to the vocabulary sections
– Write up short explanations or translations of difficult English words in the text
– Aid in changing the main character of the book to a Japanese hero or heroine (Main character is currently
a young woman from Spain studying English in New York.)
– Aid in communication with Japanese publishers to publish book in Japan
Job Requirements:
– At least a bachelor's degree
– Proficient in written Japanese
– English teaching experience in Japan (preferred)
Compensation:
– Deferred pay (If the book is published in Japan and earns a profit, you will receive 50% of the cut.)
Note: This can be discussed, but a percentage of the profit can be donated to a charity supporting Japan.
Contact: Please send credentials to the author, Daniel Gauss, by e-mailing him at djg51qu@gmail.com.
Author Suzanne Kamata (Tokushima-ken, 1988-90) who also serves as the Publicity Assistant for the Society of Children's Book Writers and Illustrators, shared the following:
"A day of presentations, critiques, and conversation for published and pre-published translators of Japanese children's literature (picture books through young adult) into English."
Date: June 12, 2010 (Saturday)
Time: 8:00 a.m.-4:00 p.m.
Place: Yokohama International School, 2F Pauli Bldg
Fee: Advance Registration 3,000 yen SCBWI and SWET members; 4,000 yen non-members. At the door 4,000 yen SCBWI and SWET members; 5,000 yen non-members. 
For details, see: www.scbwi.jp
Includes: 
– "Once upon a Picture Book Translation," with Arthur Binard, translator and author
– "The Making of the Moribito Books, Young Adult Fantasy Novels in Translation," with Cathy Hirano, translator, and Cheryl Klein, senior editor at Arthur A. Levine Books 
– "Paths to Publication of Japanese Children's Books in English Translation," with Binard, Hirano, Klein, and expert representatives from Japanese publishing: Akiko Beppu, Editorial Director, Kaisei-sha Publishing Company; Rei Uemura, Chief Editor of Children's Books, Tokuma Shoten; and Yurika Yoshida, President and CEO of Japan Foreign Rights Centre.
Plus a workshop led by Cathy Hirano:
"Translation of Japanese Children's Books in Three Age Categories" 
Advance registrations and translations of short texts for the workshop must be received by Saturday, May 15, 2010. To register and request workshop texts, send an email to info@scbwi.jp
This event will be in English. Complete event announcement online:
www.scbwi.jp/events.htm#td
Apparently I.B.M. is making progress on a fairly revolutionary translation project called n.Fluent.  They're taking advantage of their international employee base to "teach" a system that has the capacity to learn.  See the article in the New York Times:
A Translator Tool with a Human Touch: http://www.nytimes.com/2009/11/23/technology/23link.html?th&emc=th
Any translators out there have an opinion or perspective to share?  How does this compare to Google's Rosy Etta (see previous JetWit post on Rosy Etta)?
TranslationParty.com is a simple and amusing procrastination tool that demonstrates the hilarious quirkiness of machine translation.  Enter an English phrase and TranslationParty will automatically translate it into Japanese, then back into English, then back into Japanese, etc.  Until a Zen-like equilibrium is reached…
From Twitter @leesean via @myGengo.