Sep
6

Japan Writers Conference, Uncategorized

Comments Off

on Japan Writers Conference: Todd Jay Leonard discusses the EFL textbook market
Posted by Tom Baker
Textbook author Todd Jay is one of the JET alumni writers who will be giving presentations at the 2020 Japan Writers Conference. Due to the coronavirus, this year's event is being held online, so you can Zoom in from wherever you are. For details, see http://japanwritersconference.org. Here's the official description of his presentation: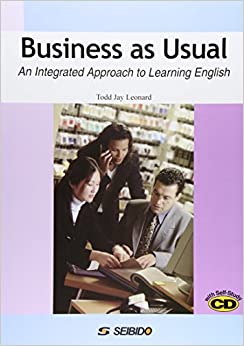 Todd Jay Leonard
Publishing in the EFL Market in Japan: Four Perspectives on How to Make your Proposal Count
Short lecture with Q & A
Career

This presentation will outline the current publishing market in Japan for EFL/ESL textbooks by reviewing the various points of views of the publishing industry. The presenter has published extensively within the ESL/EFL market in Japan and will offer helpful advice to budding authors who wish to pursue projects geared to Japan's domestic market.

Most likely, every language teacher in Japan has (at some point during his/her tenure) contemplated writing a textbook to fill a void in the market…in that constant search for the perfect, all encompassing textbook.

In today's competitive publishing world, getting the proverbial "foot in the door" can seem daunting and nearly impossible. What are publishers looking for in the current market? What appeals to editors who ultimately decide which titles go to production and which ones do not? What are the salespeople on the front lines hearing from their market base? What must an author do in order to get his/her book published?

This presentation focuses on these very questions, offering inside insights from all the various points of view that must be considered when writing a proposal to publish a textbook–the publisher, the editor, the salesperson, and the author. Professor Leonard explains the realities within the publishing industry and addresses some common myths associated with EFL publishing.

Todd Jay Leonard has been actively involved in book publishing for thirty years. He is the author of 22 books. He has published books with a number of different Japanese publishing companies. He lives, writes, and teaches on the southern island of Kyushu, where he is a university professor at University of Teacher Education Fukuoka. He has also published extensively in academic journals, magazines, and newspapers on cross-cultural, historical, and Teaching English as a Foreign Language (TEFL) themes.
Jul
5

Jobs

Comments Off

on Job: Esl instructors, Mahidol University (Thailand)
Thanks to Jet alum Stephen Smith for sharing this great job listing. Posted by Kay Monroe (Miyazaki-shi, 1995 -97).
________________________________________________________________________________
Position: Esl instructors
Posted by: Mahidol University
Type: Full-time
Location: Thailand
Salary: Commensurate with experience and qualifications. 
Start date: NA
Overview:
The Faculty of ICT at Mahidol University would like to employ several highly talented individuals to join our staff in the academic year 2012, starting in August, at our Salaya campus. Full-time positions are now available for any successful applicant who holds the following minimum required qualifications: Read More
Jun
25

Jobs, Uncategorized

Comments Off

on Job: Associate Editor – ESL Oxford University Press (NYC)
Via Indeed.com. Posted by Kay Monroe (Miyazaki-shi, 1995 -97).
————————————————————————————————————
Position: Associate Editor – ESL
Posted by: Oxford University Press
Type: Full-time
Location: New York, NY
Salary:  N/A
Start Date: N/A
http://www.oup.com/us/corporate/jobs/ny/31919999/?view=usa
Responsibilities:
Oxford University Press is dedicated to producing English language teaching materials that allow students to realize their potential. Join the American English Language Teaching team in our mission to bring the very best ELT materials to classrooms across the world.
Position Summary:
Are you interested in joining a creative and collaborative editorial team? Do you enjoy editing, managing projects, and solving problems? Are you detail-oriented? Can you work collaboratively to high standards? Oxford University Press is looking for an Associate Editor to join its prestigious English Language Teaching division. The Associate Editor will edit and proof print, audio, and digital products and work with project teams on market research and outside reviewing while maintaining schedules and budgets.
Successful candidates will possess strong organizational and communication skills; they will also show themselves to have effective time management skills, as well as able multi-taskers. Two plus years publishing experience preferred. ESL/ELT teaching experience a plus.
Submissions for advertised and posted positions should be sent to the address below. Electronic mail responses to positions are also accepted.
Human Resources Representative
Oxford University Press
198 Madison Avenue
New York, NY 10016
Fax: 212-726-6458
Email: hrny.us@oup.com
When applying for any position, please state the position you are interested in, salary requirements and the source of the advertisement. Please, no phone inquiries.
http://www.indeed.com/viewjob?jk=5e434f6003ed3541&q=Esl&l=New+York,+new+york&tk=170h7tj8906ag6k1&from=ja&alid=004a0b81162b6a61&utm_source=jobseeker_emails&utm_medium=email&utm_campaign=job_alerts
May
1

Jobs, Translating/Interpreting, Writers

Comments Off

on Job: Seeking a Japanese native-speaker/collaborator on book project 05.01.12
Thanks to JET Alum Justin Moy for passing on this interesting opportunity about a unique book project. Posted by Kay Monroe (Miyazaki-shi, 1995 -97).
————————————————————————————————————
Position: Japanese Collaborator for ESL Book
Posted by: Daniel Gauss
Type: Full-time
Location: N/A
Salary:  Deferred pay
Start Date: N/A
Author of an ESL book to be published in the Spanish-speaking world is seeking a Japanese collaborator to tailor the book for Japanese English-learners. The purpose of the book is for learners to acquire English idioms and vocabulary through reading English instead of relying heavily on line translations. For more information about the book on Amazon, click on the following link:
http://www.amazon.com/Sucks-Youll-Wanna-Anyway-ebook/dp/B004TSPAQS/ref=sr_1_1?ie=UTF8&qid=1301236827&sr=8-1
Job Responsibilities:
– Write chapter introductions in Japanese
– Add introductions in Japanese to the vocabulary sections
– Write up short explanations or translations of difficult English words in the text
– Aid in changing the main character of the book to a Japanese hero or heroine (Main character is currently
a young woman from Spain studying English in New York.)
– Aid in communication with Japanese publishers to publish book in Japan
Job Requirements:
– At least a bachelor's degree
– Proficient in written Japanese
– English teaching experience in Japan (preferred)
Compensation:
– Deferred pay (If the book is published in Japan and earns a profit, you will receive 50% of the cut.)
Note: This can be discussed, but a percentage of the profit can be donated to a charity supporting Japan.
Contact: Please send credentials to the author, Daniel Gauss, by e-mailing him at djg51qu@gmail.com.
Apr
17

Jobs, Uncategorized

Comments Off

on Job: Part-time ESL Teacher position available (Seattle) 04.17.12
Via Pacific Northwest JETAA. Posted by Kay Monroe (Miyazaki-shi, 1995 -97).
————————————————————————————————————
Position: ESL Instructors
Posted by: Azumano International
Type: Part-time
Location: Seattle, WA
Salary:  See below
Start Date: N/A
http://azumanointernational.com
Megan Woodward (CIR 2008-10, Sapporo, Japan) currently works for Azumano International, a small travel company in downtown Seattle that works with Japanese clients, including school groups. They have several programs coming this summer, more than in years past, and are sending out the call for part-time ESL instructors; JETAA members are encouraged to apply. Teachers are needed for 1 or 2 week periods from the beginning of August to mid-September.

Pay Rate: $25/classroom hour, $7/class day for materials reimbursement
Locations: UW campus or SPU campus
How to Apply: Send a resume to seattle.edu@azumano.com and they will schedule an interview.
Nov
17

Jobs

Comments Off

on Job: Work for the Korean Government Teaching English
Stephanie Boegeman (ALT, Akita-ken, 2006-09) gets her kicks from finding fun crazy ways to see the world and getting paid to do it. She is constantly in search of job, internship, and travel ideas to add to her site Playing With Hire, in the hopes that more JET alumni and like-minded souls join her in her quest to find creative, inspiring, and unique ways to make ends meet.
If you loved your stint with JET, but need to mix it up a bit, perhaps you should consider working for EPIK (English Program in Korea), a national English teaching program sponsored by the Korean Ministry of Education, Science and Technology Development. Applicants looking to begin work this March should apply by *Dec. 1st*. More details on the program are available here.