May
28

Audio, Career, Food & Drink, Jobs, Networking, Translating/Interpreting, Travel/Tourism

Comments Off

on Krewe of Japan Podcast E14 – 4 Seasons of Japan & E15 – Careers in Japanese: Translation & Localization ft. Jennifer O'Donnell
Posted by: Doug Tassin (Fukushima-Ken ALT, 2007-2010 & Krewe of Japan Podcast Co-Host)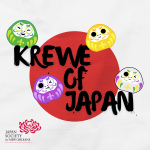 Last week on the Krewe of Japan Podcast…
Did you know Japan has 4 seasons? In this episode, Doug & Jenn take you on an audio journey through Japan's four seasons. From the top cultural events and natural phenomena that you must see, to the weather and must try seasonal food and drinks, this episode if perfect for those reminiscing about their last trip and those planning their future one.
This week on the Krewe of Japan Podcast…
Enjoy studying Japanese and want to work in an industry where you can apply those skills? How do you even get into translation and localization? The Krewe has you covered. Doug & Jenn chat with another Jenn: Jenn O'Donnell, a localization director in the game industry based out of Japan. Jenn shares her career path, some challenges she had to overcome, and how Twitter played an interesting role in her journey to becoming a video game localizer.
The Krewe of Japan Podcast is a weekly episodic podcast sponsored by the Japan Society of New Orleans. Check them out every Friday afternoon around noon CST on Apple, Google, Spotify, Amazon, and Stitcher. Want to share your experiences with the Krewe? Or perhaps you have ideas for episodes, feedback, comments, or questions? Let the Krewe know by e-mail at kreweofjapanpodcast@gmail.com or on social media (Twitter: @kreweofjapan, Instagram: @kreweofjapanpodcast, Facebook: Krewe of Japan Podcast Page, & the Krewe of Japan Youtube Channel). Until next time, enjoy!
Jun
30

Blogs, Food & Drink, I'll Make It Myself, Writers

Comments Off

on I'll Make It Myself!: Localizing Big Boy
L.M. Zoller (CIR Ishikawa-ken, Anamizu, 2009-11) is the editor of The Ishikawa JET Kitchen: Cooking in Japan Without a Fight. A recent returnee, ze also writes I'll Make It Myself!, a blog about food culture in Japan and the US; curates The Rice Cooker Chronicles, a series of essays by JETs and JET alumni on the theme of cooking/eating and being alone in Japan; and admins The JET Alumni Culinary Group on LinkedIn.
New Rice Cooker Chronicles submissions always welcome. Just e-mail it to jetwit [at] jetwit.com.
…During a work conference in Chiba that first fall, I ended up out for a quick lunch at Big Boy, which is essentially a hamburger-and-standard-"American"-fare family restaurant in the US. In Japan, as with most "Western food" family restaurants, Big Boy has been cleverly localized. There are no hamburgers, only hamburg plates.