Jun
29

Books, LifeAfterJET, Travel/Tourism, Uncategorized, Writers

Comments Off

on Suzanne Kamata is a Finalist for the Half the World Global Literati Award
Author/advocate Suzanne Kamata's (Tokushima, '88-'90) unpublished memoir Squeaky Wheels: Travels with my Daughter by Plane, Train, Boat, Tuk-tuk, Metro and Wheelchair has been named a finalist for the initial  Half the World Global Literati Award.
Sponsored by Half the World Holdings, a woman-focused investment platform, this award intends to recognize an original story, screenplay, memoir, or novel featuring one or more female protagonists as the central character, and offering "a fresh perspective on the challenges and joys of women's lives."
According to research by Nicola Griffith, most major literary prizes over the past fifteen years have been awarded to works that did not have a woman at the heart of the story. This award will attempt to balance the equation. An international panel will determine the winner of the $US50,000 prize, however, anyone can vote for the People's Choice Award until July 23. Here's a link.
Here is a brief synopsis of Squeaky Wheels:
My thirteen-year-old daughter Lilia can't walk, but she wants to travel the world. Born fourteen weeks premature, Lilia is deaf and affected by cerebral palsy. Her primary language is Japanese Sign Language, and she uses a wheelchair to get around. At the Tokushima School for the Deaf, Tokushima, Japan, which she has attended in one capacity or another since she was about two years old, she is on the special ed track, which doesn't include English and social studies. Even so, she is wildly curious about other countries and interested in learning her mother's native tongue. When she told me that she wanted to go to Paris, I vowed to find a way even though I didn't have a full-time job. In SQUEAKY WHEELS, I write about my effort to open up the world at large to my daughter as her own world seems to be shrinking. As she becomes heavier and less portable in this country short of wheelchair ramps, her accessibility has decreased. However, we attempt to confront and overcome at least some of the challenges of traveling with a wheelchair. Among other things, I write about our mother-daughter trips to the art island of Naoshima in Japan's inland sea where we sleep in a museum; to Paris – including our arguments about what to pack and what to wear, Lilia's response to the art and food and sights of the city, accessibility to the Eiffel Tower; and to the United States where we explore the caves of Tennessee and the monuments of Washington, DC. At the same time, I struggle to overcome my fears for the future and revise my hopes and dreams for my daughter
Mel T (Aomori-ken, 2007-2012) is a Canadian living and working in Towada City, Aomori. For more information about events, sightseeing, restaurants, etc. in Towada City, and around Aomori Prefecture & Japan, visit her blog at http://towada-city.blogspot.com.
Every August, fireworks masters from across Japan compete in an impressive music and pyrotechnics show at the All-Japan National Fireworks Competition (Omagari Fireworks) along the Omono River in Daisen City, Akita Prefecture. This year marks the 90th anniversary of the event. Click HERE to read MORE.
Mel T (Aomori-ken, 2007-2012) is a Canadian living and working in Towada City, Aomori. For more information about events, sightseeing, restaurants, etc. in Towada City, and around Aomori Prefecture & Japan, visit her blog at http://towada-city.blogspot.com.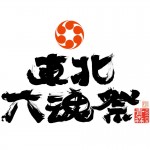 The Tohoku Rokkon ("Six Souls") Festival is a two-day event where you can see six major Tohoku area summer festivals (one from each prefecture) all in one place!
It was created to encourage the revival of the Tohoku area after the Great East Japan Earthquake & Tsunami of 2011. This year marks the sixth and final year of the event. It will be held in Aomori City from June 25-26, 2016.
By Rashaad Jorden (Yamagata-ken, 2008-10) for JQ magazine. A former head of the JETAA Philadelphia Sub-Chapter, Rashaad is a graduate of Leeds Beckett University with a master's degree in responsible tourism management. For more on his life abroad and enthusiasm for taiko drumming, visit his blog at www.gettingpounded.wordpress.com.
Julia Inisan (Kagawa-ken, 2013-15) first visited Takamatsu City, the capital of Kagawa Prefecture in Shikoku, in 2011 on a two-week tea ceremony study tour. That excursion served as a life-changing experience for the Frenchwoman as she fell in love with the city and decided to apply for a spot as a CIR there.
As a JET, Inisan has established herself as a valuable member of her local community, working diligently to attract tourism to the area and promote it on a global stage. But Inisan's work in Japan has been far from limited to just Shikoku: She currently works to support the next generation of JETs as a programme coordinator for CLAIR. JQ caught up with her to discuss her history and blossoming career in Japan.
What attracted you to Japan in the first place?
As an elementary school student, I was fascinated by mythology and folklore and started reading classics like the Kojiki (Records of Ancient Matters) translated into French. I was also moved by the aesthetics expressed in works such as Murasaki Shikibu's novel The Tale of Genji and Hayao Miyazaki's movie Princess Mononoke, and I decided to study Japanese in high school to learn more about the archipelago's traditional culture.
I then had the opportunity to study for one year at Higashi High School in Kitakata, where I fell in love with Fukushima Prefecture's gorgeous landscapes, and later at Kyoto University, another life-changing experience. What kept me coming back each time was the kindness of the locals, which helped me feel at home despite the cultural differences.
What made you decide to become a CIR, and what was that like compared with your previous experience living in Japan?
I was a CIR in Takamatsu City from 2013 to 2015. I had always wanted to work for the Japanese local government and promote lesser-known areas of Japan, which is why I applied for the job. As I already had strong connections to Takamatsu, receiving my acceptance letter was one of the happiest moments of my life.
I was Takamatsu City Office's first CIR. Without a predecessor, it was difficult for me to grasp the extent of my responsibilities at first. Fortunately, I received great advice from the CIRs working at Kagawa Prefecture and from my JET Programme sempai. Finding a good balance between work, volunteering, and private time was also challenging, but my experiences with the local community have been incredibly rewarding.
You currently work as a programme coordinator for CLAIR in Tokyo. How did that opportunity come about, and what kinds of things are you responsible for?
When my two-year contract ended in Takamatsu, my contracting organization encouraged me to apply to be a programme coordinator job at CLAIR. I felt very grateful to the JET Programme and wanted to contribute to its development while supporting Japan's local communities at a global level. I am learning a lot from my Japanese and foreign coworkers at CLAIR, and most of all from the feedback we receive from JET participants.
I currently work on a wide variety of projects, such as planning content for Post-Arrival Orientations and the CIR Mid-Year Conference, revising publications like the CIR Handbook, and directing workshops at ALT Skill Development Conferences. Last year, I was fortunate to work in cooperation with Kagawa Prefecture to welcome back Sophie Le Berre (CIR Kagawa-ken, 1995-97), one of the 12 JET Programme alumni who returned to their former places of work as part of CLAIR's Satogaeri Project.
I am also part of the team in charge of the JET Programme Video Contest, which started in October last year. We have received lots of awesome submissions from current and former JET participants promoting their regions from their points of view. I am greatly impressed by the quality and creativity of the videos, which you can view and vote for on the contest's website. I hope more and more JET participants will participate in this initiative, as these videos are helping tourists discover amazing areas of Japan they've never heard of. If you are interested in the contest and missed the deadline for the Autumn/Winter edition, don't worry: from April 7, 2016, you can still participate in the Spring/Summer edition.
By Rashaad Jorden (Yamagata-ken, 2008-10) for JQ magazine. A former head of the JETAA Philadelphia Sub-Chapter, Rashaad is a graduate of Leeds Beckett University with a master's degree in responsible tourism management. For more on his life abroad and enthusiasm for taiko drumming, visit his blog at www.gettingpounded.wordpress.com.
You surely watched NHK while you were living in Japan. Whether you understood the content was another story, of course. But with the right cable provider, you might be able to enjoy Japan in a way that you were unable to during your JET days, thanks to NHK World.
NHK World serves as the organization's international broadcast service and features English-language programming devoted to Japanese news, sports, cuisine and culture. Even if your cable provider doesn't have NHK World, the network streams all of its programming around the clock on its official website, and you can also download their apps to your smartphone or tablet.
What might you see on NHK World? Here are five programs that could tickle your fancy:
Hosted by Ayako Kisa, Sports Japan has profiled not only sports traditionally associated with Japan, such as sumo and kendo—and those not-so-traditionally associated with Japan, like beach soccer and unicycling. Episodes of Sports Japan broadcast highlights from a certain competition in the featured sport while Kisa interviews a journalist or prominent figure in that sport, such as Alexander Bennett (the coach of New Zealand's national kendo team and editor-in-chief of Kendo World) in a recent episode devoted to kendo. The program is a fascinating look into what sports are practiced in Japan and who could emerge as the country's next elite athletes.

Posted by Eden Law, 2010-2011 ALT Fukushima-ken, President of JETAANSW.
As part of the drive to promote tourism to Japan (not to mention combining a long-held passion and dream), ex-JET Julius Pang introduced a Tohoku photography tour to showcase the beauty of Japan in autumn, in an area that sadly has become known for other things in recent years. Americans are especially well-suited to taking advantage of this tour package, considering how strong the US dollar is against the Australian (yes, Julius's Australia-based company, Incredible Photo Tours, welcomes overseas clients), travel will be especially cheap, with accommodation, transport and food taken care of.
Starting from Tokyo, the tour goes to various places throughout Tohoku such as Zao Onsen, Sendai, Hiraizumi, Akita, Bandai, Aizu-Wakamatsu, Nikko, Naruko Gorge, Shirakami Sanchi, Hirosaki, Nyuto Onsen and Lake Towada. With the advantage of the inside knowledge of an ex-JET, and the expertise of a tour guide who has won awards for his photography, it's a great tour package to consider for your next trip to Japan. Julius also has other tours, such as the Japan Classic Autumn tour, that does the classic route of Tokyo, Hakone, Himeji, Kyoto, Hiroshima, Miyajima, Okayama, Takamatsu, Mt Koya and Osaka.
For more information, check out the Tohoku Autumn Tour, or the Classic Autumn Tour at Incredible Photo Tours.
Mel T (Aomori-ken, 2007-2012) is a Canadian living and working in Towada City, Aomori. For more information about events, sightseeing, restaurants, etc. in Towada City, and around Aomori Prefecture & Japan, visit her blog at http://towada-city.blogspot.com.
Inakadate Village (Aomori Prefecture) has a long history relating to rice. The site of an ancient rice field dating back to the mid-Yayoi Period (300 B.C.~300 A.D.), the Tareyanagi Iseki was discovered in Inakadate in 1981. This was a significant find as until its discovery, it had been believed that rice fields were not cultivated in Tohoku during the Yayoi Period. The Tareyanagi Iseki was designated a National Historic Site on April 11, 2000.
To celebrate and promote its history of rice production, Inakadate began offering rice planting experience tours. In order to make the experience more interesting, they decided to use different coloured rices to draw a picture of Mt. Iwaki with the words 弥生の里いなかだて (Yayoi no sato Inakadate) meaning "Yayoi Village Inakadate." This was the humble beginning of rice field art–although at the time it was not referred to as "art" but simply as "rice characters" (稲文字 ine moji).
Since its beginnings as "rice characters," the drastic improvement in technological and artistic levels have made Inakadate's rice art an increasingly popular site for both domestic and international tourists. It has proved so popular that in 2012, a second rice field art site was started at the Michi no Eki (Roadside Station) Inakadate "Yayoi no Sato."
The theme for 2015's rice field art is "Gone with the Wind" for the main site and "Star Wars" for the second site (Michi no Eki Inakadate "Yayoi no Sato").
WIT Life is a periodic series written by professional Writer/Interpreter/Translator Stacy Smith (Kumamoto-ken CIR, 2000-03). She starts her day by watching Fujisankei's newscast in Japanese, and here she shares some of the interesting tidbits and trends along with her own observations.
Can't believe it's been almost a month since I've written here, but two weeks of that time was my amazing trip to Japan!  I wasn't sure how spending Golden Week in Tokyo would be, but it was actually quite nice as people tend to leave town to travel both domestically and abroad.  Most of my friends stuck around, so it was great to catch up with them without the usual work and other obligations cutting into our time together.  Thanks to them, I was able to explore some new neighborhoods and local parks I had never been to and to just enjoy taking it easy in Tokyo, a rarity when things are in no
rmal operation.
During my second week I began to miss my cats at home, so I decided to go to a cat cafe.  For some reason I have never thought to visit one during my previous visits to Japan, but part of why I wanted to go this time is that we now have our very own cat cafe in NY so I wanted to check out the original version.  I picked one in Kichijouji as it was close to the station, but when my friend and I went upstairs we were told the wait would be a few hours.  We had plans later in the day, so I made a reservation for another day that week.
I returned to the cafe at the appointed time and was given a lanyard upon which my start time and other information was marked, and was asked to wash and disinfect my hands.  It cost Read More
Mel T (Aomori-ken, 2007-2012) is a Canadian living and working in Towada City, Aomori. For more information about events, sightseeing, restaurants, etc. in Towada City, and around Aomori Prefecture & Japan, visit her blog at http://towada-city.blogspot.com.
It is a hot and muggy August night, but the air is filled with energy and a sense of anticipation. Then the sounds of flutes, drums, and chanting shouts erupt as people dressed in happi coats, yukata and all manner of costume fill the street, and enormous glowing figures emerge from between the darkened buildings.
There are many festivals across Aomori Prefecture and all of Japan during the summer, but Aomori's three biggest and most famous summer festivals are Hirosaki Neputa, Aomori Nebuta, and Goshogawara Tachineputa.
All three feature impressive night parades of neputa/nebuta–large lantern floats with images and themes drawn from Chinese or Japanese literature, history, or religion–pulled by large groups of people often dressed in special costumes and accompanied by music from flutes, drums, and hand cymbals. The groups pulling the floats also use special shouts (different for each festival) to keep both the participants and spectators energized.
Posted by Audrey Akcasu (Omura, Nagasaki ALT, 2010-2014); Former editor-in-chief of Nagazasshi, Nagasaki's premier English speaker-oriented events and culture magazine; Current writer and translator for RocketNews24, a Japan-based site dedicate to bringing fun and quirky news from Asia to English speakers. 
---
This probably comes as a refresher for many of you, but this infographic is helpful for newbies to the Japanese hot springs scene, but also contains some fun information that even seasoned veterans (and Japanese people) may not know. Plus, the drawings are really nice! A larger version of the infographic is available on TripAdvisor and you can read about this in more elaborate detail on RocketNews24. Happy bathing!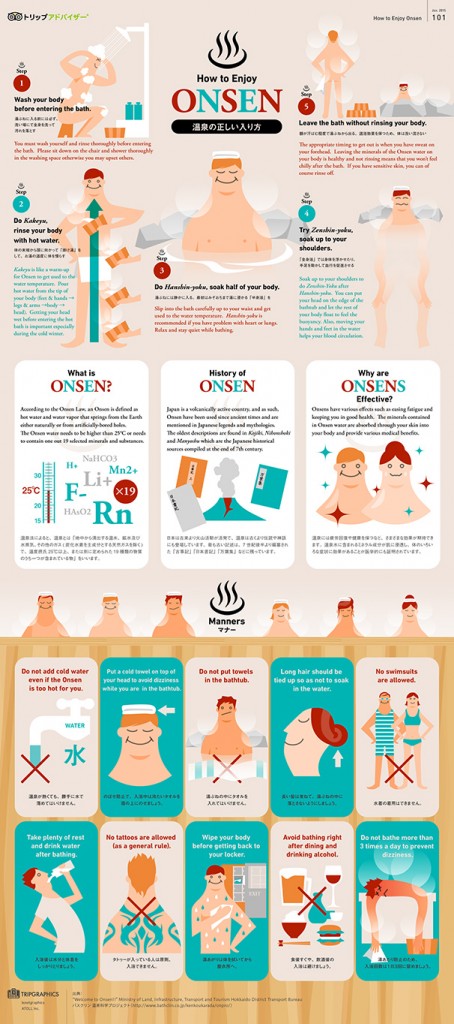 The infographic was released by the Ministry of Land, Infrastructure, Transport and Tourism Hokkaido District Transport Bureau in collaboration with BathClin.
By JQ magazine editor Justin Tedaldi (CIR Kobe-shi, 2001-02) for Examiner.com. Visit his Japanese culture page here for related stories.
Stay warm this winter with some hot local events, from an exhibition for the whole family that's perfect for introducing kids to Tokyo life, a big-screen anime farewell to a certain ninja you won't want to miss, and an annual showcase that brings the sights (and tastes) of Japan to vivid life.
This month's highlights include:
Now through May 17
Children's Museum of Manhattan, 212 West 83rd Street
$11 children/adults, $7 seniors
Experience Tokyo's vibrant culture in a new interactive exhibit! Children will have fun learning about life in present day Japan in this playful, highly immersive environment that transports families to two distinct areas of Tokyo that exist side by side: one serene and exquisite, the other, too cute for words. Kawaii Central is a streetscape inspired by Tokyo's bustling Harajuku district, bursting with color, trendy shops and cuter than cute styles. Kids sing karaoke, smile for the photo booth camera, serve up a seasonal Japanese meal, and design adorable mascots for their families. Plus, learn more about contemporary Japan through special programs for the public, free with admission.
Jan. 29-31, 7:30 p.m.
Miwa Yanagi Zero Hour: Tokyo Rose's Last Tape
Japan Society, 333 East 47th Street
$35, $28 Japan Society members
Stranded in Japan during World War II, a young Japanese-American woman was forced to serve as a radio broadcaster for a propaganda program controlled by the Japanese Imperial Army, and was subsequently tried for treason. Seventy years later, this historic incident is brought to life through a visually stunning whodunit, conceived, written and directed by internationally renowned visual artist Miwa Yanagi. Brimming with iconic imagery from her rich body of photographic work, Zero Hour tells the multi-layered story of a woman caught between two nations during the war. This presentation marks Yanagi's North American debut as a theater artist. Performed in English and Japanese with English subtitles.
Feb. 7-8
Music from Japan: East Asian Vibrancy and Highlights of MFJ Commissions III
Asia Society, 725 Park Avenue
$20-$40
Over two days, Music from Japan's 40th anniversary will be commemorated with exciting cross-cultural collaborations between musicians from Japan and its neighboring countries, China and Korea. Three internationally acclaimed traditional instrumentalists from Japan, Korea, and China will perform contemporary and classical repertoire on their respective instruments. A series of solo works will be followed by a group improvisation and the world premiere of Unkai (Sea of Clouds), written by MFJ-commissioned composer Ned Rothenberg especially for the occasion. The following afternoon, to celebrate MFJ's long history of commissioning Japanese and American composers to create new work, two new MFJ commissions will be presented alongside a retrospective of compositions from prior years.
For the complete story, click here.
By Rashaad Jorden (Yamagata-ken, 2008-10) for JQ magazine. A former head of the JETAA Philadelphia Sub-Chapter, Rashaad is a graduate of Leeds Beckett University with a master's degree in responsible tourism management. For more on his life abroad and enthusiasm for taiko drumming, visit his blog at www.gettingpounded.wordpress.com.
You may remember being treated to "What I did during my summer vacation" tales in elementary school. Well, Christine Mari Inzer spent a memorable summer vacation visiting family in Japan and she documents those travels in a largely visual journey titled Halfway Home: Drawing My Way Through Japan.
Halfway Home—so-titled because Inzer, the daughter of a Japanese mother and American father, describes herself as being half at home in the United States and half at home in Japan—summarizes her travels through a collection of photos, illustrations (all self-drawn), and anecdotes. Geared toward young adults (the author is currently a high school senior in Connecticut), Inzer details the ups and downs of travel while humorously detailing some moments of aggravation, such as her frustration with the shyness of Japanese boys.
For young people interested in eventually visiting Japan, Halfway Home provides an introduction to several of the country's landmarks (the Daibustu in Nara, Kinkaku-ji, in Kyoto, etc.), cultural aspects, and quirks (such as the ubiquity of vending machines). Through reading her travelogue, Inzer comes across as a writer who would make an excellent travel blogger, as she gives prospective visitors to Japan fascinating tidbits about the country's culture and attractions.
While the journal might have been enhanced a bit with the inclusion of a couple of other aspects of Japanese culture (if Inzer spent a summer in Japan, you would think she surely had to have experienced a hanabi taikai), you don't have to be a teen to enjoy Halfway Home. Reading about her journey through Japan will surely evoke natsukashii moments for anyone who has spent a lot of time in the country.
Visit Christine's homepage at http://christinemari.com. For more JQ magazine book reviews, click here.
Posted by Eden Law (Fukushima-ken, 2010-2011), JETAA NSW committee member and a JENESYSTS, apparently. He even has the certificate to prove it! This piece went out in the Sydney Japanese Consulate newsletter in August. If you are considering volunteering for the JENESYS programme and would like more information on what it's like, he's happy to have a chat.
This year I was fortunate enough to be selected as a supervisor of the Australian contingent for the JENESYS programme, a youth exchange programme administered by JICE (Japan International Cooperation Center). Made up of 19 participants (or Jenesysts, as the JICE director dubbed us at the end of our tour) between the ages of 18 to 24, and hailing from Queensland, New South Wales, Victoria and Western Australia, our packed, 9-day schedule (June 23rd – July 1st) covered Tokyo and various places in Hokkaido. Accompanying us were the smaller New Zealand group, and also our guides from JICE. As JENESYS 2.0 covers different themes for each group, the theme for ours was Mass Media (General – Journalism, Multimedia, bloggers).
Our programme schedule was quite eclectic and packed, travelling extensively on buses from one location to the next, which required an early morning start (sometimes at 5am) in order to get through it all. In Tokyo we got behind the scenes at NHK Studio's English language department newsroom, as well as the more publicly accessible NHK Studio Park News, where visitors can observe how various television programs are produced. We also visited Edo Tokyo Museum, with its wonderfully elaborate scale models, and Senso-ji in Asakusa on the second last day of the programme. Hokkaido's programme was focused more on technology, with a tour of Bibai city's "snow technology" facilities (a scientific and rather detailed description of the principles is available here) and a visit to the Hokkaido Institute of Technology, with a stop for lunch at Arte Piazza Bibai, a peaceful sculpture park containing artworks by Kan Yasuda. But the definite highlight for everyone was the homestay with local Sapporo families, where many participants enthused about their individual experiences that included food, culture and traditions – or "authentic Japan". Lastly, participants were then asked to formulate and present a plan on how they would use their experiences on the programme to promote Japan, and to contribute generally to a deeper interest in the country at a local level.
Travelling with a young and especially energetic group of youths and young adults certainly made for a lively (and busy) trip. As the majority had never been to Japan before (and some had left Australia for the first time), it was very interesting and enjoyable to see Japan through their eyes and perspective, and re-discover what had sparked my own love for Japan, and to share my own thoughts as well. And I was quite impressed with the overall quality of the participants who were chosen: quite a few spoke a second, even third language, and there were writers, musicians and artists. Of course, they were rambunctious as can be expected (the phrase, herding cats comes to mind), but they displayed a high sense of curiosity and adventure about their environment. As the Australian group were university students who were involved in arts, communications and online media disciplines, it would have been a great opportunity to have included in a "Mass Media"-themed programme, greater exposure to things that were related to their background. For example, introducing them to journalists, artists or students studying the same disciplines, and who utilise the online social media environment to communicate and facilitate cultural ideas and modern Japanese culture. As young adults, our participants used their free time to not just shop and have fun, but to experience Japan and its culture through all their senses, which they will report and disseminate back home to their friends and family. Every aspect of Japanese life is interesting – from the smallest details of crossing the street, to wearing a yukata for the first time. The best publicity is to allow them to have fun and communicate that enjoyment and fun to the world. More people will then be attracted to Japan, and will come to experience this for themselves.
As for my duties as a supervisor, much wasn't known beforehand, as information was scant (on all aspects – a detailed schedule was not available until the start of the trip), but I was certainly kept busy with performing numerous tasks during the day, which would include daily temperature checks of participants (to catch impending illness), marshalling the group (or locating stragglers distracted by the Japanese retail wonderland), and helping our JICE guides, who had more responsibilities and worked far harder than us supervisors. It would have been desirable to have some information upfront, such as crucial details like the gift exchange ceremonies, which caught us shorthanded as this was only revealed to us the day before the event – luckily our Tokyo hotel was next to a supermarket that sold Australian wines. Adaptability and resilience are definitely required of a supervisor, as there can be changes and last minute information that one has to respond to quickly. Both myself and my NZ counterpart certainly came to appreciate Japan's very reasonably priced alcohol after hours!
All in all, it was quite a packed and enjoyable trip, especially the aspects where the participants were able to enjoy interacting with local people: from chatting to a group of elementary students on excursion at the Edo Museum, and being part of the lives of families during home stays. Japan's most easily recognisable asset, its culture and traditions, were also highly popular, and the all-too-brief introductions left us wanting more. Acknowledgement must be made of our JICE guides who work tirelessly and were endlessly helpful and generous with their knowledge and time, and who ensured we got to our next appointments, and whose patience we must have tested time and time again. Of course our host families and all the friends we made on the trip, who truly made Japan come alive beyond what we see and read, are remembered with warm regard. And finally, many thanks and appreciation goes to the Japanese government for creating this incredible opportunity for others to come and experience their country. The potential of the JENESYS programme is great, as it focuses on building a relationship with youth of Asia Pacific, and as JENESYS 2.0 continues to improve and develop, positive things lie ahead in the future.
By Rafael Villadiego (Nagasaki-ken, 2010-13) for JQ magazine. A member of JETAA New South Wales, Rafael is a collector of words on a journey still searching for a destination, who has a tendency to forget, we are all sometimes like the rain…
"If you attach a reason to an adventure, it ceases to be one." –Uemura Naomi, noted Japanese mountain climber and adventurer.
「冒険に理由をつけると、冒険でなくなってしまう。」植村直己
There is something timeless and romantic about the idea of the wandering artist. Drifting aimlessly down untrodden roads and stumbling across hidden paths. Going wherever the wind might take them and all the while sketching random scenes from daily life, in all its raw and unfettered glory.
Japan 365: A Drawing-A-Day Project by current Melbourne resident J Muzacz (Kyoto-fu, 2010-12) is a drawing-a-day project that sets out to capture this sense of artistic wonder, in a fitting meditation on contemporary Japan. A black-and-white reproduction of sketches produced with nothing more than a simple ballpoint pen and notebook, the project sets aside all pretension and gaudy artifice and pares everything down to its barest essentials and fundamental simplicity. It is especially gratifying to see some pieces scribbled on the back of old pieces of paper or second-hand timetables. Using nothing more than the simplest tools at hand to capture the moment, the artist establishes a tangible reality that lends an urgency and authenticity to the work that would not be possible in a more polished and composed form.
While by no means an artist myself, there is something to be said about living the dream: An errant dreamer recording the world as they see it unfold. However, such whimsical fancy fails to fully appreciate the hard work and dedication inherent to such an undertaking. Consciously choosing to actively produce a completed work of art, every single day, for a solid year, is no mean feat. Having it ultimately culminate into such a hefty tome worthy of sitting comfortably on any coffee table or bookshelf, and feeling the solid weight of it all in your hands, is nothing short of remarkable. Artist/writer Muzacz and his supporters must be heartily commended for seeing it to fruition.
Michelle Lynn Dinh (Shimane-ken, Chibu-mura, 2010–13) is an editor and writer for RocketNews24, a Japan-based site dedicated to bringing fun and quirky news from Asia to English speaking audiences.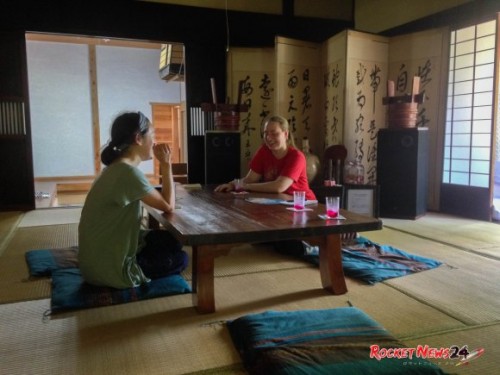 When European writer, Lafcadio Hearn, wrote about Shimane prefecture in 1894, he described a land steeped in tradition and nature. Since then, all of Japan seems to have ignored this sleepy area of the Chugoku region whose most recent claim to fame is having the country's largest population of the elderly. But if Shimane prefecture is stuck in the olden days, the Oki Islands are lost in time. Lazily floating out at sea in what is technically Shimane, but is actually an entire world of its own, Oki is a forgotten gem tucked in a dusty corner of Japan. Rambling down the overgrown back roads, you're sure to come across a wrinkled face and a hearty "konnichiwa," a small experience that seems to have become a rarity in the always busy metropolises of this country.
It is in this uncommon place that we had the privilege of staying in a home that has stood for over a century. Join us as we share our experience staying at the Japanese guesthouse called Tsukudaya.
Join us on our island adventure here.