Feb
10

Advice, Life As a JET, Travel/Tourism

Comments Off

on Hot springs tips and hints: Not just for first-timers!
Posted by Audrey Akcasu (Omura, Nagasaki ALT, 2010-2014); Former editor-in-chief of Nagazasshi, Nagasaki's premier English speaker-oriented events and culture magazine; Current writer and translator for RocketNews24, a Japan-based site dedicate to bringing fun and quirky news from Asia to English speakers. 
---
This probably comes as a refresher for many of you, but this infographic is helpful for newbies to the Japanese hot springs scene, but also contains some fun information that even seasoned veterans (and Japanese people) may not know. Plus, the drawings are really nice! A larger version of the infographic is available on TripAdvisor and you can read about this in more elaborate detail on RocketNews24. Happy bathing!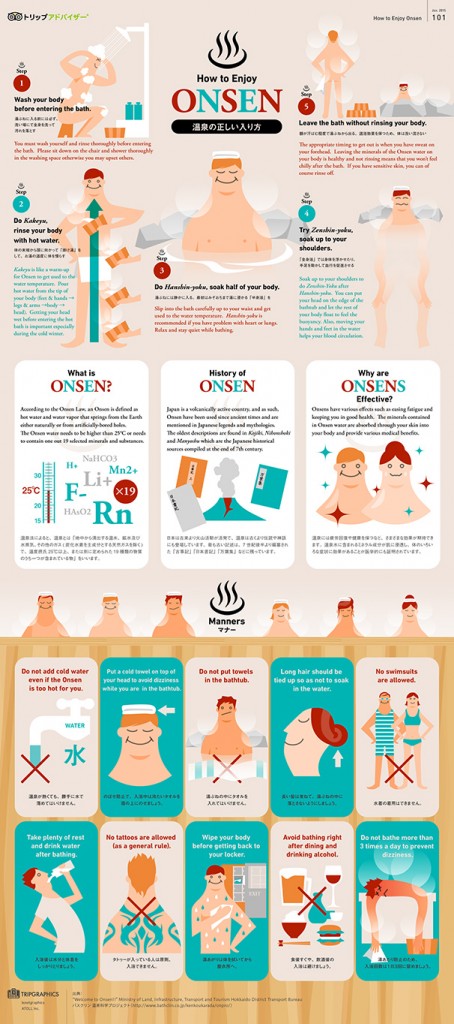 The infographic was released by the Ministry of Land, Infrastructure, Transport and Tourism Hokkaido District Transport Bureau in collaboration with BathClin.
Professional translator Joel Dechant (CIR Kagoshima-ken, 2001-04) is now guest blogging for Fukuoka Now

Before moving my humble abode to the heart of Hakata, I had the esteemed pleasure of living in Beppu—the hot spring capital of the world—for 3 years. I worked at a university, did some volunteer guided tours and even got on TV several times  One of my most memorable odysseys in Spa Land was taking my son all over the city in a quest to become Hot Spring Masters.
Hot Spring Master?
Yes, I can proudly say that I am a Hot Spring Master. Here's how it works. You go to the tourism bureau or train station and pay 50 yen for a hot spring passport, the Spaport. Then, you pick up a copy of the Onsenbon (Hot Spring Book) which lists all of the participating hot springs and comes chock full of coupons. After enjoying each hot spring (in whatever order you choose), you show your Spaport to the onsen staff and get it stamped. Every 8 hot springs, you advance to the next level, and you have the option of paying 500 yen to the tourism bureau to get a nifty certificate and colored towel, a la the different colored belts in karate. Once you reach 88 hot springs, you pay the final fee of 1500 yen to get the granddaddy of all towels, the black and gold Hot Spring Master towel. You get another cool certificate, and your photo goes on the Wall of Fame at Hyotan Onsen. Then you can tell everyone, "You know what? I'm a Hot Spring Master!" It makes for great party conversation, and it's a great way to get to know Beppu.
So what does this have to do with Fukuoka?
Continue reading "Masters of the Noodleverse" at the FukuokaNOW blog!