Jan
14

Advice, Audio, Celebrity, Interview/Profile, JET Alum Artist Beat, JET Alum Author Beat, JETAA Podcast Beat, Language Study, LifeAfterJET, Notable JET Alums, Writers

Comments Off

on Krewe of Japan Podcast S02E14-15 – Mastering Japanese Pitch-Accent ft. Dogen (Parts 1 & 2)
Posted by: Doug Tassin (Fukushima-Ken ALT, 2007-2010 & Krewe of Japan Podcast Co-Host)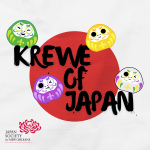 Last week on the Krewe of Japan Podcast…
The whole Krewe sits down with famous comedian and Youtuber (and former JET Program participant in Oita Prefecture), Dogen! In Part 1, Dogen shares his background including how he became interested in Japan and its culture, his background in martial arts tricking, early attempts at learning Japanese, his path to writing comedy in Japanese, and so much more.
This week…
Nigel, Jenn, & Doug conclude their awesome discussion with comedian and Youtuber, Dogen! In Part 2, the Krewe joins Dogen as they embark on a deep dive into learning Japanese. This discussion takes them to many places from discovering the meaning of pitch accent and how to study effectively, to setting appropriate goals and hilarious language learning stories. This is an episode you don't want to miss!
The Krewe of Japan Podcast is a weekly episodic podcast sponsored by the Japan Society of New Orleans. Check them out every Friday afternoon around noon CST on Apple, Google, Spotify, Amazon, and Stitcher.  Want to share your experiences with the Krewe? Or perhaps you have ideas for episodes, feedback, comments, or questions? Let the Krewe know by e-mail at kreweofjapanpodcast@gmail.com or on social media (Twitter: @kreweofjapan, Instagram: @kreweofjapanpodcast, Facebook: Krewe of Japan Podcast Page, & the Krewe of Japan Youtube Channel). Until next time, enjoy!
Mar
23

Jobs, Uncategorized

Comments Off

on Job: Ritsumeikan Asia Pacific University (Beppu, Oita) 03.23.12
Thanks to Kyushu-based JET alum and professional translator Joel Dechant for alerting JETwit to recent open positions at Ritsumeikan Asia Pacific University (where Joel happens to work).
Posted by Kay Monroe (Miyazaki-shi, 1995 -97).
——————————————————————————————————————————-
Position: Various
Posted by: Ritsumeikan Asia Pacific University
Type:  Full and contract
Location: Beppu-shi, Oita-ken
Salary:   
Start Date: N/A
http://www.apu.ac.jp/administration/modules/opportunities/index.php?content_id=1
Ritsumeikan Open Positions:
Recruitment of Tokutei Shokuin
Recruitment of Contract Staff (Marketing and Planning)
Recruitment of Contract Staff (Editorial manager)
Recruitment of Contract Staff
Recruitment of Part-time Staff
Professional translator Joel Dechant (CIR Kagoshima-ken, 2001-04) is now guest blogging for Fukuoka Now

Before moving my humble abode to the heart of Hakata, I had the esteemed pleasure of living in Beppu—the hot spring capital of the world—for 3 years. I worked at a university, did some volunteer guided tours and even got on TV several times  One of my most memorable odysseys in Spa Land was taking my son all over the city in a quest to become Hot Spring Masters.
Hot Spring Master?
Yes, I can proudly say that I am a Hot Spring Master. Here's how it works. You go to the tourism bureau or train station and pay 50 yen for a hot spring passport, the Spaport. Then, you pick up a copy of the Onsenbon (Hot Spring Book) which lists all of the participating hot springs and comes chock full of coupons. After enjoying each hot spring (in whatever order you choose), you show your Spaport to the onsen staff and get it stamped. Every 8 hot springs, you advance to the next level, and you have the option of paying 500 yen to the tourism bureau to get a nifty certificate and colored towel, a la the different colored belts in karate. Once you reach 88 hot springs, you pay the final fee of 1500 yen to get the granddaddy of all towels, the black and gold Hot Spring Master towel. You get another cool certificate, and your photo goes on the Wall of Fame at Hyotan Onsen. Then you can tell everyone, "You know what? I'm a Hot Spring Master!" It makes for great party conversation, and it's a great way to get to know Beppu.
So what does this have to do with Fukuoka?
Continue reading "Masters of the Noodleverse" at the FukuokaNOW blog!