Jan
14

Advice, Audio, Celebrity, Interview/Profile, JET Alum Artist Beat, JET Alum Author Beat, JETAA Podcast Beat, Language Study, LifeAfterJET, Notable JET Alums, Writers

Comments Off

on Krewe of Japan Podcast S02E14-15 – Mastering Japanese Pitch-Accent ft. Dogen (Parts 1 & 2)
Posted by: Doug Tassin (Fukushima-Ken ALT, 2007-2010 & Krewe of Japan Podcast Co-Host)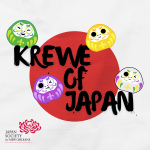 Last week on the Krewe of Japan Podcast…
The whole Krewe sits down with famous comedian and Youtuber (and former JET Program participant in Oita Prefecture), Dogen! In Part 1, Dogen shares his background including how he became interested in Japan and its culture, his background in martial arts tricking, early attempts at learning Japanese, his path to writing comedy in Japanese, and so much more.
This week…
Nigel, Jenn, & Doug conclude their awesome discussion with comedian and Youtuber, Dogen! In Part 2, the Krewe joins Dogen as they embark on a deep dive into learning Japanese. This discussion takes them to many places from discovering the meaning of pitch accent and how to study effectively, to setting appropriate goals and hilarious language learning stories. This is an episode you don't want to miss!
The Krewe of Japan Podcast is a weekly episodic podcast sponsored by the Japan Society of New Orleans. Check them out every Friday afternoon around noon CST on Apple, Google, Spotify, Amazon, and Stitcher.  Want to share your experiences with the Krewe? Or perhaps you have ideas for episodes, feedback, comments, or questions? Let the Krewe know by e-mail at kreweofjapanpodcast@gmail.com or on social media (Twitter: @kreweofjapan, Instagram: @kreweofjapanpodcast, Facebook: Krewe of Japan Podcast Page, & the Krewe of Japan Youtube Channel). Until next time, enjoy!