Posted by Tom Baker
Many JETs are writers before coming to Japan, while others find that Japan give them something to write about. If you're thinking about furthering your writing career by getting an MFA, then you might want to listen to what JET alums Percival Constantine and Warren Decker have to say about.

The two will be part of a panel discussion at the 14th annual Japan Writers Conference, titled "The MFA: The Good, The Bad, and The Expensive."

Due to the pandemic, this year's Japan Writers Conference is being held online, meaning there is no travel involved. Here's the official description of Percy and Warren's event:

The MFA: The Good, The Bad, and The Expensive

John Gribble, Kristina Butke, Percival Constantine, Alec McAulay, Warren Decker
Panel Discussion

Should I get an MFA or other graduate-level degree in writing?
Aren't they expensive? Are they difficult? Are they any good? What sort of program should I look at? What kind of benefits should I expect to receive? These questions and others will be addressed in this session.
Masters of Fine Arts in Creative Writing and other advanced degrees with a writing emphasis have become a viable option for those seeking to improve their writing skills and advance themselves professionally. Some programs are full- or part-time on a university campus, some are on-line, some are hybrids, blending elements of both. The panelists, all with advanced writing degrees, will each talk about the programs they attended, their own experiences and answer your questions.

John Gribble is a noted gasbag. He rarely knows what he is talking about, but he states his ignorant opinions with great vigor. He has spent far too much of his life in school and other institutions. He is also a poet, co-organizer of the Japan Writers Conference and the Tokyo Writers Workshop, and earned his MFA at Warren Wilson College in Asheville, North Carolina.

Kristina Elyse Butke is an American writer, editor, and teacher who indulges in cosplay, art, and all things otaku. She has a BA in English Literature from Capital University and an MFA in Writing Popular Fiction from Seton Hill University. A former college English teacher, playwright, and composer, she now writes fantasy and horror. Her work has been published by ExFic, First Class Literary, and Synaeresis Magazine, among others. She's also worked the convention circuit, presenting panels on writing fanfiction and genre fiction at events such as Ohayocon, Matsuricon, and Colossalcon. In terms of editing, one of her latest projects included subtitle edits for Pied Piper Inc.'s release of the anime Skip Beat!, and she currently edits and contributes to Speculative Chic.

Kristina lives in Kumamoto prefecture in Japan, where she works in multiple high schools as an assistant language teacher. When she isn't working on all the things, she travels to shrines, hunts for Kumamon, and spends more money than she should at the JUMP shop.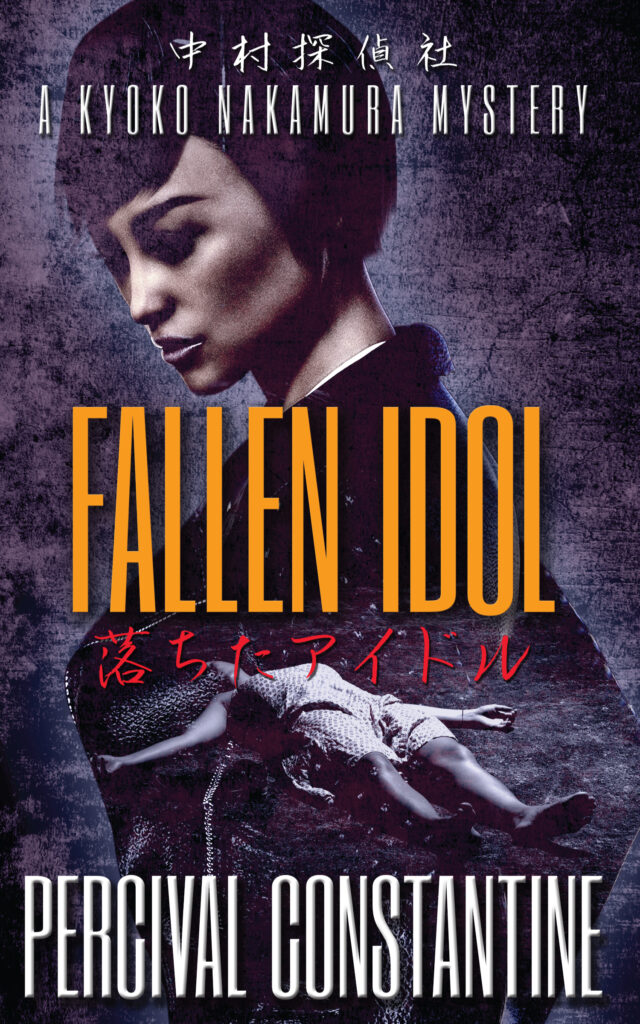 Raised on a consistent diet of superhero comics, action movies, and video games, Percival Constantine wanted to grow up and write the type of fiction he consumed. Now as a prolific author of pulp fiction, he's written around thirty books across various genres. He's also the host two podcasts—Japan On Film and Superhero Cinephiles. When he's not working on projects, he somehow finds time to teach classes in literature, film, and English. Born and raised in Chicago, he's now based in Kagoshima, Japan.

Alec McAulay is an award-winning writer and director. Originally from Glasgow, Scotland, he has lived in Japan since 1989. He teaches Creative Writing at Yokohama National University. Alec has an MA Screenwriting (Distinction), and a PhD (Screenwriting) from the Faculty of Media & Communication, Bournemouth University. His children's novel Robot Santa (unpublished) is about a 'hafu' Scottish-Japanese girl who builds a robot Santa to save Christmas.

Warren Decker is a teacher and writer based in Izumi, Japan. He has published poetry, fiction, and nonfiction in The Best American Poetry 2018, The New Ohio Review, Modern Haiku, Sou'wester, and other journals. His first book of poetry The Long Side of the Midnight Sun is available from Isobar Press. He has an MFA in creative writing from the online program at the University of Texas, El Paso.

By Rashaad Jorden (Yamagata-ken, 2008-10; Kochi-ken, 2018-present) for JQ magazine. A former head of JETAA Philadelphia's Sub-Chapter, Rashaad is a graduate of Leeds Beckett University with a master's degree in responsible tourism management. For more on his life abroad and enthusiasm for taiko drumming, visit his blog at www.gettingpounded.wordpress.com.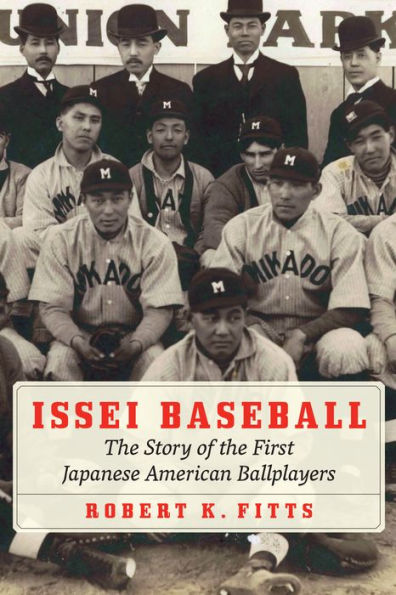 The first professional baseball game involving a team of Japanese players took place in Frankfort, Kansas.
Yes, you read that correctly. That fact—and many other interesting tidbits—appear in Mashi author Robert K. Fitts' new book Issei Baseball: The Story of the First Japanese American Ballplayers, which chronicles the birth of Japanese American baseball as well as several key figures in its growth. Those figures color the early chapters, as Fitts doesn't jump right into the tours embarked upon by Japanese American teams.
We're treated to the stories of pioneers such as Harry Saisho, the creator of a club named the Japanese Base Ball Association (which canvassed the Midwest in 1911), Tozan Masko, the co-founder of the Mikado team (the world's first Japanese-run professional club), and Isoo Abe, the manager Waseda University's baseball club and organizer of its U.S. tour in 1905.
Speaking of the famous Tokyo university, Fitts devotes most of the book's fifth and sixth chapters to that cross-country jaunt.
Read More
Joe Palermo went to Japan as a Mombusho English Fellow (MEF) from 1982-83 (pre-JET), and then launched a business career and lived there for a total of eight years. He has published a new book called No Pianos, Pets or Foreigners! My Life in Japan in the 80′s about his Japan experience where he lived in Gunma, Saitama and Tokyo.
From the book:
A young Japanese woman was running through Tokyo Station screaming "Save me! Save me!" There was a Japanese man chasing her and closing in. He grabbed her wrist and caught her about 10 feet in front of me. The woman was still yelling "Save me! Save Me!" but the Japanese people in the crowded station ignored her, not wanting to get involved.
From the author:
This is the beginning of just one of the stories from my experience living in Japan in the 1980's, where I had moved right after graduating university. It was still rare to see an American who could speak Japanese fluently. This book guides the reader though my many adventures navigating through Japanese culture while living in the outskirts of Tokyo, as well as Tokyo proper.
No Pianos, Pets or Foreigners! is currently available for free on Kindle Unlimited and $5.99 paperback on Amazon.
Posted by Tom Baker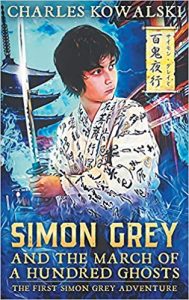 Novelist and former Aomori Prefecture JET Charles Kowalski, the author of the thrillers "Mind Virus" and "The Devil's Son," as well as the new middle-grade novel, "Simon Grey and the March of a Hundred Ghosts," will present a workshop on giving names to fictional characters at this year's Japan Writers Conference, happening in Tokyo on Oct. 12-13. Here's a description of his presentation:
What's In A Name? Tips and traps in character naming
Craft workshop
Remember the journey into Mordor by the heroic Bingo Baggins? (Of course not, and aren't you glad?) The naming of characters is a difficult matter, but we will discuss the three main considerations (sound, meaning, and associations) and their applications to genres ranging from contemporary fiction to SF and fantasy, along with pitfalls to avoid.
Charles Kowalski's debut thriller, MIND VIRUS, won the Rocky Mountain Fiction Writers' Colorado Gold Award, and was a finalist for the Killer Nashville Claymore Award and the Adventure Writers' Grandmaster Award. His first middle-grade novel, SIMON GREY AND THE MARCH OF A HUNDRED GHOSTS, was just released by Excalibur Books.
For more information, visit charleskowalski.com or japanwritersconference.org.
Posted by Tom Baker
A trio of current JETs – Micah Tasaka, Yoshika Wason, and Michael Frazier – will be among nearly 50 published writers making presentations at this year's Japan Writers Conference (Oct. 12-13 in Tokyo). Here's the official description of what they'll do:
Beyond Borders: Creating Connective Writing Communities
Reading, Panel, and Q&A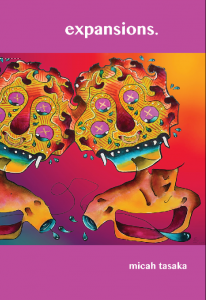 In this presentation, we will discuss how to build international writing communities, utilize internet resources, and create publishing opportunities for one another. Ultimately, we want to explore the connective power of writing communities in our home countries and abroad while focusing on creating mutual support and legitimacy for other writers.
While publishing is often thought of as written work being "accepted" by a publisher, we would like to question what publishing means and focus on how to build international communities that support and create opportunities for one another. Through this discussion, we seek to dismantle the scarcity complex that often surrounds publishing and find new ways to get our work in front of audiences by means of collaboration and community support while utilizing internet resources to extend our reach to a global scale. With backgrounds in both written and performance art, we would like to redefine publishing to be more inclusive and community based. By establishing communities that are willing to hear and experience one another's work, can we create space for more writers to be legitimized? In doing so, how can we ensure that those who exist in the margins are also heard from and not just established writers?
Micah Tasaka is a queer mixed Japanese poet and spoken word artist from the Inland Empire, California, residing in Fukui prefecture, Japan. They received their undergraduate degree in creative writing from the University of California, Riverside. Micah is a community organizer and has taught workshops on publishing manuscripts, poetry performance skills, and using poetry as healing for trauma survivors. Their first full length manuscript, Expansions, was released on Jamii Publishing in 2017, and their work has appeared in In the Words of Women, Name and None, and Nikkei Uncovered among others.
www.micahtasaka.com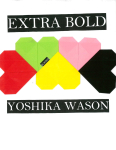 Yoshika Wason is a teacher and writer. She earned her BA from Boston College, where she was Editor in Chief of ASIAM, an Asian Pacific Islander American literary magazine. She is continuing her work in the API community through her current role as Co President of the Asian Pacific Islander Association for Japan Exchange and Teaching (API AJET.) Yoshika is working on her first full length poetry manuscript currently titled Second Chances for Fallen Blessed Children and also has a self published micro chapbook called Extra Bold. She currently writes a monthly education column
called Today's Lesson and has been published in Ghost City Review, Rice Paper Magazine, The Paper Napkin, and elsewhere. Learn more at
www.yoshikawason.com
Michael Frazier graduated from NYU, where he was the 2017 Poet Commencement Speaker & College Union Poetry Slam Invitational Co-Champion. He has performed at venues such as Lincoln Center for the Performing Arts, Nuyorican Poets Cafe, & Gallatin Arts Festival. His poems appear in The Visual Poetry Project, Day One, The Speakeasy Project, & others. Catch him reading poems for The Adroit Journal & teaching SHS in Kanazawa.
For more information about this year's Japan Writers Conference, visit www.japanwritersconference.org.
Posted by Tom Baker.
JET alum Suzanne Kamata will be among nearly 50 published writers making presentations at this year's Japan Writers Conference (Oct. 12-13 in Tokyo). Here's the official description of her talk:
"Wheelchair User or Wheelchair-bound?: Representations of Persons with Disabilities in Children's Books"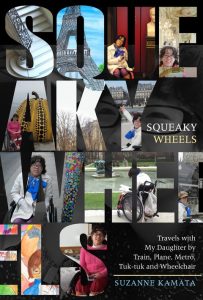 Short lecture with Q & A
In this session, I will discuss positive and problematic representations of persons with using examples from recently published Japanese textbooks, and literature featuring children in Japan and other countries, including my own work, with a view to developing better awareness. With the approach of the 2020 Tokyo Paralympics, people with disabilities in Japan have been given more attention than perhaps ever before. English textbooks for Japanese children now frequently include stories about or representations of people with disabilities. Worldwide, initiatives such as #weneeddiversebooks and the call for #ownvoices have led to an increase of children's and young adult books featuring characters with disabilities. That said, some of these representations, and the way that they are discussed remain problematic. When do stories about disability become "inspiration porn"? What kind of language should we use when discussing disability? Who has the right to tell these stories?
Suzanne Kamata is the award-winning author or editor of twelve published books including "Love You to Pieces: Creative Writers on Raising a Child with Special Needs" (Beacon Press, 2008), "Gadget Girl: The Art of Being Invisible" (GemmaMedia, 2013), "A Girls' Guide to the Islands" (Gemma Open Door, 2017), "Squeaky Wheels: Travels with My Daughter by Train, Plane, Metro, Tuk-tuk and Wheelchair" (Wyatt-Mackenzie Publishing, 2019), and "Indigo Girl" (GemmaMedia, 2019). She is an Associate Professor at Naruto University of Education.
For more details, visit http://www.japanwritersconference.org/
Posted by Tom Baker.
JET alum Todd Jay Leonard will be among nearly 50 published writers making presentations at this year's Japan Writers Conference (Oct. 12-13 in Tokyo). Here's the official description of his talk:
"Publishing in the EFL Market in Japan: Four Perspectives on How to Make your Proposal Count"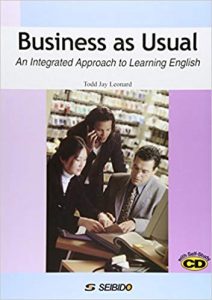 Short lecture with Q & A
This presentation will outline the current publishing market in Japan for EFL/ESL textbooks by reviewing the various points of views of the publishing industry. The presenter has published extensively within the ESL/EFL field in Japan and will offer helpful advice to budding authors who wish to pursue projects geared to Japan's domestic market. What are publishers looking for in the current market? What appeals to editors who ultimately decide? What are the salespeople on the front lines hearing from their market? What must an author do in order to get his/her book published? This presentation focuses on these very questions.
Todd Jay Leonard has been actively involved in book publishing for thirty years and has published twenty books. He lives, writes, and teaches on the southern island of Kyushu, where he is a university professor at University of Teacher Education Fukuoka. He has published extensively in academic journals, magazines, and newspapers on cross-cultural, historical, and Teaching English as a Foreign Language (TEFL) themes.
For more details, visit http://www.japanwritersconference.org/
By Rashaad Jorden (Yamagata–ken, 2008-10; Kochi-ken, 2018-present) for JQ magazine. A former head of JETAA Philadelphia's Sub–Chapter, Rashaad is a graduate of Leeds Beckett University with a master's degree in responsible tourism management. For more on his life abroad and enthusiasm for taiko drumming, visit his blog at www.gettingpounded.wordpress.com.
In the 1930s, major leaguers including Babe Ruth and Lou Gehrig went on tours of Japan, dazzling throngs of new fans while dropping nary a match (Gehrig's group visited the country in 1931 while the Bambino arrived three years later). Those visits by all-star teams were widely credited for generating Japanese enthusiasm for baseball, which in turn helped launch professional baseball in Japan. But many (if not most) baseball fans are unaware the first American professional baseball players to tour Japan were not major leaguers.
A recently expanded book from the Nisei Baseball Research Project delves into a group of Negro Leaguers who sparked the growth of Japanese professional baseball. Gentle Black Giants: A History of Negro Leaguers in Japan explores the tours taken by the Philadelphia Royal Giants that contributed to the development of baseball in the country. Co-authored by Kazuo Sayama and Bill Staples, Jr. (the former is a Japanese baseball historian, the latter is a baseball researcher), Gentle Black Giants was first published in 1986, which coincided with the 50th anniversary of the birth of Japanese pro baseball.
At first glance, it's apparent that Gentle Black Giants resembles a victorious baseball squad as numerous contributors pitched in to create an extensive resource about the link between the Negro Leagues and Japan. While the cover suggests a collaboration between Sayama and Staples (Sayama penned the original version of the book in Japanese while Staples took charge of the English translation), several editors and authors collaborated to create this new edition.
By JQ magazine editor Justin Tedaldi (CIR Kobe-shi, 2001-02). Justin has written about Japanese arts and entertainment for JETAA since 2005. For more of his articles, click here.
Stay warm this winter with some hot local events, from live showcases that will transport you to another time and place, some new anime screenings, and a 2.5D musical performance you won't want to miss.
This month's highlights include:
Now through June 16
The Tale of Genji: A Japanese Classic Illuminated
Metropolitan Museum of Art, 1000 Fifth Avenue
$12-$25
This is the first major loan exhibition in North America to focus on the artistic tradition inspired by Japan's most celebrated work of literature, The Tale of Genji. Written by Murasaki Shikibu, a lady-in-waiting in the early eleventh-century imperial court, and often referred to as the world's first psychological novel, the tale recounts the amorous escapades of the "Shining Prince" Genji and introduces some of the most iconic female characters in the history of Japanese literature. Covering the period from the eleventh century to the present, the exhibition features more than 120 works, including paintings, calligraphy, silk robes, lacquer wedding set items, a palanquin for the shogun's bride, and popular art such as ukiyo-e prints and modern manga. Highlights include two National Treasures and several works recognized as Important Cultural Properties. For the first time ever outside Japan, rare works are on view from Ishiyamadera Temple—where, according to legend, Shikibu started writing the tale.
March 22-23, 7:30 p.m.
Akiko Kitamura's Cross Transit
Japan Society, 333 East 47th Street
$30, $25 members
How can Cambodia's past be preserved through the human body? Akiko Kitamura, internationally acclaimed Japanese dancer and founder/former choreographer of Leni-Basso dance company, tackles this challenge together with Cambodian visual artist/photographer Kim Hak. Ambitious yet poetic, Cross Transit is a multimedia dance piece in which Hak's video, photos, voice and personal experiences intertwine with Kitamura's bold, progressive choreography. A MetLife Meet-the-Artists Reception follows the March 22 performance, with an artist Q&A following the March 23 performance.
March 29-30
Pretty Guardian Sailor Moon: The Super Live
PlayStation Theater, 1515 Broadway
$30-$75
See Sailor Moon and her friends fight the forces of darkness—live on stage! Directed and choreographed by Takahiro (Madonna's Sticky and Sweet Tour) with book by Akiko Kodama (Takarazuka Revue Company), and music by Hyadain (pop groups Momoiro Clover Z and AKB48), The Super Live is the first time that Sailor Moon (one of the most popular anime and manga heroines of all time, generating $5 billion in sales) comes to the New York stage in celebration of its 25th anniversary. These special performances (three in total) marks the first time a 2.5D Musical will be on an American stage. 2.5D Musicals, which began around 2000, are based on popular contemporary Japanese culture: manga comics, anime and video games. Presented in Japanese with English supertitles.
By JQ magazine editor Justin Tedaldi (CIR Kobe-shi, 2001-02). Justin has written about Japanese arts and entertainment for JETAA since 2005. For more of his articles, click here.
Stay warm this winter with some hot local events, from live showcases that will transport you to another time and place, some new anime screenings, and a theatrical performance you won't want to miss.
This month's highlights include:
Now playing
Various locations/prices
The number one movie in the world! From visionary filmmakers James Cameron (Avatar) and Robert Rodriguez (Sin City) comes Alita: Battle Angel, an epic adventure of hope and empowerment based on the acclaimed manga series by Yukito Kishiro. When Alita (Rosa Salazar) awakens with no memory of who she is in a future world she does not recognize, she is taken in by Ido (Christoph Waltz), a compassionate doctor who realizes that somewhere in this abandoned cyborg shell is the heart and soul of a young woman with an extraordinary past. As Alita learns to navigate her new life and the treacherous streets of Iron City, she discovers a clue to her past through unique fighting abilities that those in power will stop at nothing to control.
Tuesday, Feb. 19
$19.99 MSRP
After decades out of print, the hilarious manga classic that launched the career of Rumiko Takahashi (Ranma ½, Inuyasha) returns in all-new deluxe English editions! Beautiful space alien princess Lum invades Earth on her UFO, and unlucky Ataru Moroboshi's world gets turned upside down! Will Lum become Earth's electrifying new leader? Or will Ataru somehow miraculously save Earth from space alien onslaught? In a high-stakes game of tag, Ataru must touch Lum's horns in ten days—or aliens will take over the earth! As it turns out, the game of tag is only the beginning of Ataru's troubles, as he continues to attract strange encounters with otherworldly beings like beautiful snow spirit Oyuki and the sexy crow goblin Princess Kurama!
Friday, Feb. 22, 7:00 p.m.
Saint Vitus, 1120 Manhattan Avenue (Brooklyn)
$20-$70
Fluent in Japanese, this ex-Cacophony/Megadeth axeman's overwhelming love of Japanese music and the Japanese language found him moving to Tokyo in 2003. It is there where his career took off in very unexpected ways. Currently he is a constant fixture on Japanese television (appearing on hundreds of network programs of all types, and as the face of long running campaigns for Fanta/Coca Cola, Sumitomo Bank, Suntory etc.), as well as appearing in major motion pictures. He is also the author of two hardcover books in Japanese detailing his unusual views on the current Japanese music scene, as well as two best-selling manga-related books, which are both in their eighth editions now. Catch Friedman as he supports his latest release, One Bad M.F. Live!!, with his band featuring Kiyoshi (bass), Jordan Ziff (guitar), and Chargeeee (drums). Featuring support by Immortal Guardian.
Feb. 28-March 2, 7:30 p.m.
Hachioji Kuruma Ningyo Puppet Theater
Japan Society, 333 East 47th Street
$40, $33 Japan Society members
Koryu Nishikawa, the fifth grand master of Hachioji Kuruma Ningyo Puppet Theater, returns to NYC (and marking the first bunraku performance at Japan Society in a decade) with four female-focused stories from classic literature: Kuzunoha, about a mother's undying love for her child; Date Musume Koi Higanoko, which depicts a woman's heroic sacrifice for her lover; Tsuri On'na, a comical piece about "fishing" for a wife; and Yugao, a new work from Nishikawa based on a story from The Tale of Genji, in which the jealous spirit of one of Genji's lovers possesses a young woman he's courting. Kuruma ningyo, literally meaning "puppets on wheels," refers to the company's unique technique in which the puppeteer sits atop a three-wheeled dolly, adding an element of dynamism and power to each character. Don't miss this rare chance to see a full-scale production with chanters and shamisen players. Performed in Japanese with English titles. A pre-performance lecture begins one hour prior to the start of the performance. The Feb. 28 performance is followed by a MetLife Meet-the-Artists Reception.
Want to stay in the loop on future events? Follow Justin on Facebook and Twitter.
By JQ magazine editor Justin Tedaldi (CIR Kobe-shi, 2001-02). Justin has written about Japanese arts and entertainment for JETAA since 2005, and is eagerly awaiting the 30th anniversary edition of All Purpose Cultural Cat Girl Nuku Nuku. For more of his articles, click here.
In the summer of 1988, the "World News" page in the debut issue of Nintendo Power magazine reported: "Ninjas and Kung-Fu Masters are no longer heros [sic] to Japanese players since they are now being replaced by warriors and sorcerers who bravely confront dragons with their swords and shields."
With this mind-blowing description, my eight-year-old self was introduced to the world of Dragon Quest.
With over 71 million copies sold, this landmark video game series published by Enix (now Square Enix) is still going strong, with eleven main titles and thirty overall, securing a legacy that spans at least three generations. While role-playing games like Dungeons & Dragons and Ultima existed long before game consoles invaded our homes, DQ was the one that rewrote the book and kept adding chapters that everyone from Final Fantasy to Pokémon copied from, long after its initial release in Japan in 1986 (and in the U.S. as Dragon Warrior in 1989).
Ironically, those other series are probably better known in the West, likely because for years Dragon Warrior lacked the "star power" associated with one man whose fame in Japan easily rivaled any game: Akira Toriyama. As the creator/illustrator/genius behind the back-to-back manga smashes Dr. Slump and Dragon Ball, Toriyama was coaxed by his trend-savvy editor to lend his talents to a new sword-and-sorcery title, marking a profound transformation (and future synergy) between the manga and gaming worlds. After DQ, nothing would ever be the same.
By Greg Beck (Hiroshima-ken, 2006-11) for JQ magazine. Greg is a writer, producer, home brewer, and Social Coordinator for JETAA Southern California and Arizona. A former news producer for Tokyo Broadcasting System in New York, he currently works freelance in Los Angeles. For more cinema reviews, follow him on Twitter at @CIRBECK #MovieReview.
If you were to ask me prior to writing this, I vaguely recalled Perfume as some heavily autotuned "girl group" from Hiroshima. Now that I have read Perfume's GAME, all of that has changed.
Written by JET alum Patrick St. Michel (Mie-ken, 2009-11) and released earlier this year, this insightful work of nonfiction is part of a series called 33 1/3 Japan, also related to a larger, global series of short, music-based books sharing the 33 1/3 title. This book specifically goes beyond simple fandom, providing a master class on the early-to-sophomore career of the pop group Perfume, and how their album GAME would become an important influence in popular music on the international level.
To call Perfume's GAME a "deep dive" is both understatement and compliment. From its first chapter, St. Michel's decade of experience writing about music shines. That's an extremely difficult task for the written word, given we perceive music using a different sense entirely. Descriptive prose does an excellent job identifying and elucidating songs and their smaller components. St. Michel starts with a modest introduction of his personal discovery of Perfume and how it helped him connect to his Japanese community, which for any JET alum should feel familiar, if not nostalgic. Next, he tells the story of the members of Perfume and their humble beginnings. Had the rest of the book been solely focused on their music, it would only be worth reading if you were already a diehard fan, but the author does much more.
By Alexis Agliano Sanborn (Shimane-ken, 2009-11) for JQ magazine. Alexis is a graduate of Harvard University's Regional Studies-East Asia (RSEA) program, and currently works as a program coordinator at the U.S.-Asia Law Institute of NYU School of Law. Additionally, she is an artist and independent filmmaker, currently working on a documentary about food education in Japan entitled Nourishing Japan.
Tuttle's latest cookbook, Japanese Cooking with Manga, captures the ethos of creating food which suits the place you live. This quirky read was written by the Gourmand Gohan team comprised of Spaniards Alexis Aldeguer and Ilaria Mauro and Japanese-living-in-Barcelona "Maiko-san," highlighting the universal love of Japanese food and its adaptations around the globe.
Created to be part comic book and part recipe book, this is a cookbook that you "read," filled with colorful and humorous visual explorations of preparing Japanese food. Drawn in an artistic style more reminiscent of Tintin than Totoro, the trio guides us through visuals of chopped ingredients and simmering pots culminating in the completed meal. In truth, it would be difficult to consult the book while cooking (there's something to be said for a more traditional layout); it's more coffee table or bedside reading. Nevertheless, readers, especially those with an appreciation for comics, will likely enjoy this book.
In addition to recipes and narrative, the writers take care to provide background information, context and history to the world of Japanese cuisine—such as the importance of seasonal ingredients, the history of sushi, or how to identify fresh fish.  For anyone embarking and revisiting the world of washoku, these principles are good reminders of the foundation to the cuisine and culture.
Posted by Tom Baker
The Japan Writers Conference, a free annual event that invariably attracts at least a few JETs, will be held at Otaru University of Commerce on Oct. 13 and 14. One of the JETs giving presentations this year will be Tom Baker (who wrote this post, along with a recent Japan News article previewing the event). Here's the official description of his presentation: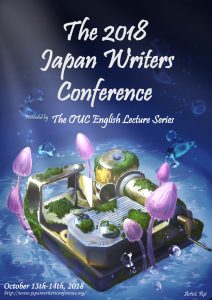 Anatomy of a Book Review
Short lecture with Q&A
"Anatomy of a Book Review" will explain how a book review is structured and what elements it should include. The key is to not merely indulge in one's own reaction to a book, but to focus on being an informative and trustworthy guide for other readers.
A book review is like a book in miniature. It must grab the reader's attention at the beginning, hold their interest through the middle, and leave them feeling satisfied to have spent their time on it by the end. But what goes into each of those parts and how do you put them together?
"Anatomy of a Book Review" will pin several reviews to the dissecting table to look at what parts they include and what function those parts serve. Vital organs include a catchy lead, facts about the author, and at least a sketch of the context in which the book appears.
Reviews of fiction and nonfiction will be compared. For any type of book, reviewers of course want to express their opinions. This presentation will focus on doing so in a way that fulfills the reviewer's mission to be a concretely helpful guide for other readers.
Tom Baker has written and published about 300 book reviews over the past 20 years. He edited the Books page of The Daily Yomiuri, which is now The Japan News, where he edits the Bound to Please column. He was the ACCJ Journal's book columnist for two years.
Posted by Tom Baker
The Japan Writers Conference, a free annual event that invariably attracts at least a few JETs, will be held at Otaru University of Commerce on Oct. 13 and 14. One of the JETs giving presentations this year will be poet and novelist Holly Thompson, who first came to Japan in connection with the pre-JET MEF program. She will present "Half the Story: Writing for the Picture Book Market." Here's the official description of her presentation:
Short Lecture, Exercises and Q&A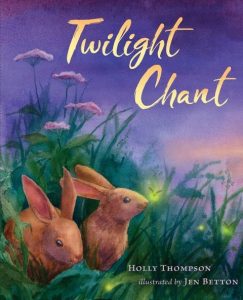 Picture book writing is a particular art. Writers of picture book manuscripts must write for page turns and create opportunities for the illustrator—writing just enough to offer possibilities. This session introduces the craft of writing picture books for current English-language picture book markets.
Writing is only half the story in picture books–images and text interact to tell the story together. So how do we write text without saying too much? Where in our writing should we step aside for the illustrator? And how do we compress stories for the strict count of 32 pages? How can we skill up to craft manuscripts that appeal to editors and art directors for their illustration possibility? This session will explore the anatomy of the picture book as it pertains to writers and offer guidelines for crafting fresh, marketable picture book manuscripts. We'll examine sample picture books—fiction, nonfiction, poetry—and try some interactive exercises. We will address the current English-language picture book markets and share the gaps, openings and opportunities for writers to get a foot in the door.
Holly Thompson is author of the picture books Twilight Chant; One Wave at a Time, The Wakame Gatherers: verse novels Falling into the Dragon's Mouth, Orchards, The Language Inside; and the novel Ash. She writes poetry, fiction and nonfiction, is SCBWI Japan Regional Advisor, and teaches at Yokohama City University.