Oct
27

Article/Journalism, Books, Food & Drink, JQ Magazine, Reviews

Comments Off

on JQ Magazine: Book Review — 'The Japanese Sake Bible'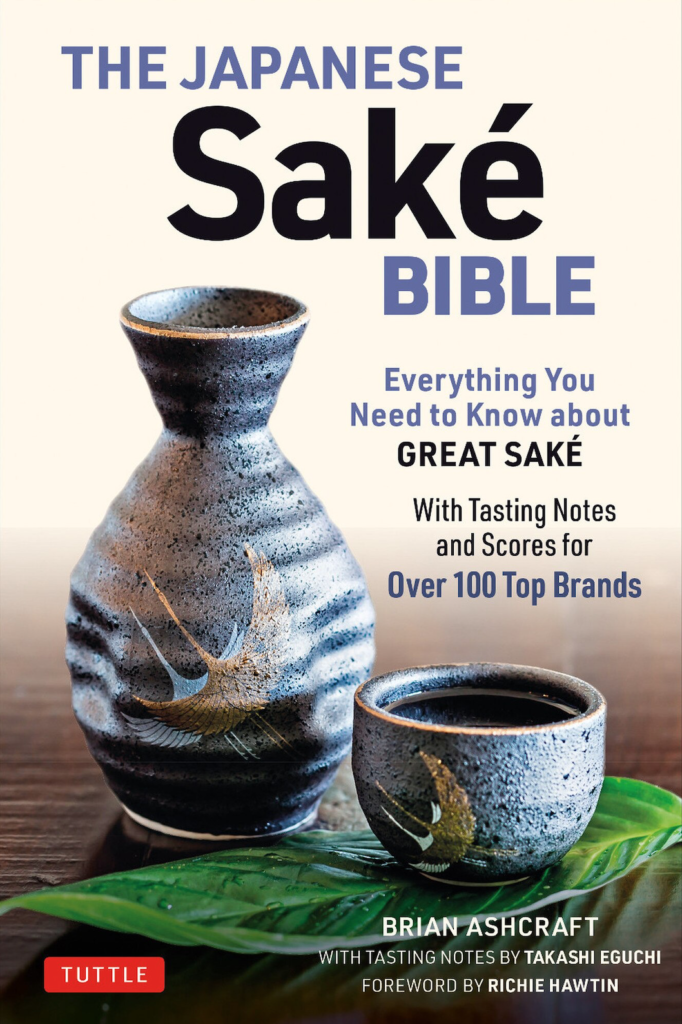 By Rashaad Jorden (Yamagata–ken, 2008-10; Kochi-ken, 2018-2020) for JQ magazine. A former head of JETAA Philadelphia's Sub–Chapter, Rashaad is a graduate of Leeds Beckett University with a master's degree in responsible tourism management. For more on his life abroad and enthusiasm for taiko drumming, visit his blog at www.gettingpounded.wordpress.com.
Maybe it's a bit too strong for your liking. Or maybe it contributed to an unpleasant hangover. But it's quite possible it was a part of your JET experience.
I'm talking about sake. Anyone curious about what they might have been sipping at an enkai would do well to pick up The Japanese Sake Bible. Compiled by Kotaku Senior Contributing Editor Brian Ashcraft, this comprehensive work examines the world of sake—most notably its origins, its rise to becoming "Japan's National bBeverage" (coincidentally the title of the first chapter), and tips on how to make the drink yourself.
True to its name, Ashcraft creates a book heavy on history. It's clear upon looking at the first page of the aforementioned first chapter that this Bible will be more or less Sake 101 (oddly enough, the origins of sake were addressed not at the beginning of the book, but in chapter five). Although the author presents a lot of facts that will probably go over readers' heads, he excels at thoroughly explaining in detail topics like the definition of sake, which is legally defined as being filtered from fermented rice, koji and water, and the differences between sake, wine and beer.
Although the book is in large part an introduction to the drink, it also serves as a guide for aspiring, if not full-fledged, sake connoisseurs. Ashcraft (also the author of Japanese Whisky) presents to readers more categories of sake than one might have thought actually existed: there's well-polished sake, sparkling sake, and raw and unprocessed sake. Also, niche sake that might not be easy to find. 
Possibly due to the encyclopedic nature of the information it contains, the danger of a book like The Japanese Sake Bible is that it might come across as a bit dry. After all, if you're reading for fun, you might find it challenging to remember even a third of the historical tidbits or observations that Ashcraft notes. While no stone is left unturned in his dive into the drink's deep culture and long history, the book could have been a better read if it was…well, quite possibly three separate books. The author has gathered so much information that you would think he could certainly produce an excellent how-to make sake guide (tips about how to warm sake are included). And while briefly touching on Japan's most famous sake-producing regions, you might wonder why Ashcraft can't create a work of art that delves into the brewers and sake produced in each prefecture?
The Bible comes alive when the author puts a human face to the sake manufacturing and brewing process. A highlight is the inserts Ashcraft includes that profile several luminaries in the sake business such as Naohiko Noguchi, the recipient of 27 gold prizes of the Japan Sake Awards. Some of those inserts, like the one briefly documenting the growing of organic rice, would make fascinating magazine articles—which Ashcraft could adroitly produce having been a columnist for The Japan Times.
Considering the number of Japanese restaurants thriving outside of the country's borders, one would assume that sake has been consumed in large numbers across the world. That certainly is the case, as the author examines its popularity abroad. One of the strengths of the Bible is the extensive research conducted for the book: sake has a long history outside of Japan (the first batch made outside of the country was probably brewed in Korea during the Edo period), with much of it linked to the United States.
Ashcraft features tidbits from American newspapers documenting the brewing and manufacturing of sake in Japan. Even while exploring this world, the book doesn't live in the past as it features prominent sake breweries that strive to increase demand for the drink. Indeed, sake's popularity shows no sign of dying in the United States (Ashcraft quotes a sake executive predicting that the number of breweries in the country will exceed triple digits), or Japan for that matter. Quite appropriately, an introductory chapter to the book is titled "A Wonderful Time to be a Sake Drinker" as exports of the drink have risen exponentially in recent years. Despite touching on the challenges of making sake outside of Japan, the author vibrantly conveys a sense that the best is yet to come for this cultural symbol.
While reading The Japanese Sake Bible, you'll probably feel overwhelmed. After all, sake seems to have existed for as long as Japan itself, so remembering so much of what is put forth in the book will require a herculean effort. But you'll leave amazed at the journey of "Japan's gift to the world of drinks."
For more information on The Japanese Sake Bible, click here.
For more JQ magazine book reviews, click here.