————————————————————————————————————
Position: Associate, Japan Client Services
Posted By: Eurasia Group
Location: New York

Overview:
Eurasia Group is seeking an organized and motivated business development associate for our Japan client portfolio. This position is located in the firm's New York office.
In this position, you will be responsible for providing client management support to our existing Japanese corporate and government clients and proactively working to develop new business and drive sales. Responsibilities will include researching potential new clients and projects, as well as administration, project management, and coordination of the firm's ongoing services in Japan, including both retainer-based relationships and tailored consulting projects. Read More
*****
Writer, researcher, and JET alumnus Matt Leichter (Saitama-ken '03-'05) will give an encore performance of his lecture, "College Education: Certain Debt, Uncertain Income." It will again be hosted by the Henry George School of Social Science in New York City. The event date is Wednesday, January 29, at 6:30 PM. The location is not the school's normal address; instead it will be at:
NYC Seminar and Conference Center
71 West 23rd Street (corner of 6th Ave.)
New York, NY 10010
Here is the lecture's abstract:
Soaring costs for education, together with limited job opportunities and stagnant wage growth, place substantial financial and psychological burdens on students.
Noted columnist and researcher Matt Leichter reviews tuition inflation, cuts in public funding and the business of lending to students. Mr. Leichter will also propose reforms to the system of financing college education.
Space is limited; please register to attend by emailing hgs.billy@gmail.com.
————————————————————————————————————
Position: Liquor Sales (Japanese sake, shochu, and beer)
Territory: East Coast
Salary: 30K/year + incentive (it will be changed depend on the career) All business expenses will be reimbursed
Medical Insurance (premiums will be paid by the company)
Paid vacations (after 1 year) and holidays
Sick leave
Birthday off
Profit sharing
Overview:
The position will be asked to increase a sales of Japanese sake, shochu, and beer in the U.S. market. We will be happy to work with someone who has passions to introduce Japanese sake, shochu, and beer as well as Japanese culture in America. Read More
Updated with media coverage of the visit.
Boston and New York had the honor of hosting Kumamon's North American debut last week! Who is Kumamon you may ask? The rosy-cheeked, sack-shaped bear is the official mascot of Kumamoto Prefecture in Kyushu. Voted the top "Yuru-kyara" (cuddly mascot character) in Japan, he has taken Japan by storm and sold more than $300 million worth of merchandise in 2012 alone.
Kumamon's remarkable success in promoting his rural prefecture across Japan–there is even an exclusive "Kumamon Goods" store in Tokyo's upscale Ginza neighborhood–is being studied in government offices and marketing departments across Japan. In fact, no less than the Wall Street Journal has published no fewer than three articles about the phenomenon.
If you'd like to learn more about Kumamon, including what he does every day, I recommend checking him out online:
Facebook page: https://www.facebook.com/kumamotodiary.en
Home page: http://kumamon-official.jp/
Governor Kabashima is an interesting person. He was an "at-risk" student who grew up poor in Kumamoto. Against all odds, through hard work and dedication he ended up earning a PhD from Harvard and becoming a political science professor at University of Tokyo. His launch of the Kumamon public relations campaign is one of the great local promotion success stories of recent times.
Kabashima has also gotten a lot done in Kumamoto, including making some real headway in repairing Kumamoto's troubled finances (he started by cutting his own salary), trying to resolve remaining issues related to Minamata disease, and blocking Tokyo's plans to build a huge dam in the prefecture. A very good article about his life can be found here in the Asahi newspaper. The governor introduces himself and his views in two videos, here and here.
From the start, Kumamoto Prefecture and local communities have been dedicated supporters of the JET Program. Year after year, the prefecture has been near the top of the list in hosting the most JETs, hosting around 100 this year. I myself was a Kumamoto JET. I grew to love the prefecture while I lived there, and now consider it to be my "second home."
I encourage everyone to take some time to visit Kumamoto while traveling in Japan. The prefecture boasts some of the best onsen hot springs in the country. Aso-Kuju National Park is one of the natural wonders of the world, with its giant ancient crater that is so large that an entire volcano and six towns exist inside of it (I lived in one of them!). Kumamoto Castle is one of the three finest castles in Japan. Beautiful parks and gardens, beaches and mountains, history and culture, Kumamoto has it all!
If you are a JET alum from Kumamoto, I encourage you to join the LinkedIn Group for Kumamoto JET alumni here. In fact, I encourage all alumni to join their prefecture's LinkedIn Group. You can find yours here. It's a great way to stay connected with other alumni from your prefecture.
I'm glad JET alumni had a chance to welcome Governor Kabashima and Kumamon to the U.S. Congratulations on the great success of their first U.S. tour together!
Thanks to JET alum Fernando Rojas for sharing this great opening at SSRC (where Fernando also works). Posted by blogger and podcaster Jon Dao (Toyama-ken, 2009-12). Click here to join the JETwit Jobs Google Group and receive job listings even sooner by email.
————————————————————————————————————
Position: Marketing Writer
Posted by: Social Science Research Council
Type: Full-time
Location: Brooklyn, New York
Salary: Annual salary will be commensurate with experience. Comprehensive benefits include health, dental, vision, disability and life insurance, and health club reimbursement; annual tuition or student loan reimbursement; outstanding pension plan and tax savings program

Overview:
The Marketing Writer will work closely with the Managing Editor and SSRC program directors to realize communications and editorial projects, which may include but will not be limited to brochures, conference proceedings, press releases, print and digital publications, web features, and program webpages/sites.
Requirements:    
Training and/or professional experience in the social sciences (experience in the humanities may be considered)
Minimum of four years of successful editorial and/or marketing experience, including budget and project management
Relevant experience in an academic, foundation, or not-for-profit environment
Knowledge of digital publication and media is a plus
Experience in publicity and/or development is optimal
Application Instructions:
Interested applicants should send a detailed letter describing their background and interest in the SSRC, their resume, a relevant writing sample, and the names of three professional colleagues who can serve as references to: applications @ ssrc.org (please indicate "Marketing Writer" in the subject line of your e-mail). Click here to find out more about position.
The Social Science Research Council (SSRC) is an independent, nonprofit international organization devoted to the advancement of interdisciplinary research in the social sciences through a wide variety of workshops and conferences, fellowships and grants, summer training institutes, scholarly exchanges, research, and publications. 
Thanks to Jet Alum Zach Piper for sharing this job listing at EmbassyCES where he works. Posted by Kay Monroe (Miyazaki-shi, 1995 -97).
____________________________________________________________

Position: Student Services Activity Coordinator
Posted by: EmbassyCES
Type:  20 – 40 hrs weekly
Location: New York, NY
Salary: NA
Start date: NA
Contact Info:zpiper@studygroup.com
http://www.embassyces.com/
Responsibilities:
Maintain a weekly schedule of activities
 Manage a team of Activity Chaperones including scheduling
 Plan and host monthly student events at the school
Plan and host all office parties or events
 Guide tours for overseas agents of our center and summer campuses
Explain and sell our programs to potential students Read More
Via idealist.org. Posted by Kay Monroe (Miyazaki-shi, 1995 -97).
————————————————————————————————————
Position: Producer,  Asiasociety.org
Posted by: Asia Society
Type: Full-time
Location: New York
Salary:  39K – 48K annual
Start Date:
http://www.idealist.org/view/job/ZFsjKt67d4FP/
Responsibilities:
Asia Society, a prestigious, global, educational and cultural non-profit seeks a Producer, Asiasociety.org, to maintain and produce content. The ideal candidate will have a creative passion for promoting the work and mission of the Asia Society in the digital space as part of a wider online and communications strategy.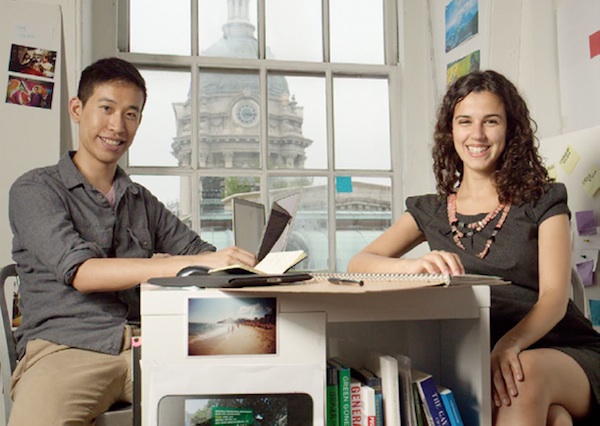 JET alum and JETwit webmaster Lee-Sean Huang (Oita-ken, Nakatsu-shi, 2003-2006) recently appeared in the Fast Company article "An MFA Degree For Designers Who Want To Change The World" by Michael J. Coren.
So you want to change the world? Cynics may send you off to Wall Street or a white-shoe law firm. Those with gumption will look for another way. The new Master's of Fine Arts in Design for Social Innovation has opened its doors just for them.

"We're adamant this not be a program where people sit in a classroom and talk about how great it's going to be when they go out and change the world," says program chair Cheryl Heller at the School of Visual Arts (SVA) in New York, and a board member of PopTech. "It is helping designers go beyond self-expression, which is how most designers are taught, and how to put [design] into practice to create a change."
Read the full Fast Company article here.
Lee-Sean, a faculty member in the department, is reaching out to the JET community and encouraging returning JETs and alumni to apply to the MFA Design for Social Innovation program.  The program is for applicants from a broad range of backgrounds with an interest in design and social innovation, and not just those with college degrees or prior professional experience in design.  Email leesean@purpose.com with inquiries, and apply here.  The deadline for applications is January 15, 2015 for Fall 2012 enrollment.
Photo: Lee-Sean with fellow MFA Design for Social Innovation faculty member Alessandra Orofino.
The United States-Japan Foundation, a non-profit grantmaking organization, is seeking to employ a full-time Administrative Assistant for their New York City offices.
The position provides administrative and clerical support to the Asst. Secretary & Treasurer and administrative area.

DUTIES:
.    Processing of payments and disbursements, and accounts receivables;
.    Record-keeping and maintenance of accounting, investment, and administrative files;
.    Reception, and processing/distribution of mail and correspondence;
.    Word-processing, writing, editing of correspondence and worksheets;
.    Special projects.

QUALIFICATIONS:
.    Excellent writing, communication, and computer skills (Lotus, Excel, Word, Quickbooks)
.    Understanding of basic accounting helpful
.    Financial or investment background a plus
.    Japanese language is a definite plus.

HOW TO APPLY:
Interested parties should email, fax or mail resume to (no calls please):
Asst. Secretary/Treasurer
United States-Japan Foundation
145 East 32nd St., 12th Floor
New York, NY  10016
Fax: (212) 481-8762
Email:  mcmanapat@us-jf.org