Nov
21

Article/Journalism, Writers

Comments Off

on 【RocketNews24】Japanese elementary school teachers may tell you "5 x 100 = 500" is wrong
Posted by Michelle Lynn Dinh (Shimane-ken, Chibu-mura, 2010–13), editor and writer for RocketNews24. The following article was written by Master Blaster, writing team for RocketNews24, a Japan-based site dedicated to bringing fun and quirky news from Asia to English speaking audiences.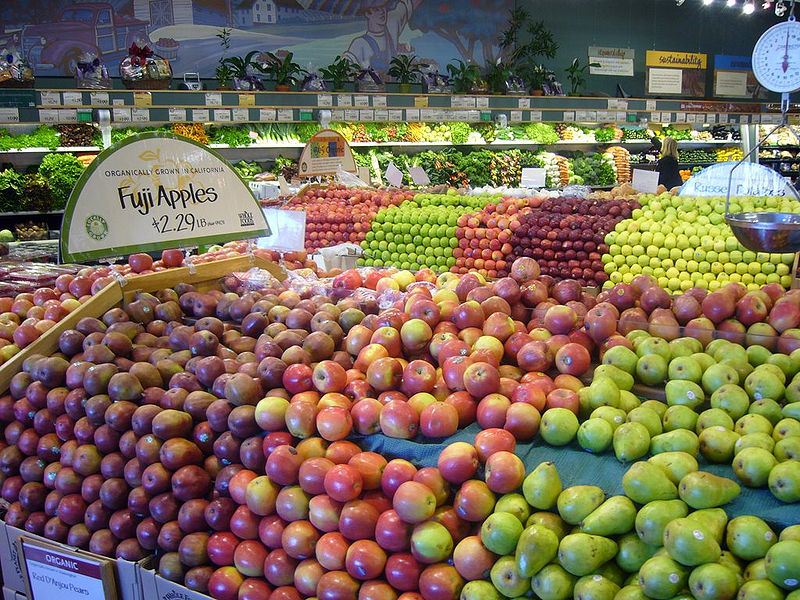 Here's an elementary school math question for you all:
Apples are sold for 100 yen each. If you buy 5 what is the total amount?
If you said "5 × 100 = 500" then I'm sorry but you just flunked second grade math in Japan… if there were only one question all year. The reason is an old teaching method that is employed in elementary and middle schools throughout the country. It's also a method that many, such as a blogger by the name of Uncorrelated, want stopped as it leads to strange logic where six times seven does not always equal 42 and five times 100 might not equal 500.
Program Overview:
An intensive training program in teaching Chinese or Japanese will be held this summer (2012) at Portland State University in Oregon. The Chinese & Japanese Teacher Training Institute is an intensive course for current language teachers or those who plan to enter the field. The program provides the foundation for future instructors to teach their language and gives substantial tools to current teachers to reinforce and strengthen their programs. It is a hands-on course, and effective methodology in teaching Chinese and Japanese to North Americans is emphasized over a theoretical analysis of the language. Read More
Thanks to JET Alum, Jessica Kennett Cork for this posting. Posted by Kay Monroe (Miyazaki-shi, 1995 -97).
———————————————————————————————————————————————-
Position: Education and Learning Manager
Posted by: International Rescue Committee
Type: Full-time
Location: Decatur, GA
Salary: DOE
Start Date: As soon as possible
 http://tbe.taleo.net/NA2/ats/careers/requisition.jsp?org=IRC&cws=1&rid=7967&source=Indeed.com
Responsibilities:
The Education & Learning Manager oversees all components of IRC Atlanta's Education services to refugee children, youth and adults. Adult education services include English as a Second Language instruction; job readiness and vocational training; computer skills instruction; financial literacy, cultural orientation and life skills instruction. Youth services include year-round after school and summer programs for refugee teens, youth internship program, and special safety, career, and enrichments programs. The Education Manager is a full-time, exempt position reporting directly to the Executive Director.
ESSENTIAL JOB FUNCTIONS:
Oversee and coordinate the daily operations of IRC Atlanta's Education & Learning programs, providing guidance, leadership, and direct supervision in all aspects of service provision
Develop and enhance the design of education & learning services, including ESL, family literacy, job readiness and vocational training, youth after-school, summer camp, computer literacy, cultural orientation and other emerging services Read More
Stephanie Boegeman (ALT, Akita-ken, 2006-09) gets her kicks from finding fun crazy ways to see the world and getting paid to do it. She is constantly in search of job, internship, and travel ideas to add to her site Playing With Hire, in the hopes that more JET alumni and like-minded souls join her in her quest to find creative, inspiring, and unique ways to make ends meet.
Those of you with big ideas on how to change the world for the better may want to investigate the Shuttleworth program, which supports social innovation. The award is the equivalent of a year's salary, plus a travel allowance. The next proposal review is in June. More details on the program can be found here.
Internship Announcement (July 21st – August 8, 2010)
Keio Academy of New York, a not-for-profit private co-educational boarding school located in Purchase, New York, will be holding the 3rd annual "English-Japanese Bilingual/Bicultural Residential Summer Program" for students (boys and girls between ages 12- 15). We are anticipating to have 40 students from Japan and 40 American students to join this program. For the details of the program, please visit our website http://www.keio.edu/summerprogram/
We are currently seeking college and graduate student interns for this program.
Keio Academy of New York will provide to all the interns, on-campus housing, free cafeteria privileges and extra meal stipend. The school will also reimburse (up to $500.00) domestic transportation costs.
Please visit our web site for details. Application closes Friday April 2, 2010.
Any questions regarding our summer program should be directed to:
Carleen Ben (Oita JET 2006-2008)
Keio Academy of New York Summer Program 2010 Administrative Office
E-mail: keiosummer@keio.edu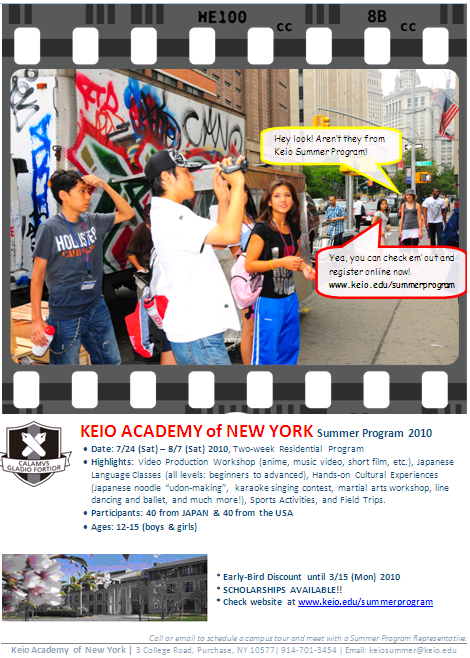 The Global MBA at Doshisha Business School, Kyoto, is a young, growing, high-quality and globally orientated program that builds upon the existing and highly regarded Japanese language MBAs. We welcome applications from highly motivated individuals seeking to develop internationally orientated careers in the global economy. As a former JET myself I consider the GMBA an excellent option for those looking to gain an MBA and to develop careers in international business and management. The Global MBA will equip you will the knowledge, skills, network and intellectual framework expected and required of twenty-first century global businesspeople. Our first JET alumnus will be joining us as a GMBA student in September and we look forward to further applications from JETs.
Find out more
If you are interested in finding out more about our program I strongly recommend that you visit our webpage, http://gmba.doshisha.ac.jp/ , where you can find more details about course content and structure, video interviews with faculty and students, online business seminars and much more.
Provisional applications
We welcome provisional applications from potential candidates as an initial step towards the formal application process. Simply submit your CV/resume and a personal statement outlining your motivation for applying to the Global MBA by email at your earliest convenience. These documents will be reviewed by faculty members who will pass on their comments within a week. This is an opportunity for potential candidates to confirm their eligibility and suitability for the program. There is no cost for this provisional application.
Funding opportunities
I should also like to draw your attention to the generous funding opportunities that we are offering for 2010 entry including two full MEXT scholarships (full fee waiver, monthly stipend and return flights) and a range of monthly stipends. Full details can be found on our webpage but please be aware that only applications received by the March 31st deadline can be considered for this funding.
Visit us
If you are in or near Kyoto, why not call in and see us? We are delighted to meet with applicants and to show them around our facilities. During normal teaching periods we are also more than happy to introduce you to current students and faculty. Please contact the office directly should you wish to arrange a visit.
Any questions?
Feel free to contact us at anytime should you have any questions or queries related to the course and the applications process.
Finally
As a JET alumnus I can fully appreciate what it means to be contemplating the end of your time on the program and what your next step will be. The Global MBA offers an excellent bridge to your future career and will equip you will the knowledge, skills, network and intellectual framework expected and required of twenty-first century global businesspeople. I look forward to receiving your application.
With best wishes,
Dr. A. Staples
Global MBA
Doshisha Business School
astaples@mail.doshisha.ac.jp