Mar
19

Audio, Career, Notable JET Alums

Comments Off

on Krewe of Japan Podcast E07 – Teaching English in Japan: Part 1 ft. John Loynes & Bradley Trenery
Posted by: Doug Tassin (Fukushima-Ken ALT, 2007-2010 & Krewe of Japan Podcast Co-Host)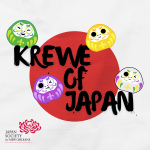 This week on the Krewe of Japan Podcast…
In the first of many episodes focusing on English teaching in Japan, Doug & Jenn take a look at various types of teaching opportunities, both JET and non-JET avenues. This conversation transitions into an interview with two English professionals based out of Fukushima Prefecture: John Loynes (British former-JET-turned-eikaiwa-entrepreneur) & Bradley Trenery (Australian private school English instructor). John & Bradley share their unique journeys to Japan and offer some interesting insights into working in their respective educational environments, along with some hilarious tales that will permanently etch the Japanese word for "population" in your memory bank.
The Krewe of Japan Podcast is a weekly episodic podcast sponsored by the Japan Society of New Orleans. Check them out every Friday afternoon around noon CST on Apple, Google, Spotify, Amazon, and Stitcher. Want to share your experiences with the Krewe? Or perhaps you have ideas for episodes, feedback, comments, or questions? Let the Krewe know by e-mail at kreweofjapanpodcast@gmail.com or on social media (Twitter: @kreweofjapan, Instagram: @kreweofjapanpodcast, & the Krewe of Japan Youtube Channel). Until next time, enjoy!
Jul
2

Article/Journalism, Writers

Comments Off

on 【RocketNews24】Japanese student's English homework captures futility of life
Posted by Michelle Lynn Dinh (Shimane-ken, Chibu-mura, 2010–13), editor and writer for RocketNews24. The following article was written by Clara Clegg, a writer and translator for RocketNews24, a Japan-based site dedicated to bringing fun and quirky news from Asia to English speaking audiences.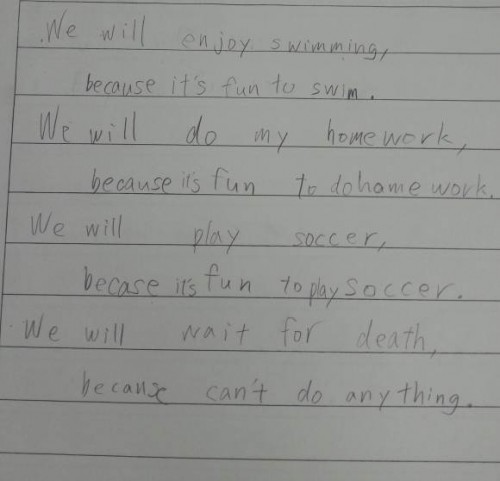 I've marked my fair share of English exam papers here in Japan, and there have been a few gems of hilarity in amongst the spelling mistakes and butchered grammar, but nothing that measures up to this beauty. One student's answer to a simple question was so deep and existential, it read like poetry.