Apr
30

Audio, Food & Drink, Japan Fix

Comments Off

on Krewe of Japan Podcast E13 – Talking Konbini: Irasshaimase!
Posted by: Doug Tassin (Fukushima-Ken ALT, 2007-2010 & Krewe of Japan Podcast Co-Host)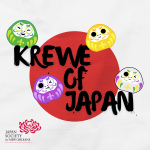 This week on the Krewe of Japan Podcast…
IRASSHAIMASE! Grab a milk tea and tuna-mayo onigiri and join Jennifer & Doug as they completely torture themselves talking about all the goodies you can get at Japanese Convenience Stores! Discover the role convenience stores play in daily life, konbini "must buys", important phrases to help survive checking out, & most importantly, the best konbini chain to rule them all. If you weren't craving a melon soda and FamiChiki before, consider this an apology in advance. MATA OKOSHI KUDASAIMASE!
The Krewe of Japan Podcast is a weekly episodic podcast sponsored by the Japan Society of New Orleans. Check them out every Friday afternoon around noon CST on Apple, Google, Spotify, Amazon, and Stitcher. Want to share your experiences with the Krewe? Or perhaps you have ideas for episodes, feedback, comments, or questions? Let the Krewe know by e-mail at kreweofjapanpodcast@gmail.com or on social media (Twitter: @kreweofjapan, Instagram: @kreweofjapanpodcast, Facebook: Krewe of Japan Podcast Page, & the Krewe of Japan Youtube Channel). Until next time, enjoy!