Mar
5

Academic, Blogs, Career, Graduate School, LifeAfterJET, Writers

Comments Off

on St. John's Legal English: Comprehensible input for legal English students
Steven Horowitz (Aichi-ken, 1992-94) is Director of Legal English at St. John's University School of Law in Queens, NY and publisher of the St. John's Legal English blog. He will be attending the upcoming TESOL International Conference in Seattle and will be on a panel titled "Legal Language: Strategies for Effective Communication in Law School" scheduled for March 23.
International students in LLM and legal English programs at US law schools come to study law, not ESL. At the same time, law study requires deep engagement with texts and concepts that are complex and challenging even for native English speakers. But how do you have substantive class discussions or evaluate students' legal writing when students are struggling to sufficiently comprehend the language of the reading?
In linguistics, the relevant term is "comprehensible input."
Click here to read the full blog post on the St. John's Legal English blog.
By Mark Flanigan, Nagasaki (2000-04)
As a JET alumnus, I look back fondly on the four years I spent living and teaching in Nagasaki Prefecture. Serving on JET was, quite literally, one of those "life-changing" experiences, as it confirmed my career path in the direction of public service and global education. In the 15 years or so since my time in Nagasaki, I have been lucky to have had international roles in the U.S. government, in higher education, and at a private, Japan-focused non-profit foundation. I was even fortunate enough to return to Japan a second time, to earn my MA in Peace Studies in 2012 through the Rotary Peace Center at International Christian University (ICU) in Tokyo. Later, I served in a variety of roles in Manhattan with JETAANY between 2012-16.
My most recent career stage brought me back into the classroom, albeit in a different role and a new part of Asia for me. I am currently serving as a WorldTeach Fellow volunteer in Chittagong, Bangladesh, at the Asian University for Women (AUW). It has been both a challenging and rewarding transition back into teaching, as I felt a bit rusty in the beginning and took a bit of time to get back in the groove. Also, my main experiences with Asia had been almost entirely focused on Japan, China, and Korea. For me, South Asian history and culture was something I knew very little about up until a couple of years ago. Being here, I realized how comparatively little I knew about the diverse cultures of the Indian subcontinent of Asia. Nonetheless, it has proven to be an extremely rewarding transition, personally as well as professionally.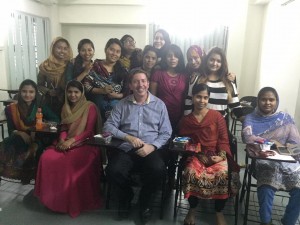 Me with some of my Pathways students in Bangladesh
Through a friend in New York City, I had first learned about AUW back in 2015. She had been a WorldTeach Fellow here a few years before, volunteering and having a really significant educational and cultural experience. The more I heard about her time in Bangladesh, the more I thought it sounded like a great opportunity to get back in the classroom while making a positive contribution to education for women at a significant institution like AUW. While I definitely enjoyed my four years in Manhattan, working as a Program Director with the Japan ICU Foundation (日本国際基督教大学財団), I also felt ready to take on a new challenge. I applied and was happily accepted as a new volunteer with WorldTeach, and assigned to AUW for the 2016-17 academic year.
AUW was founded in 2008 as a regional hub to help educate underprivileged women throughout different regions of Asia and the Middle East. With a liberal arts curriculum that promotes critical thinking and women's empowerment, it is a truly encouraging place for young women who have faced numerous challenges in life due to poverty, gender bias, and sectarian conflict. With 600 students (and over 400 alumnae) from 15 different countries, including Nepal, Bhutan, Myanmar, Vietnam, Cambodia, Sri Lanka, Afghanistan, Pakistan, Syria, Palestine, and others, AUW is an amazingly diverse place. The dynamic environment, small class sizes, and daily interaction of people with many different ideas, perspectives, and cultures makes it an esteemed center of higher education in South Asia.
However, I almost missed my chance to be here. Less than one month before I was due to arrive at AUW, we heard the news of the terrible attack in Dhaka, the capital city of Bangladesh. All I knew was that international residents of the city (and their local friends and colleagues) had been targeted specifically in a vicious terror strike. The attackers, while a definite minority in terms of the general population, were sending a very clear and deadly message. Although the attack did not take place in Chittagong, it was great cause for concern among both WorldTeach and AUW staff, as well as present and future volunteers. At that time, it was not clear whether we would still be able to serve in Bangladesh, or how the program might proceed. Many safety protocols would need to be analyzed and revised before a final decision could be made. In the end we were still given the option to come, which I was definitely happy to hear.
I have now been here for seven months, teaching two different groups of students over the autumn and now spring terms. My classes are part of the Pathways for Promise Program at AUW, which is the recently developed entry point for women who have not had as much formal preparation to succeed in higher education. Many of them have come as former workers from the garment factories of Bangladesh, while others are daughters of Grameen Bank loan recipients, refugees from the persecuted Rohingya community, as well as indigenous minorities from the Chittagong Hill tracts region. In addition to Bangladeshis, Pathways students have come from Afghanistan, Cambodia, and Myanmar. They will take classes for approximately one year in Reading and Writing as well as Listening and Speaking, and also study Math and IT while participating in Community Time and Social Mentoring workshops and events.
A lovely display of Bengali cuisine
If they complete the Pathways Program successfully and meet all the exam requirements, they will advance to the one-year Access Academy and then an additional three years of undergraduate study at AUW. In all, the successful ones will graduate in five years with their bachelor's degree in hand. Against all odds, this is their big chance to earn their college degree. Without the encouragement and funding support to match their own amazing dedication, it would most likely be impossible. It will not be easy for them. Many are far away from home and spend almost all of their time on the small but secure campus. They live in dormitories with 2-5 students per room, eat in the dining hall, and take all their classes together, so there is very little time for privacy or quiet reflection. Nonetheless, they are very eager to learn and make the most of this unique opportunity they have been granted.
It goes without saying that my students inspire me each and every day. Teaching them is really one of the biggest joys of my life here, and in many ways takes me back to my first experience teaching overseas in Japan. Although those two times are separated by about 15 years and many more miles, there are also some interesting parallels between them. Of the many things I have discovered over my time here thus far at AUW, one of the most interesting has been the surprising number of existing connections here between Bangladesh and Japan. As a former JET who later studied at ICU and worked to promote increased U.S.-Japan ties, it's been a really pleasant surprise to find out about and help to build on these great bilateral bonds of friendship.
The first one, I discovered quite by accident. In the early part of the autumn semester, I was walking in the hallway outside of my office when I heard the distinct counts of "ICHI, NI, SAN, SHIIII!!" emanating from the level above. Intrigued, I climbed the staircase up to the next floor and was surprised to discover the gymnasium filled with perfect rows of students. They were in straight lines, balanced in strict stances, with fists alternately chambered by their side and then thrust forward in a crisp motion I instantly recognized. My mind wandered back to our small dojo in Hirado City, Nagasaki, where I spent countless hours drilling in those very same "kihon" movements. I was curious to find out more, so I made arrangements to return and observe a longer class in session.
It was then that I met Ms. Maria Chakraboty, their instructor, a remarkable woman from Bangladesh who has achieved her 5-Dan rank in Shotokan Karate. Maria serves as a real inspiration to her students, as AUW's Associate Director of Physical Education and Karate instructor. Maria grew up in Chittagong, the same city where AUW is based, and faced hardships of her own due to people judging her negatively by her gender. She was strongly discouraged by others in her pursuit of Karate, but through the encouragement of her instructors, she has achieved a remarkable number of accomplishments. For her students, Maria is a living, breathing example of a successful adult woman, who has faced down discrimination and has continued her own personal growth through embracing the Japanese art of Karate. She has been able to impart her wisdom and experience to hundreds of young students through the years. Such is the wonderful environment of a cross-cultural, liberal arts university like AUW.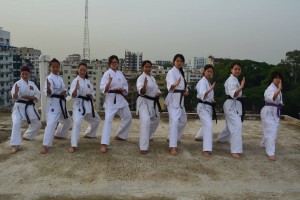 Maria (Center) training with some of her AUW students
In addition to Karate,  there are other tangible bonds of kizuna between AUW and Japan. Attending the University's Club Fair this past autumn, I was happy to learn that AUW students are involved in all kinds of social and academic club activities. Similar to Japan, students here balance their time between formal classes and organized clubs, like Model UN, Animal Welfare, a variety of sports, and other pursuits. Most interestingly to me, I discovered that there is a very active group of students on campus who are involved in the AUW Japan Circle Club! They are extremely genki and know an amazing amount of things regarding Japanese culture. They study Japanese on their own (as it is not taught here), read manga, watch anime, and even make their own kimono and other clothing by hand! Upon meeting them, I shared my experience as a JET alumnus and former ICU graduate student. They asked me to serve as their faculty advisor, to which I most happily agreed!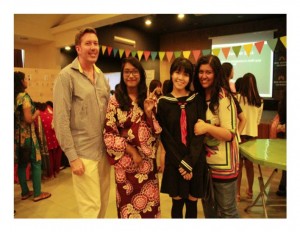 With some of the AUW Japan Circle Club students (and their hand-made clothing)!
I have been very happy to be working with them on various projects here this term. Most specifically, we have planned and organized a Japanese book drive among some of my colleagues and friends in Japan and Hong Kong. Through their kind and generous help, we have now received about seven boxes full of manga, books, magazines, language textbooks, and Japanese-English dictionaries from abroad! All of these were donated to the AUW library, so students can access them freely anytime. As none of our students have been able to visit Japan as of yet, they really love the chance to see any kind of "hon mono" firsthand. One Tokyo friend in particular also sent a variety of delicious Japanese candies, which were a big hit with the students! We are still interested in receiving any other items from Japan, if anyone would like to donate. Additionally, the students performed a number of Japanese songs (in Japanese) and dances for our recent Lunar New Year Festival. We hope to develop exchange partnerships with AUW and universities in Japan, in order to offer study abroad opportunities in both directions. Interestingly, at least one AUW alumna is now studying in Japan, earning her Master's degree at the United Nations University (UNU) in Tokyo!
Lastly, there is a very robust level of support for AUW in Tokyo. As part of the global support network for AUW students, a number of highly-accomplished and very influential donors make up the "Friends of AUW Japan" organization. Among them is Ms. Kathy Matsui,Vice Chair of Goldman Sachs Japan,who has a long and deep connection to AUW. In 2007, she was chosen by the Wall Street Journal newspaper as one of the "10 Women to Watch in Asia" for her work on the "Womenomics" theme, and serves as a board member of the AUW Support Foundation. Ms. Matsui and her husband, Mr. Jesper Koll, have been major donors to AUW since its inception, and they continue to look for ways to promote exchange between AUW and Japanese universities and companies. In addition, First Lady Akie Abe serves as an official Patron of AUW and has been actively involved with a number of fundraising efforts on behalf of the university in Tokyo over the past few years. Lastly, AUW has enjoyed very generous support through the past several years from a number of Japanese companies like HITACHI, MITSUI & CO., TOSHIBA CORPORATION, and UNIQLO.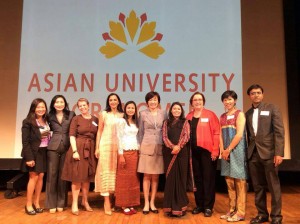 First Lady Akie Abe (center) and Ms. Kathy Matsui (second from right)
In conclusion, I would say my time here in Bangladesh has been a wonderful journey thus far. In many ways, it's a completely new (and sometimes bumpy) experience for me, living in South Asia and in a developing, Muslim-majority country for the first time. Culturally, it's much different than what I was used to, but that's been a good opportunity to broaden my own horizons and question my preconceived notions about life as well. My students in the Pathways for Promise Program specifically, and AUW students in general, have taught me so much and really inspired me through their own energy, resilience, and desire to learn. As a nice coincidence, this latest chapter in my career also brings me back to teaching and to Japan in many ways. I am happy to have so many "natsukashii" moments here, to help teach these remarkable young women, and also to be in a position to try and advance the relationships between people in Bangladesh and Japan. In some ways, it's the most unexpected yet personally satisfying addition to my time here at AUW. I'm happy to make the most of all these fortuitous connections during my time here in Bangladesh and beyond.
=================================================================================
Mark Flanigan is currently a WorldTeach Fellow volunteer in Chittagong, Bangladesh, at the Asian University for Women (AUW). Mark served as an ALT in Nagasaki Prefecture from 2000-4, and later studied for his MA in Peace Studies as a Rotary Peace Fellow at the International Christian University (ICU) in Tokyo from 2010-12. After graduating from ICU in 2012, he spent four years working for the Japan ICU Foundation in NYC. He has also held leadership roles in the JET Alumni Associations of both New York and Washington, DC. He can be reached at markinmitaka(at)gmail.com
Title: Assistant Reporter, leading new network
Location: Sydney
Salary: 47-70K+S Depends on your experience and negotiations
Hours: Mon-Fri 10:00-6:00pm
The Role
You will assist the Bureau Chief in reporting, researching, and write general news and breaking news stories under the direction of the News desk. The role will also include some clerical work.
Criteria
Research ability ( web, newspaper) in English
Native English ability with good writing skill (article should be written in English)
Interstate travel required (anywhere big news are, around 2/months)
Understanding of Australian politics and social issues, strong interest in Australia-Japan relations are essential.
Desirable
Interest in writing news, mainly politics, Australia and foreign relation
Experience in writing for news media or degree in Journalism is plus
Japanese language or cultural understanding an advantage
To apply, email (to career@ssaust.com.au) your resume (Word File) and short description of your previous experience and your selling points preferably which match the job description or criteria (3-5 lines).
By Jon Dao(Toyama-ken, 2009-12) for his podcast Discussions with Dao. Jon works as a speech coach andpersonal trainer.
---
Fresh off the plane (okay maybe more like a few weeks) from a 5 year stint in the JET Programme, here's graphic designer Patrick Finn! Be sure to follow him on Instagram and Twitter.
The "Best Thing" being back (1:20)
Using Credit Cards Over There (4:10)
Music/Concerts in Japan (8:38)
Japan Apologists (15:20)
Why do the JET Program? (17:10)
What kept you going for 5 years? (20:10)
Is JET "worth it" for personal and professional development? (26:41)
"Just living alone and kind of having to start fresh, I could throw away any ties I had to people, right? Okay, I can finally be me. No one expects anything of me because they don't know me. So I don't have to live up to anyone's expectations. Be 100% me and build my reputation around that."
Traveling "Outside" (31:17)
Silence on the Struggle (33:07)
"You HAVE TO be a go getter, otherwise it's not going to happen to you." – @PMF1030 #hustle What is "it"? You decide!

— Jon Dao (@CommDao) August 10, 2016
 Get the Pension Refund (37:40)
Fan Question (40:32)
Tomorrow I #podcast with graphic designer and recent #Japan returnee @PMF1030. Former JETs and current JETs, send… https://t.co/1OnIcM2rMp

— Jon Dao (@CommDao) August 8, 2016
"If you find yourself doing things that you could've been doing where you came from, You shouldn't be there. You're making a mistake. You're not making the most of your time, and you're wasting someone else's opportunity."

[soundcloud url="https://api.soundcloud.com/tracks/278243175″ params="color=ff5500&auto_play=false&hide_related=false&show_comments=true&show_user=true&show_reposts=false" width="100%" height="166″ iframe="true" /]
************
What do people do after JET? Here's one great example.
On November 16, JETAA DC held the latest in their JET Talks series with a talk by JET alum George Rose (Fukushima-ken, 1989-91), former interpreter for Hideki Irabu and current Director of Pacific Rim Operations for the New York Yankees, not to mention former JETAA NY President.
Here's a video of the talk. (Thanks to JETAA DC Vice-President Joy Young for passing this on!) Many great anecdotes including one about interpreting for Hideki Matsui on the Regis and Kathy Show. Plus, did you know that George played a role in helping the Yankees sign Masahiro Tanaka? Watch and enjoy!
This is a repost, as the deadline for applications have been extended, with some modifications of conditions.
Posted by Eden Law, President of JETAA NSW (who doesn't work at the company, but posts on their behalf). Note that a knowledge of the Australian education system is preferred, as is a Japanese PR or an unrestricted working visa. However, sponsorship may be considered for the right candidate.
---
Position: Education Recruitment Consultant
Posted by: Staff Solutions Career
Location: Tokyo, Japan
Status: Full-Time
As a highly reputable Educational Agency that caters for international students, our client currently seeks a highly motivated individual to perform the role of Education Recruitment Consultant.
For more details, please check out the job ad @ Seek.com.au.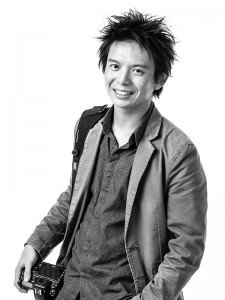 Striking out on your own, especially in pursuing a long-held dream, is always going to be a terrifying and highly stressful experience. Julius Pang (Fukuoka-ken, 2004-2007, ALT) made that journey this year when he launched his own company (Incredible Photo Tours), a travel company focused on (the taking of, and teaching of) photography. He is a multi-award winning photographer and world traveller, either shooting in exotic locales or being backstage at a conference made up of international heads of state. Obviously he's been somewhat busy after JET, so I (Eden Law, Fukushima-ken, 2010-2011 ALT) had a chat with Julius about how he got to where he is.
Congratulations on your new company – how did the idea for this come about?
Thanks Eden! The idea for my company has come about because I wanted to combine 3 things I've really enjoyed doing in my work life: photography, travel, and teaching photography. I've been aware of photo tours being run by various photographers and companies for several years and even considered doing one myself several years ago. I think in the back of my head I always wanted to lead photo tours every time I visited a new country or region over the past 12 years.
In Nov 2013 I visited India and I encountered at least 2 photo workshops being run at the Pushkar Camel Fair, and I asked myself why wasn't I doing that? From there, I decided I wanted to make my idea work. I had the photography skills and travel experience, I just needed the business skills to put everything together.
From Mar-Jun 2014, I undertook a major scouting trip to Japan and also visited Vietnam. During this trip I revisited many places in Japan I had been to and new ones in order to devise tour itineraries. I went to Vietnam to complete my coverage of the major SE Asian countries and also do some location scouting. Interestingly enough, when I was in Japan I encountered a Chinese photo tour group at Kawaguchiko!
When I returned to Perth in June 2014 after my scouting trip, I began planning my photo tour company. I'm so pleased it's now up and running!
Starting up a new company must have been a complicated process – what sort of hurdles did you encounter?
The main hurdle would have been my getting over my own self-doubt and ignoring the opinion of various naysayers. It's difficult enough making a living from photography particularly if you don't do wedding photography (as in my case), let alone moving into a specialised area like travel photography and also moving into the tourism industry at the same time. When you then have people who chime in with their opinion about how your idea isn't going to work or questioning if the business is realistic, this really chips away at your confidence. I've learnt it's so much better to listen to very successful business people and entrepreneurs who can look at your idea objectively and provide critical feedback based on their own experiences. These kind of people also have a great energy you can feed off and be inspired by.
I was fortunate enough to come across a government programme called the New Enterprise Initiative Scheme (NEIS) which provides business training and financial support for people build new businesses. The NEIS provider I am with have been instrumental in helping me learn new business skills, implementing a solid business plan, addressing OHS and legal issues, mentoring, and most of all, develop my self-belief and confidence as they've helped many small businesses get off the ground and sustain themselves. They encouraged my idea but tempered it with a good dose of the realities of doing business.
I strongly believed in my idea and the feasibility of it but I felt that I needed to establish myself as a travel photographer first; I wanted to know where my work stood at a professional level. I began entering various prominent photography competitions from 2013 but it's only been the past year when I won several awards that I knew I had the photography credentials. The problem was then learning new business skills – being on the NEIS programme has enabled me to learn those key business skills and bring my idea to life with Incredible Photo Tours.
So the process has been very involved but extremely rewarding at the same time.
How did you JET experience help or influence you when you went about setting up your company?
I decided to visit Japan in 2003 from late January to late February to take a long-desired first solo travel experience as an adult (this was my substitute for a gap year break), and also to visit two friends who were on the JET Programme and in rural placements.
I wanted to see typical touristy Japan as well as the unseen Japan out in the sticks. I also chose to visit during winter as I wanted to see snow for the first time (I ended up being obsessed with it – visiting the Sapporo Snow Festival and learning snowboarding from a random group of friendly Japanese uni students!), and because the timing worked with my uni summer break.
When I got back from that trip, I had to complete my final year of Design studies, but I applied for the JET Programme straight away when the applications came out that year. Then it was a long wait until I found out I got into the interview round and thankfully enough I did well and got onto the JET Programme.
I promote Japan as my company's main international photo tour destination so while I hadn't thought of the idea for my photo tour company until after I left the JET Programme, my JET experience is now proving really important to distinguish myself from other companies. For example, the JET Programme has provided me with extensive local knowledge, cultural understanding, Japanese language skills, local friends and contacts.
In addition, my involvement with JETAA ever since returning from Japan has continued to strengthen my expertise and connection with Japan. The JETAA community is amazing and I'm really lucky to be able to have met and become friends with so many great people through JETAAWA and the other Oceania chapters.
So you were finishing up on university before JET, much like a lot of people. Was it difficult to get back into the workforce after JET?
In my case it wasn't too bad. It took me 4 months to get back into full-time work once I got back. I looked on Seek and applied to several companies for a job as a web designer. The only company that asked me to come in for an interview was the Royal Automobile Club of WA (RAC WA).
During the interview I was asked about my work experience. I was honest in saying I didn't have much of a portfolio of web and graphic design work given I had just spent three years teaching. The main portfolio piece I had was the Fukuoka JET website. While I was on JET I volunteered my time to work with the Fukuoka JET chapter committee and was their webmaster. I redesigned the Fukuoka JET website and stayed in the role for 2 years until I left JET. I was able to discuss this bit of work, my website management experience, and experience in using a Content Management System (CMS) in my job interview.
So the job interview went reasonably smoothly but I was still surprised when they called me back to formally offer me the job. When that happened I was really thankful that I had gotten myself more involved in work and activities outside of teaching while on JET. That one website for Fukuoka JET was critical in me getting that first job after JET. I also think that the soft skills I gained working as a teacher really helped in terms of my presentation and expression of ideas, not only in the interview, but with my job too.
I subsequently stayed in that job for 3 years, becoming a Senior Web Designer, then embarked on a change of career to become a professional photographer. I still did some further work with RAC on a contract basis and feel very fortunate to have worked with them.
Hope for everyone! Any other advice?
What can be drawn from my experience is that it's important for JETs to keep busy outside of their teaching work life and consider the bigger picture of life after JET while they are still on JET. You have plenty of time while on JET to develop your other skills or knowledge outside of teaching, and this is really important to compensate for the lack of real world work experience (unless you are becoming a teacher) once you get back home. Being on the JET Programme helps you to develop key soft skills which any employer values, while the ability to understand and work within a Japanese working environment means you can handle office politics in a Western environment.
In short, the more you put in, the more you get out of the JET Programme.
Julius Pang is all over the internet. You can check out his company Incredible Photo Tours. Anyone can sign up for a spot with Incredible Photo tours even if they don't live in Australia, which not only runs international trips but also locally in Western Australia.
Jonathan Bissell (Chiba-ken, 1995-2000) is the author of Dream in Color, Think in Black & White: How to Get Unstuck and Fulfill Your Dreams and CEO of High Performance Impact, LLC, an executive coaching firm helping proven and emerging leaders to work happier by learning how to perform at their personal best. He blogs at www.jonathanbissell.com. 
If you haven't heard about them, pain letters are a brilliant way to reach inside an organization and show key decision makers that you understand their pains (the real problems they're facing) and have the experience and skill set to help solve them.
Although it can be challenging as an outsider to identify the real problems facing an organization, it's often just as difficult to articulate your own real pains as an insider. Trouble is, it's easy to waste a lot of time, energy and money when you're not sure what your real problems are.
So here's what to do: Use the questions below as a guide, then quickly write yourself a bulleted pain letter describing your pains. You'll gain tremendous clarity on the real problems you're facing – and you'll be better equipped to see your pain from the perspective of an outsider.
Symptom or Cause? When you're running from one thing to the next, it's difficult to quickly diagnose whether your pain is a symptom or a cause. So ask yourself this question: If I take away this pain, will the problem still remain? If the answer is yes, then you're dealing with a symptom – and you need to dig deeper to find the true source of your pain. On the other hand, if your solution eliminates the source of your pain and solves a few other pains as well, then you're most likely dealing with a cause. Focus your attention on causal pains and you'll eliminate many of the symptoms as well.
Jonathan Bissell (Chiba-ken, 1995-2000) is the author of Dream in Color, Think in Black & White: How to Get Unstuck and Fulfill Your Dreams and CEO of High Performance Impact, LLC, an executive coaching firm helping proven and emerging leaders to identify and consistently leverage patterns of high performance. He blogs at www.jonathanbissell.com. 
There's a word that you've been using, and it's time to let it go. Time to erase it from your vocabulary.
You're not the only one who uses it. I do, too. We all do. But it's holding you (and me) back.
It comes up in conversation whenever we talk about our deepest dreams and aspirations. And it's almost always said with a sigh – a wistful and defeating release of air from the lungs.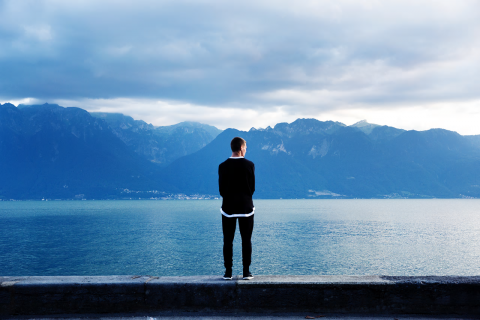 So what's the word?
The word is "Someday," as in, "Someday I'm going to…"
Just think about the last time you said it or heard it. For me, it happened just a few days ago. A friend of mine shared a magnificent dream that he wanted to pursue – a wonderful dream that's entirely doable. But then he used that word, "Someday." And he said it with that wistful sigh that always seems to tag along.
But someday is more than a wistful word loaded with longing. It's a glass ceiling that's meant to be shattered, and it's preventing you from taking hold of your future.
Here are three reasons why "someday" is holding you back:
Continue reading here. 
Yvonne Thurman-Dogruer (Kagoshima-ken, 1994-95) is a former JETAANY President and Treasurer. She has a Master of International Affairs degree from Columbia University, had a ten-year career at its Center on Japanese Economy and Business, and ran her own business for a number of years.  Yvonne currently consults for small businesses and start-ups while continuing the full-time job-search, and is an avid sailor.
JETAA NY President in 1999. Columbia grad in 2002. Director at Columbia Business School in 2005. Entrepreneur and business owner in 2008. Now? Unemploy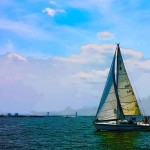 ed.
Rarely do I say that I'm unemployed. That's never my response when someone asks what I do. I'm consulting. I'm job-searching. I work from home. All true. I don't know how to relate to 'unemployed' as a status. It's easier on the ego to instead talk about what I've done up until this point. But after a year and a half with no steady paycheck, there is no doubt I am one of the many unemployed in this country, regardless of how the U.S. Bureau of Labor Statistics might choose to define me. I do consulting work when I can get it, and I continue to look for a full-time, salaried position. I am unemployed.
This summer marked a couple of milestones in my life; 25 years since graduating high school, and 20 years since I was on the JET program. I've attended really great reunions — hours full of fun and therapeutic reminiscing about the past. I would come home from them feeling good about reconnecting with those who had played an important role in my personal and professional growth, and proud of the many things I've accomplished in life so far. And then comes the question, "where am I now?". That has me stumped. What are these invisible barriers holding me back from moving forward? This all feels so foreign to me, as I had always felt grounded in my professional life. Every day is a challenge to keep steady, strong, and navigate myself through such an unpredictable environment. And every day, I seem to get through, and continue to look for that thing called a job to give me some sense of stability.
So I chatted with Steven Horowitz a few months back and with his encouragement decided to write for JETwit and reflect on this past year-and-a-half of my professional life, and make some observations about this job market. It's my hope that while I continue zig-zagging through the murky waters of the New York job hunt and share my experiences, it might help my fellow JET alumni who are going through the same thing. Whether you've returned from your Japan stint some decades ago like me, or have come back more recently, if you are job searching now – you will have a voice to contribute here. I do not aim to give advice, only to encourage discussion. Let's start talking, continue to keep our heads about us, and our humor.  Stay tuned…
————————————————————————————————————
Overview: 
————————————————————————————————————
Overview: 
Founded in 1997, the International Affairs Fellowship in Japan (IAF-J), sponsored by Hitachi, Ltd., seeks to strengthen mutual understanding and cooperation between the rising generations of leaders in the United States and Japan. The program provides a selected group of mid-career U.S. citizens the opportunity to expand their professional horizons by spending a period of research or other professional activity in Japan. Fellows are drawn from academia, business, government, media, NGOs, and think tanks. In cooperation with the Council on Foreign Relations (CFR), the program's sponsor, Hitachi, Ltd., assists fellows in finding suitable host organizations in Japan. CFR awards approximately three to five fellowships annually.
By Nick Woolsey (CIR Tottori-ken, 2011-13), an engineer based in Japan who works for Eureka, a Japanese company.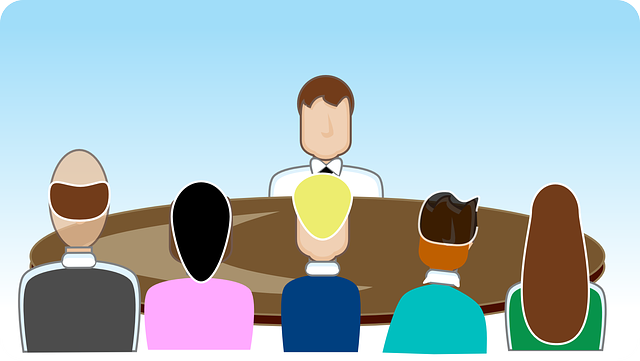 The time is right to start your career in Japan
The JET Program has always worked very hard to provide its participants with a smooth entry into Japan, support during their tenure, and facilitation for the transition back to their countries of origin.  It is a wonderful and incredibly organized teaching exchange system, but the primary pattern is, however, to finish the program and life in Japan at the same time.  Every year, a large percentage of those participants ending their tenure feel pained as they leave the country they have grown to love, and a few find ways to stay or come back.  That is about to change.
The few JETs (and other foreigners) who brave working life in Japan after their initial contract have found it difficult to find gainful employment outside the education industry because there simply hasn't been demand for it.  Other than the JET Program, the education system in its entirety is also highly organized, standardized, and rigid in its timeline: by far the optimal time to find employment is directly after high school or college.  Even an extra year or two spent studying abroad or getting a master's degree has been looked down upon more often than one would suspect.  In addition, changing companies was seen as almost as disgraceful as a samurai betraying one's feudal lord, and there was no such thing as work/life balance because life was one's work and one's company.  Japanese companies have been designed to hire from this homogenous talent pool and allow for gradual training and growth with seniority.  Participants in the JET Program were not meant fit in this system.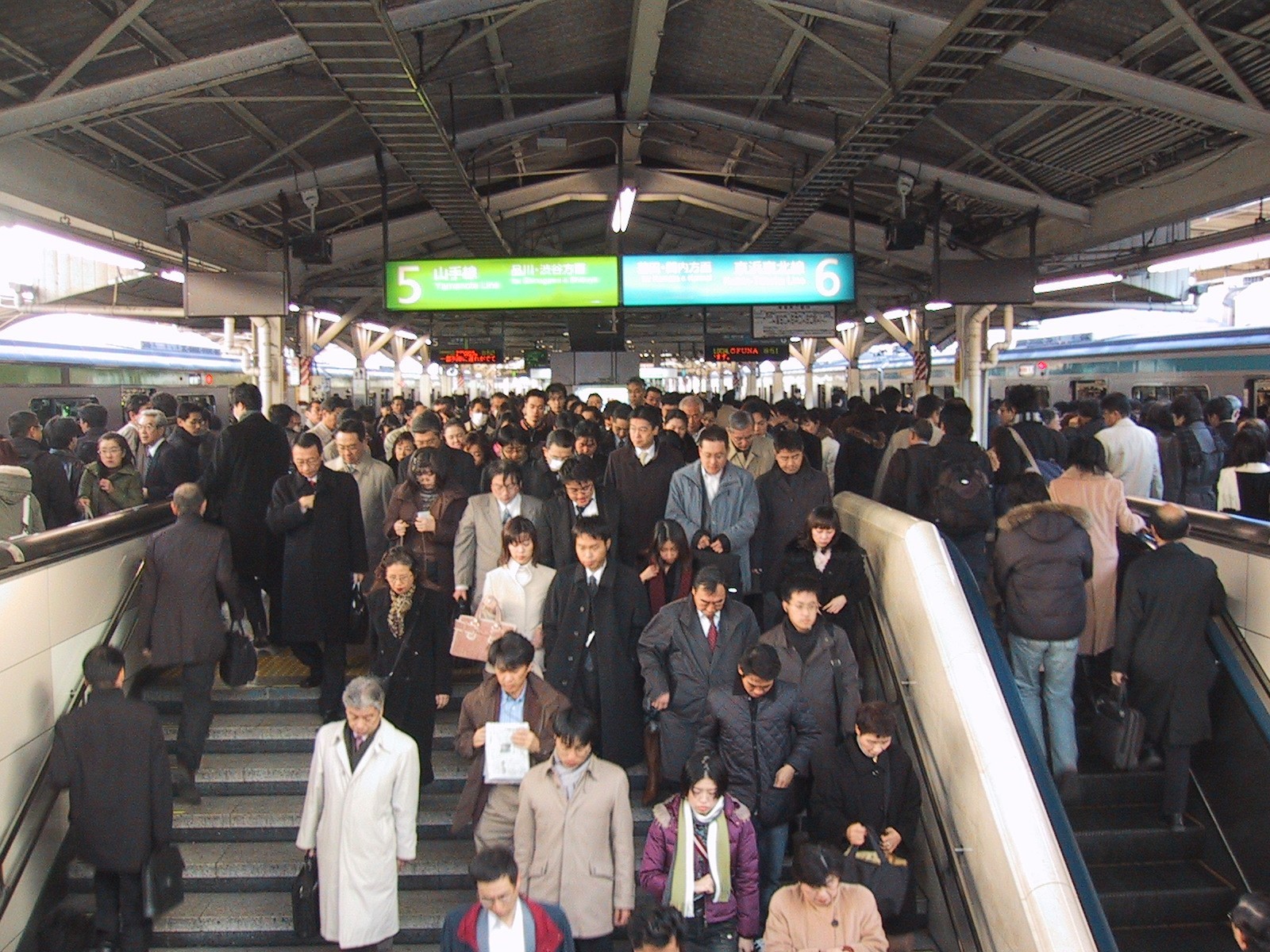 Since finishing the JET Program in 2011, I have learned that at the ground level, small and medium sized businesses, that system is now finally increasingly ready for change.  While not newsworthy yet, Japan's workforce crisis has started.  A number of social and economic factors, all heavily linked to the aging population, seem to be causing the Japanese human resource talent pool to shrink and maybe worsen.  Small businesses especially feel this blow because the best hires often go to larger companies, whose human resource demands have not decreased.  As the total number of working people decrease, therefore, larger businesses take up an even greater percentage of talented employees, leaving less desirable employees and unmet demand in human resources. Read More
Autumn Widdoes (Okinawa-ken 2010-2014), a writer with a focus on performance and film, will soon return to the job market.  She'd like to put her four years of experience in Japan to good use in future employment.
Hi everyone!
We're starting an innovative new feature on JETwit to help job-hunting JETs and JET alums with their job searches. We want to post stories and experiences of the post-JET job search in ways that can be helpful to both the profiled job-seeker and to JET/alum readers. If you'd like to have your profile considered, please submit the following information using the Google Form at this link:
FYI, here are the questions being asked on the Google Form:
1. What kind(s) of job(s) are you looking for, and where?
2. What have you do so far in terms of job searching?
3. What have been some of the challenges? What have you found that was positive?
4. What's the most important thing you've learned along the way so far?
5. What would be most helpful for you at this point to help you get a job?
6. Optional:  Link(s) to your online resume/CV/LinkedIn profile and/or website/blog.
We'll periodically post your stories and hopefully this will be helpful to readers and enable others in the JET alum community to help you.
If you have any questions or problems with the Google Form, please email Autumn Widdoes at jetwitjobhunter [at] gmail.com
よろしくお願いします。頑張りましょう。
By Jose Ariel Ramos (Saga-ken, 1998-2001).  Jose recently moved to Central Texas where he now works as a recruiter for a charter school.
Gabai Life!-Educational Journeys of an Ex-JET from Saga
"To know what you prefer instead of humbly saying Amen to what the world tells you you ought to prefer, is to have kept your soul alive."

-Robert Louis Stevenson
I reach for my phone. I want to check my email. I'm pretty sure there is something important there-a job lead, a response from a recruiter, a rejection, an actual offer. I put it back on the table. I go back to re-writing my resume and looking on JETwit, on Idealist, on Linkedin, on many other websites where jobs are posted. Again. Again. Again. Maybe this time I'd get a yes.
This has been my life for the past eight months: re-writing my resume; re-arranging the cover letter; sending all required documents in; filling in another online form at another job application site. I've applied to teaching positions in Japan, Oman, Korea, Singapore, China. I've applied to be director for different university overseas programs. I've applied to grad school. I've probably applied for no less than two hundred or so jobs-I'd lost count a while ago. I've gotten about six interviews but no luck. "How did I get here?" I'd find myself asking.
I got on JET right after graduating university with a Music and French degree in 1998. With an open mind and plenty of optimism I went to Saga ken as an ALT to find out what Japan was like. At that time cellphones were just starting to be widely used, dial-up was the common way to connect on the net, and we were still making long distance telephone calls on landlines. Saga was a rural place that had it's own unmistakable dialect-"Gabai oishika!" I would find myself saying after a meal (Really delicious!). I made plenty of mistakes but made plenty of friends, and I had incredible experiences. The first times I went snowboarding, white-water rafting, even bungee jumping were in Japan. Three years of adventure with other adventurous people. I decided back then that that was the kind of life I wanted to live-a life of voyage, excitement, freedom.
I came back home in 2001 right before 9/11, Read More