Jun
25

Audio, Celebrity, Food & Drink, Interview/Profile

Comments Off

on Krewe of Japan Podcast E19 – Sake Sippin' with Brian Ashcraft
Posted by: Doug Tassin (Fukushima-Ken ALT, 2007-2010 & Krewe of Japan Podcast Co-Host)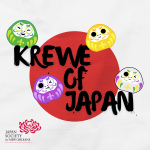 This week on the Krewe of Japan Podcast…
Did you know New Orleans is the home to the Gulf Coast's only sake brewery? The Krewe didn't until a few weeks ago! Nigel & Doug sit down reminisce about their first encounters with sake before sitting down for a sake deep dive with Brian Ashcraft, author of the award winning Japanese Sake Bible. Brian talks about what led to his interest in Japan and sake, shares some behind-the-scenes info into the creation of his comprehensive guide to Japanese rice wine, and provides insight on things that all sake enthusiasts need to know. Kanpai!
And check out last week's episode in case you missed it! Episode 19 – Greatest Anime of All-Time pt. 3 – Modern Day Anime (2010 – present) – closes out the anime mini-series, spotlighting some of the biggest anime of today (we're looking at you Demon Slayer, Attack on Titan, & My Hero Academia). The Krewe also digs into how sub-genres took the main stage and how streaming platforms completely changed the game.
The Krewe of Japan Podcast is a weekly episodic podcast sponsored by the Japan Society of New Orleans. Check them out every Friday afternoon around noon CST on Apple, Google, Spotify, Amazon, and Stitcher. Want to share your experiences with the Krewe? Or perhaps you have ideas for episodes, feedback, comments, or questions? Let the Krewe know by e-mail at kreweofjapanpodcast@gmail.com or on social media (Twitter: @kreweofjapan, Instagram: @kreweofjapanpodcast, Facebook: Krewe of Japan Podcast Page, & the Krewe of Japan Youtube Channel). Until next time, enjoy!