Mar
20

Blogs, Food & Drink, I'll Make It Myself, Writers

Comments Off

on I'll Make It Myself! Kickstarter: Amy's Mochi (Seattle)
L.M. Zoller (CIR Ishikawa-ken, Anamizu, 2009-11) is the editor of The Ishikawa JET Kitchen: Cooking in Japan Without a Fight. Ze works in international student exchange; writes I'll Make It Myself!, a blog about food culture in Japan and the US; curates The Rice Cooker Chronicles, a series of essays by JETs and JET alumni on the theme of cooking/eating and being alone in Japan; and admins The JET Alumni Culinary Group on LinkedIn.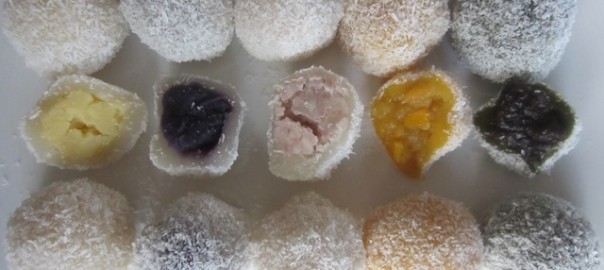 Look at these luscious hand-made mochi! I found this Kickstarter via Have You Nerd? and, readers, I need this in my life. Amy's Mochi is fundraising to cover the costs of starting up in Seattle – kitchen equipment, website, marketing, research and development – with the intent to sell them at weekly events (farmers' markets) and/or pop-up shops. Kickstarter here: Amy's Mochi by Amy Eam — Kickstarter. Ends March 28, 2014!
Jan
7

Food & Drink, Japan Local, Uncategorized

Comments Off

on Mochi Making
Posted by Benjamin Martin, a 5th year JET in Okinawa, publisher of the blog MoreThingsJapanese.com and author of the YA fantasy novel Samurai Awakening (Tuttle).
It's the New Year, and in Japan that means its time for mochi!   Mochi is a Japanese treat made from pounded rice.  While mochi is now eaten throughout the year, it's a favorite tradition during  the New Year's season.  It's generally served as a stuffed dumpling with fillings varying by region, taste, and tradition.  On the left is a sweet bean filled mochi served on a getto leaf in Okinawa.
More on Mochi
In Japan, a lot of events have their origins in times when most villager's diets consisted of very simple food.  A long time ago, when rice was used as a currency, most Japanese only got to eat rice on special occasions.  A condensed rice treat then, would have more calories, and be even more special.  Eating mochi on new years "to ensure health in the new year" was almost literal.  It was like a version of ancient Japanese powerbar.  One Japanese story, Momotaro, tells of the young peach boy offering rice based treats to ensure help in a quest.  Such legends show the how the traditions came to be.  Today mochi is still an import part of New Year's celebrations.  It forms the centerpiece for the offering at many shrines.
Mochi takes time, energy, and to really do it right, community.  All of these things tie into most Japanese celebrations.  The act of creating and eating mochi brings people together for a shared experience, while also acting as an offering for the town's, family's, or individual's ancestors.
Unfortunately, mochi has a dark side as well.  Every year, several people are hospitalized due to their consumption of the sticky treat and often a few die.  Be careful!
To learn about how mochi is made visit MoreThingsJapanese.com
As a special thank you to all my readers, followers, and friends I have released the first of the Jitsugen Samurai Diaries as a free ebook. Checkout The Tanner's Daughter on Smashwords.
Jan
10

Anecdote Article, Food & Drink, I'll Make It Myself, Writers

Comments Off

on I'll Make It Myself!: "The Wrath of the Kitchen God"
L.M. Zoller (CIR Ishikawa-ken, Anamizu, 2009-11) is the editor of The Ishikawa JET Kitchen: Cooking in Japan Without a Fight. A writer and web administrator for The Art of Japan: Kanazawa and Discover Kanazawa, ze also writes I'll Make It Myself!, a blog about food culture in Japan.
While working on a translation about osechi ryôri, the Japanese New Year's meal, today, I came across a passage about how the meal is prepared in advance of the holidays to avoid using the cooking fire. From a practical standpoint, not having to cook while one's extended family is visiting gives the primary household cook a chance to relax and spend time with the family. The other reason given is that using the kitchen fire during the year-end period makes Kôjin (荒神) the Fire God angry.
CLICK HERE to read the full post.