Oct
22

Advice, Art, Art & Design Observer, Article/Journalism, Audio, Books, Cartoon/Illustration, Interview/Profile, JETAA Podcast Beat, Travel/Tourism, Writers

Comments Off

on Krewe of Japan Podcast S02E03 – Manga: Literature & An Art Form ft. Danica Davidson & S02E04 – Japanese Theme Parks ft. TDR Explorer
Posted by: Doug Tassin (Fukushima-Ken ALT, 2007-2010 & Krewe of Japan Podcast Co-Host)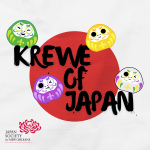 DOUBLE TROUBLE (aka whoops I forgot to post last week…)
Last week on the Krewe of Japan Podcast…
The Krewe (shonen) jumps into the world of manga! Nigel, Jennifer, & Doug provide an intro to manga for those unfamiliar with it, notable characteristics, and why you should consider picking up a volume and read. Afterwards, they sit down with Danica Davidson, author of 17 books & frequent manga journalist for Otaku USA & other major publications, to discuss her career path, the manga industry, & things you may not have known regarding the manga scene!
This week…
Strap in for a wild ride as the Krewe talks Japanese theme parks! Nigel, Jennifer, & Doug all share their own experiences and favorite parks around the country. Then, Chris Nilghe of TDR Explorer joins us to talk all things theme parks! Tokyo Disney vs. Universal Studios Japan… who wins? Chris shares his top tips & tricks, along with some great insider knowledge for planning any theme park-based trip in Japan!
The Krewe of Japan Podcast is a weekly episodic podcast sponsored by the Japan Society of New Orleans. Check them out every Friday afternoon around noon CST on Apple, Google, Spotify, Amazon, and Stitcher. Want to share your experiences with the Krewe? Or perhaps you have ideas for episodes, feedback, comments, or questions? Let the Krewe know by e-mail at kreweofjapanpodcast@gmail.com or on social media (Twitter: @kreweofjapan, Instagram: @kreweofjapanpodcast, Facebook: Krewe of Japan Podcast Page, & the Krewe of Japan Youtube Channel). Until next time, enjoy!