Sep
3

Food & Drink

Comments Off

on Around Japan in 47 curries: Fukushima fire curry
Tom Baker (Chiba, 1989-91) is writing a 47-part series of posts on his Tokyo Tom Baker blog, in which he samples and comments on curries representing each of Japan's 47 prefectures. Those covered so far include Kumamoto Prefecture horse meat curry and Gunma Prefecture silk mill curry. Here's an excerpt from his 17th installment, about two spicy curries from Fukushima Prefecture.
Fukushima Prefecture has a long history of recovering from geological disasters. Some of those disasters can be remembered through local curries.
One such curry commemorates the July 15, 1888, eruption of Mt. Bandai, a volcano near the center of the prefecture. The mountain had been a smooth, Fuji-like cone before it suddenly exploded due to a buildup of underground steam. The blast – which went largely sideways rather than up, similar to the explosion of Mt. St. Helens in the United States a century later – left behind an irregularly shaped mountain with four separate peaks. According to the Japan Meteorological Agency, the explosion could be heard from a distance of 50 to 100 kilometers, an avalanche of debris buried five towns and 11 villages, and ash fell from the sky along the coast of the Pacific Ocean, about 90 kilometers away. At least 461 people died.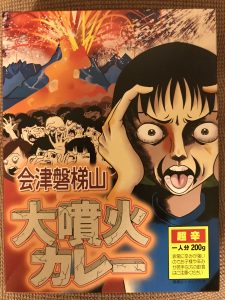 Did I say there's a curry that commemorates this event? Perhaps I should have said there's a curry that cashes in on it. The design on the box of "Mt. Bandai Great Eruption Curry" is not exactly reverent. But I bought it in a souvenir shop at the foot of the still-active volcano. The people who live and work in such an area are entitled to a bit of gallows humor, especially more than a century later.
The back of the box includes warnings that children, pregnant women, and those with weak stomachs or high blood pressure should eat this lava-like curry with caution, if at all. So naturally, I was expecting something super-hot…
To read the full post, including a comment on radiation, go here.
Jun
17

Earthquake Tsunami, Fundraising, Japan Local, Notable JET Alums, Return on JET-vestment

Comments Off

on Fukushima JET alum sets up Kickstarter fund to support his Fukushima documentary project
Darryl Wharton-Rigby (Fukushima-ken, Kawamata-cho, 2005-07) has set up a Kickstarter fund to support his documentary project about Fukushima, "Don Doko Don: The Yamakiya Taiko Drum Club Project."  Darryl was also organized a project earlier this year, together with former JETAA DC President Michelle Spezzacatena (Fukushima-ken, Kawamata-cho, 2002-05) that brought the Kawamata taiko group to D.C. for the Cherry Blossom Festival.
Here's a little info about the project from the Kickstarter page:
"Don Doko Don: The Yamakiya Taiko Club Story follows an award winning Japanese Taiko Drum Troop – comprised entirely of kids, teens and 20-year-olds – living in Yamakiya, a small town near the failed Fukushima nuclear power plant.  The group is forced to flee their homes and beloved mountain community after the earthquake, tsunami, and nuclear disaster wreaked devastation on them.
「どんどこどん」:この映画は、数々の受賞歴のある和太鼓の団体である、山木屋太鼓クラブのドキュメンタリー映画です。山木屋太鼓クラブは山木屋市内の、10歳以下の子供や10代の学生そして20歳の青年から構成されています。メンバーたちは地震・津波そして福島原発事故の影響で、今現在もなお実家や親しんだ地元から避難を余儀なくされている状況にあります。
Living as refugees and scattered around the countryside outside and within the radiation zone, the brave Taiko troop struggles to stay together and practice; trying to keep alive the spirit of their community – and the hope of returning home one day. And then, after facing daily adversity and at their lowest point, they get invited to Washington D.C. to be the honored performer in D.C.'s 100th Cherry Blossom Festival; headlining a climatic performance at the Kennedy Center!
それぞれの地域で避難生活を送っているにも関わらず、いつか実家のある地元故郷に帰ることを願い、山木屋太鼓クラブは離れ離れにならないように共に集まり太鼓クラブの精神を盛り上げて一生懸命活動しています。逆境に立ち向かう中、山木屋太鼓クラブはワシントンD.C.の桜祭百周年記念の演奏者として招待され、ケネディーセンターでは最高の演奏を行いました。"