Jun
5

Blogs, Food & Drink

Comments Off

on Strawberry curry?
Tom Baker (Chiba, 1989-91) has begun a 47-part weekly series of posts on his Tokyo Tom Baker blog, in which he will sample and comment on a curry from a different prefecture each week. Here's an excerpt from his third installment, about Tochigi Prefecture: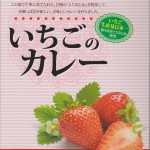 Toshogu may be the prefecture's main historical attraction, but strawberries are its claim to fame in the agricultural field. It is Japan's top producer of them. According the prefecture's official tourism website, "Tochiotome, a large, sweet variety of strawberry with a vivid red color, represents Japanese strawberries. This variety is large in size and sweet, juicy and soft in taste."
So, naturally there is a Tochigi strawberry curry – made with tochiotome strawberrries.