Apr
16

Audio, Japan Fix, Networking, Travel/Tourism

Comments Off

on Krewe of Japan Podcast E11 – Navigating Nippon: Where to Go in Japan ft. Kay Allen of JNTO
Posted by: Doug Tassin (Fukushima-Ken ALT, 2007-2010 & Krewe of Japan Podcast Co-Host)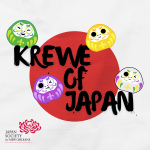 This week on the Krewe of Japan Podcast…
The Krewe is neck deep in travel nostalgia! Nigel, Jennifer & Doug talk about re-visiting Japan (one day…), reflecting on some traditional & non-traditional tourist destinations. Who wouldn't want to zip line into Godzilla's mouth?! They are joined by Kay Allen, Deputy Manager for the Japan National Tourism Organization (JNTO) Los Angeles Office. Kay provides fantastic insight into travelling Japan, some of her favorite destinations, and how the Olympics and CoVid-19 have reshaped the tourism industry in Japan.
The Krewe of Japan Podcast is a weekly episodic podcast sponsored by the Japan Society of New Orleans. Check them out every Friday afternoon around noon CST on Apple, Google, Spotify, Amazon, and Stitcher. Want to share your experiences with the Krewe? Or perhaps you have ideas for episodes, feedback, comments, or questions? Let the Krewe know by e-mail at kreweofjapanpodcast@gmail.com or on social media (Twitter: @kreweofjapan, Instagram: @kreweofjapanpodcast, Facebook: Krewe of Japan Podcast Page, & the Krewe of Japan Youtube Channel). Until next time, enjoy!
Oct
23

Japan Trends

Comments Off

on Japan National Tourist Organization (JNTO) Japan Travel Journal Cafe Vol. 6
Vol.6 2009 Oct.