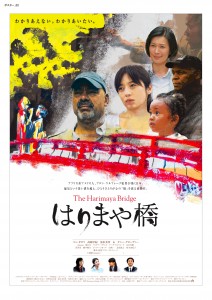 ***************
The JET alumni community already has a great reputation for writers such as Bruce Feiler, Roland Kelts and James Kennedy among others.  And now we're starting to make our mark on the world of film as well.
JET alum Aaron Woolfolk's film The Harimaya Bridge, starring starring Ben Guillory, Saki Takaoka, Misa Shimizu, and Danny Glover (who is also the Executive Producer), is making its New York debut on Sunday December 6 (with Q&A and cocktail reception to follow) and Sunday December 13 as part of the African Diaspora Film Festival.
(Editor's Note: I already bought my ticket for the Dec 6 date!)
The film had a nationwide theatrical release in Japan beginning in June, and the response from audiences and critics was fantastic.  (There was also a showing in Los Angeles back in June that a number of JETAA Southern California JET alums attended.)
The film will be showing in New York:
Sunday, December 6 @ 5:30PM – Thalia Cinema, Symphony Space (95th & Bway) – GALA SCREENING. Followed by a Q&A with director and catered reception
Sunday, Dec. 13 @ 7:30PM- Thalia Cinema, Symphony Space (95th & Bway)
This looks to be a big event for the JET alum community, so get your tickets now and hope to see you there.
Here's the trailer for the film: