Feb
7

Earthquake Tsunami, Fundraising

Comments Off

on JET help needed to secure music grants for Iwate, Fukushima & Miyagi

Via the JETAA USA website:
JET help needed to secure music grants for Iwate, Fukushima & Miyagi
Margarita Rozenbaoum of Relief International (an international humanitarian nonprofit organization based in Los Angeles) is reaching out the JET alum and JET community to secure music grants for schools in Iwate, Fukushima and Miyagi-ken. This project, called Jam for Japan aims to give scholarships/ grants of $5000 USD to several Japanese schools in the affected prefectures.
Relief International has to date received a very low number of grant applications for this project and the deadline is fast approaching. They are looking to JET alums and current JETs to help identify the schools in need and facilitate connections between then two. The scholarships/ grants are focused on elementary school, junior high and high school levels as well as individual musicians in Iwate, Fukushima and Miyagi. The damage from the earthquake and tsunami does not need to be severe for a school to qualify for the grant.
Interested schools/ individuals must submit the grant application by February 29, 2012. It is available in both English and Japanese:
Feb
7

Earthquake Tsunami, Fundraising, Return on JET-vestment

Comments Off

on Hope for Tomorrow launches English language website
Hope for Tomorrow, a JETAA USA Fund grant recipient, just launched the English language version of its website:   http://hope-tomorrow.jp/index-e.html
Hope for Tomorrow has provided subsidies to cover travel and other exam-related costs for a 70 students from Takata High School in Rikuzentakata and is funding 244 students from 5 schools for this year's exams.
Click here for more JETwit posts about Hope for Tomorrow.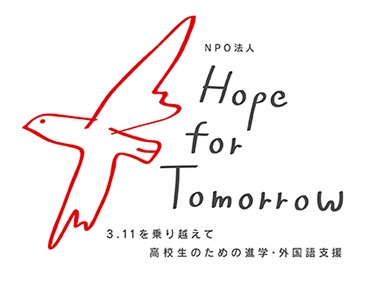 Feb
5

Earthquake Tsunami, Fundraising, Return on JET-vestment

Comments Off

on JETAA USA Fund Update 02.04.12
Thanks to Jim Gannon for passing on the following update about the JETAA USA Fund:
The JETAA USA donation of $26,700 to Hope for Tomorrow has apparently been extremely effective, allowing Hope for Tomorrow to provide subsidies to cover travel and other exam-related costs for a full 70 students from Takata High School in Rikuzentakata. Altogether, Hope for Tomorrow is funding 244 students from 5 schools for this year's exams .
Separate from the JETAA funds, they have selected 2 students from Takata High School (and 2 from elsewhere) to take part in a March homestay at the Harvey School in Westchester NY, courtesy of a donation from the Harvey School. In preparation for this, they have arranged online English tutoring for the students and also provided computers to the schools for this purpose.
Click here for more JETwit information and background about Hope for Tomorrow.
Click here for a summary of the JETAA USA Fund disbursements and recipients.
Jan
24

Earthquake Tsunami, Fundraising, Return on JET-vestment

Comments Off

on JETAA USA Receives Message of Thanks from Hope for Tomorrow
Originally posted on the JETAA USA website by JETAA USA Country Rep Jessyca Wilcox:
JETAA USA Receives Message of Thanks from Hope for Tomorrow
JETAA USA donated part of their Earthquake Relief Fund to the Japanese NPO, Hope for Tomorrow. The main focus of Hope for Tomorrow is to provide financial support for the incurred travel costs associated with university entrance examinations for high school students.
The JETAA USA grant allowed Hope for Tomorrow to open a program in Rikuzentakata. Hope for Tomorrow also provides English language tutoring to students as a thoughtful acknowledgment to the town's beloved JET ALT, Monty Dickson, whose life was lost in the tsunami of 3.11.
JETAA USA received a letter of thanks for our financial support, which made this effort a possibility for the students of Rikuzentakata. This project would not have been possible without the unification of our JETAA USA community and the hard work of all chapters to raise the funds.
Click here to read the letter from Hope for Tomorrow:  http://www.jetaausa.com/2012/01/23/thanks-from-hft/?utm_source=rss&utm_medium=rss&utm_campaign=thanks-from-hft
Jan
20

Earthquake Tsunami, Fundraising, JETs in the News

Comments Off

on Article: Students in Rikuzentakata Take the Eiken in Memory of Monty
This is a summary of an article originally appearing in the Kahoku Shimpo (Tohoku News) on January 19, 2012.
Students in Rikuzentakata Take the Eiken in Memory of Monty
http://www.kahoku.co.jp/news/2012/01/20120119t33008.htm
Roughly 80% of all middle school students, about 500 altogether, in Rikuzentakata City, Iwate Prefecture, will take the English Language Proficiency Exam (Eiken), in part thanks to support from JETAA USA, whose donation will help to cover the cost of the test. This is one way to bring to life the wish of Montgomery Dickson, who taught English here as an ALT, and who told his students, "I want you to love English."
Monty worked for the Rikuzentakata Board of Education since 2009 and was an assistant English language teacher at the city's elementary and middle schools. Immediately after the earthquake on March 11 last year, he evacuated to a park near the board of education offices, but was lost to the tsunami shortly after.
Everyone knew him as "Monty-sensei", and admired the way he diligently studied Chinese characters (kanji) and performed Japanese folk songs (enka) and comedy skits (manzai) at the board's social functions.   He dedicated himself to improving his students' English ability, even holding classes for free over the winter break.  He was very popular with his colleagues and students.
Despite the fact that the learning environment is still in disarray for middle school students in the city, the number of students registered for the exam on the 20th is about three times higher than this time last year. There have been three prep sessions this month, with many students working through problems from past tests and studying to get ready.
Dickson came to Japan on the JET Program, and after the disaster JET alumni from across the US* collected money and created a fund to support recovery efforts in Tohoku, focusing their attention on Rikuzentakata and on Ishinomaki, in Miyagi, where the other American victim, Taylor Anderson, worked. This aid to the students is one expression of their warm wishes.
Rikuzentakata would also like to establish an exchange with Dickson's home state of Alaska. Their hope is that in return for receiving so much support from around the world, they will become more outward looking themselves, and that their children become able to go to Alaska and speak in English about their memories of Monty and their own experiences in the disaster.
*JETwit Note:  While the article specifically references money raised by US JET alumni for the JETAA USA Fund, it's worth noting that current JETs, JET alumni and JET Alumni chapters all around the world donated and helped raise money in myriad other ways through various channels and organizations.
***********************
津波犠牲ALTの思い忘れず 陸前高田の中学生、英検挑戦へ
東日本大震災で甚大な被害を受けた岩手県陸前高田市で20日、市内全中学生の8割に当たる約500人が英語検定(英検)を受験する。市教委が支援団体の協力を得、受験料を全額補助することにした。異国の日本を愛し、日本語教師を夢見ながら、津波で犠牲になった同市の米国人男性英語指導助手(ALT)の「英語を好きになってほしい」との願いが生かされた。
ALTはモントゴメリー・ディクソンさん=当時(26)=。2009年から陸前高田市教委に勤務し、小中学校で英語の授業を補助していた。昨年3月11日の地震発生直後、市民会館内にある市教委からいったん近くの公園に避難したが、その後津波に襲われた。
「モンティ先生」の愛称で親しまれた。漢字の勉強にも人一倍努力し、職場の宴会で演歌や漫才を披露するなど周囲に溶け込んでいた。日本人の婚約者もいたという。
堪能な日本語で児童生徒や教員らとも積極的に交流、冬休み中には無償で子ども向けの英語教室を開催、英語力向上に尽力した。
同僚の熊谷卓さん(25)は「校外で芸術鑑賞中、こっそり入ってきたモンティさんに気付いた子どもたちが大騒ぎし、鑑賞どころでなくなった」とその人気ぶりを振り返る。
同市では被災で中学生たちの学習環境が整わないにもかかわらず、20日の英検申込者数が昨年同時期と比べ、約3倍に増えた。今月、受験対策講座が計3回開かれ、多くの生徒が過去の問題などに取り組んだ。広田中2年の臼井春香さん(13)は「もっと英語を好きになり、理解できるようになりたい」と話す。
ディクソンさんは、国のJETプログラム(外国青年招致事業)で来日した。震災後、事業に参加した米国人OBたちが全米で募金活動などを行い、復興支援基金を設立。現役ALTが犠牲になった陸前高田市と石巻市で重点的に教育支援しようと、支援団体などに寄付した。今回の補助にはこの善意が充てられる。
市教委は、ディクソンさんの出身地アラスカ州との交流も視野に入れる。学校教育課は「世界から支援を受ける今だからこそ、世界に目を向けてほしい。教え子たちがアラスカ州で、彼との思い出や震災の経験を英語で話せたらいい」と期待している。
2012年01月19日木曜日
Jan
19

Earthquake Tsunami, Fundraising, Notable JET Alums, Return on JET-vestment

Comments Off

on JET Paul Yoo seeks donations to help Sendai orphan attend college
See below request from Akita Prefecture JET Paul Yoo, founder of volunteerAKITA.  
JETwit note for context:  Paul has been going above and beyond the call of duty in terms of volunteering and organizing volunteers in Tohoku.  JETAA USA recognized his efforts in providing him funding to help defray costs associated with organizing volunteers to go and help with clean-up in affected areas in Tohoku.
Hi my name is Paul Yoo, a 3rd year JET in Akita-ken and Co-founder of volunteerAKITA and The Fruit Tree Project (www.volunteerakita.org).  Along with our on-going activities, we are also involved in the "Smiles & Dreams:Tohoku Kids Project" led by Living Dreams/SmileKidsJapan (www.livingdreams.jp and www.smilekidsjapan.org).
Right now, we are working as Home Communication Managers (HCMs) to two orphanages in the Sendai area.  Our role is to act as contacts for the orphanages, and relay any needs they may have.
What we need right now:  A boy, in his 3rd year of high school (his final year), at one of the orphanages we are in contact with, has become the first orphan there to ever express interest in going to college.  He wants to attend Yamaguchi Hukushi Bunka Daigaku (University of Human Welfare and Culture) and study hoiku ka (child care).  It is a four year program and the university will cover tuition for the first 2 years of the program, along with 50% of the 3rd and 4th years.
Our goal is to raise¥1,154,000 which includes ¥970,000 in tuition costs for the 3rd and 4th years, along with an ¥184,000 mandatory insurance cost over 4 years.
We are currently accepting donations for the scholarship fund we have set up.  After collecting the sufficient funds, we will then transfer the money to an account that will be handled by the orphanage.
We welcome any grants, scholarships, or personal donations to get this young man to college, and most importantly doing it without leaving him in debt after he finishes school, since in most cases, once an orphan has finished high school, he is on his own.
It is truly inspiring that he plans to go to college and is the first from his orphanage to show interest in doing so.  Successfully sending him to college would be such an amazing gift, and would inspire other orphans to follow in his footsteps, knowing that they too can receive a college education, and strive to become whatever they want to be in the future.
If you have any questions regarding this proposal or can help us out, please contact me.
Much Love,
Paul Yoo 
E-mail:  paulharimyoo [at] gmail.com
Dec
16

Academic, Earthquake Tsunami, Fundraising, JETs in the News, Return on JET-vestment

Comments Off

on Grant made in honor of Taylor Anderson to strengthen Japan Studies at Randolph Macon College
************
R-MC RECEIVES GRANT IN HONOR OF TAYLOR ANDERSON '08
http://www.rmc.edu/News/11-12-13%20-%20Taylor%20Anderson.Japan%20Foundation.aspx
Randolph-Macon College has received a grant from The Japan Foundation Center for Global Partnership (CGP) to strengthen Japanese Studies, a part of the college's Asian Studies program, in memory of R-MC alumna Taylor Anderson '08. Anderson perished during the March 2011 earthquake & tsunami that devastated parts of Japan.
"We are pleased to receive this generous support from The Japan Foundation," said Randolph-Macon President Robert R. Lindgren. "This grant will help us increase our students' awareness and appreciation of Japanese culture and will aid the college in laying the groundwork for a lifetime of engagement and exchange with our Japanese neighbors."
The Japanese Foundation grant, entitled "Honoring the Life, Work, and Good Spirit of Taylor Anderson – Enhancing Japanese Studies at Randolph-Macon College," will help Randolph-Macon reach its goal of increasing course offerings in Japanese language and culture. The college received $100,000 for this academic year with the anticipation of receiving additional funds during the five year duration of the grant, which will allow for faculty travel to Japan to develop broader course offerings and establish student travel courses to Japan.
R-MC's Asian Studies Progam will also develop and offer a spring workshop and curriculum website for Virginia elementary, middle, and high school teachers of history, geography, world language, and literature. This seminar workshop will be led by R-MC Professor Todd Munson and provide teachers the opportunity to engage in the study, analysis and discussion of topics related to Japanese history, geography, and culture. It will provide ten hours of instruction and will convene on the Randolph-Macon campus beginning in spring 2012.
The Japan Foundation grant will also support the following Randolph-Macon initiatives in the current academic year:
The Taylor Anderson/Japan Foundation Scholarship program for students who develop exceptional Japanese language skills. One or more students will be given financial support to participate in an intensive, accredited summer language immersion program in either the United States or Japan.
The Taylor Anderson/Japan Foundation Japanese Scholar-In-Residence will allow R-MC to hire a Japanese Studies scholar. The scholar will teach classes in Japanese literature, film, and/or culture and also offer co-curricular programs. In future years, the Scholar-In-Residence will teach courses in Japanese language.
The Taylor Anderson/Japan Foundation Lecture will support the college in its effort to share this grant beyond the R-MC community by hosting a lecture on Japanese literature or culture. This lecture will be held in March 2012 to commemorate the Great East Japan Earthquake.
The Taylor Anderson/Japan Foundation Memorial Collection of Japanese Literature and Film will provide additional volumes to R-MC's McGraw-Page Library's strong collection of Japanese classics. This is a special tribute to Taylor Anderson '08 who was an avid reader.
Taylor Anderson, who had a lifelong love of Japan, graduated from Randolph-Macon College in 2008 with a Bachelor's degree inInternational Studies and minors in Asian Studies and Political Science. She joined The Japan Exchange and Teaching (JET) program and was assigned to teach in Ishinomaki, Japan. The JET program is one of the world's largest exchange programs and is aimed at developing strong international relationships between Japan and other nations.
"This grant will help to continue strengthening relationships with a country she loved and Randolph-Macon College," said Anderson's father, Andy. We are grateful to both the college and the Japan Foundation for so generously supporting this project in her memory and honor."
Dec
7

Earthquake Tsunami, Fundraising, Japan Local, JETAA Chapters, Return on JET-vestment

Comments Off

on Photos from Rikuzentakata Tutoring Project supported in part by JETAA USA Earthquake Relief Fund
Thanks to Jim Gannon (Ehime-ken, 1992-94) for forwarding the below photos of the  "Youth Empowerment Iwate" Rikuzentakata tutoring project that received $25,000 in support from the JETAA USA Earthquake Relief Fund. These photos are from a November 10 visit to one of the several middle schools in town where the project is operating three times a week. These photos are of three rooms, one where individual students can study quietly on their own, a second dedicated to group study (and relaxing, too…which is important), and a third that is tutoring for the entire group. The tutors you see are university student volunteers, who are the ones running things.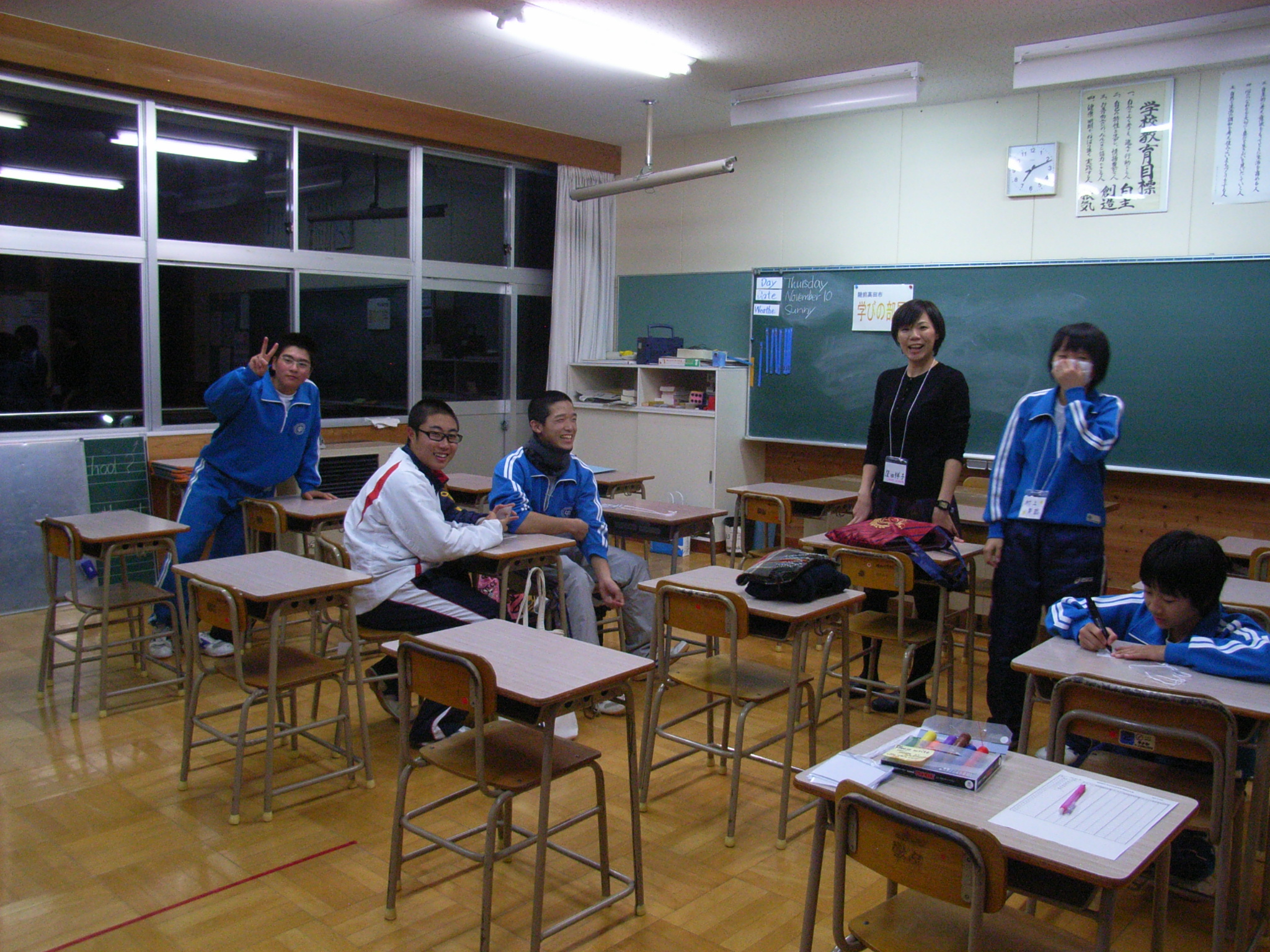 **************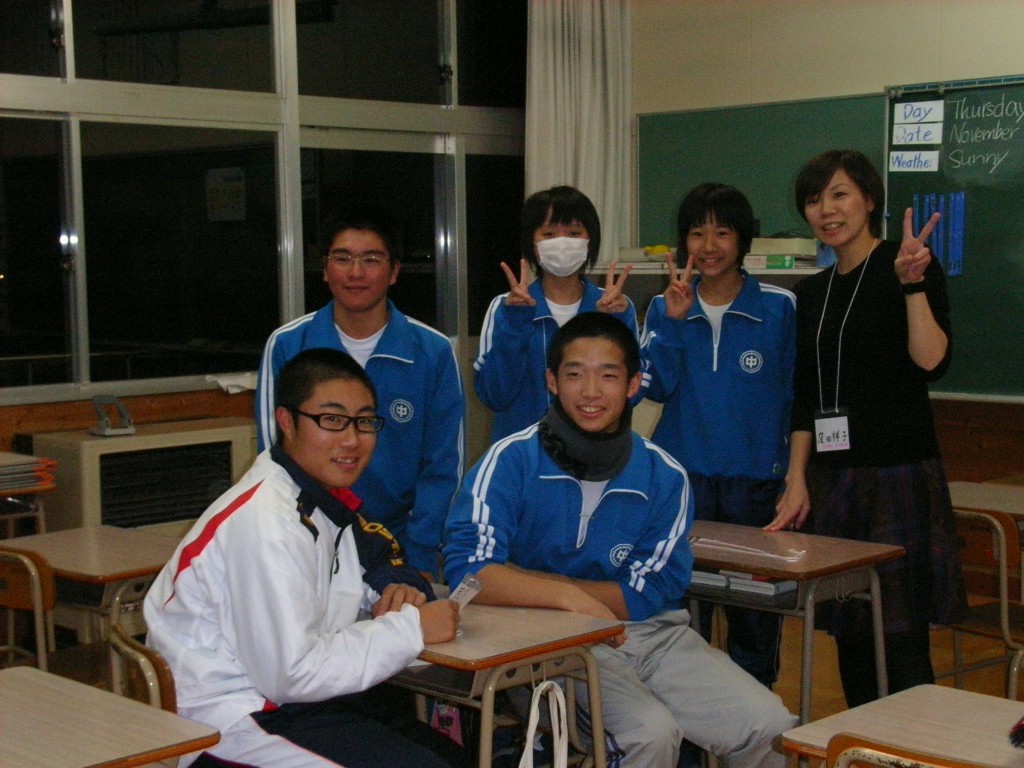 **************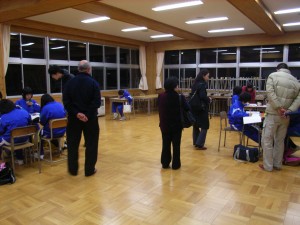 **************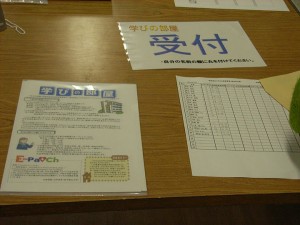 **************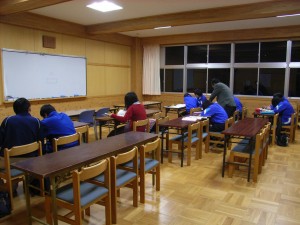 **************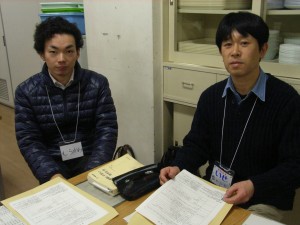 Nov
23

AJET, Cultural Outreach, Earthquake Tsunami, Fundraising, Japan Local, Return on JET-vestment

Comments Off

on Miyagi AJET launches Micro Grant Program in honor of Taylor Anderson
*****************
Miyagi AJET has launched a Micro Grant Program in honor of Taylor Anderson intended to "empower JETs with financial support in their efforts to fulfill the goals of the JET Programme in and outside of school."  Read below for full details:
To all Miyagi/Sendai JETs:
Employed directly through Boards of Education and embedded in communities, we JETs have a lot of potential to do great things here in Japan. Many of us invest our personal time, and sometimes our own money, to craft interactive lessons that engage students, to motivate students and spark their interest in English and foreign cultures, to produce quality events educating the people in our communities about our home countries, and more. As the AJET branch for Miyagi and Sendai, MAJET is here to support you in your activities as a JET, and to this end, we would like to announce the "Miyagi-Sendai JET Micro-Grant Program."
Attached please find a detailed description of the program, outlining it's goals and how to apply. To put it simply, as Miyagi starts to take it's formative steps towards recovery from the March 11th disaster, the purpose of this program is to empower JETs with financial support in their efforts to fulfill the goals of the JET Programme in and outside of school.
All too often JETs have great ideas to create language/culture boards at their school, to put on fun events for eikaiwa groups, to put on culture days at the local community center, but find themselves encumbered for lack of even a minimal working budget. There's only so much that can come out of our own pockets, which is where this program comes in. Whatever idea you may have for doing something that you feel helps meet the goals of the JET Programme (internationalization, cultural interaction, language education, etc.), we want you to tell us about it. If your idea does indeed further the cause of JET, we'll provide you with money to make it a reality! Initially we have set the range of possible grants to between 2,000 and 10,000 yen, but if you have a particularly good idea, let us know and we will consider going beyond this range.
If you are interested in applying for a grant, please fill out an application here:
https://docs.google.com/a/ajet.net/spreadsheet/viewform?formkey=dDNPaFdVSFUxUDBzb1pZcGttZEdoSHc6MQ
Even if you are currently engaged in an activity that you already pay for out of pocket, let us know and we may be able to provide you with funding to take this activity to the next level. Please keep in mind that once funds run out, this program will be discontinued, so if you have an idea for things you want to do next spring/summer, let us know sooner rather than later.
In announcing this program, we would like to give special thanks to the family of Taylor Anderson, an Ishinomaki JET who was sadly loston March 11th. During what was undoubtedly a trying time for the Andersons, they decided to honor Taylor's memory as best they could in supporting the recovery of the community in which Taylor lived, and which she loved. Knowing Taylor's activities as a JET, the Andersons recognize the importance of the JET Programme towards internationalization and language education at the grassroots/community level in Japan, and see the potential for the JETs of Miyagi and Sendai to be active parts of recovery. It is a result of the Andersons commitment to helping Ishinomaki and Miyagi that the idea for this program was formed, and it is from donations raised by the Anderson's that the seed money for this program will come.
If you have any questions about this program, or if you would like to brainstorm with us and discuss in more detail the possibility of receiving a grant, please contact us at miyagi@ajet.net
Wishing you the best,
The MAJET Team
—
——————————————
Miyagi Association of JET 2011-12
www.ajetmiyagi.net
Claudine Bennent (President)
Cameron Peek (President)
Brian Garvey (Vice-President)
Marissa Godwin (Treasurer)
——————————————
Read on for official Micro Grant Program guidelines: Read More
Nov
19

Cultural Outreach, Fundraising, JET Prefecture Round-up, Uncategorized

Comments Off

on JET Prefecture Round-up 11.19.11
**************
Emily Lemmon, (Hyogo-ken, Shiso-shi, 2009-present), PSG volunteer, organizer of Hyogo-ken's PEPY Ride, student of Shorinji Kempo, and editor of the Hyogo Times, gives a little taste of what JETs are doing around Japan.  To submit items for future JET Prefecture Round-up posts, e-mail Emily at jetinfogather [at] gmail.com.
Events by Region
AJET's Thanksgiving Cabin Party is November 26th-27th!
Kantou Region
Chubu Region

Kansai Region
The Christmas Smile Kids Japan visit will be on Saturday, December 10 from 1-4pm.
Hyogo will host the Awaji ALT Football Tournament on Awajishima Friday 18th – Sunday 20th November.
Hyogonians get their "JETs on Jitenshas" on in the Fall PEPY Ride in Himeji November 20th.
The Shiso Sale is happening until December 10th, to benefit PEPY and Cambodia!
Thanksgiving Dinner in Kobe, November 23rd!
A Very Shiso Thanksgiving will be held in Shiso on November 26th.
Osaka JETs are re-visiting Shinodoyama Orphanage in Izumi-shi on November 23rd.
Moustache Bash is December 2nd in Osaka!
Shikoku Field Day will be held in Shikoku Saburo no Sato, in Mima City, Tokushima on November 26th and 27th.
All JETs and their JTEs are invited to the Skills Development Conference Enkai at Hadaka no Osama in Matsuyama on December 1st!
Jam for Japan is scheduled for December 10th to raise money for donation  to Tohoku.
Ehime JETs are doing a Christmas Party and Secret Santa orphanage visit in Matsuyama on December 17th
Kochi JETs are invited to Tea Ceremony on November 23rd in Takajo-machi.
Kochi JETs are invited to a free tour of Tengu Highlands on November 26th!
KumAJET will climb the 3,333 steps on November 19th!
Nov
18

Earthquake Tsunami, Fundraising, Japan Local, Return on JET-vestment

Comments Off

on "Hope For Tomorrow" expands activities to 5 cities including Ishinomaki thanks to JETAA USA Funds
JETAA USA Earthquake Relief Fund Update:
Hope for Tomorrow, one of the grantees of the JETAA USA Earthquake Relief Fund, has been successful enough to expand to 5 cities, including Ishinomaki in addition to Rikuzentakata. They mention the JET contribution as a reason for focusing on these cities front and center on their home page.
Also, since the original posting, JETAA USA upped its grant to a total of $26,700 which comes out to an even 2,000,000 yen.
Click here for a re-cap of disbursements by the JETAA USA Earthquake Relief Fund.
Nov
17

Earthquake Tsunami, Fundraising, JETs in the News, Local Government, Notable JET Alums, Return on JET-vestment

Comments Off

on Daily Yomiuri: "Study halls opened in honor of 'Monty-sensei'"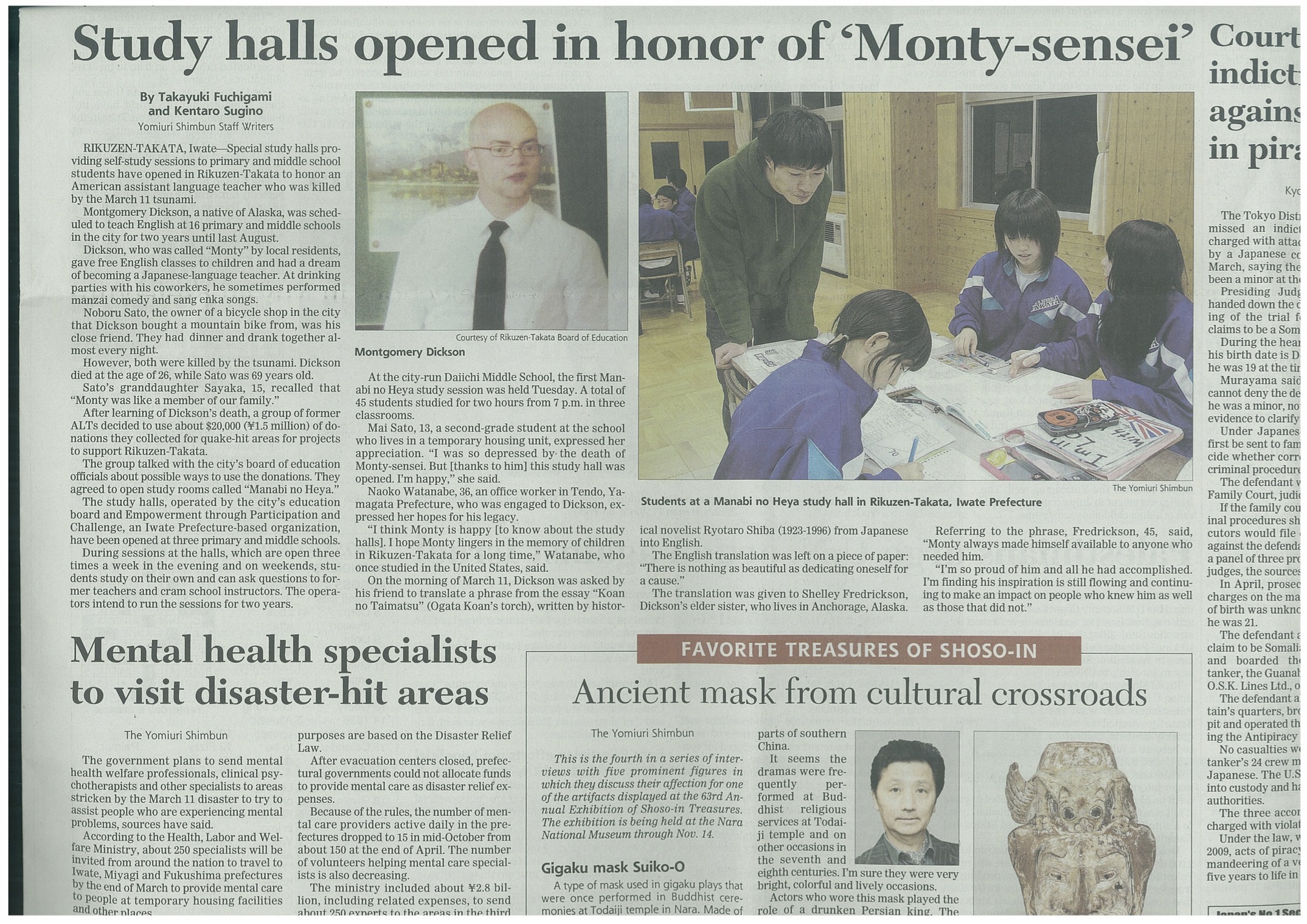 Nov
9

Earthquake Tsunami, Fundraising, Japan Local, JETAA Chapters, Local Government, Return on JET-vestment, Volunteer

Comments Off

on Summary of JETAA USA Fund disbursements
***************
Thanks to JETAA USA Country Representative (and JETAA USA Fund Committee member) Megan Miller (Hyogo-ken) for the following summary of the JETAA USA Earthquake Relief Fund's disbursements.  It was originally an e-mail sent to the JETAA USA chapter officers Google Group which has been modified slightly for posting here:
Dear US Chapters,
The fund committee has been hard at work and has finalized the donations for the $76,000+ we have raised so far. I'd like to thank the committee as well as the folks at JETAANY for all of their hard work during the past 8 months, and I'd also like to thank all of you for your amazing fundraising efforts. News of JETAA's collective, world wide fundraising efforts as JET Alumni is very much on the radar screen in Japan. It is great that we can support the people of Japan and also demonstrate the value of our network and our commitment to Japan at the same time.
To recap the fund committee's decision, here is where we are allocating the funds raised to date:
1. Hope for Tomorrow – $25,000 (http://hope-tomorrow.jp/)
A major challenge that high school students from the Tohoku region will face is to keep from falling behind students from elsewhere in the country who are studying for their college entrance exams. The students in Tohoku graduating this March had completed their exams by the time of the earthquake, but the ones who will graduate next year are liable to fall behind due to the length of time schools have been shut down, the absence of cram schools and other supplementary educational activities during their senior year, and the trauma and family tragedies that many have to face. On top of this, they need sufficient resources to even take the university exams, which tend to require travel to Tokyo, Sendai or Hokkaido. The exam fees are likely to be waived for many students, but there is no system to support their personal travel, lodging, meals, etc. when they leave their hometowns to take the entrance exams. In many cases, these expenses can easily exceed US$1,000, which will be difficult for families who have lost their homes and businesses to muster.
In response, a group of Tokyo volunteers has launched a new NPO called "Hope for Tomorrow" that plans to help support students by covering these expenses. They have been in touch with the main high schools in Kessennuma and Ishinomaki about this initiative. Kessennnuma had the greatest need, so they have come to an agreement with the high school to start supporting their students, and they hope to expand to other schools, including Ishinomaki's high school. They are also interested in expanding to Rikuzentakata and open to other suggestions from us about other places. (In May, they tried to speak with the Rikuzentakata authorities as well as those in the neighboring town, Ofunato, where students were attending high school since Rikuzentakata's high school was badly damaged, but were unable to have discussions due to the overwhelming challenges school officials were facing. However, they hope to try again soon.) In addition to the helping with the exam fees, they also wish to provide mentoring services to the students and other support that can aid them before and after their exams.
Update:  They have expanded to Takata High School (the Rikuzentakata HS, although temporarily being operated in an empty school in Ofunato), because of our funds. Takata High School is delighted, and things are all firmed up now. They are also operating in Kessennuma, and might expand into Ishinomaki or elsewhere if there is additional funding.
2. E.Pa+Ch – $25,000 (http://soup1993.com/epatch.html)
E.Pa+Ch stands for Youth Empowerment Iwate (direct translation:  Empowerment through Participation and Challenge). This group was created by a professor at Iwate Prefectural University (IPU) who has been active in mobilizing college volunteers to work in the disaster zone through a project called "GingaNet."  The group is planning to launch a major initiative throughout the prefecture to provide tutoring to and study rooms for middle school students who have fallen behind in their studies, with IPU students acting as volunteer tutors. (This may be expanded to high school students taking university entrance exams, in which case professional juku teachers will need to be employed). The board of education expressed support for this, and the IPU professor, Yamamoto-sensei, is going to continue developing the program in consultation with the board. This innovative program was launched on Nov 1, and it possibly will be a model for other programs around Tohoku. CR Jess Wilcox and Fund Committee member Jim Gannon were interviewed regarding our involvement. Read the article here: http://www.yomiuri.co.jp/dy/national/T111104005277.htm
3. Rikuzentakata Board of Education – $10,000
This direct contribution to the BoE will help alleviate some immediate needs of the schools, possibly including the hiring of a second JET for the area. There is currently a JET in RT who replaced Monty Dickson and the BoE would like to hire a second.
4. Taylor Anderson Memorial Fund – $5,000 (http://www.st.catherines.org/tayloranderson )
Many of you are already familiar with the work that the Anderson Family has been conducting. We have made a $5,000 donation to their fund to demonstrate our collective support.
5. Grants for 2-3 JET-related orgs – $10,000+ (To Be Finalized)
We are working with Paul Yoo of volunteerAKITA and Living Dreams who worked with Mike Maher King (Smile Kids Japan). Our grants will help support their grass roots efforts of volunteering in the area, bringing in needed supplies, and 'filling in the cracks' where other NGO's are unable to assist.
TOTAL = $76,000+
Also, many of you might be aware that the JETAA international meeting was held in Tokyo from Oct 21-22. The meeting was covered and televised by NHK news. We also met with various government ministers who thanked us for our efforts to support Japan and asked us for advice on improving the JET program.
After the meeting we volunteered alongside current JETs in Rikuzentakata. We are doing a write up of that emotional experience and will send it to you in the coming days. Being in Rikuzentakata really drove home how important our efforts are. We have the power to get our funds directly in the hands of the people making decisions on the reconstruction effort.
To that end we would like to encourage JETAA chapters to continue fundraising. We now have connections on the ground and can help deploy funds efficiently and effectively. We have been notified that JETAANY will not be able to host the fund next year due to tax reasons, but we will work to find another nonprofit chapter that can help support us. Thank you again JETAANY for all the extra work you took on this year to make the fund a reality!
Lastly, it is always helpful when the JET alumni community is able to remind others of the ongoing needs in Tohoku and share news of JETAA's accomplishments with others. I strongly encourage each of you and your chapter members to reach out to local news publications, church newsletters, your college and HS alumni magazines, work newsletters, chapter newsletters, etc. A great deal of information can be found on JETwit and the JETAA USA website.  You can also contact members of the JETAA USA Fund Committee or local chapter officers if you need additional information or an official representative or spokesperson.
Stay tuned for more detailed information to follow.
Nov
6

Earthquake Tsunami, Fundraising, Japan Local, JETs in the News, Local Government, Notable JET Alums, Return on JET-vestment

Comments Off

on Daily Yomiuri: Study halls opened in honor of "Monty-sensei" in Rikuzentakata
*******************
Update 11/07/11:  The Ministry of Education has apparently been impressed enough by Youth Empowerment for Iwate to send a team to observe them.  And fyi, the group now has a website as well:  http://soup1993.com/epatch.html
*******************
There's a nice Daily Yomiuri article ("Study halls opened in honor of 'Monty-sensei'") on Monty Dickson and the contribution JETAA USA will be making to the Japanese non-profit Iwate Youth Empowerment (which is translated in the article below with a different name).
Though not quoted in the article, JETAA USA Fund Committee members Jessyca Wilcox and Jim Gannon (Ehime-ken, 1992-94) were both interviewed for background.  Apparently the program launched on November 1 and they were surprised at the level of demand, receiving 100 applicants and 45 students on the first day.
*************************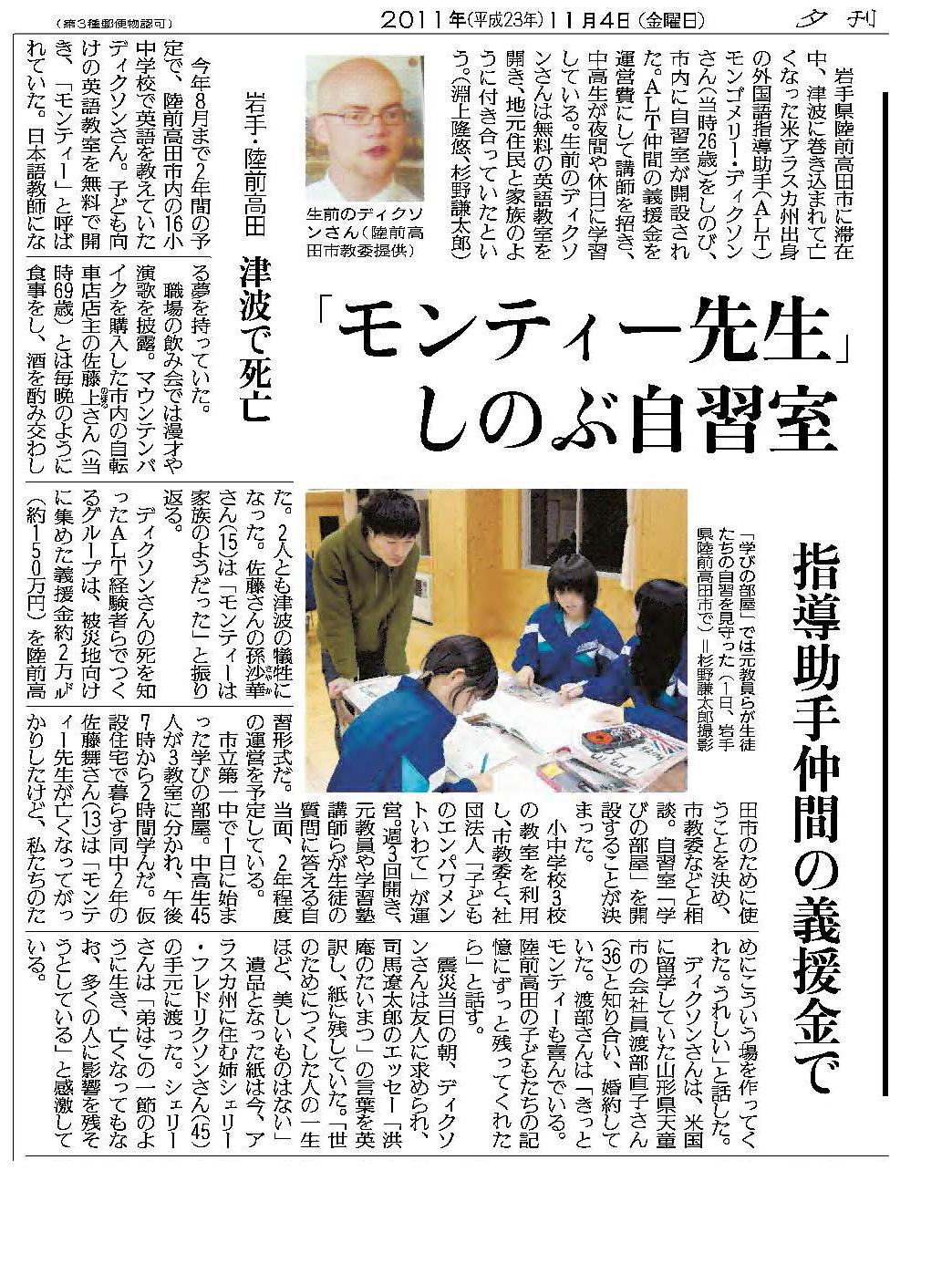 Study halls opened in honor of 'Monty-sensei'
http://www.yomiuri.co.jp/dy/national/T111104005277.htm
Takayuki Fuchigami and Kentaro Sugino / Yomiuri Shimbun Staff Writers
RIKUZEN-TAKATA, Iwate–Special study halls providing self-study sessions to primary and middle school students have opened in Rikuzen-Takata to honor an American assistant language teacher who was killed by the March 11 tsunami.
Montgomery Dickson, a native of Alaska, was scheduled to teach English at 16 primary and middle schools in the city for two years until last August.
Dickson, who was called "Monty" by local residents, gave free English classes to children and had a dream of becoming a Japanese-language teacher. At drinking parties with his coworkers, he sometimes performed  manzai comedy and sang enka songs.
Noboru Sato, the owner of a bicycle shop in the city that Dickson bought a mountain bike from, was his close friend. They had dinner and
drank together almost every night.
However, both were killed by the tsunami. Dickson died at the age of 26, while Sato was 69 years old.
Sato's granddaughter Sayaka, 15, recalled that "Monty was like a member of our family."
After learning of Dickson's death, a group of former ALTs (JETwit note:  The "group" is actually the JETAA USA Earthquake Relief Fund Committee) decided to use about 20,000 dollars (1.5 million yen) of donations they collected for quake-hit areas for projects to support Rikuzen-Takata.
The group talked with the city's board of education officials about possible ways to use the donations. They agreed to open study rooms called "Manabi no Heya."
The study halls, operated by the city's education board and Empowerment through Participation and Challenge (JETwit note:  aka Iwate Youth Empowerment), an Iwate Prefecture-based organization, have been opened at three primary and middle schools.
During sessions at the halls, which are open three times a week in the evening and on weekends, students study on their own and can ask questions to former teachers and cram school instructors. The operators intend to run the sessions for two years.
At the city-run Daiichi Middle School, the first Manabi no Heya study session was held Tuesday. A total of 45 students studied for two hours from 7 p.m. in three classrooms.
Mai Sato, 13, a second-grade student at the school who lives in a temporary housing unit, expressed her appreciation. "I was so depressed by the death of Monty-sensei. But [thanks to him] this study hall was opened. I'm happy," she said.
Naoko Watanabe, 36, an office worker in Tendo, Yamagata Prefecture,
who was engaged to Dickson, expressed her hopes for his legacy.
"I think Monty is happy [to know about the study halls]. I hope Monty lingers in the memory of children in Rikuzen-Takata for a long time," Watanabe, who once studied in the United States, said.
On the morning of March 11, Dickson was asked by his friend to translate a phrase from the essay "Koan no Taimatsu" (Ogata Koan's torch), written by historical novelist Ryotaro Shiba (1923-1996) from Japanese into English.
The English translation was left on a piece of paper: "There is nothing as beautiful as dedicating oneself for a cause."
The translation was given to Shelley Fredrickson, Dickson's elder sister, who lives in Anchorage, Alaska.
Referring to the phrase, Fredrickson, 45, said, "Monty always made himself available to anyone who needed him.
"I'm so proud of him and all he had accomplished. I'm finding his inspiration is still flowing and continuing to make an impact on people who knew him as well as those that did not."
(Nov. 5, 2011)
Oct
29

Article/Journalism, Cultural Outreach, Earthquake Tsunami, Events, Fundraising, JETs in the News, Notable JET Alums, Return on JET-vestment, Volunteer

Comments Off

on Miyagi JET alums organize Hong Kong fundraiser
******************
Thanks to Osaka JET Cailin Arena for letting us know about this:
From Miyagi JET alum Monique Moloney:  "Here is the press release (and photos) for the fundraiser in Hong Kong on April 16. It was a great way to connect with the Japanese community in Hong Kong and to put our energy towards a positive outcome for Miyagi."
********************
FOR IMMEDIATE RELEASE
Former Miyagi Residents Raise Funds Through Hong Kong Event
Hong Kong – 25th April, 2011
Two former residents of Miyagi Prefecture have pooled the creative expertise of five photographers in a silent photographic auction in Hong Kong to raise money for the March 11 earthquake and tsunami relief efforts.
The event entitled "Kampai for Sendai" was held on Saturday, April 16 at Shore Restaurant and Bar and was attended by approximately 180 people. The silent auction of distinctly Japanese photographs including 13 original mounts and three canvassed photographs, was the main focus of the evening. Additional funds were raised through the live auction of Simone Legno autographed Tokidoki merchandise and the sale of raffle tickets.
The total amount raised from the event was HK$30697 (US$3950). 100% of these funds were be donated to Peace Winds Japan andShine Humanity, two non-government organisations that have been highly visible in Miyagi Prefecture and are committed to using all designated funds for the Japan relief effort.
The event organizers, Monique Moloney and Matt Jones, both Australian nationals living in Hong Kong, were Assistant Language Teachers on the JET Programme in Miyagi Prefecture between 2003-2006. Having maintained strong connections with their former home, they were deeply affected by the devastation and suffering in communities where they'd often visited and fondly remembered. Their reaction was to organise an event that could raise awareness and funds in a meaningful way.
Through online groups, Monique found photographers who were willing to contribute their work to the cause. She also connected with other former JET participants who were living in Hong Kong. These people helped promote the event and attended to show their support.
"We may have moved on but we haven't forgotten our friends in Miyagi Prefecture. It was our turn to give back for the kindness and good will we were shown during our time there."
For more information, please contact Monique Moloney at mnqmlny@gmail.com or phone +852 90300243