By Vlad Baranenko (Saitama-ken, 2000-02) for JQ magazine. Vlad is an avid photographer.
On March 1, Carnegie Hall's Stern Auditorium hosted Grand Japan Theater (also billed as An Evening of Japanese Traditional Theatre), which presented New York City with a spectacular rare performance of kyogen, noh and kabuki—all in one night. After kicking off their international tour in Tokyo and Osaka, then traveling halfway across the globe to introduce the first ever kabuki/noh performance to the royal family of Fujairah in the United Arab Emirates, the troupe finally arrived in the U.S. for one special night.
A sold-out crowd of over 2,800 witnessed some of the biggest names in traditional Japanese theater, including the noh otsuzumi artist Kamei Tadao, who in 2002 was designated as a Living National Treasure; the internationally renowned kabuki and television actor Ichikawa Ebizo XI, who began his career at just six years old and has evolved into one of the most versatile traditional actors today; and many more with direct roots to these beautiful centuries-old art forms.
The backdrop for all of the evening's performances featured three sets of traditional Japanese screens adorned with illustrations of bamboo that blended perfectly into the background despite the enormity of the hall. The night's program began with the kyogen piece Sanbaso. (Kyogen, an art form that almost always accompanies a noh performance and acts as a short, often comical "intermission piece" for the audience, has traditionally been based on a Shinto religious rite that prays for peace, fertility and prosperity across the land.)
By Lyle Sylvander (Yokohama-shi, 2001-02) for JQ magazine. Lyle has completed a master's program at the School of International and Public Affairs at Columbia University and has been writing for the JET Alumni Association of New York since 2004. He is also the goalkeeper for FC Japan, a New York City-based soccer team.
On Jan. 25, George Takei participated in a talk at Japan Society in New York. Best known for playing the role of Sulu on the original Star Trek and its movie incarnations, Takei has embarked on a second career as a social rights activist. Takei's childhood in a pair United States internment camps for people of Japanese descent during World War II provided the focus for the conversation (entitled From Barbed Wire to Broadway), which was moderated by Kermit Roosevelt, a constitutional law scholar at the University of Pennsylvania (and great-great grandson of President Theodore Roosevelt). Takei is also concurrently appearing on Broadway in a musical inspired by his internment experiences called Allegiance (book by Marc Acito, Jay Kuo and Lorenzo Thione; music and lyrics by Jay Kuo). The show, also starring Lea Salonga and Telly Leung, is playing at the Longacre Theatre through February 14.
There is no doubt that Takei's childhood experiences formalized his worldview and search for justice. He spoke at length of his memories of being forced out of his Los Angeles home at the age of five and relocated to the Rohwer War Relocation Center for Internment in Arkansas, and later, the Tule Lake War Relocation Center in central California. Takei also put his personal experiences within a historical and political context: After the bombing of Pearl Harbor, anti-Japanese paranoia made all U.S. citizens of Japanese heritage suspect. Due process of law was completely suspended as Japanese Americans were forcibly removed from their homes without charge or evidence. Once in the internment camps, the prisoners had to forswear loyalty to the Emperor of Japan and pledge allegiance to the United States.
By JQ magazine editor Justin Tedaldi (CIR Kobe-shi, 2001-02) for Examiner.com. Visit his Japanese culture page here for related stories.
Start 2016 off right by heading down to Japan Society for some fantastic new year's fare. This month's events celebrate the power of theater, with productions that examine international relations between East and West, celebrating a century of growing diversity but also spotlighting a stormy past. Treat yourself and catch a break from the cold.
This month's highlight:
Monday, Jan. 25, 6:30 p.m.
George Takei: From Barbed Wire to Broadway
Japan Society, 333 East 47th Street
SOLD OUT. Limited tickets may be released; please call the box office on January 19 at (212) 715-1258 to check availability.
"Too few people know about that dark chapter of American history," film and television star, pop culture icon and social media powerhouse George Takei (Star Trek, Heroes) told The Daily Show's Jon Stewart in 2014, "when American citizens of Japanese ancestry were summarily rounded up with no charges, no trial no due process—the core pillar of our justice system—and put in barbed wire prison camps simply because we happened to look like the people that bombed Pearl Harbor." In George Takei: From Barbed Wire to Broadway, Takei shares memories from the troubling chapter of American history when some 120,000 innocent Japanese-Americans were forcibly relocated from their homes.
For the complete story, click here.
************
What do people do after JET? Here's one great example.
On November 16, JETAA DC held the latest in their JET Talks series with a talk by JET alum George Rose (Fukushima-ken, 1989-91), former interpreter for Hideki Irabu and current Director of Pacific Rim Operations for the New York Yankees, not to mention former JETAA NY President.
Here's a video of the talk. (Thanks to JETAA DC Vice-President Joy Young for passing this on!) Many great anecdotes including one about interpreting for Hideki Matsui on the Regis and Kathy Show. Plus, did you know that George played a role in helping the Yankees sign Masahiro Tanaka? Watch and enjoy!
By JQ magazine editor Justin Tedaldi (CIR Kobe-shi, 2001-02) for Examiner.com. Visit his Japanese culture page here for related stories.
The Japan-centric events of the month ahead promise to be as rich and full as autumn itself—brisk and colorful, with a dash of unpredictability.
This month's highlights include:
Oct. 8-11
Jacob K. Javits Convention Center, 655 West 34th Street
Limited tickets available
The East Coast's biggest gathering for fans of comics, film, anime and manga, New York Comic Con returns with its biggest roster of Hollywood talent to date, including the first-ever appearance outside of Japan of Naruto creator Masashi Kishimoto, on hand for an exclusive Q&A panel (Oct. 8, 5:30 p.m.) as well as the North American theatrical debut (Oct. 10, 11:30 a.m. at Hammerstein Ballroom) of Boruto: Naruto the Movie! In addition, Kishimoto will also make live appearances at Apple Store SoHo (Oct. 7, 7:00 p.m.), Kinokuniya Book Store (Oct. 9, 8:30 p.m.) and Barnes and Noble Tribeca (Oct. 10, 3:30 p.m.). Don't miss this chance to meet one of Japan's most popular contemporary manga artists!
Oct. 9-Jan. 10
For a New World to Come: Experiments in Japanese Art and Photography, 1968-1979 Japan Society Gallery, 333 East 47th Street
$12 students and seniors, $10, Japan Society members. Free on Friday nights, 6:00-9:00 p.m. 
In the wake of the social and political upheaval of the late 1960s, Japanese artists and photographers began crafting a new visual language for an age of uncertainty. Their embrace of camera-based experiments would alter the cultural landscape and lay the foundations for contemporary art in Japan. For a New World to Come is the first comprehensive exhibition to spotlight this radical break with the past. With some 200 works by such luminaries as Ishiuchi Miyako, Daidō Moriyama, Jirō Takamatsu, and Shōmei Tōmatsu, the exhibition charts the stunning diversity of photographic practices during this pivotal era, from conceptual series situated squarely within global artistic currents, to visually arresting meditations on time, place, and self.
Oct. 10, 12, 13, 17, 19, 21
Village East Cinema, 181-189 2nd Ave.
$15
See the next generation of Naruto on the big screen! With Naruto as the Seventh Hokage, Hidden Leaf Village is planning to host the Chunin Exams to train new shinobi. Among the entrants are Sasuke's daughter, Sarada, who adores Naruto, Mitsuki, an exceptionally talented yet mysterious shinobi, and Boruto, Naruto's son who shows great potential, but despises his father. Sasuke, who's been on a mission in another dimension, appears before Naruto to warn of a strange impending danger he has sensed. An inconceivable foe lies in wait as Sasuke, the Five Kage, and Boruto charge into another dimension!Presented in Japanese with English subtitles.
For the complete story, click here.
***************
Bruce Feiler (Tochigi-ken, 1989-90), author of Learning to Bow  as well as several books on religion including Walking the Bible, Abraham and Where God Was Born along with other popular books including The Council of Dads, and, most recently, The Secrets of Happy Family, can now add CNN commentator to his resume. He has been providing religion-related perspectives in live conversations with Anderson Cooper, Wolf Blitzer and others.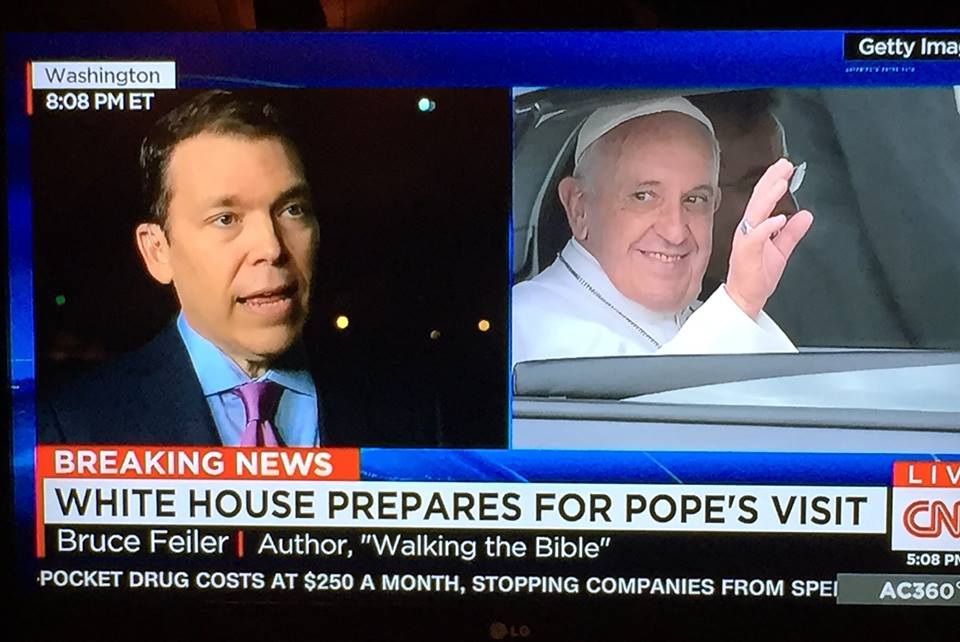 ****************************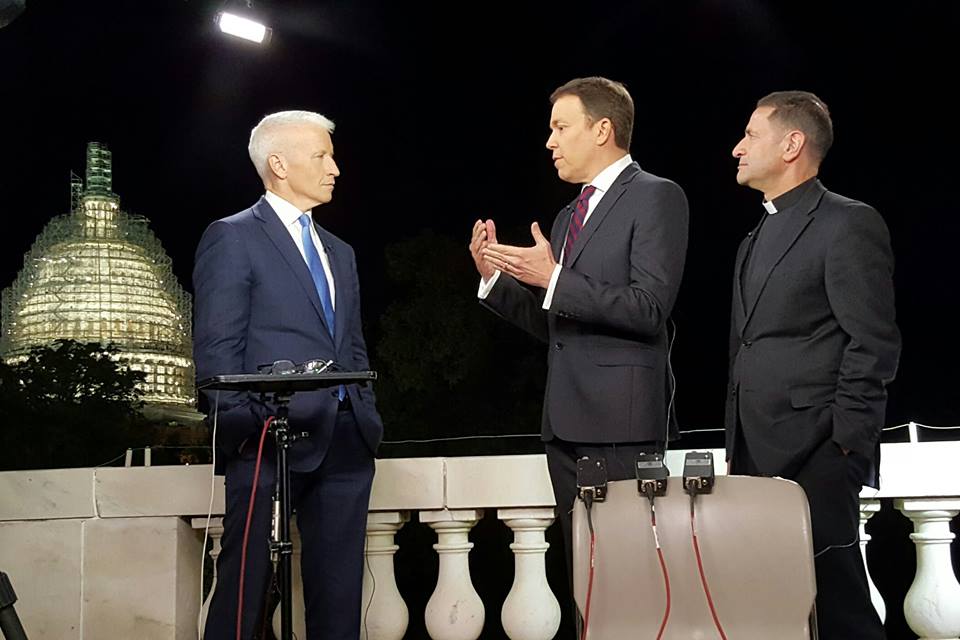 To read prior JETwit posts about Bruce Feiler, please click here. 
For more regular updates, follow Bruce on Facebook:  www.facebook.com/brucefeilerauthor.
And Twitter:  www.twitter.com/brucefeiler.
By Alexis Agliano Sanborn (Shimane-ken, 2009-11) for JQ magazine. Alexis is a graduate student of Harvard University's Regional Studies—East Asia (RSEA) program, and currently works as an executive assistant at Asia Society in New York City.
Starting Point: 1979-1996, translated by Beth Cary and Frederik L. Schodt, is quite unlike its sequel, Turning Point: 1997-2008 (read JQ's review here). Technical rather than creative, Starting Point shares renowned director Hayao Miyazaki's recollections of his early days as an animator. The essays and interviews follow anime through production development, touching on the intricacies of character design, layout, and story adaptation. For those who enjoy the process and precision behind an art, Starting Point is a rare glimpse into an often-times enigmatic industry.
The first half of the work features essays on Miyazaki's long hours in the studio, culture, and nature of Japan's animation industry in the 1960s and 1970s. As Miyazaki notes, even then, anime was tied to media mix marketing. You didn't just have manga; you had manga, then an anime, toys, merchandise, and spin-offs all fueling off each other. Says Miyazaki in a 1982 interview: "The world of anime makes its business out of themes like departing for new horizons or love, while pretending not to be conscious of [the] commercial reality." In hindsight, these remarks prove ironic; the auteur's Studio Ghibli having similarly succumbed to commercialization.
It isn't just media mix that remains the same today: professional frustrations were high and work-life balance poor. Miyazaki, over the course of several essays, recounts the life of a young professional. He states: "When young, nearly all of us want to be taken seriously, as soon as possible….In fact, many of those who have not yet taken the plunge into the professional world…tend to speak endlessly about techniques, or concentrate on gaining as much knowledge as possible….In reality, however, once you enter this industry, the techniques required can be mastered very quickly."
JQ magazine editor/Japanese Culture Examiner Justin Tedaldi (CIR Kobe-shi, 2001-02) was recently interviewed by Alex York of Fujisankei (FCI) News for commentary on X Japan's debut performance at Madison Square Garden on Oct. 11.
The spectacular three-hour show (see JQ's review of the concert here) was X Japan's first and only American concert in four years, and the first to retain the band's signature full stage production outside of Japan.  Check out the video here or click on the image for Justin's comments, and read his exclusive interview with X Japan's leader Yoshiki here.
Direct link: http://www.youtube.com/watch?v=yWptyvtYCXM#t=43
By JQ magazine editor Justin Tedaldi (CIR Kobe-shi, 2001-02) for Examiner.com. Visit his Japanese culture page here for related stories.
For Yoshiki Hayashi, this Saturday (Oct. 11) will go down in J-rock history, as one of the biggest bands in Asia makes their debut at Madison Square Garden. Formed over 30 years ago, X Japan first gained notoriety in the mid-'80s by ushering in the visual kei movement, a style that continues to evolve through other Japanese megastars like L'Arc~en~Ciel (who headlined the World's Most Famous Arena themselves in 2012).
At the center of it all is X Japan's founding member, Yoshiki. An equally talented songwriter, heavy metal drummer and classical pianist, he is both the heart and soul of X Japan, and, having lived in Los Angeles for two decades, the ideal mouthpiece for the band's American tours, which started with a bang in 2010 at Lollapalooza and included a sold-out gig at New York's now-defunct Roseland Ballroom.
In this exclusive, expansive interview, I spoke with Yoshiki about how the group's original hopes to play the Garden in 2008 were dashed by personal health and management troubles, his favorite, anime, manga and X Japan songs, and his experience working with legends like Stan Lee, KISS, and the Emperor of Japan.
How did this concert for Madison Square Garden come together? I know there were plans to do this in 2008; can you talk about this history?
Our band reunited around the year 2008. We did our reunion concert in Tokyo Dome, three days or so, I think. At that time, we were also thinking of performing [shows] outside of Japan, and Madison Square Garden was one or two of [the ideas]. But for some reason they didn't happen, so since then, that venue was always in our minds. A few years ago, we decided to try schedule Madison Square Garden. I think we were kind of confirmed last year.
It's a long road.
Yes. Well, considering that X Japan was not doing anything—I mean, the band broke up around the end of 1997, so when we reunited we had almost 10 years of a break. We started doing a bunch of arena shows, and then we started touring the world when we went to 16 countries or so. Considering this, the [last] six or seven years have been tours [laughs].
Are there plans for X Japan to play any other concerts for the remainder of the year?
Not now. We just announced our shows in Japan, this place called Yokohama Arena, so we [performed] there Sept. 30 and Oct. 1. It's kind of like a prelude to Madison Square Garden and a kickoff to [that] show, about 10 days before that. As of now, Madison Square Garden is the only American show, but [depending] on how it goes, we may start another world tour. We're just talking about it right this moment.
For the complete story, click here.
By Mark Frey (Kumamoto-ken, 2002-06) for JQ magazine. Mark served as the editor for JETAA Northern California's Pacific Bridge newsletter from 2007-11, and is currently chapter president as well as coordinator of the JETAANC Kabuki Club.
A warm thought to heat you up as the Fourth of July approaches: real, live Kabuki is coming back to New York City July 7-12 as part of the annual Lincoln Center Festival.
This is great news for Kabuki fans in America. And if you were ever curious about Kabuki, it is a rare chance to see the real thing in your own backyard. The performance is part of a very interesting project called "Heisei Nakamura-za," which was started about a decade ago by the late, great Kabuki actor Nakamura Kanzaburo, who passed away unexpectedly at age 57 in December 2012.
Kanzaburo wanted to give audiences the chance to experience Kabuki the way it used to be in the "good old days" of the Edo period. Back then, Kabuki was a popular entertainment for the common people. It featured smaller theaters, a more intimate relationship between actor and audience, and a more festive, earthy, raucous feel. So Kanzaburo started constructing temporary theaters in Japan and around the world that reflected this atmosphere. He extended the mood to the plays he staged, putting a contemporary spin on old classics.
In 2012, this reporter was fortunate enough to be able to see Kanzaburo perform in the last Heisei Nakamura-za theater he constructed, in Tokyo's Asakusa district. It was an unforgettable experience. Some of the best actors of our day were walking a couple feet away from me on the theater's modest hanamichi runway. A special energy flowed between the actors and the audience that I hadn't felt at established Kabuki theaters. At the end of the final play, the entire back wall of the theater disappeared and we enjoyed a beautiful, open-air night view of the Sumidagawa River and the newly constructed Skytree Tower. It was a magical evening.
By JQ magazine editor Justin Tedaldi (CIR Kobe-shi, 2001-02) for Examiner.com. Visit his Japanese culture page here for related stories.
After an unusually chilly spring, it's finally starting to feel like summer. Enjoy some seasonal events this month that celebrate the best of both fine art and pop art.
This month's highlights include:
Wednesday, May 28, 10:00 p.m.
The Bowery Electric, 327 Bowery
$5
An all-female quartet that delivers riff-heavy, post-punk anthems, Each of the Hard Nips came to live in New York at different times, from different parts of Japan. And, as conspired by the ever-dexterous hand of fate, they were to cross paths and become fast friends. They quickly formed a cult-like bond whose rituals all included drinking a lot of alcohol and uncontrollably running their mouths. The wine flowed like Kool-Aid and, somehow, they found themselves buying into the delusion that they were capable of forming a kick-ass rock band. Witness the next chapter in their story, with support from Shakes and the Johnnys.
Thursday, May 29, 7:30 p.m.
Ghost in the Shell: Arise – Borders: 1 & 2
AMC Loews Village 7, 66 Third Avenue
$10
In the first two parts of this highly anticipated prequel series of the anime sensation Ghost in the Shell, it's the year after the fourth World War and cyborg/hacker Motoko Kusanagi finds herself wrapped up in the investigation of a devastating bombing. But she's not the only one looking for answers—as she delves deeper into the mystery of who is behind the attack, a specialized team unlike any before begins to take shape.
June 6-8
Garden State Convention Center, 50 Atrium Drive, Somerset, NJ
$45-$60
The largest independently organized anime convention in the New York/New Jersey metropolitan area. AnimeNEXT features Japanese creators of anime and manga, voice actors, musical acts, artists, vendors and exhibits, events, panels, workshops, and gaming. This year's musical guest is Tokyo's Luna Haruna, who made her major debut in 2012 with the song "Soraha Takaku Kazeha Utau," the ending theme song for the second season of anime series Fate/Zero. Her latest single, "Snowdrop," was featured as the ending theme song the second season of Monogatari. Don't miss her first-ever performance on the East Coast!
For the complete story, click here.

Via the AJET website:
On May 7th, we held our fourth AJET Professional Development Conference Call. Our guest speaker was former JET, Mr. Anthony Bianchi (Aichi-ken, Kiyosu City, 1989-91) who now serves as a city council council member in Inuyama City, Aichi prefecture. Mr. Bianchi is often highlighted in the Japanese media and is well-known for being the first American-born elected official in Japan. Click here to read a short interview with him on AJET.net.
Mr. Bianchi discussed the inner workings of his current position, various initiatives to improve English and international communication in his community and how JETs can potentially get involved with local politics in their communities.
Click here to listen to the recording of the call on the AJET website:  http://ajet.net/2014/05/13/professional-development-call-anthony-bianchi/
By Alexis Agliano Sanborn (Shimane-ken, 2009-11) for JQ magazine. Alexis is a graduate of Harvard University's Regional Studies—East Asia (RSEA) program, and currently works as an executive assistant at Asia Society in New York City.
I consider myself an aficionado of director and animator Hayao Miyazaki and Studio Ghibli. Having seen his work countless times, visited the museum in Tokyo and done a fair amount of supplemental reading, I figured Turning Point—a collection of Miyazaki interviews and articles spanning 1997 through 2008 and newly translated by Beth Cary and Frederik L. Schodt—would probably be a rehash of the similar. I presumed it would be a book for Japan or anime specialists. On the back cover there's even a quote from the L.A. Times: "Essential reading for anyone interested in Japanese or Western animation." However, this statement is entirely too narrow and ultimately misleading.
In fact, the book (which is a sequel to Starting Point: 1979-1996, also translated by Cary and Schodt and now available in paperback) is less about animation and Japan than it is the human condition and those existential questions that keep you awake at night. Miyazaki, at one moment reserved and the other candid, plunges fearlessly into complex, introspective and intellectual issues about human's relationship with education, child-rearing, philosophy, history, art, environmentalism and war (to name a few).
He does this with a sprinkle of romanticism and a dusting with realism. Using his seemingly continual dissatisfaction with the world, Miyazaki aims to positively spark change and inspire. He insists that his films are not just flights of fancy; rather, he makes them to motivate the next generation to improve the world. "Children learn by experiencing…it is impossible to grow up without being hurt," he writes. "Experiences like: accepting the duality of human nature, the importance of grit, conviction, and perseverance, and respecting nature and the land….For children willing to start, our films become powerful encouragement."
By Shirong Gao (Shiga-ken, 2005-07) for JQ magazine. A member of JETAA Northern California, Shirong is a graphic designer, Illustrator, and breakfast food lover who worked in a Japanese countryside as seen only in Studio Ghibli movies. For more, visit gaoshirong.com.
Every night, as a child drifting off to sleep, I looped a rock ballad. My personal lullaby. A song by multi-million-selling heavy metal band X Japan, the Rising Sun's answer to KISS. Yet not even in dreams did I see myself growing up to one day meet its leader, Yoshiki, and witness how far he's come in his career.
A classically trained musician turned rock legend, Yoshiki has now returned to his more refined roots, embarking on a world tour of Yoshiki Classical concerts featuring music from the eponymous solo album released last year in collaboration with talents the likes of Beatles producer Sir George Martin and the London Philharmonic Orchestra.
On April 28, Davies Hall, home to the San Francisco Symphony, was packed on a Monday night to host only the second date of Yoshiki's tour following its debut in Costa Mesa three days prior. "Definitely a different scene from a typical classical concert," commented attendee Arisa Takahashi (Nara-ken CIR, 1991-92), who has also performed at the hall as part of the Sing Out, Davies! choral workshop. "There were people with blue hair, dressed in their frilly Lolita finery, sitting alongside classical music attendees."
Updated with media coverage of the visit.
Boston and New York had the honor of hosting Kumamon's North American debut last week! Who is Kumamon you may ask? The rosy-cheeked, sack-shaped bear is the official mascot of Kumamoto Prefecture in Kyushu. Voted the top "Yuru-kyara" (cuddly mascot character) in Japan, he has taken Japan by storm and sold more than $300 million worth of merchandise in 2012 alone.
Kumamon's remarkable success in promoting his rural prefecture across Japan–there is even an exclusive "Kumamon Goods" store in Tokyo's upscale Ginza neighborhood–is being studied in government offices and marketing departments across Japan. In fact, no less than the Wall Street Journal has published no fewer than three articles about the phenomenon.
If you'd like to learn more about Kumamon, including what he does every day, I recommend checking him out online:
Facebook page: https://www.facebook.com/kumamotodiary.en
Home page: http://kumamon-official.jp/
Kumamon accompanied Kumamoto Governor Kabashima during his visit to Boston on Novermber 12-13, which included giving a lecture at Harvard on "The Political Economy of Kumamon: A New Frontier in Japan's Public Administration."
Kumamon spent time with the Boston Red Sox's mascot, Wally the Green Monster, for what was surely an important, high-level diplomatic meeting. The full itinerary of their Boston visit can be found here, here, and here. Media coverage of their visit includes:
The lovable bear and Governor Kabashima made their way down to New York on November 14, where they paid back the compliment with a visit the Wall Street Journal. Later they visited the Consul General's residence, as part of a special reception to promote Kyushu. JET alumni from the New York Chapter of JETAA representing all of the prefectures of Kyushu were invited to the reception. In addition to presentations on Kyushu travel, tourism and shochu, Governor Kabashima introduced Kumamon. Guests dined on Kumamoto oysters and "ekiben" prepared by the chef from Hataka Tonton, and sipped shochu from the region. Kumamon and Governor Kabashima's full New York itinerary can be found here. Media coverage of their visit includes:
Photos of JET alumni at Kyushu Promotion event at Consul General's residence
Governor Kabashima is an interesting person. He was an "at-risk" student who grew up poor in Kumamoto. Against all odds, through hard work and dedication he ended up earning a PhD from Harvard and becoming a political science professor at University of Tokyo. His launch of the Kumamon public relations campaign is one of the great local promotion success stories of recent times.
Kabashima has also gotten a lot done in Kumamoto, including making some real headway in repairing Kumamoto's troubled finances (he started by cutting his own salary), trying to resolve remaining issues related to Minamata disease, and blocking Tokyo's plans to build a huge dam in the prefecture. A very good article about his life can be found here in the Asahi newspaper. The governor introduces himself and his views in two videos, here and here.
From the start, Kumamoto Prefecture and local communities have been dedicated supporters of the JET Program. Year after year, the prefecture has been near the top of the list in hosting the most JETs, hosting around 100 this year. I myself was a Kumamoto JET. I grew to love the prefecture while I lived there, and now consider it to be my "second home."
I encourage everyone to take some time to visit Kumamoto while traveling in Japan. The prefecture boasts some of the best onsen hot springs in the country. Aso-Kuju National Park is one of the natural wonders of the world, with its giant ancient crater that is so large that an entire volcano and six towns exist inside of it (I lived in one of them!). Kumamoto Castle is one of the three finest castles in Japan. Beautiful parks and gardens, beaches and mountains, history and culture, Kumamoto has it all!
If you are a JET alum from Kumamoto, I encourage you to join the LinkedIn Group for Kumamoto JET alumni here. In fact, I encourage all alumni to join their prefecture's LinkedIn Group. You can find yours here. It's a great way to stay connected with other alumni from your prefecture.
I'm glad JET alumni had a chance to welcome Governor Kabashima and Kumamon to the U.S. Congratulations on the great success of their first U.S. tour together!