May
3

Art, Article/Journalism, Celebrity, Events, Film, JQ Magazine, Music

Comments Off

on JQ Magazine: Nippon in New York — The GazettE, 'Detective Pikachu,' Japan Night Live
By JQ magazine editor Justin Tedaldi (CIR Kobe–shi, 2001-02). Justin has written about Japanese arts and entertainment for JETAA since 2005. For more of his articles, click here.
As spring continues and the weather continues to warm, New Yorkers can enjoy activities all over the city both indoors and out.
This month's highlights include:
Monday, May 6, 8:00 p.m.
PlayStation Theater, 1515 Broadway
$50
Making their return to NYC after a three-year absence are the GazettE, a Kanagawa-based rock quintet that follows in the footsteps of other Gotham-conquering visual kei acts like X Japan and LArc~en~Ciel. Formed in 2002, the band has performed in Europe multiple times since 2007, and will headline across America this spring in support of its latest album, 2018's Ninth. Still completely self-produced, the GazettE continue moving forward, uncompromised in their artistic and unique worldview at home and abroad.
Premieres Friday, May 10
Pokémon Detective Pikachu
Various theaters
In this first-ever live-action Pokémon film, ace detective Harry Goodman (Justice Smith) goes mysteriously missing, prompting his 21-year-old son Tim to find out what happened. Aiding in the investigation is Harry's former Pokémon partner, Detective Pikachu (voiced by Ryan Reynolds): a hilariously wise-cracking, adorable super-sleuth who is a puzzlement even to himself. Finding that they are uniquely equipped to communicate with one another, Tim and Pikachu join forces on a thrilling adventure to unravel the tangled mystery in a modern metropolis where humans and Pokémon live side by side in a hyper-realistic live-action world.
Sunday, May 12, 6:00 p.m.
Japan Night: HYDE & WagakkiBand
PlayStation Theater, 1515 Broadway
$35
Presented in collaboration with Japan Day @ Central Park, Japan 2019 Presents Japan Night will celebrate contemporary popular Japanese music with four of the most successful artists in Japan today through two consecutive shows. HYDE, who is also known as a lead singer of L'Arc-en-Ciel (the first Japanese act to headline Madison Square Garden in 2012) and a member of VAMPS, is a pioneer of Japanese rock who has recorded more than 60 songs breaking the Oricon (Japanese Billboard Chart) top 10.
WagakkiBand is a viral video sensation that combines traditional Japanese instruments with modern rock. They fuse shigin (poetry recitation, one of Japan's classic performing arts), wagakki (traditional Japanese musical instruments), and rock. The music video of "Senbon Zakura," included in their 2014 debut album, has been viewed more than 100 million times on YouTube. After five years, they now sell out arena shows, and their special live organized by Tencent streamed more than 100 million times in the first 24 hours.
Sunday, May 12, 9:00 p.m.
Japan Night: MISIA & Puffy AmiYumi
Sony Hall, 235 West 46th Street
 $40
In 1998, MISIA made her professional debut with "Tsutsumi Komuyouni." This song, and her 2002 ballad "Everything," established her as a national star. Her exciting singing ability with groove-oriented feel shook up the music scene at the time of her debut, and she is also the first solo female singer whose concert tour sold out five major Japanese stadiums. On the 20th anniversary of her major debut, and she is still very active releasing hit songs and touring all over Japan, including a mind-blowing appearance at last year's Fuji Rock Festival.
In 1996, Puffy AmiYumi debuted with the single "Asia no Junshin," produced by Tamio Okuda. They continued to release a string of power pop-influenced hit singles such as "Kore ga Watashi no Ikiru Michi," "Circuit no Musume," "Nagisa ni Matsuwaru Et Cetera," and many more. In the mid-2000s, their very own Cartoon Network series Hi! Hi! Puffy AmiYumi aired in over 110 countries, and they have been active all over the world since then as Japan's pop duo extraordinaire, most recently performing in New York last year as the headliners of Japan Day @ Central Park.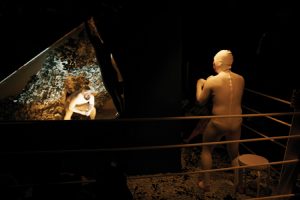 May 15-18
Ashita no Ma-Joe: Rocky Macbeth
Japan Society, 333 East 47th Street
$28, $20 members
Yu Murai, founder of the Theater Company Kaimaku Pennant Race, cleverly retells Macbeth through the 1960s mega-hit manga Ashita no Joe, providing insight into how the tale of one young man's rise from delinquent to professional boxer parallels that of the Scottish king. Packed with re-imaginings of famous scenes from both works, this production is sure to titillate Shakespeare and manga lovers alike. Murai uses the mythos surrounding the boxer Joe to create a nonsensical theatrical production that cheekily smashes together two worlds fraught with angst and ambition. Performed in Japanese with English titles. The May 15 performance is followed by a MetLife Meet-the-Artists Reception.
May 20-21, 7:00 p.m.
Nausicaä of the Valley of the Wind
Regal E-Walk 42nd Street 13, 247 West 43nd Street
AMC Empire 25, 234 West 42nd Street
AMC Kips Bay 15, 570 Second Avenue
Regal Union Square 14, 850 Broadway
City Cinemas Village East Cinema, 181-189 Second Avenue
$12.50
Celebrating its 35th anniversary, Nausicaä of the Valley of the Wind, written and directed by Academy Award-winner Hayao Miyazaki, is an epic masterpiece of sweeping scope and grandeur that remains one of the most breathtaking and exhilarating animated films of all time. A thousand years after the Seven Days of Fire destroyed civilization, warring human factions survive in a world devastated by atmospheric poisons and swarming with gigantic insects. The peaceful Valley of the Wind is nestled on the edge of the Toxic Forest and led by the courageous Princess Nausicaä, who fights to restore balance between humans and nature. The May 20 screening is dubbed in English, and the May 21 screening is presented in Japanese with English subtitles.
Want to stay in the loop on future events? Follow Justin on Facebook and Twitter.