Nov
2

Art, Translating/Interpreting, Uncategorized, WIT Life

Comments Off

on WIT Life #376: MANGA in New York exhibition
Writer/Interpreter/Translator Stacy Smith (Kumamoto-ken CIR, 2000-03) presents WIT Life, a periodic series about aspects of Japanese culture such as art, film, food and language. Stacy starts her day by watching Fujisankei's newscast in Japanese, and here she offers some interesting tidbits and trends along with her own observations.
Yesterday I had to chance to stop by the event MANGA in New York, presented by Ginza Sony Park Project. This free Chelsea exhibition features work from six groups of Japanese artists who use diverse forms of expression to create original manga. According to the enthusiastic staff member who greeted me at the door and kindly provided an explanation of the exhibition, this is one of several experimental activities being tested out for next year's expected completion of the second phase of Ginza Sony Park (it opened in 2018). They're looking to receive feedback from visitors and potentially incorporate it into their new project.
There are two floors of manga to enjoy, and enhancing the visitor experience is a free vending machine with specially designed MANGA-CANs exclusive to the event. When you put in the letter and number of your choice, you receive a can of tea with a label showing a scene from one of the manga in the exhibition. The label is actually a commemorative sticker, so you can peel it off to save when you're done with the tea. I picked UEDA & SASAMI from illustrator Hikaru Ichijo, a manga depicting the story of an aspiring painter named Ueda and the hamster Sasami who lives in her stomach. Ueda derives her energy from Sasasmi running on her hamster wheel, and Sasami is in turn is powered by eating sunflower seeds. But what happens when Ueda discovers that she can be the source of her own strength?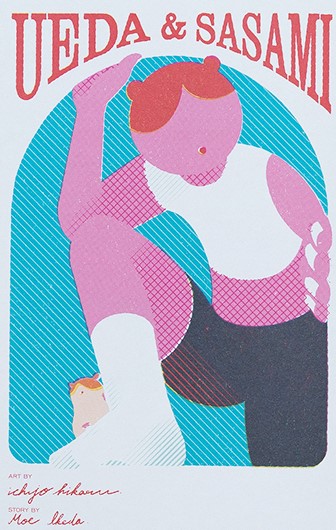 The other five manga are equally as interesting, and many of them have interactive features such as using a joystick to turn the (electronic) pages or being able to sniff a variety of scents at different points in the manga. The aromatic manga is Walkers by illustrator and manga artist Katsuya Terada, and he will actually be on hand this Saturday from 1 pm-4 pm to hold a live drawing demonstration. The venue for MANGA in New York is STUDIO 525 (525 W. 24th St.), and it will be open daily from 10 am-6 pm through Sunday, November 5th. Why not take advantage of this weekend's warm weather and check out these amazing works followed by a walk on the High Line? Good luck to all the marathon runners out there!